Tens of millions of Americans snore. It's caused by airway blockage during sleep. The cause of the blockage varies from person to person, which means the same can be said for effective treatment. An ailment known for its resulting growl-like sound, snoring is commonly misunderstood or altogether ignored until it becomes a serious problem. Left unaddressed, severe snoring can lead to sleep apnea with fatal cardiovascular complications, not to mention disrupted sleep for the afflicted and anyone unlucky enough to sleep near them.
Fortunately, there are a number of inventive and affordable options to treat it before it reaches that point. ZQuiet, an oral insert meant to counteract the physical causation of snoring, is one of these. Here is a research-based review on what ZQuiet is and how well it works.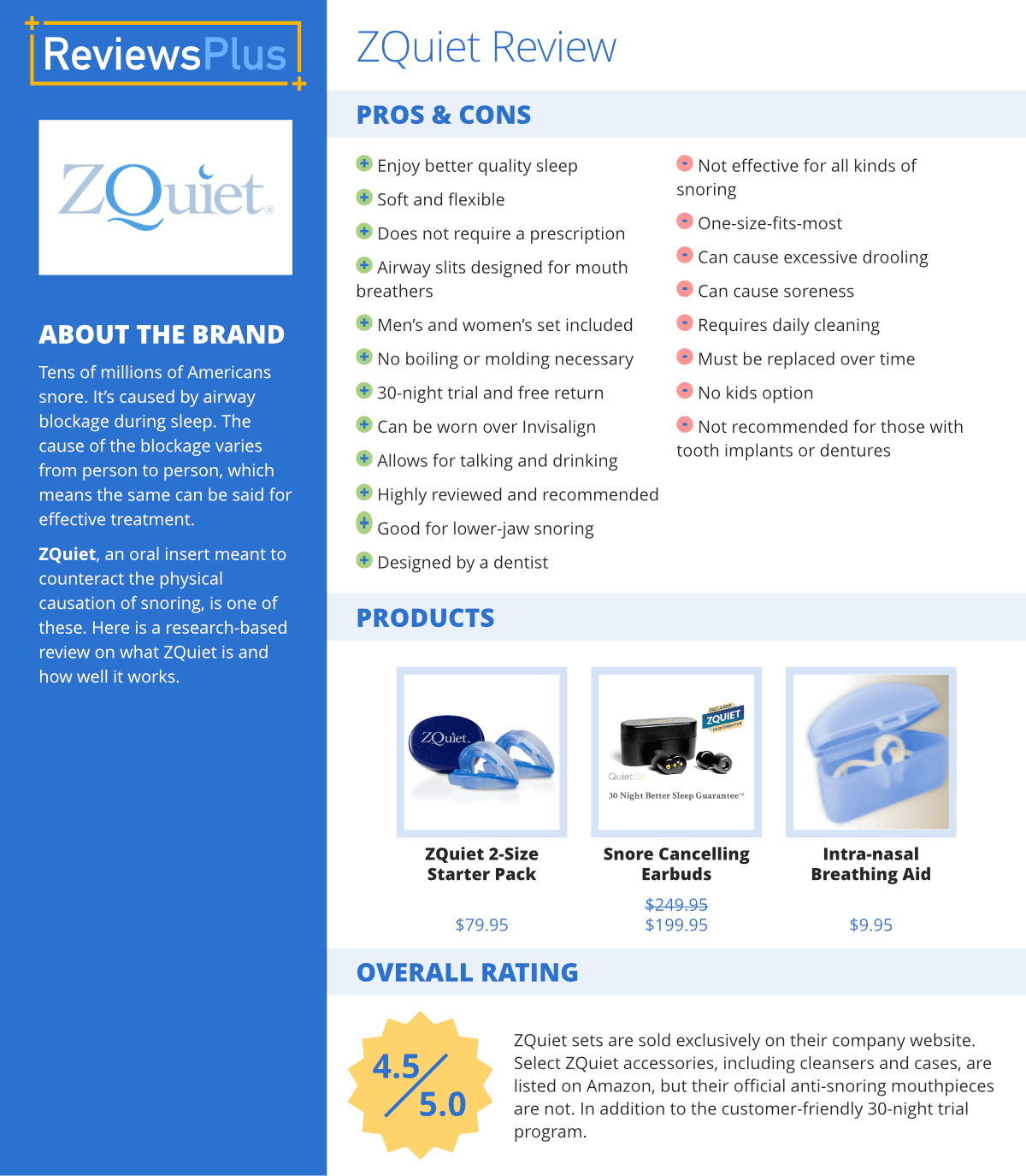 What is ZQuiet
Hitting the market in 2009, ZQuiet was started by one of the millions of impacted American families. With building tension in the household, Dan and Trina Webster worked with specialists to address the former's problematic snoring problem. While experimenting with treatments, including painful and ineffective surgery, they developed the ZQuiet. In ten years, more than one million sets have been sold, contributing to the restful sleep of countless happy customers and their loved ones.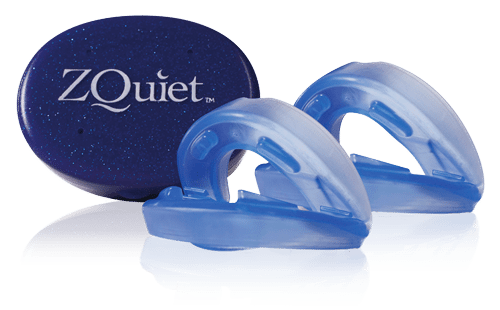 The mouthpiece itself is made of a soft medical-grade thermoplastic elastomer that, when worn, gently lifts the wearer's lower jaw out and away from their airway, unblocking it and reducing the sound and effects of snoring. Serving this function, it is labeled as a MAD, or, mandibular adjustment device. Designed by a dentist, it's built with living hinge technology that allows for talking and drinking while awake, and unobstructed mouth-breathing during sleep. Strategically-placed slits in the material add to overall comfort by providing natural airflow and drainage.
Know Before You Buy
Sizing
Unlike most mouthpiece anti-snoring solutions, ZQuiet does not require custom molding or boiling to fit effectively. Its soft construction is made to adjust to the mouths of both men and women. Two sets, one loosely intended for both males and females, is included in the starter kit. One features a more distinct lower jaw obtrusion than the other and may be utilized by anyone requiring added separation in their airway. Both are hypoallergenic, made without latex and BPAs. They're noted to last about as long as a toothbrush, about six months, and require cleaning after each use. ZQuiet produces a proprietary cleaning solution that is sold separately.

Ordering
ZQuiet is available to would-be customers through a generous trial and return program. With it, users can try the mouthpiece for 30 nights and return it if they're not satisfied, paying only shipping and handling. After 35 days, the submitted card or account is charged an additional $79.95. By skipping the trial offer, paying full price up-front, shoppers unlock a 50% discount on a second set of ZQuiet anti-snoring mouthpieces. Most deliveries arrive in 5 to 7 days, made in America and mailed from their processing facility on the east coast. Rush orders can be arranged to arrive in 2 to 4.
Recommended Use
Noted on its packaging, ZQuiet is not recommended for select groups of people, including those with implants or dentures, anyone under 18, those with loose teeth, or diagnosed with a temporomandibular disorder, central sleep apnea, or severe respiratory disease. Snorers with braces or that wear an overnight retainer are advised to consult with their orthodontist before use.
Although a prescription is not needed to use ZQuiet, it's never a bad idea to gain a medical point-of-view as it relates to your particular case of snoring. A doctor may be able to identify the blockage and recommend remedies in-turn. They'd also be qualified in determining whether or not symptoms have advanced to a stage where more serious treatment is necessary.
It's an FDA-approved product, accredited by the Better Business Bureau and highly reviewed in all corners of the internet for comfort and effectiveness.
Does ZQuiet Work?
ZQuiet is marketed as a mid-level snoring treatment, not quite the complex solution that a CPAP machine represents, but more thoughtful a treatment than, say, nasal strips or throat spray. In this niche, ZQuiet is noted by users to be highly effective and, almost as importantly, comfortable at the same time. Reviewers rave about its light and flexible frame, that it allows for more natural movement than other, rigid, mouthpieces, adding unique benefit in granting the freedom to drink and speak during use.
Treating symptoms directly, the product's simple mechanics do as they are designed, gently and naturally lifting the lower jaw out of the blocked airway. From there, only secondary results like drooling or achiness have been noted to detract from overall effectiveness. These, and other initial-use side-effects, usually recede over time as a person gets accustomed to wearing their mouthpiece.
That said, the ZQuiet is somewhat limited in its application by design, intended mostly to treat snorers with blockage resulting from drifting lower jaw muscles. Reviewers with mandibular blockage report drastic drops in the number of instances and volume of their nightly snoring, some even include sleep tracking app screenshots as evidence.

Use of ZQuiet mouthpieces carries less benefit for those with snoring caused by tongue misplacement or nasal blockage. Devices targeting those causations, in particular, are made and readily sold, just not by ZQuiet. For this reason, it's good to have a handle on your own symptoms before investing in any anti-snoring solution.
Like any long term oral insert, some level of initial discomfort is normal but has been reported to continue in a limited number of cases, to the point of ineffectiveness. In providing two different sized options and including directions for custom cut adjustments, ZQuiet makes a valid attempt to cater to user comfort. Not everyone is or will be satisfied with their one-size-fits-most approach, however.
The product's lifespan is also sometimes regarded as imperfect. Exact timing depends on wear and frequency of care, but replacements even every six months, as recommended, can get expensive, especially after adding the cost associated with daily cleaning. A good night of sleep, though, can be priceless. If ZQuiet proves effective in your case, the ongoing investment is, no doubt, worth every penny and then some.
ZQuiet Pros and Cons
Pros
Enjoy better quality sleep
Soft and flexible
Does not require a prescription
Airway slits designed for mouth breathers
Men's and women's set included
No boiling or molding necessary
30-night trial and free return
Can be worn over Invisalign
Allows for talking and drinking
Highly reviewed and recommended
Good for lower-jaw snoring
Designed by a dentist
Cons
Not effective for all kinds of snoring
One-size-fits-most
Can cause excessive drooling
Can cause soreness
Requires daily cleaning
Must be replaced over time
No kids option
Not recommended for those with tooth implants or dentures

Buying and Saving Money
ZQuiet sets are sold exclusively on their company website. Select ZQuiet accessories, including cleansers and cases, are listed on Amazon, but their official anti-snoring mouthpieces are not. This is an important distinction because Amazon's online shelves, as well as those found in real-life pharmacies and superstores, are littered with imitation products complete with similar packaging and marketing material. When buying ZQuiet replacements, be sure to seek them specifically rather than buying additional, more expensive, starter kits.
In addition to the customer-friendly 30-night trial program, other discounts for ZQuiet are known to be made available from time to time. Look out for a $10 coupon in their website's live chat box, for example. Whether you're buying or trying, ZQuiet's own website is the place to be.
Overall Rating - 4.5/5