There have never been more companies to purchase prescription eyewear from. With so many options, it can be difficult to identify which businesses offer the most attractive blend of customer service, affordability, and quality. Online eyewear vendors have become increasingly popular in this industry. They offer the convenience of being able to shop for trendy glasses and sunglasses from the comfort of home.
If you haven't already heard of it, Zenni Optical is an online eyewear company of which you should be aware. For nearly 20 years, they've provided their customers with high-quality prescription eyeglasses at prices that fit any budget. Keep reading to learn this Zenni Optical review to learn about what they do and to find if they're the right prescription eyewear provider for you.
**As a result of making purchases through links in this review, ReviewsPlus will earn a commission. Zenni Optical glasses featured here were provided by Zenni Optical to complete this review.**
Zenni Optical Review
Hands-on Review of Zenni Optical
To complete this Zenni Optical review, I was provided with an exclusive Zenni Optical coupon code that allowed me to select two new prescription glasses to try. Selecting the frames I wanted took some time since the online Zenni store is extremely vast with dozens of great looking options. I was able to utilize the search filters to help narrow down my results. To find the right frames, I filtered for men's frames and then selected the frame size and shapes I wanted, including oval, square and browline. This helped make my search efforts much more manageable.
After finding the two options I wanted, it was time to upload my prescription and decide on the specific details for each of the frames. Here is the entire process of ordering new glasses from Zenni Optical.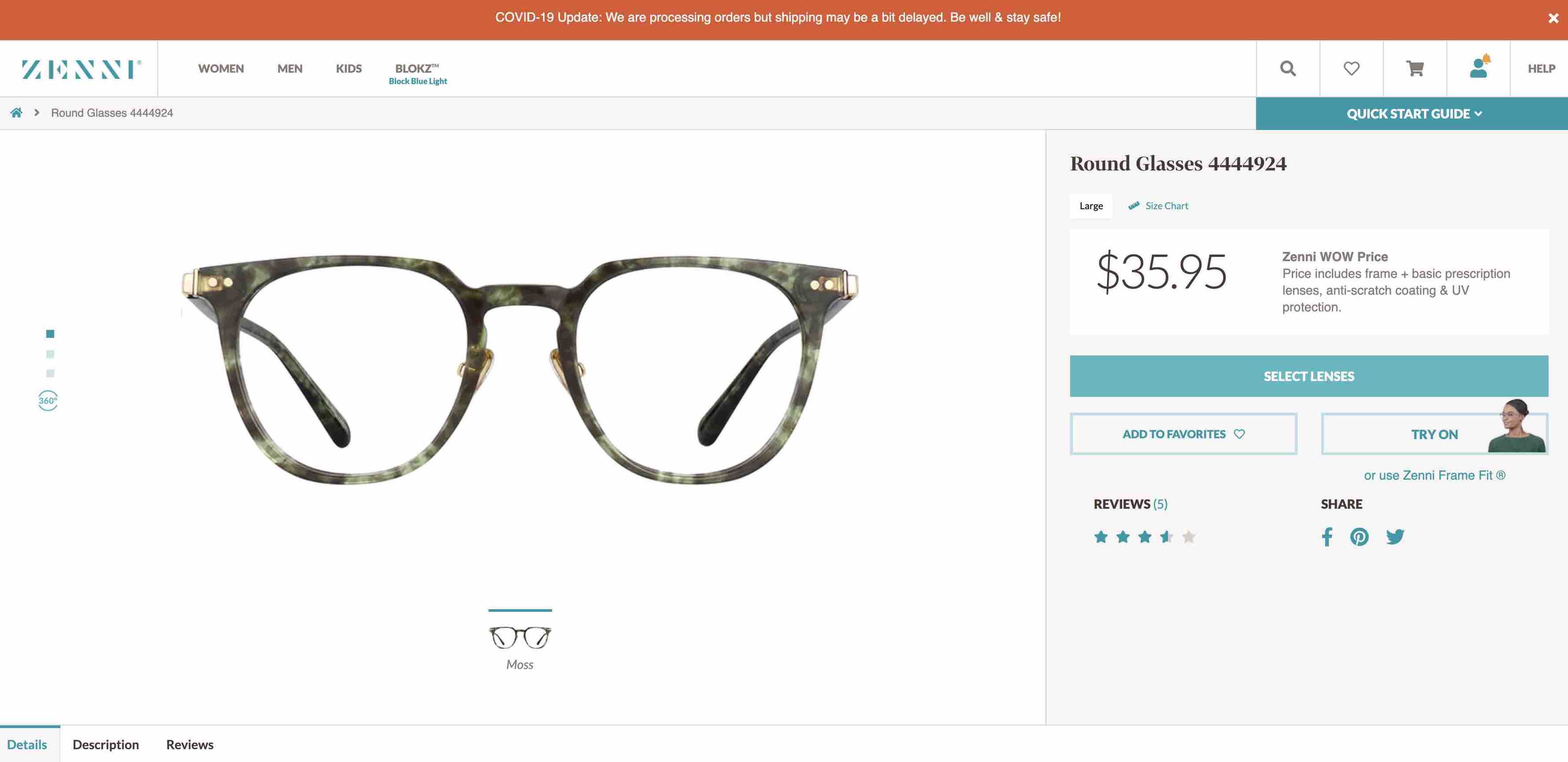 First, I hit the "Select Lenses" button on the page for each frame.
Next, I was taken to a screen where a prescription must be imported. Since I have purchased from Zenni Optical before, my prescription was already saved online. I simply hit "Import" and was able to quickly fill out all the important details before submitting. If you have not purchased from Zenni Optical before, you will have to input all of the information, including pupillary distance, manually.
The next few options are all regarding the lenses which will be used in the frames selected. The first option is regarding the lens index. The higher the index, the lighter and thinner the lenses will be.
After lens index, I had to decide on whether or not I wanted the Blokz blue light blocking lenses. Since I spend a lot of time on the computer, I decided I would go with Blokz for both frames. By selecting the Blokz by Zenni Optical, no choice for the above lens index is necessary.

The final two options in this part are regarding lens tint. I passed on the first option which is for permanently dark lenses (sunglasses) and also passed on the photochromic lenses which darken in sunlight.
Next, it was time to decide on add-ons. The first add-on option is for reflective lens coating which can help with maintaining clean lenses or make your lenses anti-scratch.
The second add-on is for sunglass clip-ons. I opted for the sunglass clip-on for both of the prescription glasses I ordered.
Finally, Zenni Optical allows customers to add customized engraving text to the inside or outside of the frame arms.
The final step to ordering prescription glasses from Zenni Optical is to checkout!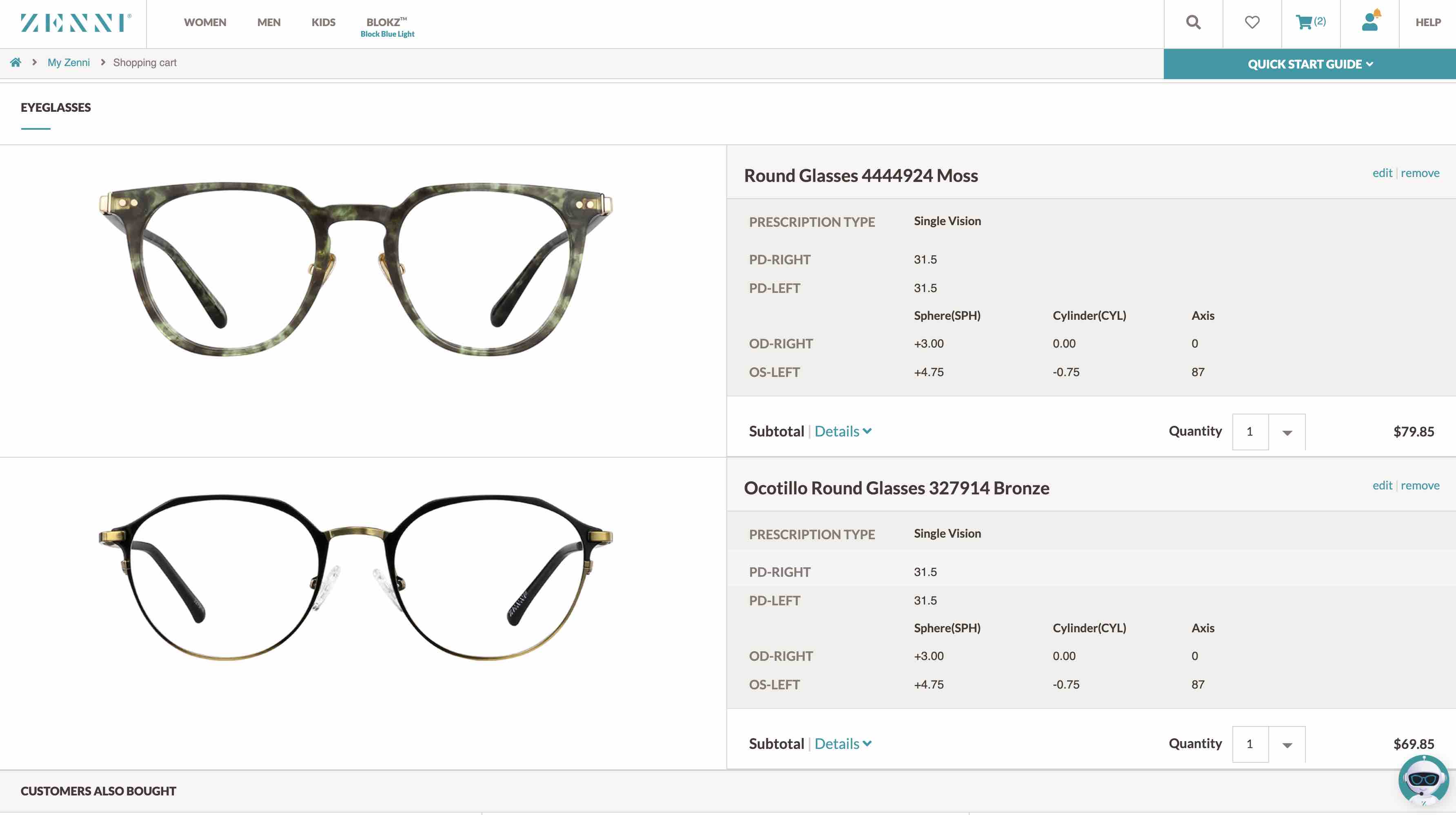 The entire process is very simple and much less time-consuming than having to go to the eye doctor or glasses store, browsing their much less robust selection and then making the purchase.
It took just over 7 business days to receive my Zenni Optical frames after I had ordered them online. When they arrived, I was pleased. Both frames were shipped in cases that I can reuse, along with the sunglass clip-ons and cleaning cloth. Each of the frames I ordered looked exactly how they appeared at the Zenni Optical website, see comparisons below.
Both frames feel well made, sturdy and of high-quality. I won't be worried about breaking either anytime soon. Also, each of the prescriptions is perfect and match the other glasses that I have now replaced. I will certainly continue to order from Zenni Optical!
What Sets Zenni Optical Apart?
It's difficult for eyewear companies to stand out in today's crowded market. However, Zenni Optical manages to do so all the same. They start by providing an enormous selection of men's, women's, and children's eyewear. This ensures that the company sells a pair of glasses to match the taste of every customer, including single vision, progressive lenses and bifocals!

What really makes Zenni Optical special is their prices. You can find multiple types of glasses to choose from for less than $20 and even $10. The company even makes some of its glasses available at just $6.95. With prices this low, you can afford to purchase a few pairs and switch the one you wear to match your outfit, mood, or vision needs. Few, if any, companies offer their customers a similar ability at this low of a price.


Still, Zenni Optical understands that some customers may be hesitant about shopping for glasses online. It's why they created their 3D virtual try-on tool. It allows you to upload a video of yourself to your Zenni Optical account. Once you've done that, you can virtually try on the glasses that you like to get a complete 360-degree view of how you look in them.
The company also offers a simpler 2D virtual try-on tool that may appeal to consumers who don't want to upload videos of themselves to the Zenni Optical website. Either way, you'll be able to see what you look like in a pair of Zenni glasses before you purchase them. This makes buying from Zenni Optical a low-risk proposition.
Given the low prices offered by Zenni Optical, you may guess that their products are of lower quality. However, that's absolutely not the case. The company uses state-of-the-art optical materials and cutting-edge manufacturing processes to consistently produce quality glasses. They own their factory and cut out the middleman, while passing the savings onto the customer. It's another example of how Zenni Optical is the eyewear company that does things a bit differently.
Zenni Optical Company Info
Zenni Optical was founded in 2003 by two scientists who chose the Bay Area as their headquarters. The founders dreamt of bringing good-looking, functional glasses to people from all walks of life. Today, they've brought that vision to life with Zenni Optical's affordable eyewear products.
To place an order from Zenni Optical, you need to have a prescription from an optometrist. You also need to know your personal dimensions so the company can create a pair of glasses that fit your face. Once you have these two pieces of information, you can browse the website to find the frames that you like best.
When you place an order, you'll find several shipping options to choose from. The first and most common is standard shipping, which costs $4.95 and takes 14-21 days to reach you. You can also choose priority shipping for an arrival estimate of 10-16 days and a price of $8.95. The fastest you can receive your glasses is within 7-12 days through express shipping, which costs $18.95.
Zenni Optical provides all of its customers with a free 30-day warranty. If they made a mistake in the production or shipping of your glasses, they'll fix the problem at no cost to you. They also offer free replacement nose pads and nose pad screws for rimless frames whenever you need them.
You can also return a pair of glasses you ordered mistakenly or just don't like. Customers are free to do so up to 30 days from the time they received their glasses. However, for these returns, the company only provides a 50% refund to a customer's original payment method. That being said, you can get the full value of your order refunded as store credit.
Zenni Optical FAQs
Is Zenni Optical legit?
Yes, Zenni Optical is legit for ordering glasses online. Prescription glasses can be expensive, but not from Zenni Optical. Prices found at Zenni Optical are consistently among the most affordable anywhere online without sacrificing quality. According to Consumer Reports, Zenni comes in behind only Warby Parker and Costco Optical when it comes to the best places to buy prescription eyewear.
What do I need to place an order from Zenni Optical?
To order from Zenni Optical, you need a prescription, your personal dimensions for fitting, and the frame you want from the company's website. The company also sells sunglasses that you can buy without a prescription.
What's Zenni Optical's return policy?
Orders can be returned up to 30-days after you receive them. If Zenni Optical made a mistake, they'll refund or replace your glasses free of charge. If the mistake is on your end, you can receive a 50% refund to your original payment method or a 100% refund in the form of store credit.

Does Zenni Optical offer a warranty?
Yes, Zenni Optical glasses are covered under warrant for 30 days after the customer has received them.
How much is shipping from Zenni Optical?
Zenni Optical shipping costs between $4.95 and $18.95 based on how quickly you want to receive your order.
Can I try on glasses before I buy from Zenni Optical?
Yes! Zenni Optical makes it easy to do so with both 3D and 2D try-on options.
Zenni Optical Pros and Cons
Pros
Wide selection

Affordable prices

Blue light blocking glasses available

Helpful virtual try-on tools

Great customer service

High-quality production process
Cons
Shipping options are limited

Warranty not as good as competitors
Overall Zenni Optical Review - 4.7/5
Ultimately, Zenni Optical is one of the best companies from which to purchase glasses online. Their prices are incredibly affordable and they have helpful virtual try-on tools so you can see what their products look like on you before you buy them. While their warranty isn't perfect, it still offers consumers a chance to recoup some of their losses for a pair of glasses they don't end up liking.

If you want to purchase glasses online, Zenni Optical is a smart way to do so. However, like most other online prescription glasses sellers, Zenni Optical will take a while to ship your order to you. This is because they need to custom-make it to fit your exact specifications. Still, it's something to be mindful of before ordering.