Vineyard Vines was founded by two brothers who chased the lure of the summer and decided to put that joy into their own clothing brand. This American clothing and accessory retailer, which was founded on the alluring Martha's Vineyard in Massachusetts, aims to share the gift of the Vineyard with everyone.
Chances are, summertime is something you wait for all year long. The fresh smell of the ocean, the soft shoreline sand, the beating rays of the sun, and the fun of the beach. What is so unique about Vineyard Vines? Keep reading this review of Vineyard Vines to see what sets the brand apart and how it stacks up against its competitors.
Review of Vineyard Vines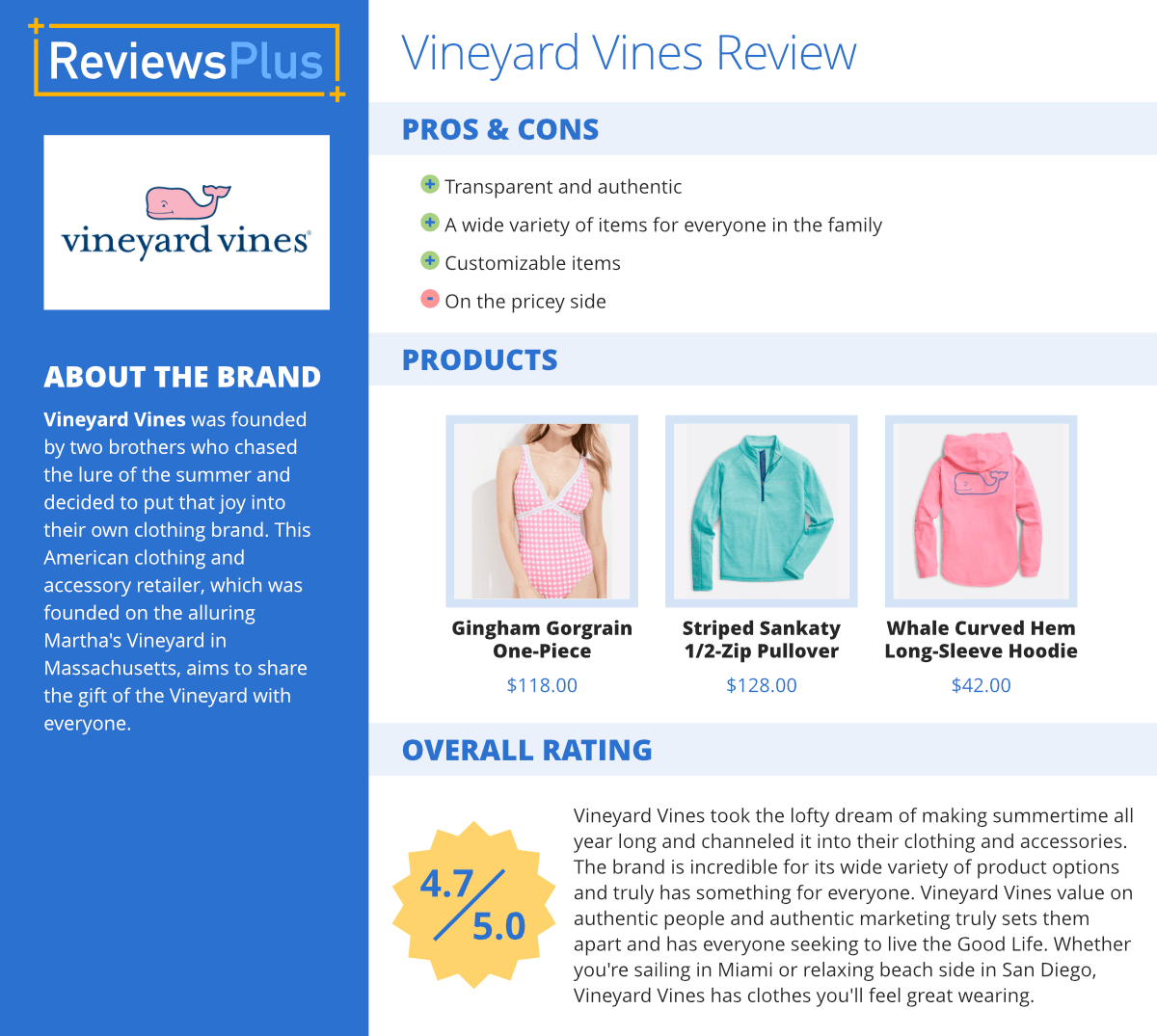 What Sets Vineyard Vines Apart
Living the Good Life and chasing the American Dream are two goals that Vineyard Vines intertwines into all that they do. Something that the founders of Vineyard Vines have done from the very beginning (because they couldn't afford to pay fashion models) is to use real people in their clothing catalogs. They refuse to use models and instead use friends, families, and their loving customers to model their clothing and accessories. They even share their Real Good People stories on their website to highlight real people living the Good Life and sporting Vineyard Vines attire. This level of transparency and authenticity is something not many clothing lines value in the way Vineyard Vines does.
Vineyard Vines vs. Competitors
Vineyard Vines is not the first of its kind and has much competition that exists in the preppy attire world. One of their leading competitors, and a popular brand among men, is Brooks Brothers. Check out this Brooks Brothers and Vineyard Vines comparison.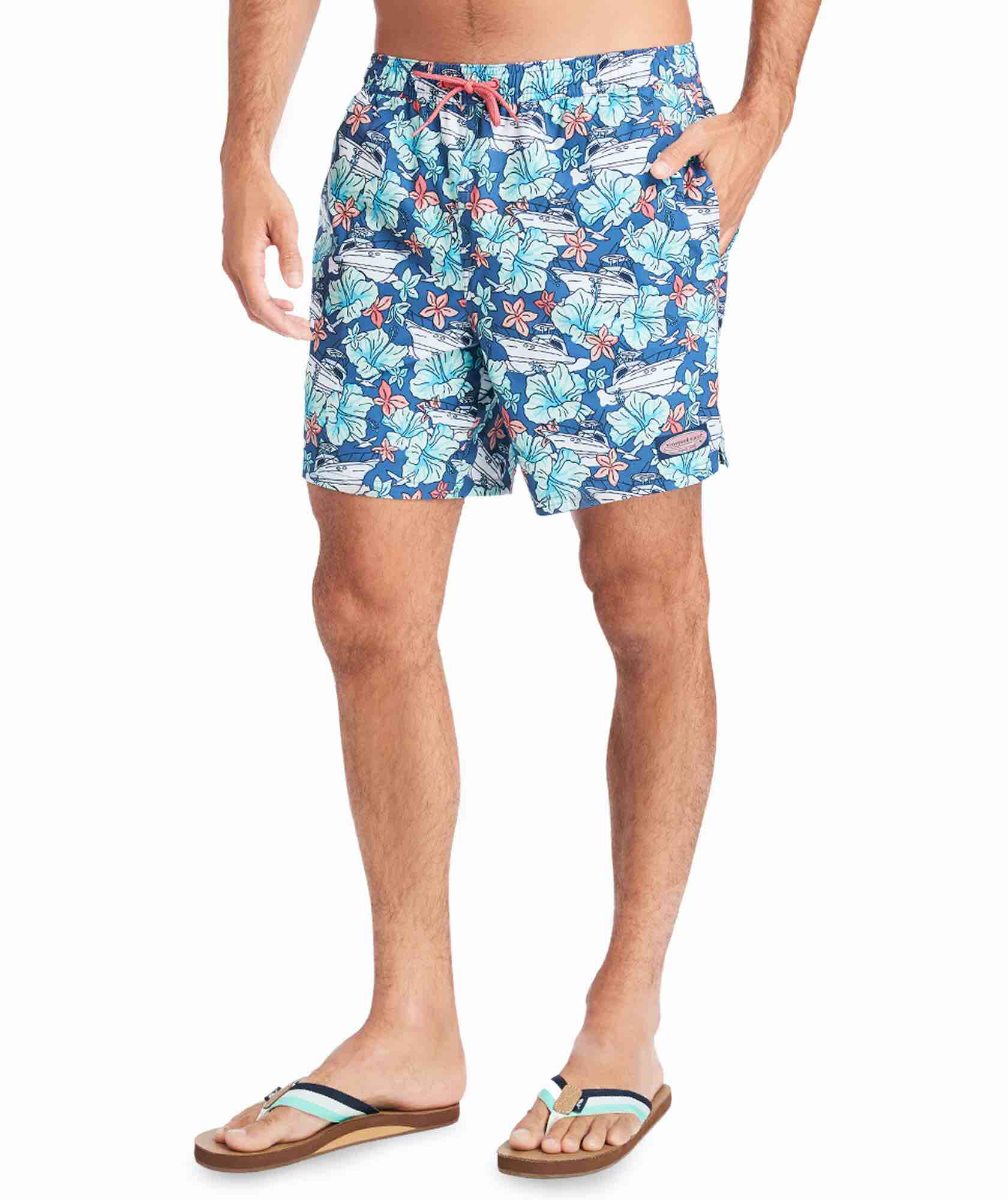 Vineyard Vines is known for its high-quality clothing and they even have a line of swimming trunks for men. These Chappy Trunks come in several different styles sizes XS - XXL, and even have a regular or big & tall option. They are lined and quick-drying with pockets, and feature a 7" inseam.

Brooks Brothers also has a line of swim trunks for men that feature several different styles and sizes S - XXL. These trunks are quick dry with stretchy material, water repellant, and even UV protectant.

Brooks Brothers' trunks are far more expensive than Vineyard Vines trunks but do have more features for their high-quality trunks. Both brands, however, have a great range of styles and sizes.
Vineyard Vines FAQs
1. What types of products does Vineyard Vines sell?
Vineyard Vines features men's and women's clothing, as well as children's clothing. They have everything you could need for any season including button-down shirts, blazers, pants, sweatshirts, shirts, socks, underwear, shoes, belts, and many other accessories.
2. What custom ordering options does Vineyard Vines offer?
You can order custom items for your wedding, fraternity or sorority, and school-related organizations from Vineyard Vines. All you have to do is contact Vineyard Vines to get items such as custom t-shirts, tote bags and more.
3. What discounts does Vineyard Vines offer?
Vineyard Vines will occasionally offer site-wide promotions as well as in-store sales. They also offer student, teacher, and military discounts of 15%.
Vineyard Vines Pros and Cons
-PROS-
Transparent and authentic
A wide variety of items for everyone in the family
Customizable items
-CONS-
Overall Vineyard Vines Review - 4.7/5
Vineyard Vines took the lofty dream of making summertime all year long and channeled it into their clothing and accessories. The brand is incredible for its wide variety of product options and truly has something for everyone. Vineyard Vines value on authentic people and authentic marketing truly sets them apart and has everyone seeking to live the Good Life. Whether you're sailing in Miami or relaxing beach side in San Diego, Vineyard Vines has clothes you'll feel great wearing.