When it comes to putting together a one-of-a-kind outfit or finding a staple accessory that can be paired with anything, the potential of a watch can not be denied. Equal parts class and function, a good watch goes a long way. One watch company named Vincero Watches has made it possible to enjoy handcrafted, luxury watches at less than traditional prices.
Vincero Watches are available for both men and women in a variety of styles and colors, including with quartz movement. All watches are meticulously designed down to the last detail. In this review, we'll take a look at what sets Vincero Watches apart before looking at three specific models more in-depth.

To complete this review of Vincero Watch, ReviewsPlus was supplied with the three watches featured. Purchases made through links in this post result in a commission being generated for this site.
Review of Vincero Watch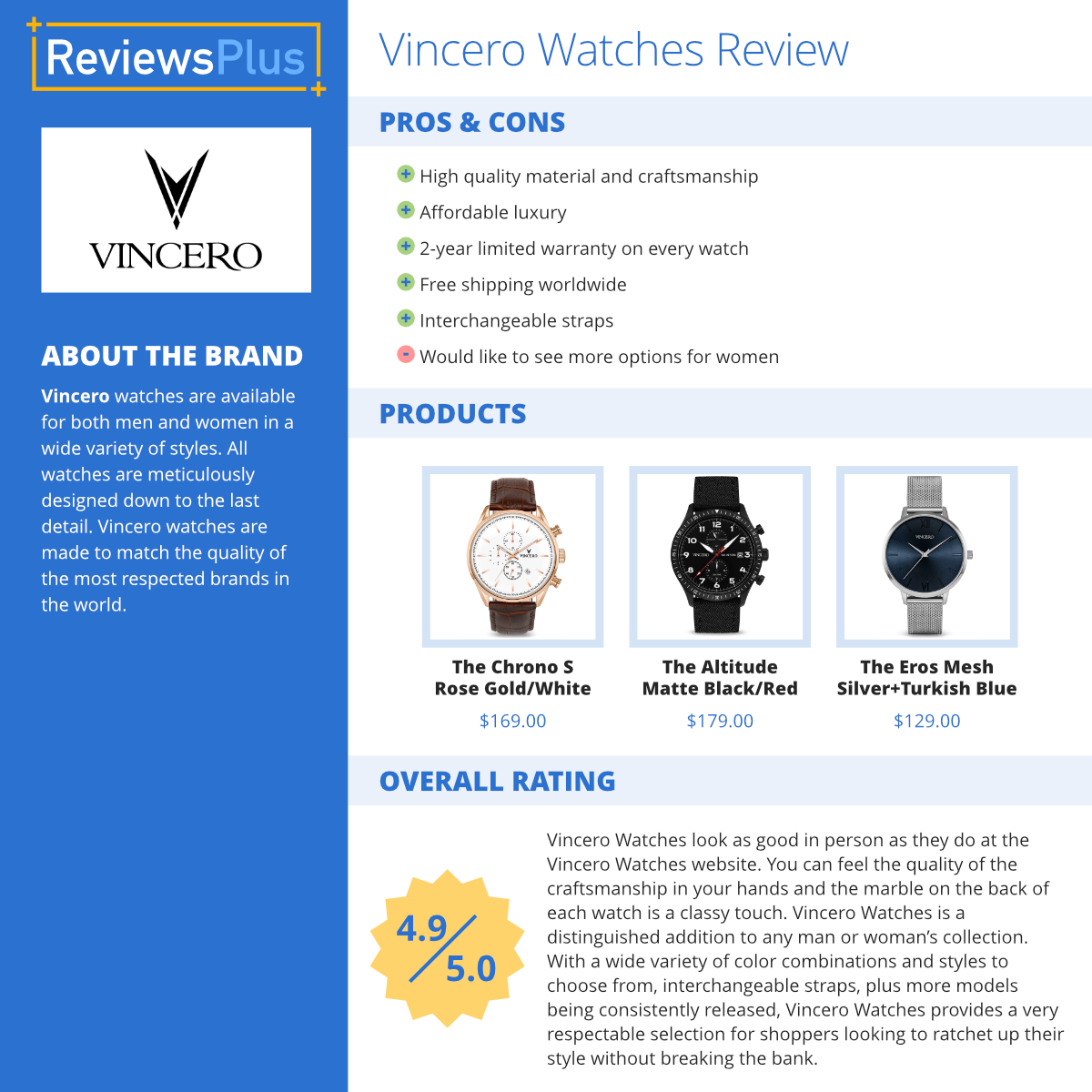 What Sets Vincero Watches Apart
Vincero Watches are made to match the quality and appeal of the most respected brands in the world. The brand was started by three friends after moving to China to learn about the intricacies of watchmaking. From design to manufacturing, these three friends, Sean, Aaron and Tim, learned the entire process and used their knowledge to create watches that can compete in terms of style and price.
Instead of cutting corners to maintain costs, the Vincero Watches vertical supply chain allows them to maintain top-notch quality while passing on savings to the customer. They control the entire process: design, material sourcing, assembly, quality control, finalizing the product and service & repair. Compare this to many competitors who really only focus on the final two steps and outsource the rest.

The name "Vincero" is quite literally all about "winning". It's derived from the Latin phrase "Veni, vidi, vici." which was purportedly said by Caesar, meaning "I came, I saw, I conquered." Vincero Watches are made in small batches to ensure a premium final product. Materials are sourced by the Vincero Watches team, including Italian leather, gears and marble from Italy and stainless steel and sapphire glass from China. Each Vincero Watch features a piece of marble on the back of the watch as a reminder to always live your legacy.
Order a Vincero Watch and enjoy free shipping worldwide, directly to your door. Plus, Vincero Watches accepts returns for 30 days and provides a 2-year limited warranty on every Vincero Watch.
For this review, we'll be talking about the watches. But Vincero Watches also makes bracelets for men and women, wallets and travel cases. Visit the "Last Call" surplus section to see which models are currently marked down at the Vincero Watches site.
Finding the Right Vincero Watch For You
The process of finding the right Vincero Watch can be intimidating... there are so many great looking watches available after all! If you'd like to take a quick quiz to see which watches are recommended for you specifically, you can do so right on the Vincero Watches website. The Vincero Watches watch selection guide takes you through several simple questions meant to help narrow down the search. One question, for example, shows the test taker 5 photos of men or women in varying styles. You must then select which style best represents the style of the person who will be wearing the watch. The whole process takes less than 2 minutes. This can be a great place to start for new Vincero Watches customers or if you're purchasing a Vincero Watch as a gift!

Let's take a closer look at two Vincero Watches for men and one for women. Keep in mind, all Vincero Watches have interchangeable straps, allowing for customization with every model. Click here for watch straps for men or here for watch straps for women.
Vincero Watches - The Chrono S for Men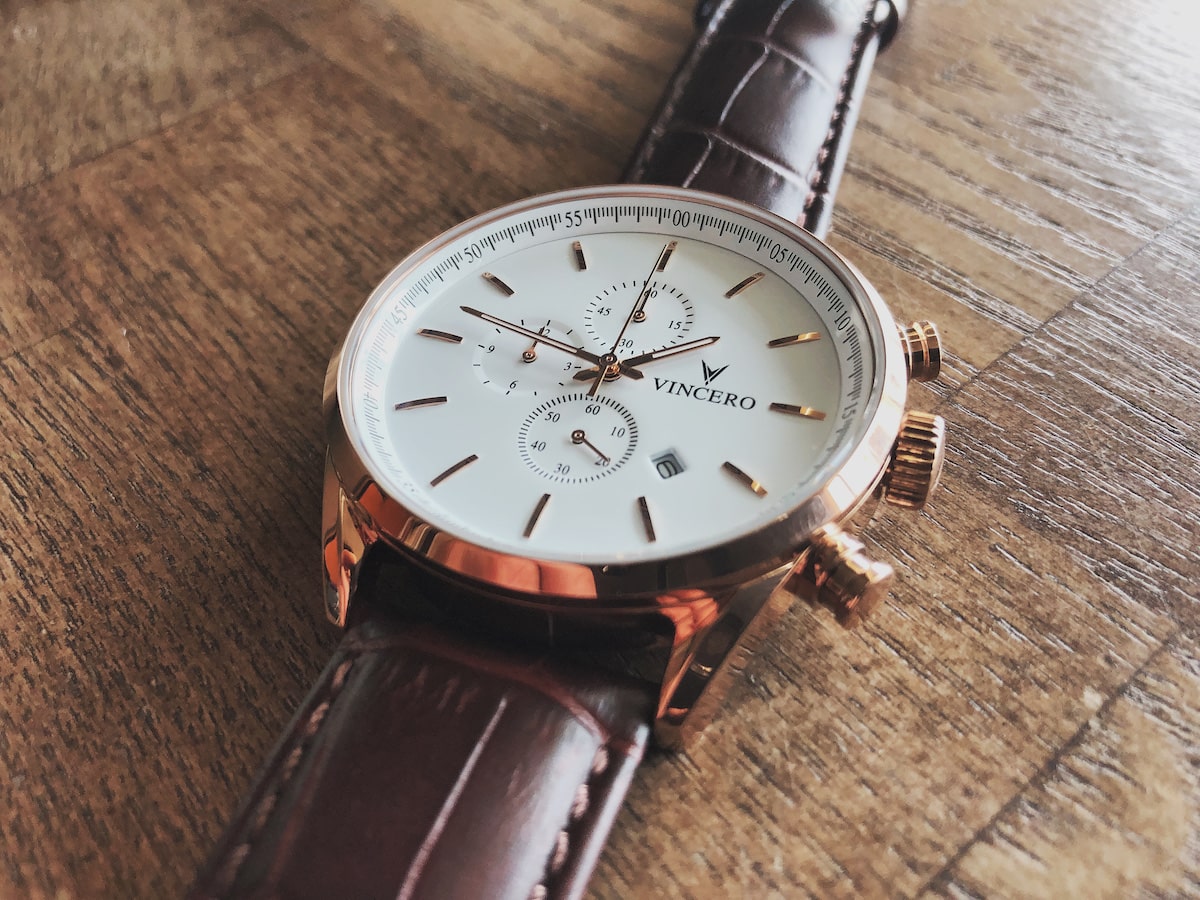 The Chrono S is the original Vincero Watch and one of the most popular models available for men with chronograph. It's currently available in 32 different color and style combinations. For this review, we were given the rose gold and white edition.

The face is 43mm in diameter and has a thickness of 11mm. The Chrono S from Vincero Watches features a 60-second, 60-minute and 12-hour timer in the watch face. All timers worked smoothly upon unboxing. It is water-resistant for up to 50 meters.

Vincero Watches look impressive on the site and have no doubt, they also look impressive in person. The rose gold and white Chrono S is a classier watch than I've ever owned but is one I've definitely pined for while dressed up for special occasions like weddings or dinner events. This particular watch will pair admirably with a blue or brown jacket. I'm also enjoying the weight of the watch. The build feels high quality to touch and the buttons all function smoothly.
Vincero Watches - The Altitude for Men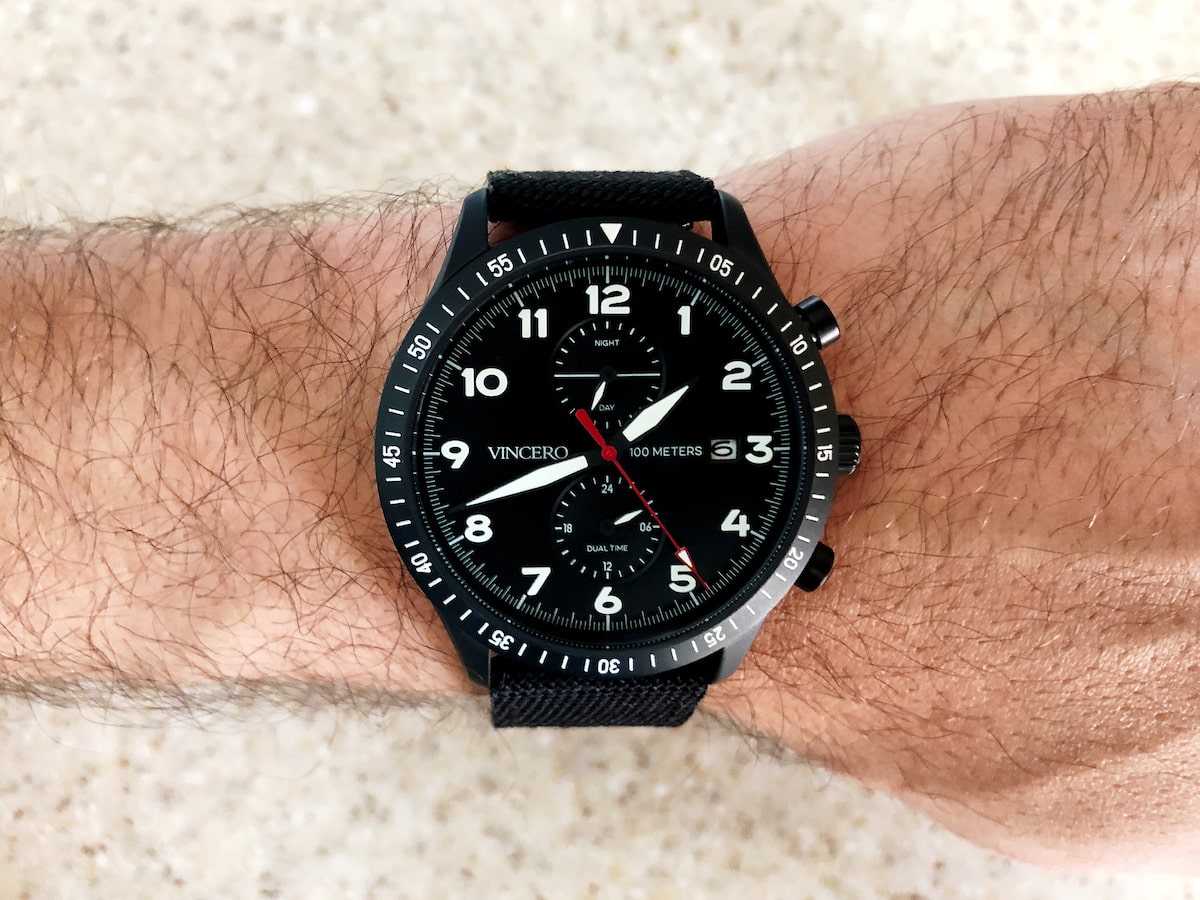 The Altitude from Vincero Watches is a newer model that features a slightly sportier look than many of the other watches available at Vincero Watches. For this review, we were given the matte black edition. It's a complete 180 from the Chrono S above and I like it. Similar to the other watches in the Vincero Watches line, The Altitude is available in several color combinations, for a total of 5 at the time of this writing.

A 43mm diameter face and 12mm of thickness keep this watch compact on the wrist and it doesn't appear bulky, even on my wiry 6 foot, 160-pound frame.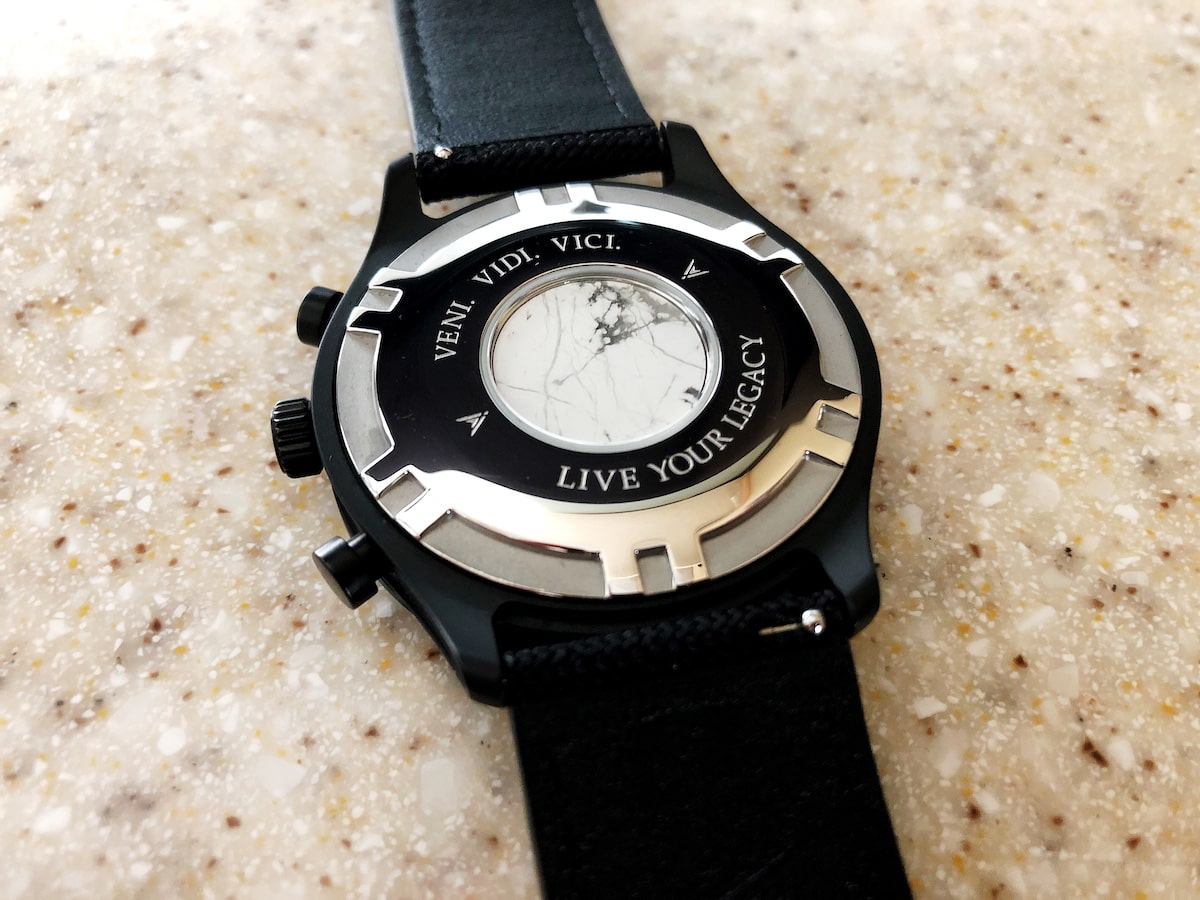 The Altitude sports a day and night dial, which moves in relation to the current time. It also features a dual time dial on a 24-hour clock. For travelers, this is an especially useful tool as it allows you to keep time in two different timezones simultaneously. In addition to all the great dials, The Altitude from Vincero Watches clock numbers and minute and hour hands all glow in the dark and it is water-resistant up to 100 meters. As an everyday watch, The Altitude certainly passes the test.


Vincero Watches - The Eros Mesh Petite for Women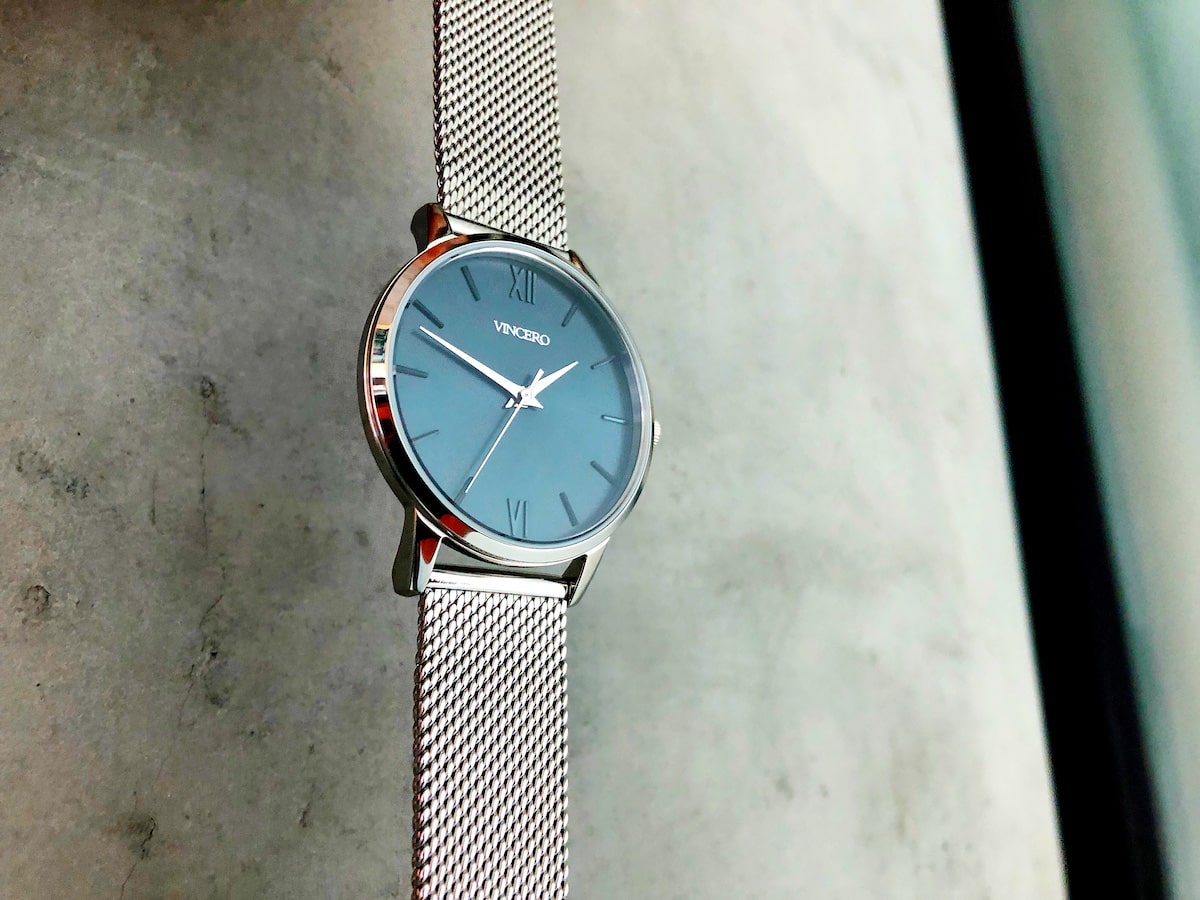 The Eros Mesh Petite is a highly versatile Vincero Watch for women. We were given the silver and Turkish blue version. The Petite line is a newer release and is identical to the original Eros line, except slightly smaller. The face on the Eros Mesh Petite is 33mm in diameter compared to 38mm in the original. It is rain resistant.

Women will love how it can confidently be dressed up or down. It's minimal, sleek and elegant. The Eros Mesh Petite from Vincero Watches is currently available in 13 different styles, from silver and white for a subtle look to the more bold rose and blue pearl. The Turkish blue featured in this version is a bold look that pairs with almost any outfit.
While the selection of women's watches from Vincero Watches is currently not as deep as the selection available for men, there are plenty of impressive options including this Eros Mesh Petite. All options for women are relatively subtle like the Eros Mesh Petite picture, except for The Kleio which features three additional dials.
The model in the picture below is 5'6 and 130 pounds.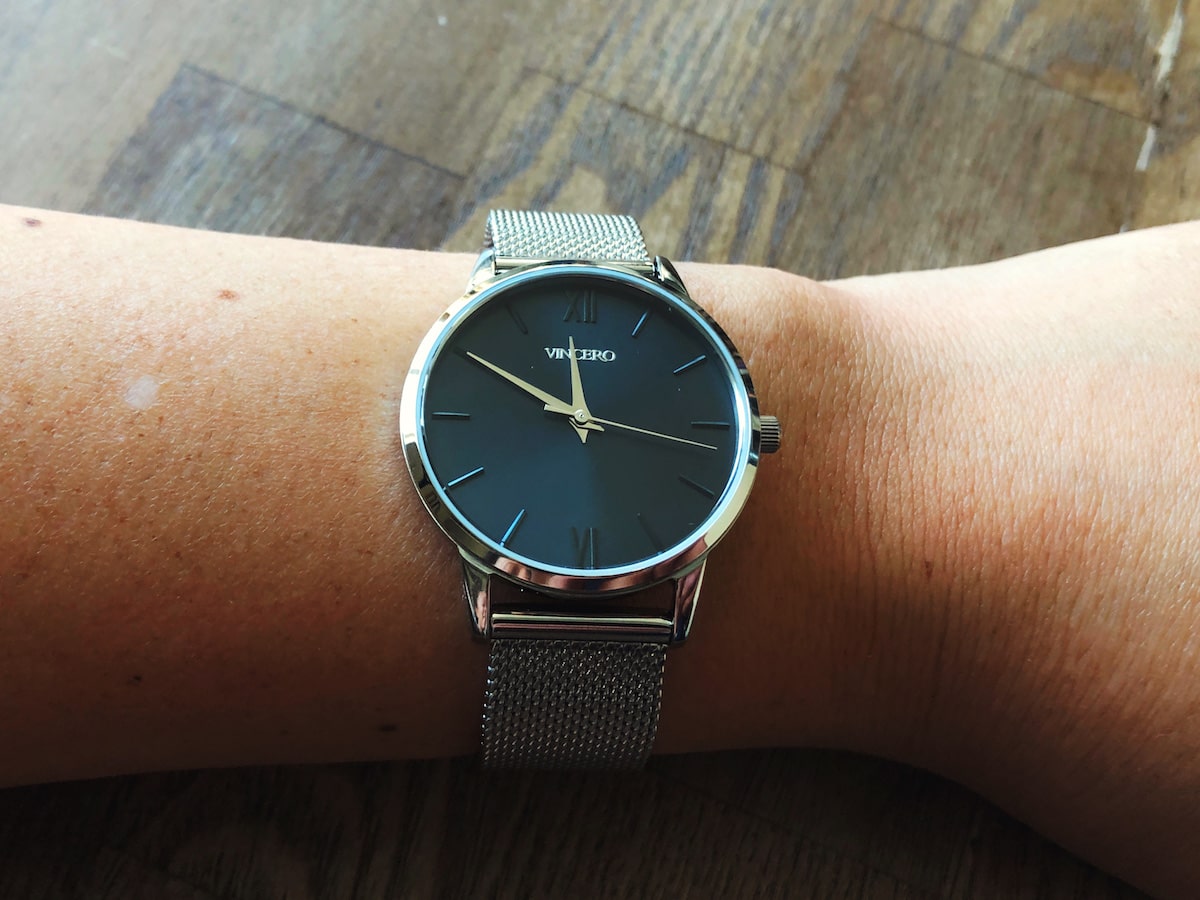 Vincero Watches Pros and Cons
Pros
High-quality materials and craftsmanship

Affordable luxury

2-year limited warranty on every watch

Free shipping worldwide

Interchangeable straps
Cons
Not many options available for women

Overall Vincero Watch Review - 4.9/5
Vincero Watches look as good in person as they do at the Vincero Watches website. You can feel the quality of the craftsmanship in your hands and the marble on the back of each watch is a classy touch. Vincero Watches is a distinguished addition to any man or woman's collection. With a wide variety of color combinations and styles to choose from, interchangeable straps, plus more models being consistently released, Vincero Watches provides a very respectable selection for shoppers looking to ratchet up their style without breaking the bank.