Convenience is often key when you are trying to gain a good education and still maintain a busy lifestyle. Online education is a great choice to make if you want to keep up with the latest trends in careers and conveniently do so on your schedule.
There are many platforms out there to choose from and two of the greatest ones are Udemy and Udacity. Keep reading to learn the specs about each of these educational tools and get on the fast track to a brand new career!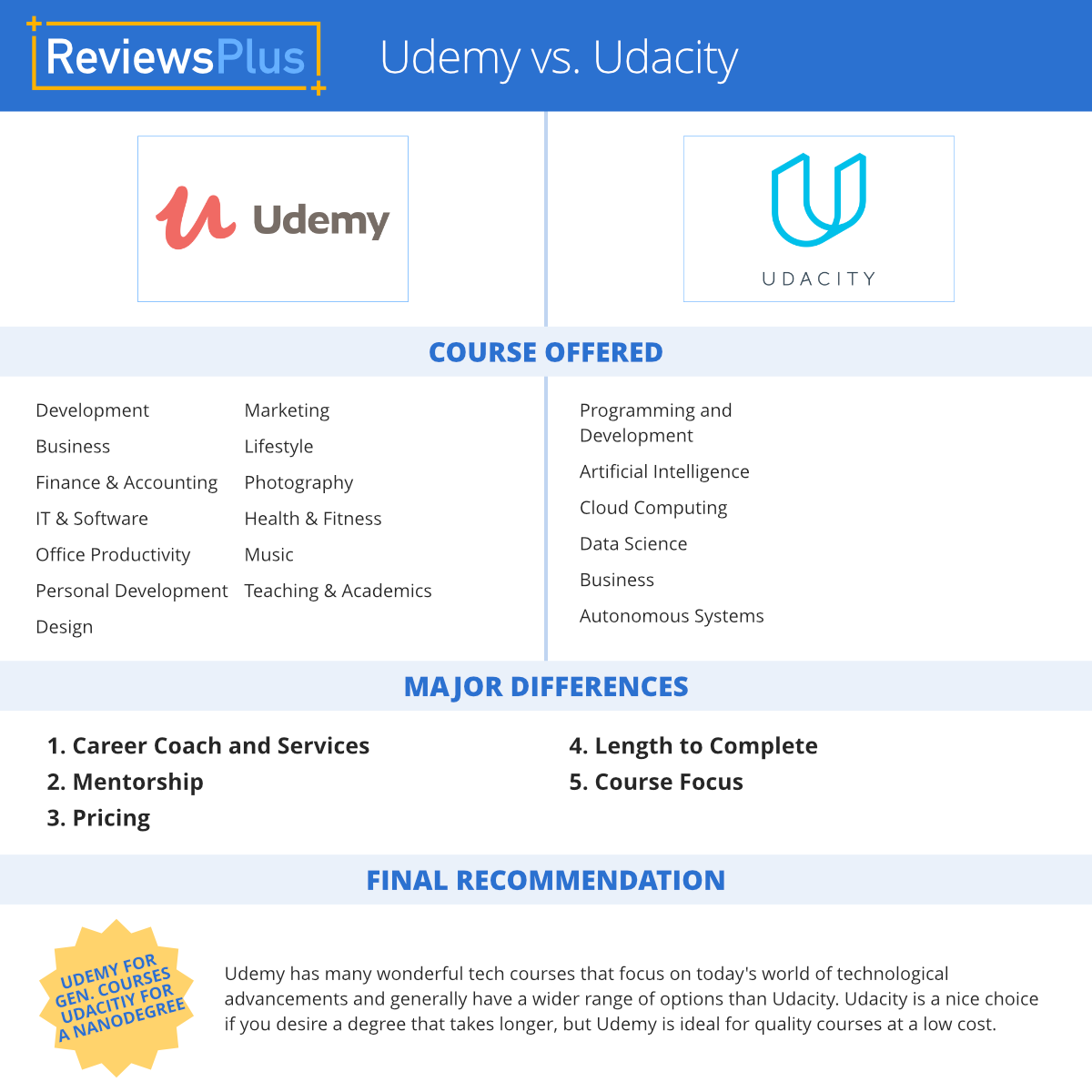 Udacity vs. Udemy
Udemy - The Basics
Udemy is a "go at your own pace" educational platform that hosts thousands of courses that cater to just about every field. They have courses under the following categories:
Development
Business
Finance & Accounting
IT & Software
Office Productivity
Personal Development
Design
Marketing
Lifestyle
Photography
Health & Fitness
Music
Teaching & Academics

Udemy is a great platform because it is suitable for both career and personal growth. It has the course load of a typical classroom and even goes into immense depth into each subject. If you don't know where to begin, Udemy can generate personalized recommendations for you based on a career evaluation.
Payment is per course and generally costs $10 or so dollars, so taking quality courses on Udemy won't break the bank. Finding Udemy coupons is a breeze and more expensive and robust courses at Udemy can often be found more affordably.
Udacity - The Basics
Udacity is home to the careers of the future. With a major emphasis on tech and popular careers, Udacity has courses available in these categories:
Programming and Development
Artificial Intelligence
Cloud Computing
Data Science
Business
Autonomous Systems
Udacity is a unique and innovative platform that is close to a college experience, minus the physical classroom. There is support all along the way when you pursue one of Udacity's nanodegree programs. Udacity's support system includes career coaching and services and even 1-on-1 mentorship. The cost of Udacity, especially if you enroll in a lengthier class-like a nanodegree, can cost upwards of a thousand dollars. You can find free classes on the site, however.
Udemy and Udacity - Major Differences
1. Career Coach and Services: A standout feature of Udacity is its inclusion of guided career services and coaches. Udemy also has excellent support through the instructors of each course. Both of these services help you to pursue your career with adequate support and guidance right from the get-go.
2. Mentorship: Along with career guidance, Udacity offers mentors with 1-on-1 guidance in which they answer questions and help you stay on track. Similar to above, Udemy offers the ability for you to direct message teachers with any questions or visit the Q&A section of each course.

3. Pricing: Udemy is the cheaper option per course because Udacity courses are much more involved and lengthy, hence the higher price tag.
4. Length to Complete: Speaking of length, Udacity courses can take months to complete. Because their courses are much more technical and involved, it requires a lot more training than the few hours you need for a typical Udemy course.
5. Course Focus: Udemy has a nice variety of courses, many that are focused on more popular careers and has far more options than Udacity does.
Final Recommendation - Udemy for general courses, Udacity for a Nanodegree
Udemy has many wonderful tech courses that focus on today's world of technological advancements and generally have a wider range of options than Udacity. Udacity is a nice choice if you desire a degree that takes longer, but Udemy is ideal for quality courses at a low cost.