The dream of so many of us is to be able to transform our passions and specific skill sets into a thriving career. Oftentimes we believe we need to conform to a 9-5 job to barely scrape by, but the world is changing and so are the ways we work and even learn.
As jobs that can be performed 100% online are rising in popularity, so is the need to build our skill sets. Udemy and Skillshare are two platforms that make it easy to get an education and prepare yourself for a new or better job. Want to see which platform is best for you? Keep reading to learn more about Udemy and Skillshare!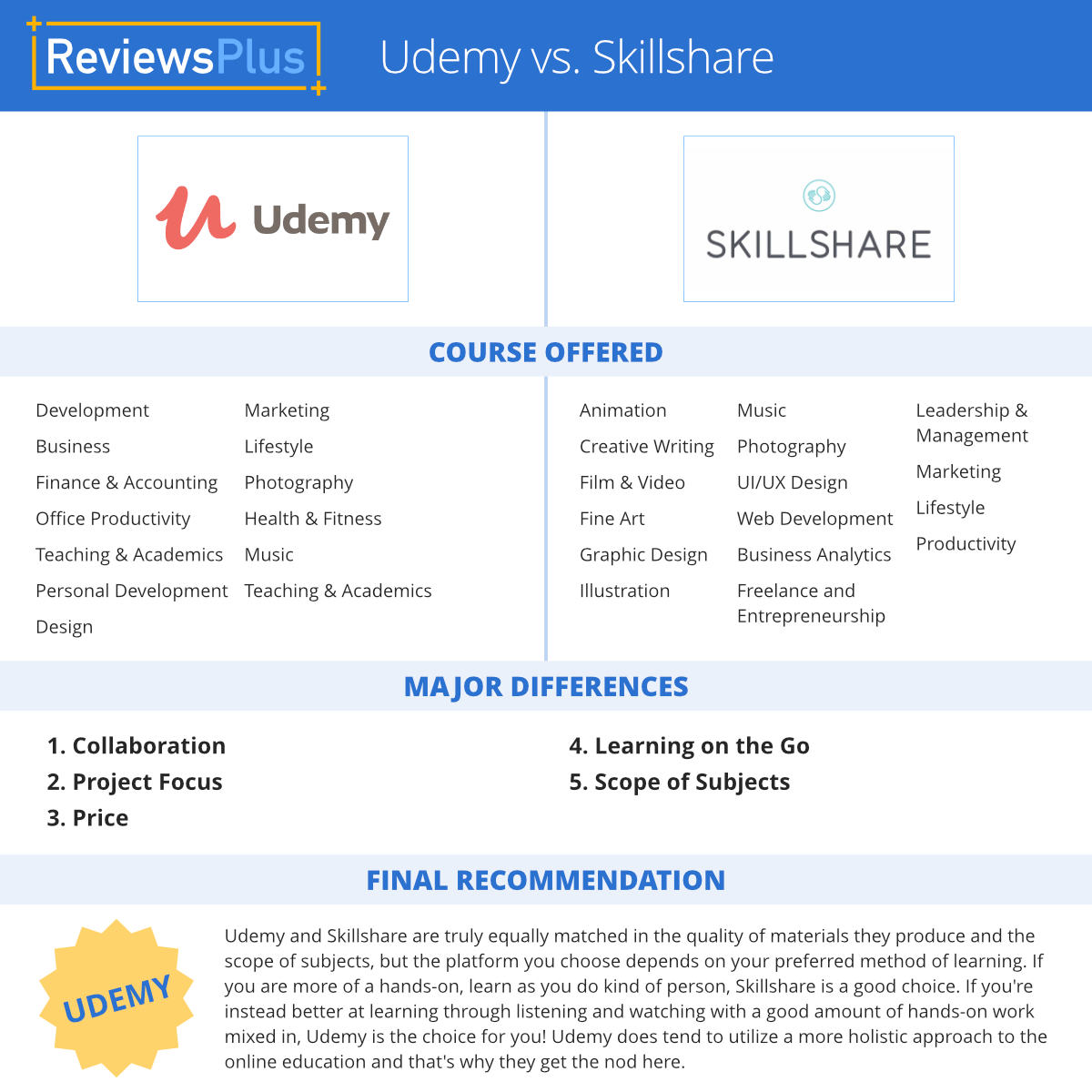 Skillshare vs. Udemy
Udemy - The Basics
Udemy was made for the professional adult and/or student who is seeking to learn without the hassle of enrolling in and attending a university. They cut to the chase and allow you to focus on subjects you truly want to learn about. Udemy has online courses that fall under these categories:
Development
Business
Finance & Accounting
IT & Software
Office Productivity
Personal Development
Design
Marketing
Lifestyle
Photography
Health & Fitness
Music
Teaching & Academics
As you can probably see, Udemy has a lot of variety in its subject categories. There are hundreds of thousands of specific courses within each of those categories. The nice thing about Udemy is you don't have to only be searching for a career when using the platform, you can merely be seeking to learn a fun new skill or hobby. History or a new language, for example.

Instead of sorting through pages of amateur videos on YouTube, you can find the subject you desire quickly and concisely with an assurance that the teacher is qualified to teach you what they're teaching. Udemy courses range in prices, but you can get the majority of them for just under $20. You can find a ton of deals online for Udemy courses and they usually have discounted pricing around the holidays and for feature events.
Skillshare - The Basics
Skillshare, like Udemy, has a wide variety of subjects to choose from. There are courses under the following categories:
Animation
Creative Writing
Film & Video
Fine Art
Graphic Design
Illustration
Music
Photography
UI/UX Design
Web Development
Business Analytics
Freelance and Entrepreneurship
Leadership & Management
Marketing
Lifestyle
Productivity
Skillshare is the home of over 4 million students who have developed their skills through Skillshare's primarily creative and tech-related courses. Skillshare is not solely about obtaining a 4-year degree to add to your resume. Their goal is building an open meritocracy with a focus on individuals being known for their excellent performance and not just their education and social class.
Because of this, Skillshare is not just a video learning tool, but it is a way for learners to do actual projects to truly develop their learning and skills. They make learning even easier by their implementation of a mobile app that has everything you need to learn a new skill on the go. The cost for classes on Skillshare is free, but there is also an option to go premium. Premium is affordable at $15 per month and includes offline viewing and unlimited access to classes.
Udemy and Skillshare - Major Differences
1. Collaboration: Both platforms have plans for teams and businesses that encourage collaboration. Udemy has thousands of courses for business teams to take advantage of.
2. Project Focus: Speaking of projects, Skillshare differs from Udemy in that it is not as video course heavy (although it is the main feature) but rather aids students by having them complete actual projects. Udemy takes a holistic route to learning and includes videos, downloadable resources, projects, and quizzes in their courses.

3. Price: Skillshare costs just $15 per month for a premium account. Udemy costs a bit more per course, but there are a plethora of low-cost courses and Udemy often offers discount codes and specials that significantly lower course costs.
4. Learning on the Go: Both services offer an app. Udemy's app is extremely intuitive and makes it simple to learn on the go wherever you are.
5. Scope of Subjects: Udemy has a wider variety of subjectscompared to Skillshare, but Skillshare still has a ton to choose from. They have many niche subjects such as entrepreneurship and freelance which can help students who want to take an even less traditional career path. Udemy also has courses along these same lines and have lessons on everything from human resources to safety and first aid.
Final Recommendation - Udemy
Udemy and Skillshare are truly equally matched in the quality of materials they produce and the scope of subjects, but the platform you choose depends on your preferred method of learning. If you are more of a hands-on, learn as you do kind of person, Skillshare is a good choice. If you're instead better at learning through listening and watching with a good amount of hands-on work mixed in, Udemy is the choice for you! Udemy does tend to utilize a more holistic approach to the online education and that's why they get the nod here.