Education is one of the most valuable enterprises in which a person can invest their time and money. Not only does it give you an ability to earn a degree in a specific field of study, but it is also a lifelong process that truly never ends. Since the turn of the century and the rise of the Internet, many people have taken their education into their own hands.
Through online education, you can morph your field of study to fit your schedule, needs, and learning capabilities. There are a wide variety of platforms on the web that provide educational courses that help lifelong learners learn at their own pace. Keep reading to learn about and compare two popular online education companies: Pluralsight and Udemy.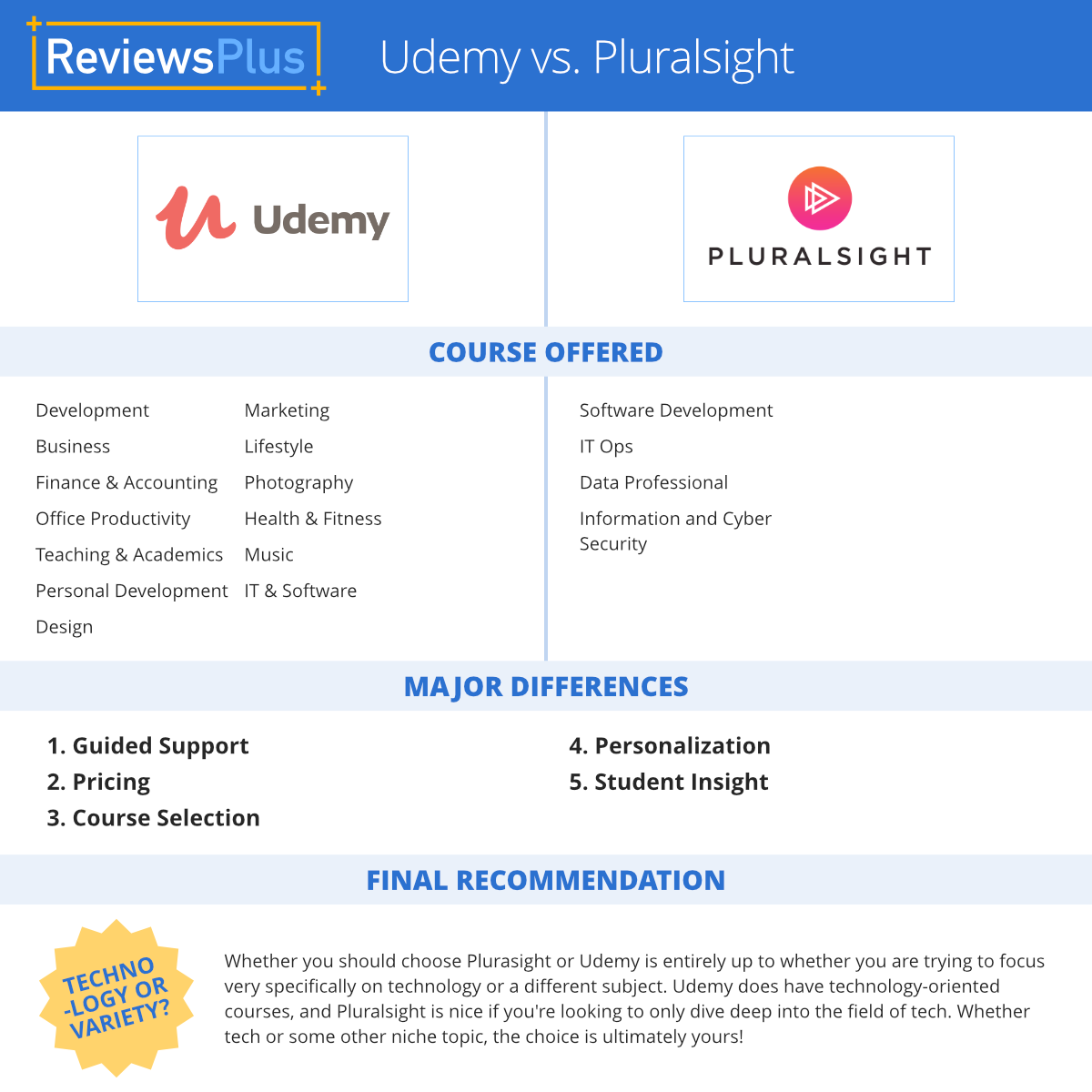 Pluralsight vs. Udemy
Udemy - The Basics
Udemy is no doubt a favorite among online learning platforms for its wide variety of subjects you can dive into. They break down into these categories:
Development
Business
Finance & Accounting
IT & Software
Office
Productivity
Personal Development
Design
Marketing
Lifestyle
Photography
Health & Fitness
Music
Teaching & Academics
Udemy is aimed at students and professional adults and serves as an alternative to traditional universities. While they do not offer degrees, they do offer some of the same knowledge you would glean in a classroom, and at your own particular pace. Udemy has over 100,000 online courses to choose from and offers a simple questionnaire that serves to suggest the perfect course for you. Not everyone can learn the same way, so Udemy also offers an option to find the right instructor for you as well! The majority of Udemy courses can be purchased for under $20 which includes video content, downloadable resources, articles, and more. More robust classes will cost extra and Udemy coupons can regularly be found to save on all courses.

Pluralsight - The Basics
Pluralsight is one of the most popular and reputable online education platforms that has a specific focus on technology careers and skills. They have courses in the following categories:
Software Development
IT Ops
Data Professional
Information and Cyber Security
Pluralsight's goal as an educational platform is to equip tech gurus with the necessary skills to keep up with new technology trends. They segment their learning into career paths that guide users down a specific sequence of courses in a specific subject of their choice.
Pluralsight offers two IQ tests: the Role IQ and Skill IQ. These tests analyze and define your skill set to determine what you need to work on to get to the next level in your technology career. Pluralsight also suggests prerequisite courses in each course description to help you get a proper understanding of each subject you are learning about. Their subjects come with several different courses to choose from that have hours of rich information with them.
The pricing for Pluralsight online education goes by the month or the year and varies depending on whether you are purchasing for individual or business purposes. You gain access to all of the courses for just $29.99 per month or $299 a year as an individual and between $449 and $779 per year for more advanced and team level packages.
Udemy and Pluralsight - Major Differences
1. Guided Support: Both Pluralsight and Udemy include tests to help guide you into the right career, but Udemy also has a major focus on matching you with the perfect subject matter and instructor for you.
2. Pricing: Udemy courses, especially if you take more than one, come at a similar cost to a monthly subscription at Pluralsight. The packages on Pluralsight are pretty pricey and you can get a lot more for your buck from Udemy.

3. Course Selection: Udemy has many courses to choose from with technology-oriented subject just a small fraction of the hundreds of subjects they host. Pluralsight is ultra-focused on the tech field specifically and places high value on up-and-coming technology subjects and industries, so they have little to no focus on other subject matter like Udemy does.
4. Personalization: Udemy has a goal to set up their students for success and they do this by personalizing their experience. They have a short and simple questionnaire that guides learners into the subject they would be best suited for.
5. Student Insight: Udemy is very transparent about their students real-life experiences and has a review section on their site where students can leave their experience and comments on Udemy courses. This section is filled with praise and adoration for the platform.
Final Recommendation - Technology or variety?
Whether you should choose Plurasight or Udemy is entirely up to whether you are trying to focus very specifically on technology or a different subject. Udemy does have technology-oriented courses, and Pluralsight is nice if you're looking to only dive deep into the field of tech. Whether tech or some other niche topic, the choice is ultimately yours!