Upon the dawn of the Internet age, videos have become one of the most useful mediums of entertainment. Today, videos are utilized to provide more than just humorous animal videos. They can also be a key part in quality education via instructional and educational videos.
Lynda, now known as LinkedIn Learning, was one of the first organizations to provide online educational courses to users across the web. Many other platforms, such as Udemy, have been developed in the years since Lynda launched in 2002, and they have provided alternative education for millions upon millions of people. Keep reading to discover the specs and differences between two popular education marketplaces, Lynda and Udemy.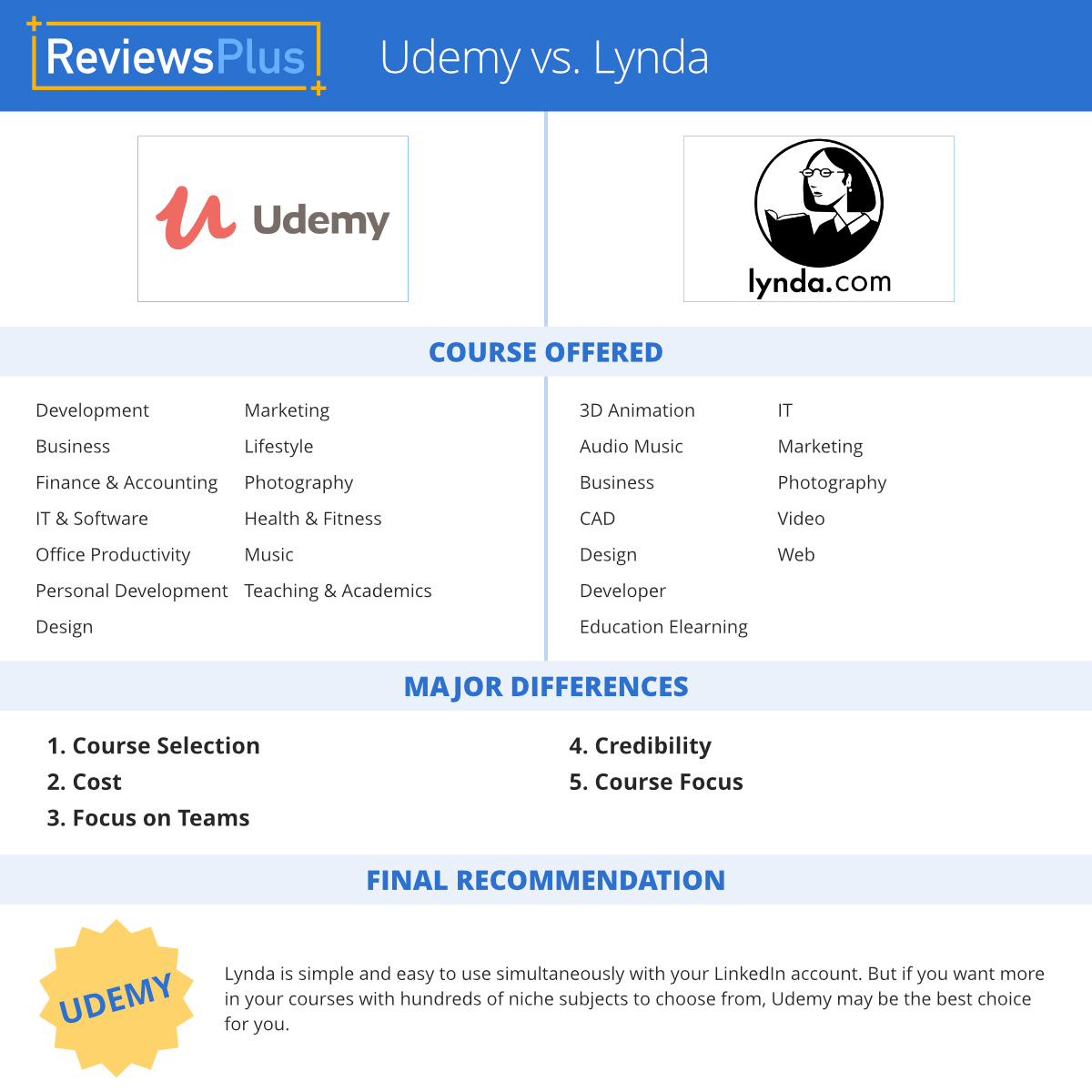 Lynda vs. Udemy
Udemy - The Basics
Udemy is not the first educational platform of its kind, but it has a wonderful variety of courses that is ever-expanding. Here are Udemy's main categories of courses:
Development
Business
Finance & Accounting
IT & Software
Office
Productivity
Personal Development
Design
Marketing
Lifestyle
Photography
Health & Fitness
Music
Teaching & Academics

Udemy has a broad range of subject matter and, as you will also see with Lynda, also has a strong focus on fields that are popular in the modern-day. On the very same platform, you can learn how to use music production software or even how to do Brazilian Jiu-Jitsu. Not sure where to start? Udemy has a quiz that is similar to a "career finder" that develops personalized recommendations upon your completion of a simple quiz.
If you find yourself searching for a new career path and don't feel up to combing through Udemy's thousands of courses, Udemy can help narrow your focus. When you finally do choose the course for you, it won't break the bank and you should be able to sign up for it for under $20! Udemy coupons are available online and can be used to drive down the price of more robust and pricier courses.
Lynda - The Basics
Lynda, which was acquired by LinkedIn (a business and employment community platform) in 2015, is one of the oldest and most well known educational platforms on the market. This household name began as simple online support for the books and classes of Lynda Weinman and later expanded its reach to online courses in 2002. Lynda began with a focus on the digital arts and multimedia and their current subject matter follows along the same lines. These categories include:
3D Animation
Audio Music
Business
CAD
Design
Developer
Education Elearning
IT
Marketing
Photography
Video
Web
Each of the categories in the Lynda library break down into topics, software, and learning paths that users can utilize within each field. The main focus that Lynda has is providing courses and educational solutions to businesses, government agencies, schools, and more.
Their courses include videos, exercise files, quizzes, perpetual access to each course, and a certificate. Instead of charging their users by the course, Lynda has a very affordable payment plan that grants you access to the entire library of their online video resources. This costs $29.99 per month if you are paying by the month, or just $19.99 per month if you sign up for an entire year. Lynda also gives you the option to try out their subscription for one month for absolutely free, which is a major perk. There is also special pricing if you decide your group or organization wants to utilize Lynda courses.
Udemy and Lynda - Major Differences
1. Course Selection: Both Lynda and Udemy have a heavy focus on a lot of the more modern career choices, but Udemy still has a lot more obscure, niche course options. Lynda's focus on online-based careers is great if that is the kind of career path you are looking to explore.
2. Cost: Udemy has cheap course costs that vary per course. Lynda runs on a subscription plan that costs $29.99 per month and can add up quickly if you're only looking to take a few classes.
3. Focus on Teams: Lynda has a major focus on building education among teams. Udemy has an incredible team and business options, however, their main focus is individual success for each of their users.
4. Credibility: Lynda is one of the first platforms to revolutionize online education and has been a household name for some time now. Udemy has operated for about half the time as Lynda, but they have improved upon some of the older systems Lynda has used.

5. Affiliation: Lynda is partnered with LinkedIn and has been rebranded to be able to work hand-in-hand with the LinkedIn employment platform. Because of this, Lynda has more brand recognition and higher usage by LinkedIn members. Udemy may not have affiliation with a powerhouse like LinkedIn, but they do work with a ton of reputable companies such as Adidas and Eventbrite.
Final Recommendation - Udemy
Lynda is simple and easy to use simultaneously with your LinkedIn account. But if you want more in your courses with hundreds of niche subjects to choose from, Udemy may be the best choice for you.