Some people just don't fit in the mold of a typical classroom setting. Maybe you are a single mother trying to get an education and still take care of your children or even a businessman who wants to brush up a new skill set outside of your busy work hours.
Online education is a great alternative for people who either cannot afford the expenses of a traditional university or simply cannot take classes during daytime hours. There are hundreds of online learning platforms and Coursera and Udemy are among two of the best and most diverse of them all. Keep reading to see the differences between these two platforms and which one is best suited for your busy schedule!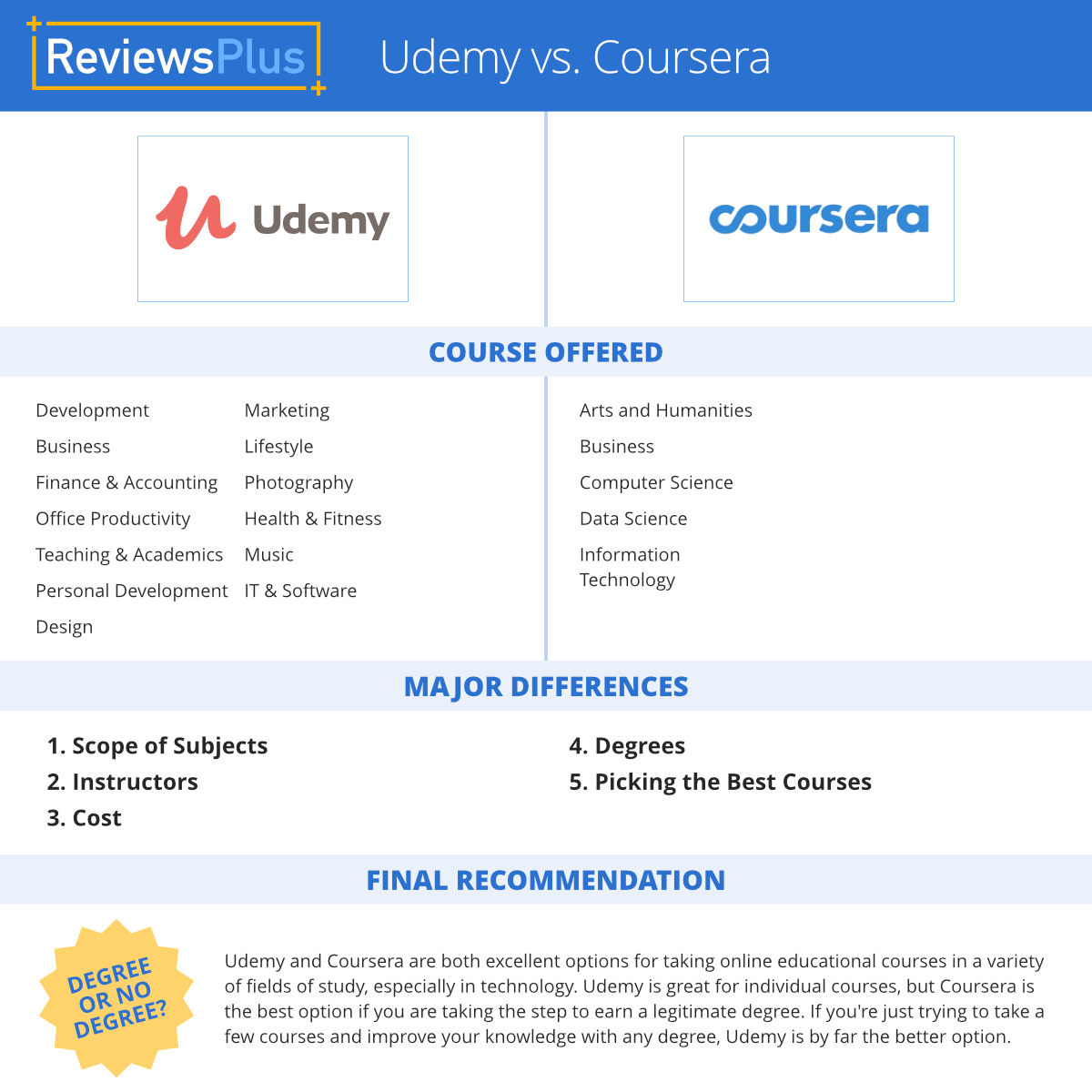 Coursera vs. Udemy
Udemy - The Basics
Home of the world's largest selection of online courses, Udemy is a reputable frontrunner in online education. Their online courses allow you to learn just about anything from experts in each industry. You can find courses within each of these categories:
Development
Business
Finance & Accounting
Office Productivity
Teaching & Academics
Personal Development
Design
Marketing
Lifestyle
Photography
Health & Fitness
Music
IT & Software

Udemy's wide range of subject matter makes it easy to find exactly what you want to learn about. Udemy is constantly updating its website with new courses so there is no shortage of new information in trending fields of study. Their courses, which are accessible at any time after purchasing, enable you to learn at your own pace without having to cram in all the knowledge in a short period such as is common in a classroom. Each course includes the availability of a course instructor who can help you along your educational journey.
Courses are affordable and can cost as low as $9.99 each! Larger, more robust courses may cost closer to $200, however, Udemy coupons are regularly available to help make these courses more affordable.
Coursera - The Basics
Coursera is similar to Udemy in that it offers a wide variety of courses to choose from. They have courses in these categories:
Arts and Humanities
Business
Computer Science
Data Science
Information Technology
Coursera is known for their collaborations with world-class universities and companies and work with their instructors and leaders to provide on-demand lectures. They work with high-end universities such as Duke and Stanford and popular companies such as IBM and Google.
The main standout feature of Coursera is its option to gain an online degree. They offer over 20 Master's and Bachelor's degrees in data science, business, computer science, and even engineering. Their reputable degree programs come at a fraction of the cost of traditional universities and average at around $22,000 as compared to a $52,000 (or more) campus degree.
If you aren't seeking a degree but rather just some extra knowledge, you can opt to take individual courses and even earn certificates. The cost to take the courses is free, but to gain a certificate you do have to pay a fee that averages around $50, depending on the course. However, Coursera offers financial aid to those who cannot afford the fees, just as a traditional university might.
Udemy and Coursera - Major Differences
1. Scope of Subjects: Udemy offers a wide range of different subjects that you can learn about, but Coursera has narrowed its scope to mainly technology and business-related subject matter. You're more likely to find an obscure subject matter on Udemy than Coursera.
2. Instructors: Coursera has a heightened sense of credibility because they work with actual professors who are professionals in their field. Udemy instructors are no doubt quite capable with plenty of high reviews to support the point, however, if you're looking for more accredited hands-on help, Coursera may be a better option.

3. Cost: Udemy is a highly affordable option to learn about different fields and even gain a certificate whereas Coursera can cost a pretty penny, especially if you decide to commit to one of their degree programs. The advantage of Coursera, however, is their option for financial aid, which could essentially enable you to get an online degree at no cost whatsoever.
4. Degrees: The most apparent thing that differentiates Coursera from Udemy is Coursera's offering of a degree program. This more intensive program lands you a legitimate accredited degree which just may give you an advantage on the job market. Udemy does offer certificates of completion.
5. Picking the Best Courses: Coursera has a neat feature called "learner career outcomes" which is listed with each course. This gives some proven stats on the success of each course including the percentage of students who started a new career after taking the course or believe they gained a career benefit from the course. On Udemy, users rely on other users' reviews.
Final Recommendation - Degree or No Degree?
Udemy and Coursera are both excellent options for taking online educational courses in a variety of fields of study, especially in technology. Udemy is great for individual courses, but Coursera is the best option if you are taking the step to earn a legitimate degree. If you're just trying to take a few courses and improve your knowledge with any degree, Udemy is by far the better option.