It used to be assumed that the best way to learn a new skill or trade was by attending a 4-year university, completing an internship, graduating with a degree, and (maybe) landing your dream job. While this used to be the norm, more and more people are beginning to instead opt for specialized online courses. In a day and age where employers are primarily looking for experience and not just merely a degree, online education is a reasonable choice.
Udemy and Codecademy are two of these online education platforms where thousands of people have learned a new trade without being confined to a traditional classroom. The biggest questions you have to answer are which online learning tool is the best for you, what are your goals, and what is your budget. Check out the comparison between Udemy and Codecademy below to help in your decision making process.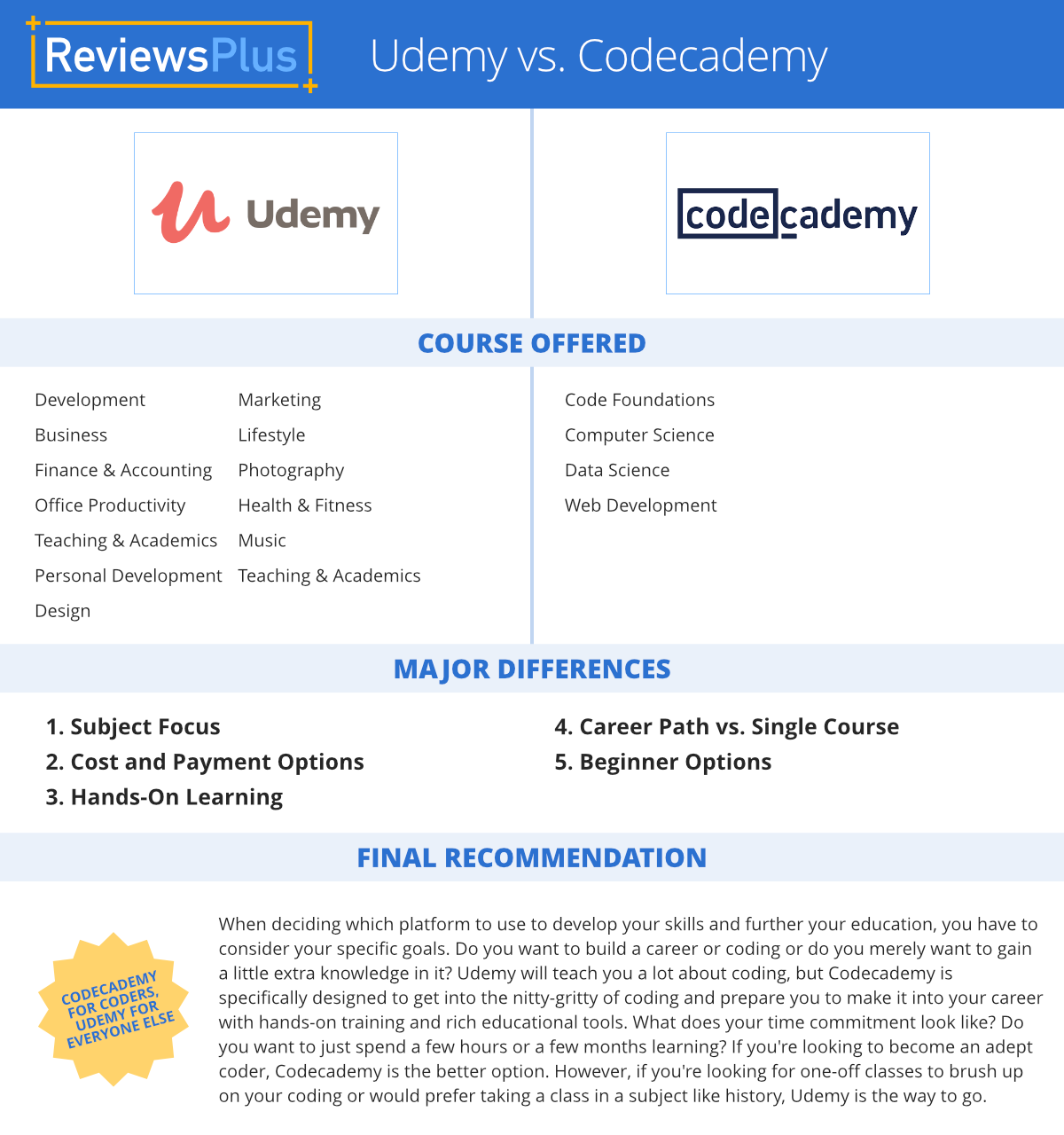 Codecademy vs. Udemy
Udemy - The Basics
Udemy is a renowned online learning platform that has over 245 million course enrollments and a plethora of courses on basically every area of expertise you can think of. The main Udemy categories of interest are the following:
Development
Business
Finance & Accounting
IT & Software
Office Productivity
Personal Development
Design
Marketing
Lifestyle
Photography
Health & Fitness
Music
Teaching & Academics

Within these 13 categories are dozens of specific areas of subject matter that you can learn about. There are over 300,000 of these courses, so whether you're trying to fine-tune your photo editing skills or learn about the rise of cryptocurrency, Udemy has a video course for it. You have lifetime access to these extremely affordable courses, so you can always go back and refresh your memory on any of the courses you have purchased.
Speaking of cost, when compared to the overwhelming cost of a college course (which can cost on average $594 per credit hour, almost $1,800 per class), Udemy is a steal. The real perk is that you can interact with real instructors just as you would in a standard classroom. Plus, you can do all of this from the comfort of your home or at your favorite coffee shop. Udemy truly has revolutionized online learning. Look for Udemy coupons to help bring down the cost of these already affordable online classes.
Codecademy - The Basics
Codecademy is another popular online education platform that has taken the non-traditional course to education. While Udemy has a subcategory of courses on coding, Codecademy is centered all-around educating its users on coding specifically. They have several different careers paths you can pursue:
Code Foundations
Computer Science
Data Science
Web Development
These 4 main categories of learning expand into dozens of specific coding skills ranging from HTML and CSS for Web Development, to Python and SQL in Data Science, and much more. Codecademy takes pride in their 45 million learners who have fine-tuned and developed their coding skills. Their primary goal is to prepare and propel coders into their dream job in this competitive field.
Codecademy provides their coding courses at no cost, but there are a few paid options you can choose if you want even more support. Their Pro Plan costs $19.99 per month and includes extra perks such as real-world projects, step-by-step guidance, peer support and more. They even have a team paid option that includes even more features such as a team advisor and performance reviews. The cost is based on your team size and can be quoted for you by Codecademy.
Udemy and Codecademy- Major Differences
Both Udemy and Codecademy enable learners to take learning into their own hands from anywhere they have an internet connection, but they do differ in several key areas.
1. Subject Focus: Udemy's platform is built for learners of all levels and interests while Codecademy focuses on just one specific niche of learners: coding.
2. Cost and Payment Options: Codecademy works under a subscription system that costs about $19 per month. Udemy courses can cost as low as $9.99 per course and often feature excellent special deals and discounts.
3. Hand-On Learning: Udemy courses are extremely informative and teach you a ton about each subject matter, and Codecademy focuses more on hands-on work and learning by doing. You can practice the subject matter in real-time and get feedback from Codecademy along the way. Udemy provides many other features in their courses such as quizzes and downloadable content.

4. Career Path vs. Single Course: Udemy primarily has single courses you can watch at any time that you can learn a skill from, and Codecademy goes very in-depth for the subject matter they teach. Instead of a single course, you begin a career path that mimics a real-life classroom. It takes 6-12 months to complete and includes lessons, videos, projects and quizzes to help you grow in your career. This can take much longer than taking single courses in Udemy.
5. Beginner Options: Udemy has a variety of courses that dive into whatever skillset you are trying to learn about. Because Codecademy's courses are all on similar subject matter, they offer a beginner course that teaches you the very basics of coding. This is a great feature if you're just not sure where to begin. Udemy features excellent guidance questionnaires that fit you into the best course for your talents and skills.
Final Recommendation - Codecademy for coders, Udemy for everyone else
When deciding which platform to use to develop your skills and further your education, you have to consider your specific goals. Do you want to build a career or coding or do you merely want to gain a little extra knowledge in it? Udemy will teach you a lot about coding, but Codecademy is specifically designed to get into the nitty-gritty of coding and prepare you to make it into your career with hands-on training and rich educational tools. What does your time commitment look like? Do you want to just spend a few hours or a few months learning? If you're looking to become an adept coder, Codecademy is the better option. However, if you're looking for one-off classes to brush up on your coding or would prefer taking a class in a subject like history, Udemy is the way to go.