The technological revolution we've all witnessed since the dawn of the iPhone brought advances we didn't think were possible... and maybe even didn't think about at all. Take online education platforms, for example; different than an online university, these platforms allow students to take individual classes that do not add up to a degree - like coding, French, photography, etc - but which provide real knowledge and education to those that sign up.

There are three kinds of online learning platforms: self-hosted; third-party hosted, where vendors sell a variety of teachers' courses; and online learning marketplaces. The OLMs are large e-commerce sites—practically a Walmart for online courses. OLMs are able to carry classes across the widest range of topics. Courses are uploaded by users and students are able to browse every course from every instructor, creating an experience similar to shopping for shoes or any other item online.
Today, Udemy is the leading global marketplace for learning and instruction.

Udemy Review
In 2007, when Eren Bali built software for a live virtual classroom in Turkey, he saw a spot in the market for an online learning marketplace similar to his project and moved to Silicon Valley two years later. There, he joined Oktay Caglar and Gagan Biyani in founding Udemy. Currently, Udemy serves over thirty million students through one hundred million courses in over fifty languages.
There's one big downside to Udemy worth noting: none of their courses offer college credit, though some offer credit towards a technical certification. Udemy has made a special effort to attract corporate trainers seeking to create coursework for their employees, so, beyond increased job-related skills, it's also possible to fulfill professional requirements through courses.
Udemy caters to anyone eager to learn and there is a class for every interest out there. It's perfect for a wide swath of lifestyles, from a businessperson with full-time, 40-hour weeks (or more) to a stay-at-home mother with no schedule consistencies, to everything in between! Classes are on-demand and completely at user control, with no deadlines or pressure. Every student gets to learn at their own pace.
Here is more information about Udemy!
COURSE SELECTION
Udemy offers the widest variety of courses available from online learning marketplaces. There are twelve categories of courses to choose from, including:

Development
Business
IT & Software
Office Productivity
Personal Development
Design
Marketing
Lifestyle
Photography
Health & Fitness
Music
Teaching & Academics
These may seem vague at first... but each "category" drops down to a list of subcategories and then, through each of those, to a list of popular topics. These specific focuses allow students (and teachers) the freedom to look at a subject from different angles, to get a holistic understanding of it. Anyone can benefit from the variety of Udemy courses.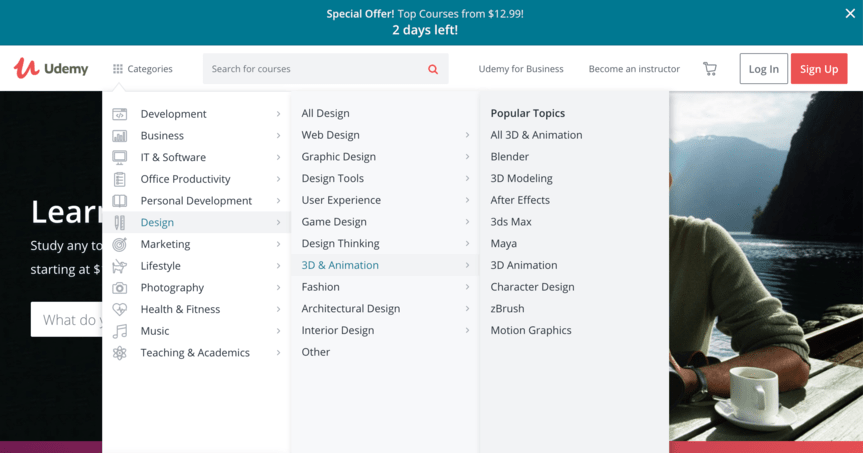 Udemy is regarded as the top online learning marketplace for a variety of reasons, whereas others are well-regarded in narrower ways. SkillShare for example, another leading online learning marketplace, is known to be the best for creative teaching. It offers a similar list of overall categories however it's not possible to get more precise with a specific focus. Not to mention: SkillShare only has 25,000 courses, whereas Udemy offers over 100,000 and has over 15 million students around the glob.
EdX, another competitor, lists their courses by academic subject. They only offer 1,900 courses; however, students can earn college credit from Arizona State University for some of them, through the Global Freshman Academy.
BUYING UDEMY COURSES
Courses can often be purchased for less than the original price listed, with the majority of courses listed with original prices often over $100. New users can purchase courses for $10.99 and members will have access to up to 75% in savings bimonthly. Hundreds of Udemy courses are also put on sale, rotating throughout entire months. Savings during these sales can be up to 95% off! Courses can typically be bought for $12.99.
Keep an eye out from special savings sent via email from past and current instructors!
Udemy courses are taught by self-proclaimed expert. This makes it highly important to read reviews and be thorough in research before purchasing a course online.
Courses are conceptualized and executed 100% by the instructor. Udemy does not provide any structure that all courses must follow, so your experience will likely vary from class to class. Udemy does track progress through courses taken. The platform also allows user to take notes during class, which can be viewed at anytime, or leave notes for instructors. Instructors will upload course materials including videos, presentations, graphics and more, to the course online for students to access.
Again, in addition to the course description, reading user reviews is one of the best ways to see what a course is really all about!
EXAMPLE COURSES
Complete Python Bootcamp: Go from zero to hero in Python 3
One of their bestsellers, this course helps students build their understanding of the coding software Python from the ground up. There are 186 lectures, totaling to over twenty-four hours of course content, including nineteen different coding exercises. Through bootcamp, students learn both Python 2 and 3 as well as advanced Python features.

Machine Learning A-Z: Hands-On Python & R In Data Science
True to its name, this course helps students master machine learning in Python and R. Specifically, students will learn Dimensionality Reduction and handle topics like Reinforcement Learning, NLP, and Deep Learning through over forty-one hours of video.

AWS Certified Solutions Architect - Associate 2018
This course is designed to help users pass the AWS (Amazon Web Services) Certified Solutions Architect - Associate Exam with over twenty hours of video and sixteen downloadable resources. To take this course, students need no prior knowledge of how to take or pass the test, students will learn everything through Udemy.

The Complete Digital Marketing Course - 12 Courses in 1
This bestselling course trains students in Master Digital Marketing, which includes strategy, social media marketing, SEO, YouTube, email, and Facebook marketing and analytics. It is presented over the course of thirty-seven hours of video and twenty-six articles.

The Ultimate Drawing Course - Beginner to Advanced
Starting with the fundamentals of art, students learn to draw perspective drawings, the human face and figure, and realistic light and shadow, to name a few. Instructors promise that students will walk away with significantly enhanced drawing skills—or money back!

Learn Ethical Hacking from Scratch
The targeted objectives list for this course spans sixty—yes, sixty—bullet points, including hacking and securing both WiFi and wired networks, Linux commands and interacting with the terminal, and ARP Spoofing and Poisoning.

Microsoft Excel - Excel from Beginner to Advanced
Every person could make use of this class. Excel is so complicated, yet extremely useful. This Udemy course makes it more simple, with over fourteen hours of video to help students learn along the way. Students will learn how to unlock dynamic formulas and run day-to-day tasks through Macros and VBA.

Java Programming Masterclass for Software Developers
This Udemy online course is perfect for software developers who want to gain proficiency in both Java 8 and 11. With seventy-six hours of video, this course will equip developers to sit for and pass the Oral Java Certificate exam.

Angular 7 (formerly Angular 2) - The Complete Guide
Develop modern, complex, responsive, and scalable web applications with Angular 7. The 102 downloadable resources walk users through understanding the architecture behind an A7 application and how to use it.

MOBILE APP
In writing this review, I found a French course I liked and downloaded the mobile app. In the past, users have rated it 4.7 out of 5 stars, but left less-than-stellar comments. Many complained of the application's bugs and glitches and the overall user experience and organization. After exploring for myself, I have to agree. The link to toggle resources and exercises for any specific lesson are seemingly buried in drop-down menus, and there are a significant amount of glitches. Fortunately, a bad app is easy to fix, and the content of the classes themselves is still great. Additionally, there are certain savings that are available ONLY through the Udemy mobile app.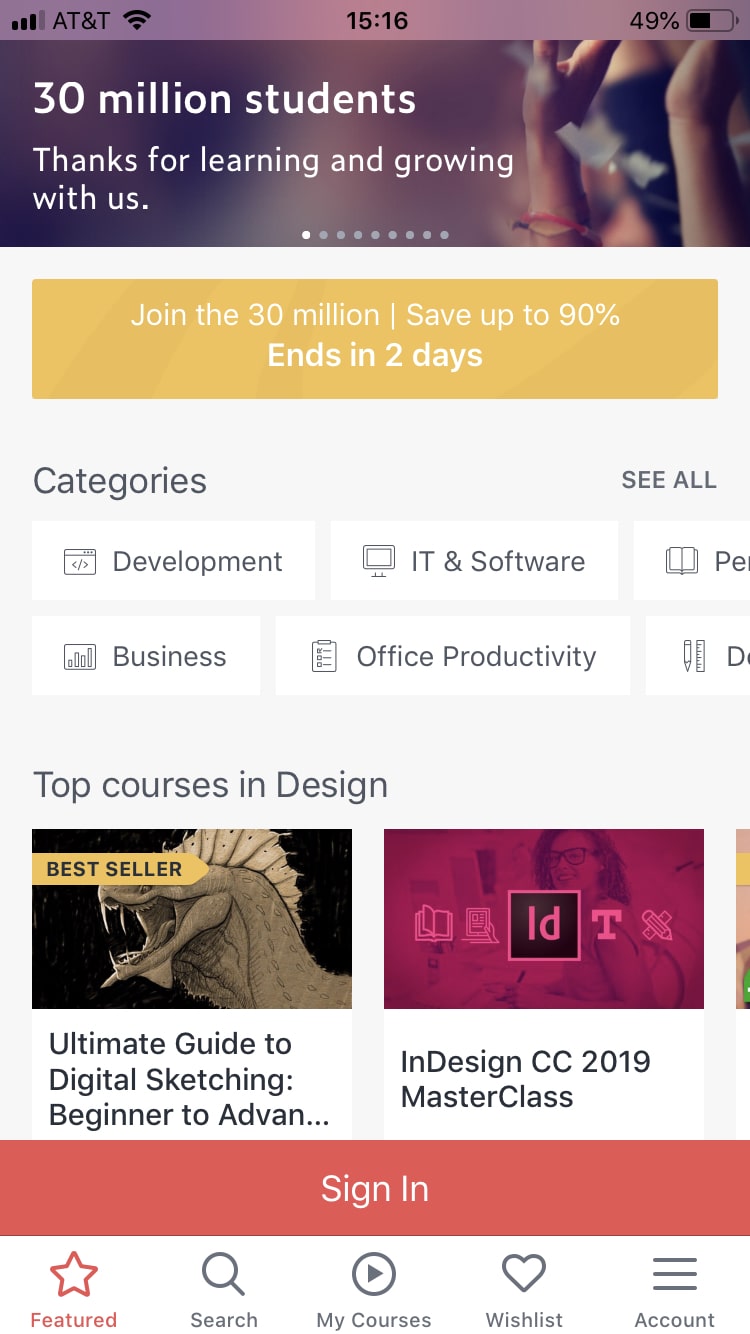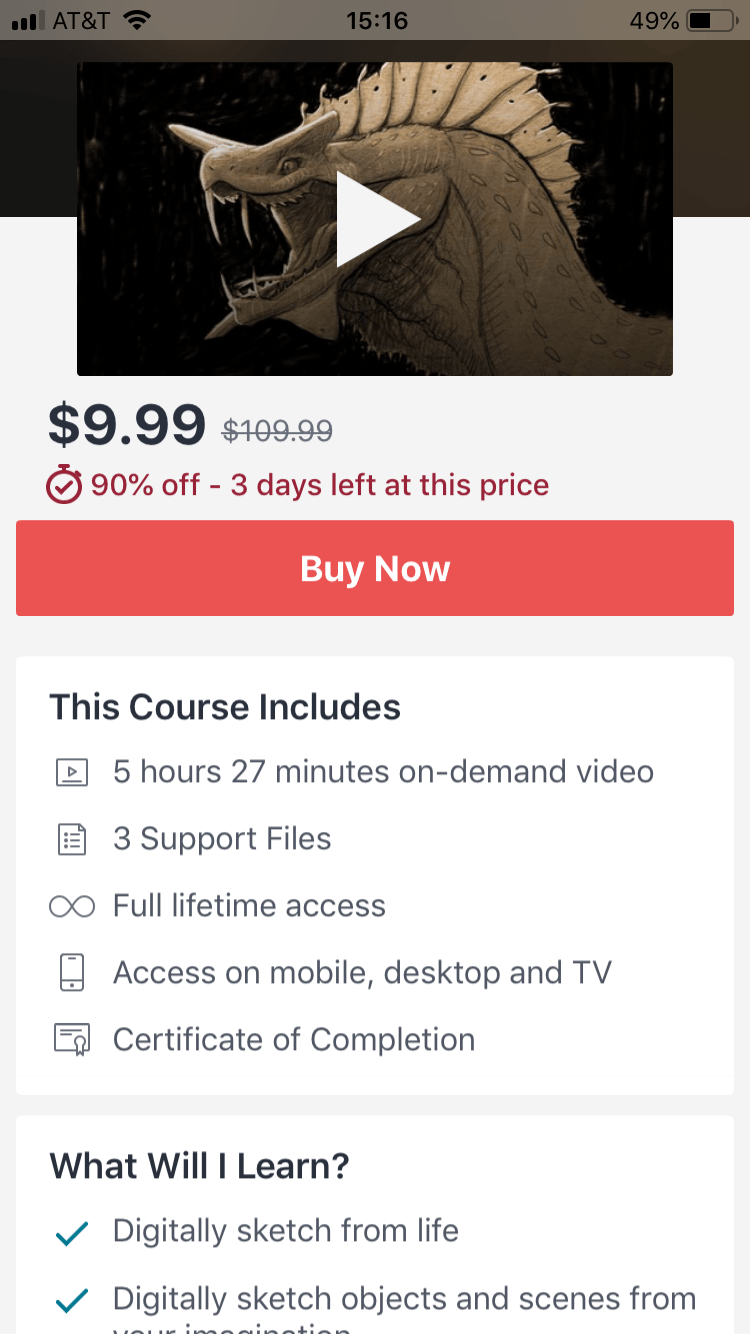 REFUNDS
Refunds are a little more complicated with Udemy than other marketplaces, but not impossible. To request a refund from the course dashboard, copy the course URL and find the "Request a Refund" link underneath the "Options" menu. Users must then send a ticket through the Contact Support form with the course URL.

Any course can be refunded within 30 days, with some exceptions. Refunds may be denied if:
All resources have been downloaded before the request
A student has requested multiple refunds over a short period, abusing the refund policy
Unfortunately, any purchases made on the iOS app cannot be refunded—nor with any third-party outside of the Udemy website. In contrast, SkillShare's refund policy is much simpler: they operate on a monthly subscription system, so users can cancel it whenever. There are no "refunds."
CUSTOMER SERVICE
The only glaring issue with Udemy is its customer service. Most users don't ever need to contact for help, so for many it isn't an issue. For the students who do end up needing Udemy customer service, it can be an uphill battle. Since there is no customer service phone number, some users may get stuck at automated e-mail messages. However, if you do your research before signing up for any classes and are diligent when it comes to inputting your information, you should experience no issues.

OVERALL RATING - 4.2/5