Teleflora is an online flower delivery service that makes it possible for customers to enjoy same-day deliveries of beautiful floral arrangements right to their door. In the United States and Canada, Teleflora has partnered with over 10,000 local florists. Outside of North America, Teleflora has an additional 20,000 partner florists. By ordering from Teleflora, you are supporting local businesses in communities around the world.
Keep reading to see what my experience ordering from Teleflora was like and some of the key pros and cons you should know about Teleflora before ordering.

Teleflora Hands-On Review
Ordering
The process of ordering from Teleflora is simple and takes just minutes. Teleflora specializes in floral arrangements, but I was intent on finding a plant to be a staple in my apartment for months to come. That's why I decided to go with one of the Teleflora "Zen Arrangements".
On the Teleflora homepage, you can select from a number of categories to narrow down your search. "Deal of the Day" allows customers to choose a price and a local florist will take care of the rest, while other tabs offer arrangements for specific occasions like "Mother's Day" or "Birthday".

I decided to shop through the "Shop By" tab. That's where you can find specific categories like Zen Arrangements, Spring Flowers, Same Day Delivery and more. You can also shop by color or flower type through this tab. If you have specific needs, the "Shop By" tab is where you'll want to start.

The Teleflora houseplant selection isn't as deep as their flower selection, but they still had several options I had to decide between. I ended up going with this Peaceful Zen Garden.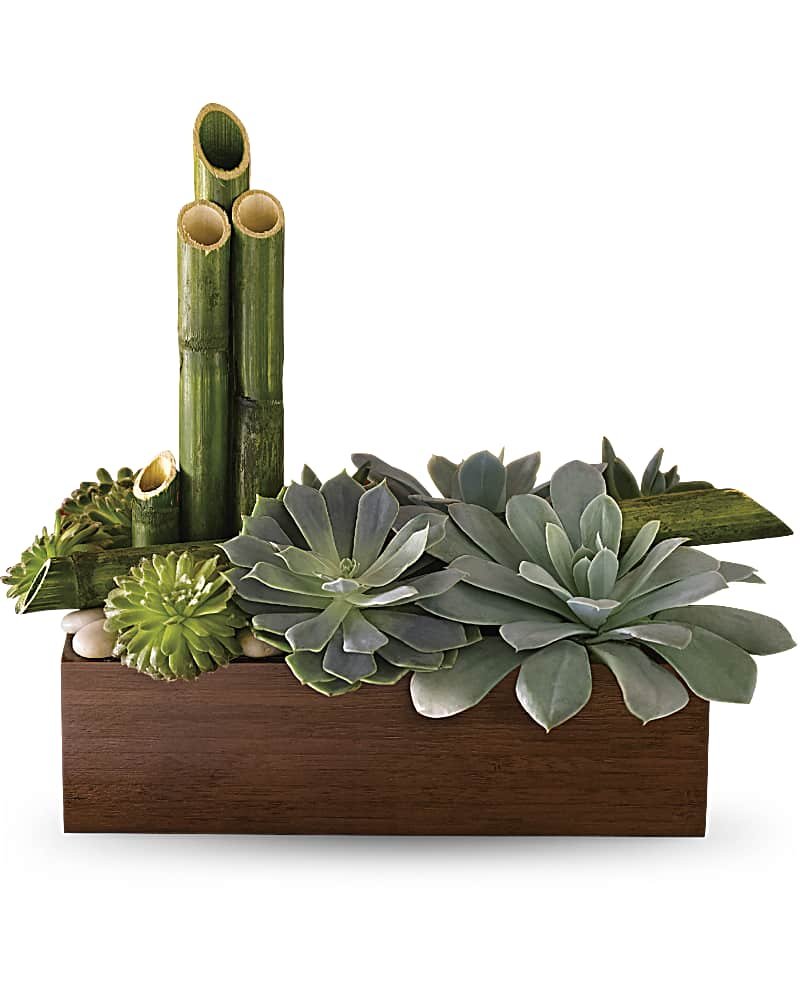 Checking Out and Delivery
While checking out, I noticed that Teleflora gives the option to add extra gift items with your online flower order. Mylar balloons, chocolates and stuffed animals were all options, each with different sizes/quantities available to add to the order. I decided to pass on those for now and instead opted to add a free, custom message. Same-day delivery was available in my area, so I decided to go for it. I placed my order before 10am and received it by 3pm. Teleflora does accept PayPal in addition to major credit cards at checkout.
There are some reviews online that are quite negative about Teleflora but overall, I found the experience to be straightforward and satisfactory. The only possible complaint I could have from my experience is the difference between the arrangement I received and the one I ordered.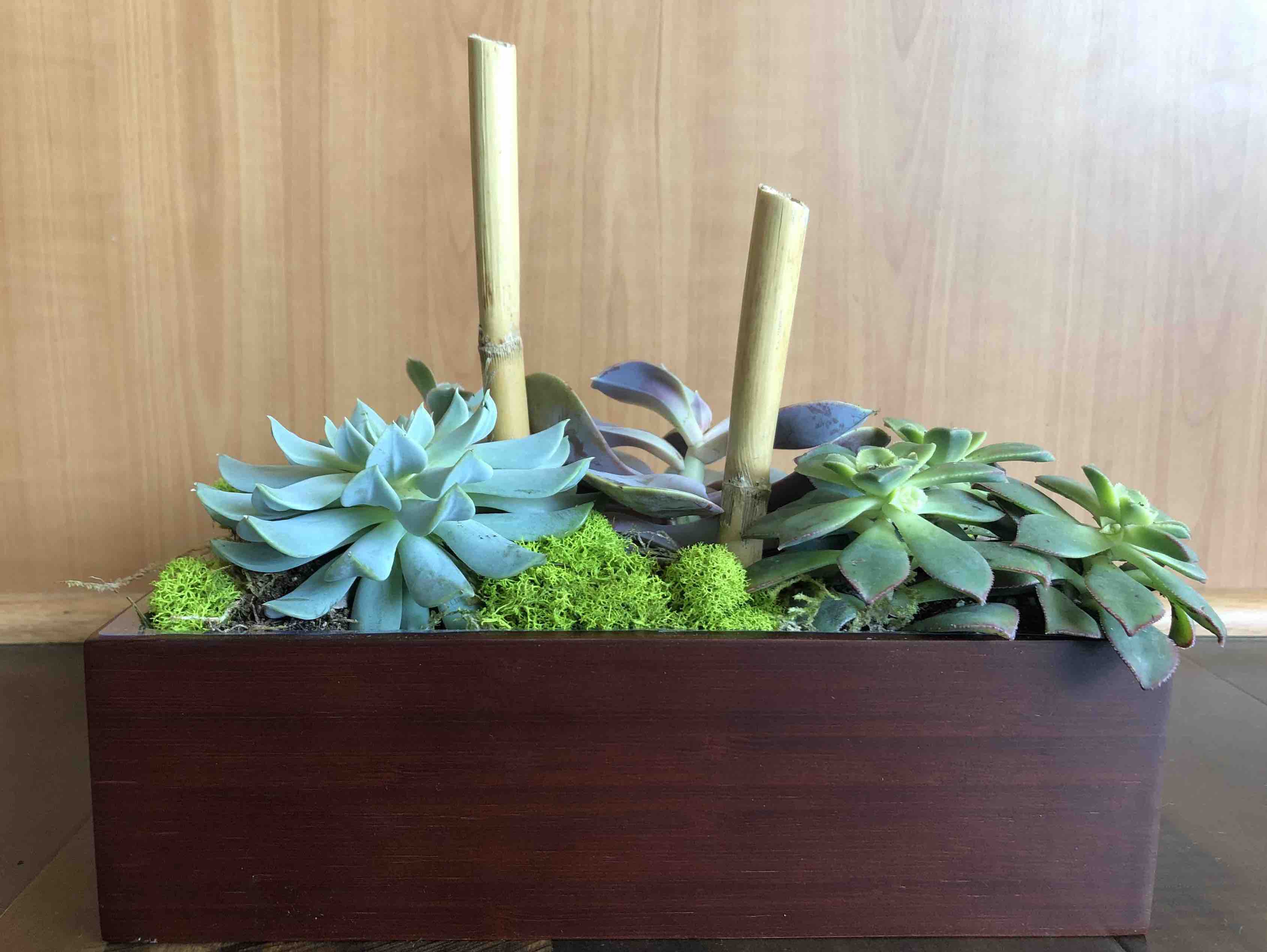 This is a relatively small issue for me though as I'm still satisfied with the appearance of it and thankful for the local florist who put it together. However, I do wish it came with the rocks and thicker, green bamboo as advertised in the original image on their site.
When the Teleflora online flowers arrived, I received a call from a local phone number on the phone number I had provided. They informed me they were outside my apartment and I went down to meet them and pickup my order. It was simple! The flowers are paid for ahead of time so there's no having to deal with money upon receipt. This is great if you send your order to someone you don't live with.
What Sets Teleflora Apart?
Teleflora has been in the flower business for a long time. In fact, it's been over 80 years since they began! That's a long time to get things right. They've also had plenty of time to build their network of partnering florists. Across the planet, Teleflora works with over 30,000 local florists to deliver online flower orders, often on the same day.
Teleflora arrangements are put together by expert local florists and in many cases include vases that can be reused for plants in the future. Flowers never arrived boxed.
Teleflora also partners with two charities. Donations are made on behalf of the online flower service to The Breast Cancer Research Foundation and Make Someone Smile Week. Make Someone Smile Week is actually a program developed and launched by Teleflora. As part of the program, over 40,000 bouquets are delivered to children in foster care, hospital patients and residents of nursing homes.
Teleflora Pros and Cons
Pros
Same day delivery possible on many orders

Over 30,000 partnered florists around the world

Flowers and plants never arrive in boxes

Customize your gift with a free message or add on items

Houseplants and flower arrangements both available
Cons
Arrangements may come differently than advertised

Possibility of delivery delays noted in other reviews

Overall Teleflora Review - 4.2/5
Teleflora is an online flower delivery service that we would recommend. If you can accept that there is the potential your arrangement won't arrive exactly as described, you won't be let down by the flowers and plants you receive delivered to your door. Some reviews online do note that deliveries were late, and while this can be a concerning tidbit for potential customers, this was not the case in our experience. Customers who are not satisfied with their order are encouraged to contact Teleflora directly for a resolution to the problem. You can find customer service info for Teleflora available at their website.
**Disclaimer: While the viewpoints in this review reflect the honest quality of our experience, this review was commissioned by Teleflora. Making purchases at Teleflora through links in this review will result in ReviewsPlus earning a commission.