There are lots of different online therapy services for people to choose from. Most of them offer to treat the same mental health issues and feature the same types of therapy services that their competitors do. If you want to distinguish these online therapy programs from one another, you need to focus on figuring out what exactly you want out of therapy.
For example, parents with teens who need therapy will want to look for a doctor-on-demand service that specializes in teen therapy. That's precisely what Teen Counseling does. It gives teens the chance to work with licensed therapists who can help them with self-esteem, anxiety, depression, eating disorders, and many other mental health issues.
If your teen needs to work with licensed mental health professionals, then keep reading this Teen Counseling review to see whether Teen Counseling is the right place for them to do so.
Teen Counseling Review
---
What Sets Teen Counseling Apart from Competitors?
---
The biggest factor that sets Teen Counseling apart from other online therapy programs is its exclusive focus on teens. The company and its therapists specialize in treating mental health issues in people aged 13 - 18.
That's different from many other online therapy companies, which tend to focus on older adults. This means that Teen Counseling is a place where teens can receive more targeted care than they would get from other online platforms.
Teen Counseling stands apart from in-person therapy options as well, thanks to its convenience. Users are free to speak with their counselors from anywhere in the world. All that's needed is a decent internet connection for live sessions. This could make Teen Counseling a better option than in-person therapy for teens who are on the go quite a bit.
Teen Counseling also takes the privacy of its patients very seriously. The company has taken several precautions to ensure that all confidential information that's shared through the platform remains confidential.
For example, Teen Counseling uses top-of-the-line website encryption and never shares any health information with third parties. Patients don't even have to share their phone numbers with their therapists. Features like these make Teen Counseling a good choice for teens with privacy concerns.
Signing Up for Teen Counseling
---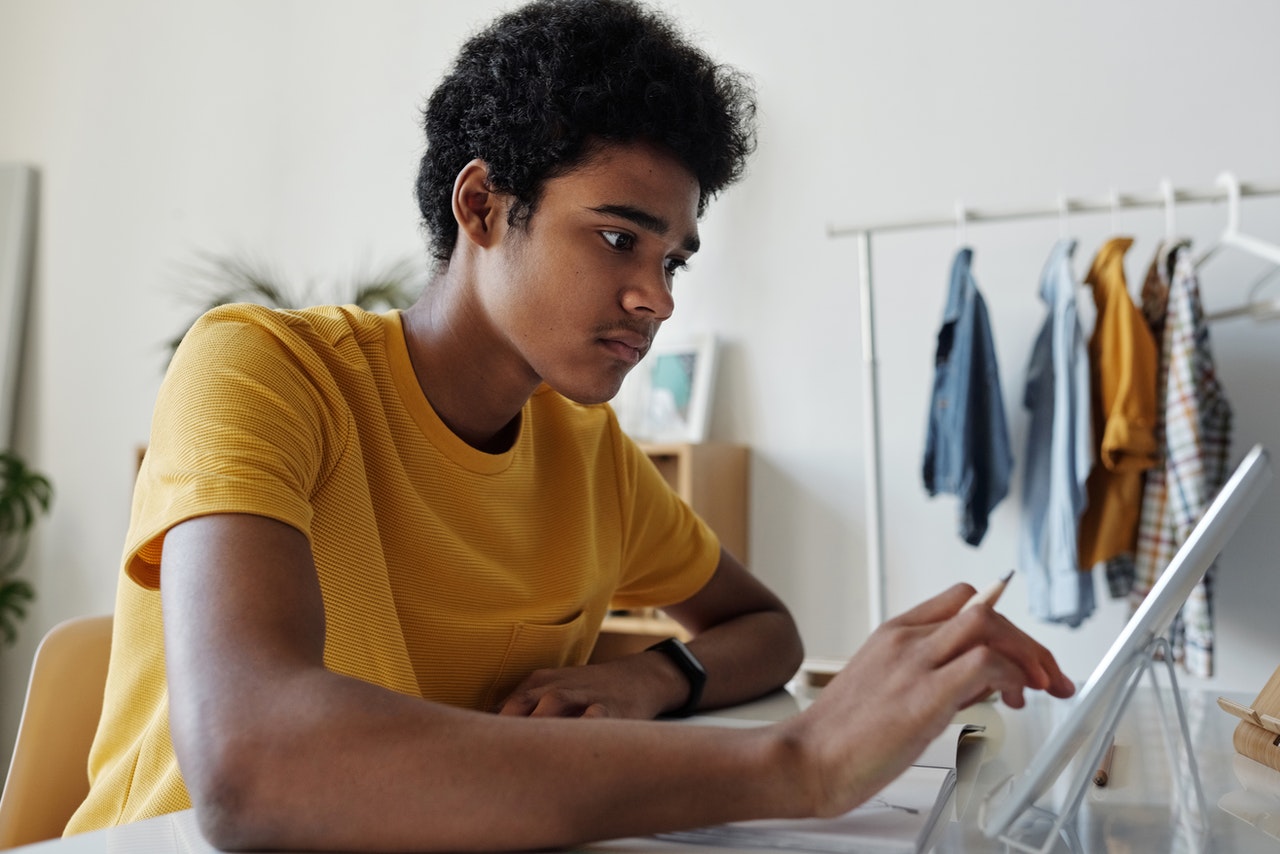 The sign-up process for Teen Counseling is a breeze. Users will quickly see what they need to do when they navigate to the company's website. The site has two different sign-up paths, one for parents and one for teens. The user simply clicks on which one is right for them to get started.

After that, you'll be prompted to answer a quick series of questions. These will ask you to provide some basic biographical data about yourself as well as some information about your mental health concerns. Your answers will be used to provide you with a personalized therapist match.

From there, you'll just need to pick which plan you want and pay for it. Then you can begin working with the therapist that Teen Counseling has recommended via the communication method that works best for you.
Therapist Certifications and Quality at Teen Counseling
---
Teen Counseling therapists are all highly qualified to help teens overcome their mental health problems. The company's network of therapists is growing by the day and has already surpassed 18,000. These therapists have helped over a million people with various mental health concerns.
Each therapist that Teen Counseling partners with has a professional license and real-world experience. This ensures that you'll be working with a therapist who has the same level of qualifications that you would get from traditional therapy. Therapists on Teen Counseling have a number of certifications, including:
Psychologists (PhD / PsyD)
Marriage and Family Therapists (LMFT)
Professional Counselors (LPC)
Clinical Social Workers (LCSW)
These therapists will keep all of the information that you share during your sessions 100% confidential. However, they won't be able to prescribe you medications or make any official diagnoses about your mental health problems. So if you think that you need those things, then Teen Counseling may not be the right online therapy platform for you.
What Does Teen Counseling Offer and Company Info
---
Teen Counseling was founded in 2013. It was built around the simple idea of making it easier for teens to get access to mental healthcare.
The company specializes in providing mental health services to teens. They partner with professional therapists from across the country who excel at treating patients in this age range. That makes Teen Counseling a great choice for teenagers who want to receive mental health treatment online.
Unfortunately, Teen Counseling doesn't publish any information about its refund policy. So it's unclear if a patient would be able to get their money back if they received poor service from their therapist. If you want a refund from Teen Counseling, it's best to reach out to the company directly to see what they can do for you.
Teen Counseling offers its patients two primary plan options to choose from. Here's how they compare.
Plan #1 - Unlimited Text Counseling
Teen Counseling's first plan is a good choice for teens who aren't keen on face-to-face therapy. It includes unlimited text-based counseling, which means that the teen will be able to text their therapist whenever they want and receive a timely response.
People who choose this plan can still access live video chats with a professional counselor. But they would just have to pay an a-la-carte price for them of about $25 per session. The weekly price for this plan is $45, but it's billed as $180 per month.
Plan Option #2 - Text Counseling + Live Sessions
This plan includes everything that's offered in the first option. However, the teen will also get four live video sessions with their therapist every month. That makes this a better choice for people who would like to interact with a therapist in a way that closely resembles in-person therapy.
This plan actually gives parents a slight discount on the cost of the live sessions. The total weekly cost of the plan is about $65, which is billed at $260 per month. That means you're paying $20 for each video chat instead of the $25 that you would have to pay if you were buying them a-la-carte alongside Teen Counseling's other plan.
How Does Teen Counseling Compare to Other Online Counseling Platforms?
---
| | TEEN COUNSELING | BETTERHELP | TALKSPACE | REGAIN.US | CEREBRAL |
| --- | --- | --- | --- | --- | --- |
| Specialty | Teens, anxiety, depression, bullying, trauma, and more | General mental health and wellness | General mental health, psychiatry, couples, teens | Couples counseling, general mental health support | Anxiety, depression, insomnia, medication-based treatment |
| Average Price | $45-$65/week | $60-$80/week | $64-$90/week | $60-$90/week | $85-$325/month |
| Mobile App | Yes | Yes | Yes | Yes | Yes |
| Session Format | Text, telephone call, video call | Video conferences, live chats, phone calls, messages | Text, video, and voice messaging | Live meetings via computer, tablet, or smartphone | Video or phone call |
| Prescriptions | No | No | Yes | No | Yes |
| Therapist Certifications | PhD, PsyD, LMFT, LPC, LCSW | PhD, PsyD, MFT, LCSW, LPC | MS, RMHCI, LICSW, LMHC, LPC | Licensed psychologists, family therapists, marriage counselors, etc | PsyD, PhD, LMHC, MD, and more |
Teen Counseling FAQs
---
Does Teen Counseling take insurance?
The vast majority of health insurance plans (including Medicare and Medicaid) won't cover Teen Counseling services. But the company is willing to look at your plan just in case you do qualify.
Does Teen Counseling treat ADHD?
The company doesn't explicitly advertise that it treats ADHD anywhere. So it's unlikely that it does - especially since therapists can't prescribe medication or make any official diagnoses.
Does Teen Counseling prescribe medication?
No, therapists with Teen Counseling cannot prescribe their patients any medication.
Does Teen Counseling work?
Yes, Teen Counseling does work! Teen Counseling can be a great way for teens to address their mental health concerns without having to visit a doctor's office.
Does Teen Counseling offer refunds?
The company doesn't say whether it offers refunds or not. So users will need to contact Teen Counseling directly to find out.
Are Teen Counseling therapists licensed?
Yes, all of the therapists that Teen Counseling partners have licenses. These include PhDs, PsyDs, and more.
Is Teen Counseling confidential?
Yes, Teen Counseling takes privacy seriously and has instituted several features to ensure that any confidential information that gets shared remains confidential.
How much does TeenCounseling.com cost?
The cost of Teen Counseling ranges from between $45 and $65 per week, or $180 and $260 per month.
How do I stop Teen Counseling?
Quitting Teen Counseling is very easy. Just log into your account, then go to payment settings and click on "Quit Counseling".
What is TeenCounseling.com?
TeenCounseling.com is an online therapy platform that enables teens to receive mental health support online. It can be a good alternative to traditional mental health care.
Is TeenCounseling a substitute for traditional face-to-face therapy?
TeenCounseling can be a substitute for face-to-face therapy in some cases. But it isn't a good alternative for teens that need medication or an official diagnosis.
Is TeenCounseling accessible for disabled users?
Yes, TeenCounseling has built its website in a way that makes it accessible to disabled users.
How does communication with a TeenCounseling therapist work?
A user can communicate with their counselor in four different ways. They can exchange messages with the counselor, chat live with them, speak over the phone, or have video calls with a counselor.
What is the role of TeenCounseling.com?
TeenCounseling.com connects teens with counselors. All of the counselors are independent. This company just acts as a sort of middleman between them and the end-user.
Is TeenCounseling.com right for me and my teen?
It could very well be the right solution for your teen's needs if those needs don't include medication. But it's not a good solution for people with serious mental health issues.
Will my teen be working with the same counselor or different counselors?
Your teen will always get to work with the same counselor that they were matched with initially. But you can also swap to a new counselor at your discretion.
Will my parents have access to my therapy sessions on TeenCounseling.com?
No, your parents won't have access to the room unless you specifically invite them to attend your sessions with a counselor.
Teen Counseling Pros and Cons
---
Pros
Live sessions available on-demand or as part of a plan

Parents can tag along to therapy sessions at no extra charge

Multiple forms of communication available

All sessions are 100% confidential
Cons
Therapists cannot offer any diagnoses or prescribe any medication

The company cannot fulfill any court orders for mental health care
Overall Teen Counseling Review - 4.0/5
---
TeenCounseling.com is an excellent online therapy platform for teens with mental health concerns. It makes it super easy for a teenager to receive the mental health support that they need to feel better. All of the company's therapists are licensed professionals who provide high-quality care to everyone they treat.
Teen Counseling stands out through its exclusive focus on teenagers and its affordable pricing structure. Live video sessions cost between $20 and $25 each, which is much less than what you would pay when using popular online therapy platforms like BetterHelp and TalkSpace. Additionally, teens can speak with their counselors via several different communication methods, which makes it easier for patients to receive the care that they need in the form that they prefer.

However, Teen Counseling isn't a good solution for teens with serious mental health concerns. Therapists can't prescribe any medication or make any official diagnoses. If a teen needs these services, then they will have to either use another online therapy site or visit an in-person provider.