Customized phone cases, wall art and other products from Society6 are popular for good reason. This online art gallery is the home of thousands of arts who upload their original designs to be used on a myriad of accessories such as tapestries, apparel, and more. Society6 marries art and commerce by allowing its users to purchase original art pieces that are printed on any accessory they would like!

Nothing gets people talking quite like a gorgeous, original piece of art. Whether it's a beautiful, colorful piece of art hanging on a wall, or a fun, eclectic tote bag, original abstract art is making a comeback. E-Art Gallery Society6 offers something for both artists and shoppers. A review of Society6 would be incomplete without looking at both sides, so here we present both sides of this e-commerce site that lets artists upload their digital art and shoppers print it any way they like.
Review of Society6 Customized Products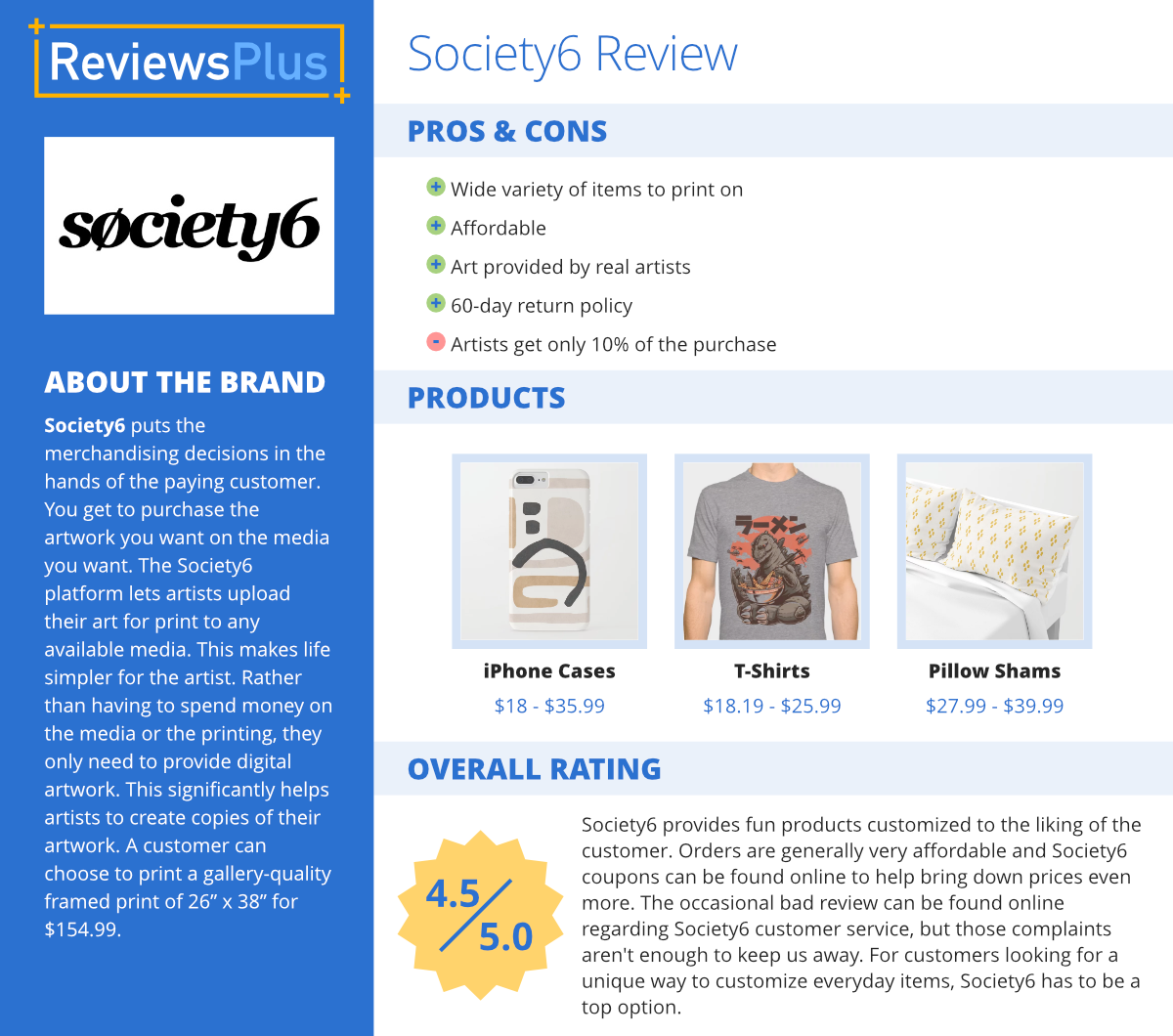 What Sets Society6 Apart?
Society6 custom products put the merchandising decisions in the hands of the paying customer. You get to purchase the artwork you want on the media you want. The Society6 platform lets artists upload their art for print to any available media. This makes life simpler for the artist. Rather than having to spend money on the media or the printing, they only need to provide digital artwork. This significantly helps artists to create copies of their artwork. A customer can choose to print a gallery-quality framed print of 26" x 38" for $154.99.
Society6 for Artists
Society6 provides a turnkey e-commerce platform for artists who want to present their work on an array of media. The site accepts any type of visual artist. They can upload scans of paintings, drawings or photographs. Customers can print these items on products such as:
Phone cases
T-shirts
Pillowcases
Tapestries
Coffee mugs
Traditional photo prints
Canvas prints
and more!

Society6 for Shoppers
Society6 provides a massive database of art and designs from which to create custom artwork. You can create any piece of artwork you want using the artwork on the website and the available products listed above. Create Society6 phone cases or a new piece of wall art to hang.
What Society6 ultimately does is empower independent artists worldwide. It helps to increase an artist's time creating and eliminates the worry and hassle of marketing and selling all of their items themselves. Society6 also sets up a wonderful community for artists of all skill levels, enabling them to connect and inspire one another, and also make some income in the process.
Society6 Custom Products vs. Competitors
It doesn't cost a thing for an artist to create an online store at Society6. Shoppers will find a large range of items at affordable prices. The cost depends on the item and the site provides very affordable options. No matter what your budget, you can afford the artwork you want hanging on your walls or to wear.
Its vast selection sets Society6 apart from competitors like Zazzle. Check out a comparison between the two companies below.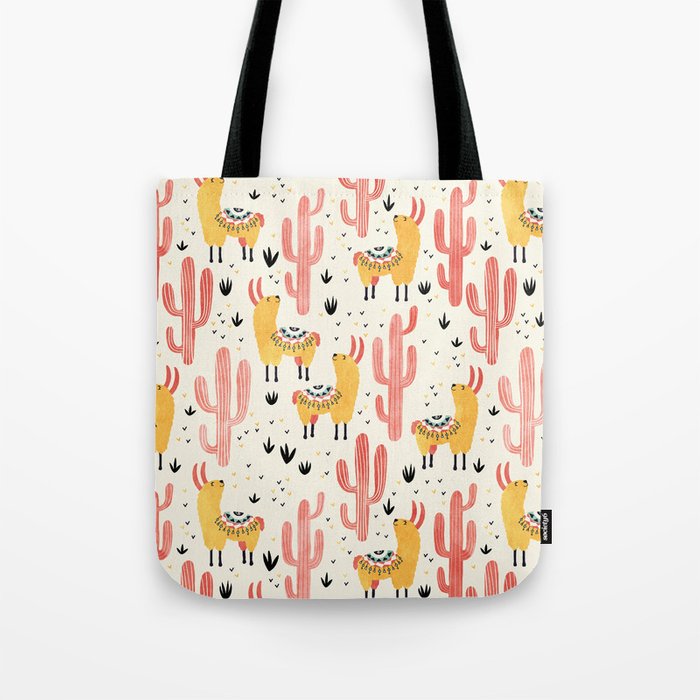 Society6 has many different types of bag options, a popular one being their canvas tote bag. This adorable llama and cacti 13" x 13" bag costs just under $20.
Zazzle sells a similar canvas bag sporting a trendy llama and cactus pattern. This 16" x 16" is a little bit over $21.

In other cases, Society6 may be bit more expensive on some items. However, they have an extremely vast selection of products on which to print art. This is often an edge Society6 has over competitors.
Society6 FAQs
1. What categories of items does Society6 sell?
Society6 sells wall art, home decor, furniture, bed & bath products, tabletop and office products, tech, apparel and bags, and outdoor & lifestyle items.
2. Does Society6 offer any deals?
There are often site-wide sales that occur on a plethora of products, For example, Society6 runs sales that correspond with holidays and other special days. Society6 also has a student discount program which entitles you to a 25% discount with the confirmation of your student status.
3. How do you sell art on Society6?
In order to sell your artwork on Society6, all you need to do is create an account, verify your PayPal, upload your artwork, choose the products you wish to put your artwork on, and voila! Then all you need to do is promote your artwork and you will be selling away.
4. What is the return policy?
All products on Society6 come with a 60 day money back guarantee if your item is defective or damaged. There is also an option to replace a product that doesn't meet Society6 standards or exchange for a different size, model, etc.
5. What percentage of the earnings do artist receive?
Society6 artists earn 10% of the retail price on all products excluding art, framed, and canvas prints.


Society6 Pros and Cons
PROS
Wide variety of items to print on
Affordable
Art provided by real artists
60-day return policy
CONS
Artists only get 10% of the purchase



Overall Society6 Review - 4.5/5
Society6 is an extremely helpful outlet for artists who simply want to get their art out there and who do not currently have the means to do so. With the thousands of artists uploading their artwork, there are endless product possibilities for the consumer. Society6 does take a decent cut per product, but overall, Society6 is helpful in getting artists work out there to consumers all around the world. If you're looking for custom phone cases, wall art or other products, Society6 is a great option!