Snake River Farms is based in Idaho and sells quality meats of various kinds in ranging prices. They raise their animals responsibly and treat them humanely with a focus on sustainability. Snake River Farms is a premium brand from Agri Beef, a family-owned company with over fifty years of experience in the beef industry.
The process of ordering from Snake River Farms is extremely flexible, as the control stays completely with the customer. The website is super easy to use and makes their options very straightforward. Keep reading this review of Snake River Farms meat delivery to see if they're the right option for your needs!

Snake River Farms Review
How Does Snake River Farms Work?
For some shoppers, a pleasant quality about Snake River Farms is that they do not use a subscription system. Customers have complete control over the meat that they receive and when they receive it. This means that a customer buys specific cuts of meat as they are needed instead of receiving a monthly box of a predetermined combination. For example, a couple might buy two American Wagyu Gold Grade Top Sirloins and one Kurobuta Pork Spare Ribs in one order, but the next time go with a Northwest Beef Choice Brisket. Most of the cuts are available in bulk provisions, too.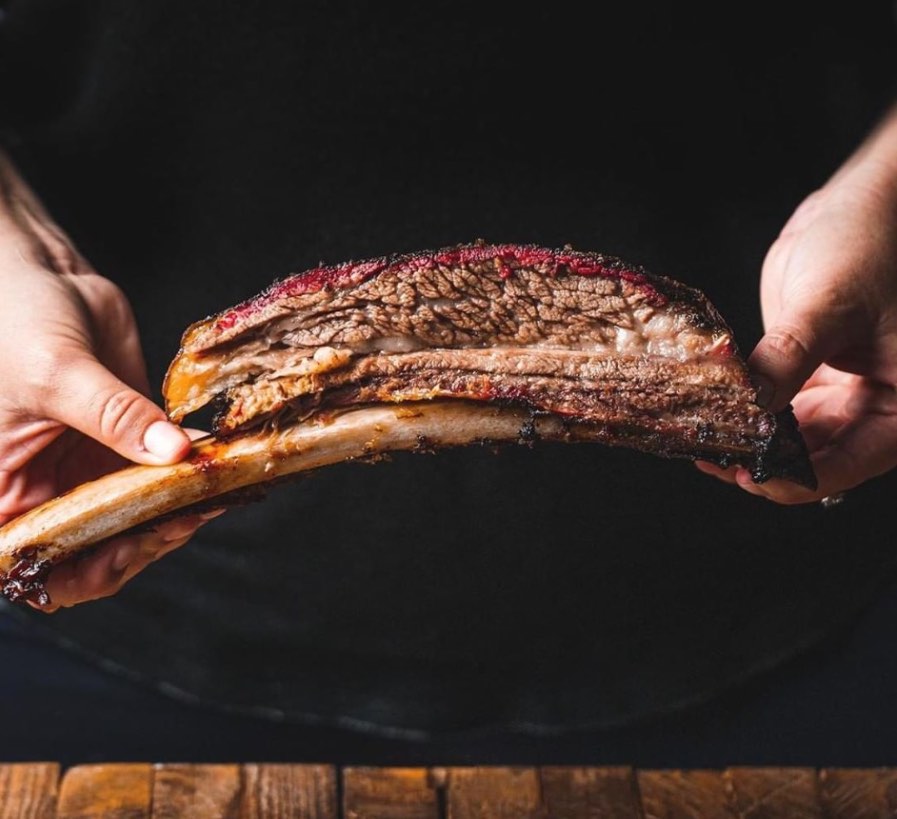 All fresh meat is shipped via expedited shipping, but Snake River Farms does offer dry-aged steaks. A section of their website is dedicated to recipes using their meats to inspire customers to up their culinary game. These recipes cover all of the products Snake River Farms offers, so you never have to worry about not knowing how to prepare or cook something. This makes it easier to try new cuts that you might have once shied away from.
While a subscription-based meat service might sound more convenient at first, it actually can turn out to be more restrictive. Often monthly deliveries come with a predetermined mix of cuts, and every household receives the same box. They rarely offer returns and rarely refund. Not to mention, many of these subscription services are hard to cancel or lock you into a long-term contract.
With Snake River Farms, there are no subscription fees. You only pay for exactly what you order and the shipping costs, depending on the type of meat you get, and you'll see it on your doorstep in a few days.
What Does Snake River Farms Sell?
Snake River Farms sells American Wagyu Beef, Northwest Beef, and Kurobuta Pork.
You can get American Wagyu and Northwest Beef in these cuts:
Steaks
Roasts
Brisket
Burgers
Hot dogs
Ribs
Other specialty items like tenderloin and strip slices
| | | |
| --- | --- | --- |
| American Wagyu Sirloin | American Wagyu Brisket | American Wagyu Ribs |
| Summer Sizzler | Kurobuta Pork Chop | Kurobuta Bacon |

And Kurobuta Pork is available in these cuts:
Pork chops
Ribs
Roasts
Bacon
Other specialty items like pork shanks, tenderloins, pork belly, and pork collar
Featured is the Gold Griller for $239.00, a package of eight American Wagyu Gold Grade Bavette Steaks and eight American Wagyu Dry-Aged Patties. The steaks' Gold Grade is higher than USDA Prime and they're shipped fresh using expedited shipping from New York. They're highly marbled and have a deep beef flavor specific to this cut.
Another recommended item is the USDA Choice Petite Filet Mignon for $30. Each filet is carefully selected and prepared at Prime Food Distributor. They come in two per package and are sourced from wet-aged Northwest beef. These are perfect for a date night at home with a partner.
One more is the USDA Prime Boneless Ribeye for $42. Available for a limited time only, these steaks are sourced from premium quality Northwest Beef. The ribeye is naturally packed with more intramuscular fat than any other cut, and that's evident by the marble in the steaks. They include both the fine-grained eye and luxurious cap.
Snake River Farms Pricing
While there are no subscription plans available, Snake River Farms' website makes very clear the price of each item. They range greatly in price depending on the type of meat, its grade, whether it's fresh or dry-aged, and other factors. Their highest prices are attached to their bulk provisions, where it's possible to buy high-grade cuts in bulk. This makes things easier for big families or party planning!
Check out the following prices for some of Snake River Farm's most popular cuts. This list is by no means exhaustive, as Snake River Farms offers a wide variety of meat. Here are some examples from each type of meat.
| MEAT | CUT | SIZE | PRICE |
| --- | --- | --- | --- |
| American Wagyu | Filet Mignon, Gold Grade | 6oz | $53.00 |
| Kurobuta Pork | Frenched Pork Chop | 5oz | $17.00 |
| Northwest Beef | Choice Brisket | 11-15lbs | $129.00 |
| Northwest Beef | Tenderloin Pieces | 1lb | $35.00 |
| American Wagyu | Gourmet Hot Dogs | 5 dogs | $12 |
Are Snake River Farms Animals Ethically Raised?
Snake River Farms' approach to animal well-being is rooted in knowledge from experts like Dr. Temple Grandin. They follow all Beef Quality Assurance (BQA) Animal Care and Well-Being Standards, and cattle are checked daily by continually trained cowboys. The cows are given ample room to move and high quality, fresh feed is delivered twice daily. Animals showing signs of sickness or discomfort receive individualized attention, and Snake River Farms has an on-call veterinarian available 24/7. A formal commitment is outlined in Agri Beef Co.'s "Guidelines for Animal Well-Being." Their adherence to these procedures is regularly evaluated by third-party animal welfare auditors.
American Wagyu Beef and Double R Ranch Northwest Beef are hay and grass-fed on pasture for the first year of their life, after which they move to a sustainable diet of hay, forages, grains, potatoes, vitamins, and minerals. They never receive any growth-promoting hormones, but can receive antibiotics for illness and infection.

American Kurobuta Pork are fed on a co-op of small family farms and are fed a combination of corn, soybean meal, oats, vitamins, and minerals.
Snake River Farms Company Info
Snake River Farms was founded in 1968 by Robert Rebholtz, Sr. Today it's still a family-owned company headquartered in Boise, Idaho. As Snake River Farms is dedicated to the selling and shipping of high-quality meat, they process shipments Monday through Friday. Deliveries occur Tuesday through Saturday, although there is a $15 Saturday delivery upgrade fee. Snake River Farms does not ship on weekends and does not deliver on Sundays.
They offer three shipping options: Standard Ground shipping ($9.99), Express 2-Day Air shipping ($39.99), and Overnight 1-Day Air shipping ($79.99). Snake River Farms products are individually sealed inside airtight packaging and flash frozen before shipping, with dry-aged products shipping fresh without freezing. These dry-aged products have a $49.99 Expedited dry-aged shipping rate. Shipments use reusable, thermal bags inside recyclable shipper boxes lined with biodegradable insulated foam.
Given the nature of Snake River Farms' products, they do not accept returns. However, if you feel that you have a product that does not meet the company's guarantees, you can contact their customer service within 30 days of receipt of the product for help with the refund and review process. If they require a product to be returned for review, they will provide you with a shipping label and packaging, as well as ensuring a pickup. Once the review is complete, a replacement product will be shipped, a refund will be issued, or a store credit will be issued.
If you'd rather just go for a fully cooked meal, you can find dozens of options with food delivery apps.
Snake River Farms Pros and Cons
Pros
Not subscription-based

Very high-quality meat

Ethically maintained

Fast shipping

High degree of customer choice
Cons
No returns

Limited delivery windows

High shipping price
Overall Snake River Farms Review - 4.5/5.0
Snake River Farms is unlike most other meat service options available to consumers today. They offer a higher level of customer choice than is typical. Where most meat companies might send pre-selected boxes for high subscription and service fees, Snake River Farms gives you the ability to choose for yourself which cuts of meat you want to purchase. They then send you your products with bio-friendly shipping containers and fast shipping speeds for reasonable shipping prices.
One of the most important parts of Snake River Farms company is their commitment to the ethical handling of their animals. They treat all of their animals well, offering individualized attention and healthy diets without growth hormones, and Snake River Farms meets the Quality Assurance (BQA) Animal Care and Well-Being Standards. Beyond that, individual attention is available to every animal that needs it.

When you're shopping with Snake River Farms, you know that you're getting your meat from a family company that prioritizes your experience and needs. With exceptional animal raising standards, a wide variety of available meats for your selection, and excellent customer service for assistance with refunds and other questions, Snake River Farms stands out against the competition. Overall, they offer an excellent service with high quality foundations, a great choice for your meat-shopping needs.