A straighter smile can go a long way in building personal confidence. However, traditional braces can be expensive and time-consuming. On average, traditional braces need to be worn for 18 whole months! What if you could straighten your teeth in a third of the time for a third of the price?
SmileDirectClub Clear Aligners make straightening teeth a much easier and more manageable process. In as little as 6 months or less, SmileDirectClub claims you can have a noticeably straighter smile by using their Clear Aligners, or around 10 months with their new Nighttime Clear Aligners, worn exclusively while you sleep.
In this review, we'll explore what sets SmileDirectClub apart from competitors, take a look at their products and go through the process of ordering and straightening a smile with SmileDirectClub.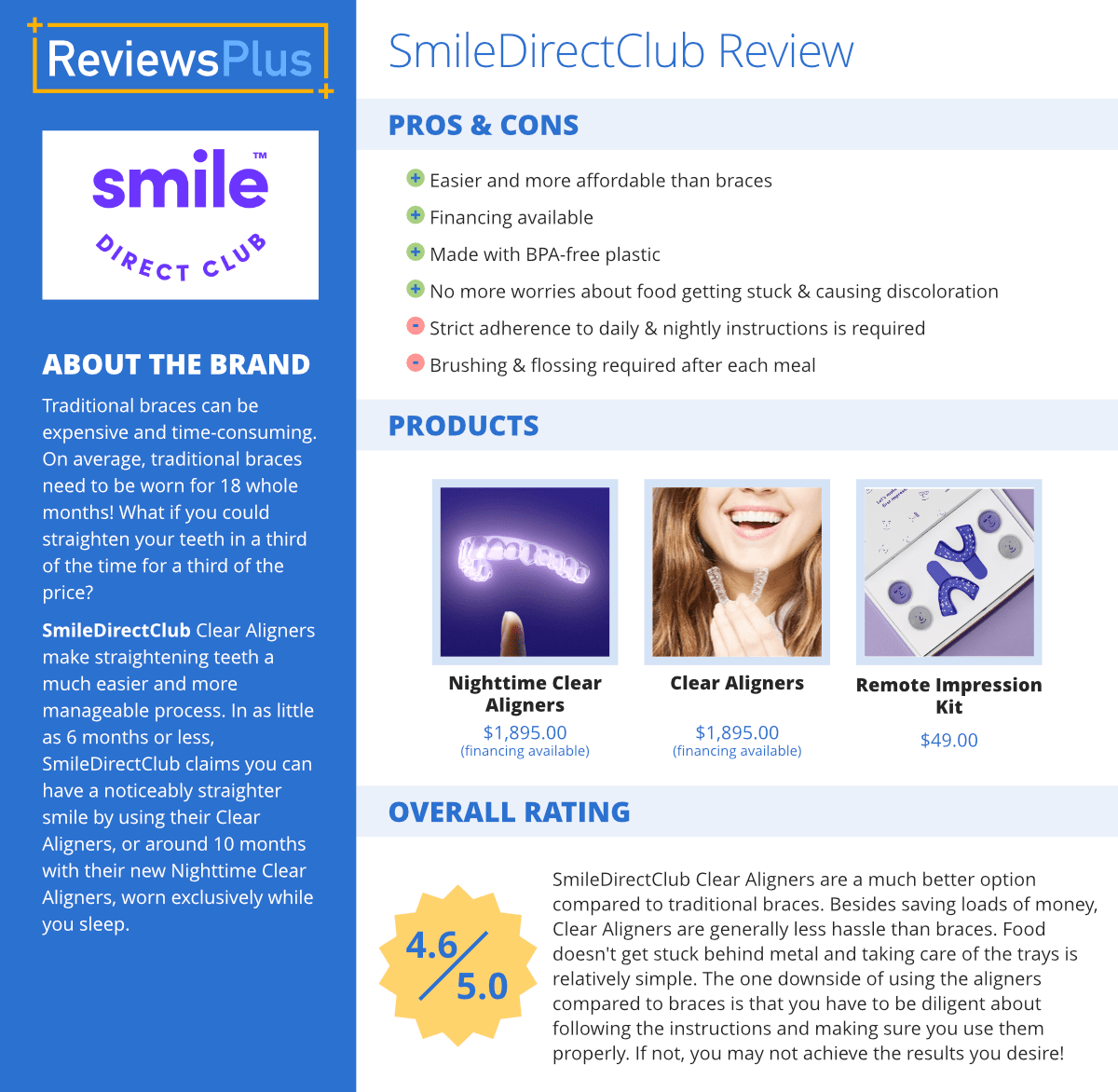 What Sets SmileDirectClub Apart
SmileDirectClub makes it possible to straighten teeth without ever wearing metal in your mouth for months on end or spending an exorbitant amount of cash on the procedure. Instead of metal braces, SmileDirectClub aligners use BPA-free plastic to slowly move teeth into their desired location. As we'll get into below, SmileDirectClub offers two versions of their Clear Aligners.
SmileShops, located around the United States, make obtaining a 3D image of teeth super easy. Visit one for a free imaging service and to get your teeth straightening process going. Or, if you'd rather not travel, you can use the at-home kit (additional costs apply). SmileDirectClub will work with you every step of the way, even assigning a licensed dentist or orthodontist to your account.
In addition to having highly competitive prices, SmileDirectClub allows customers to finance their orders for $85 per month for 24 months with a small down payment of $250. Finally, a 30-day satisfaction guarantee ensures that you never pay for anything you did not benefit from.
Let's get into the specifics about SmileDirectClub products and how their prices stack up against competitors!

SmileDirectClub Products and Cost vs. Competitors
SmileDirectClub
offers two main products, plus a variety of additional accessories and tools. Both aligner options are priced the same: a
one-time payment of $1895
or a $250 down payment plus $85 per month for 24 months with "SmilePay". Each aligner includes SmileDirectClub Teeth Whitening and
SmileDirectClub
products can be returned for a refund within 30 days from the date of delivery.
Nighttime Clear Aligners: These SmileDirectClub aligners are worn exclusively at night for 10 hours at a time. On average, this treatment takes 10 months.
Clear Aligners: These SmileDirectClub aligners are worn for 22 hours per day. The average time for this treatment is 6 months.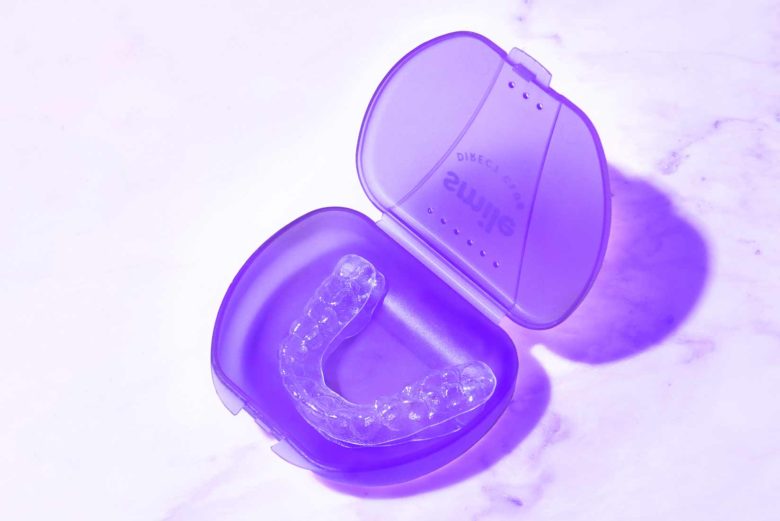 Certain competitors, like Byte, sell similar products at the same price. However, SmileDirectClub is much cheaper than the popular option Invisalign ($3,500-$8,000) or braces ($6,000-$8,000).

SmileDirectClub also offers a variety of accessories that can be used to improve and maintain a healthy smile. Here are the other dental care products available through SmileDirectClub:

Here's how to order and use aligners from SmileDirectClub.
How to Order and Use SmileDirectClub
Ordering your SmileDirectClub Clear Aligners and beginning the process to achieve a straight smile is super easy! Here is a step-by-step guide to getting started with SmileDirectClub.
1. Consultation
For the first step, you'll need to book an appointment at a SmileDirectClub SmileShop. At the SmileShop, a "SmileGuide" will create a 3D picture of your smile. The image is obtained at absolutely no cost and the entire process takes around 30 minutes. SmileShops can be found in some Walgreens and CVS stores. If you're not near a SmileShop or unable to visit one for any reason, you'll need to order the Remote Impression Kit for $49. You can find a SmileShop location in your area by clicking here.
2. Approval
Once your 3D image has been created, a licensed orthodontist or dentist will have to approve your smile plan. This usually takes about 72 hours and afterward, you'll be able to see how your smile will improve.

3. Using

Upon approval, your aligners will be created and then sent to you. For the standard Clear Aligners, you'll want to make sure to wear them all day and night, except for meals and when having a drink of a beverage other than water. Nighttime aligners will be worn at night only. Follow the directions closely.
Every 90 days, you'll check in with a doctor to monitor progress. If you ever need help, SmileDirectClub customer service is available 24/7 by email, phone and chat.
After your treatment with the aligners has completed, you'll be required to wear a custom retainer to keep your teeth from going back to their initial position.
SmileDirectClub Pros and Cons
-PROS-
Easier and more affordable than braces
Financing available
Made with BPA-free plastic
No worries about food getting stuck and causing discoloration
-CONS-

Strict adherence to daily and nightly instructions is required
Brushing and flossing required after each meal

Overall SmileDirectClub Review - 4.6/5
SmileDirectClub Clear Aligners are a much better option compared to traditional braces. Besides saving loads of money, Clear Aligners are generally less hassle than braces. Food doesn't get stuck behind metal and taking care of the trays is relatively simple. The one downside of using SmileDirectClub aligners compared to braces is that you have to be diligent about following the instructions and making sure you use them properly. If not, you may not achieve the results you desire!