Shutterstock has high quality, diverse, royalty-free images available for a multitude of purposes including creative projects and marketing. This stock image website is one of the leaders in stock assets and offers reusable content for professional and personal projects. Using images or audio without the permission of the owner can potentially lead to copyright infringement. The best way to avoid this is to use a stock image website like Shutterstock. Within the Shutterstock library are over 300 million pieces of content ranging from images and graphics to music and videos.
Keep reading this review to learn more about Shutterstock stock images and how the service stands apart from competitors.
Shutterstock Review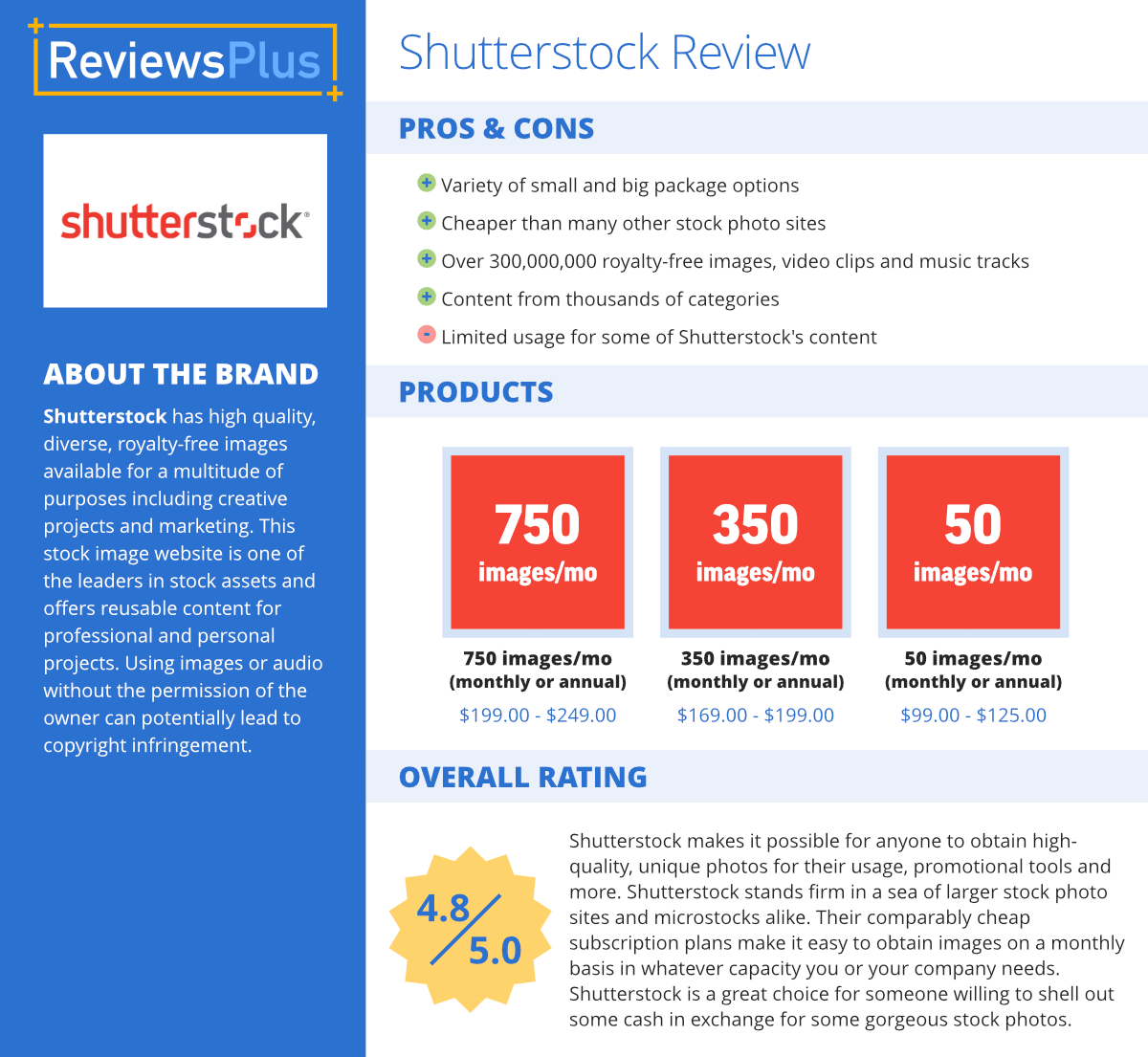 What Sets Shutterstock Apart?
Within the stock image realm, Shutterstock is unique in that contributors to Shutterstock are not just professional photographers, but amateurs and hobbyists alike. This makes for a wide range of different photography and video styles, aesthetics and variations. Make no mistake though - just because Shutterstock includes media from many different sources does not mean it is any less quality. They house over 300,000,000 royalty-free images, video clips, and music tracks.
Shutterstock vs. Competitors
As mentioned, Shutterstock has a bit of competition in the stock photo industry. One of Shutterstock's biggest competitors is iStock, a subsidiary of the popular Getty Images. See below how these two stock photo sites compare with their annual subscription plans.

Shutterstock offers 4 different annual packages you can choose from including 10 images for $29, 50 images for $99, 350 images for $169 or 750 images for $199. These annual plans enable you to save up to 40% when you are charged monthly. As the plan gets bigger, the cost of each image gets cheaper. In the end, choosing a more expensive plan saves you money in comparison to paying per image. The 350 images per month is Shutterstock's most popular option.
Within this plan, Shutterstock includes Shutterstock Editor Pro. This tool enables you to create social media posts and promotions, customize images and utilize templates, and access professional design elements.
iStock $70-$333/month
iStock, another microstock website, is a competitor of Shutterstock with a significantly higher price point. iStock has over 30,000,000 photos, a bit less than Shutterstock. They do however have over 6 million exclusive images, only available at iStock. iStock also has 4 annual plans to choose from including 10 images for $70, 25 images for $120, 50 images for $199, or 750 images for $333.

If you want more options for images at a much cheaper price, Shutterstock is the obvious answer. However, iStock has many exclusive photos available that may be helpful for certain designs and needs.

Shutterstock FAQs
1. What other types of media does Shutterstock offer besides images?
Shutterstock also offers vectors, illustrations, editorial content, footage and music.
2. Does royalty-free mean that Shutterstock content is free?
Royalty-free does not mean that the content a stock image site contains is free to use. It does mean you pay for a license only once and you can use it forever within the limitations set forth by the plan or image. Shutterstock is a site that sells packages based on your photo, video, and audio needs.
3. Can I use Shutterstock images on my website?
You can use downloaded images in a print ad campaign, web banner or on your website. As long as you adhere to the license agreements of your plan, you can use all of Shutterstock's images liberally.

4. What can I do if I don't need a lot of images per month?
Shutterstock has an option for buying images without subscribing to a monthly plan. You can either buy per image or in smaller packs of 2, 5 or 25 images.
5. How long can I use images downloaded from Shutterstock?
There is no set time frame for using the images after a download. However, you will need add-ons such as the Enhanced Image License if you want to use images as elements of digital templates for sale or distribution.
Shutterstock Pros and Cons
PROS
Variety of small and big package options
Cheaper than many other stock photo sites
Over 300,000,000 royalty-free images, video clips and music tracks
Content from thousands of categories
CONS
Overall Shutterstock Review - 4.8/5
Shutterstock makes it possible for anyone to obtain high-quality, unique photos for their usage, promotional tools and more. Shutterstock stands firm in a sea of larger stock photo sites and microstocks alike. Their comparably cheap subscription plans make it easy to obtain images on a monthly basis in whatever capacity you or your company needs. Shutterstock is a great choice for someone willing to shell out some cash in exchange for some gorgeous stock photos.