Renting an RV on a lengthy vacation is a great way to bring a group of people closer together while getting to see the many gems located around the United States and Canada. The share economy has paved the way for new names like Outdoorsy and RVshare to jump into the travel mix with competitively priced and privately-owned RVs, available for adventurous travelers to rent online.
What are Outdoorsy and RVshare?
Outdoorsy and RVshare bring RV owners and would-be renters together online. Aside from the online platform, each also provides insurance, roadside assistance and general peace of mind for all parties involved. Plus, payment methods and pricing are highly competitive to those you'd find at a traditional renter.

Both of these services are ideal for families, groups of friends or anyone else looking to go road tripping or camping. RVshare and Outdoorsy are both recommended options for travelers in the United States and Canada.
In this post we will take a look at the details you need to know when deciding between RVshare and Outdoorsy. We'll break up the article into main topics and compare the two directly before making a final decision at the end.
Let's get into how RVshare and Outdoorsy compare.
RVshare vs. Outdoorsy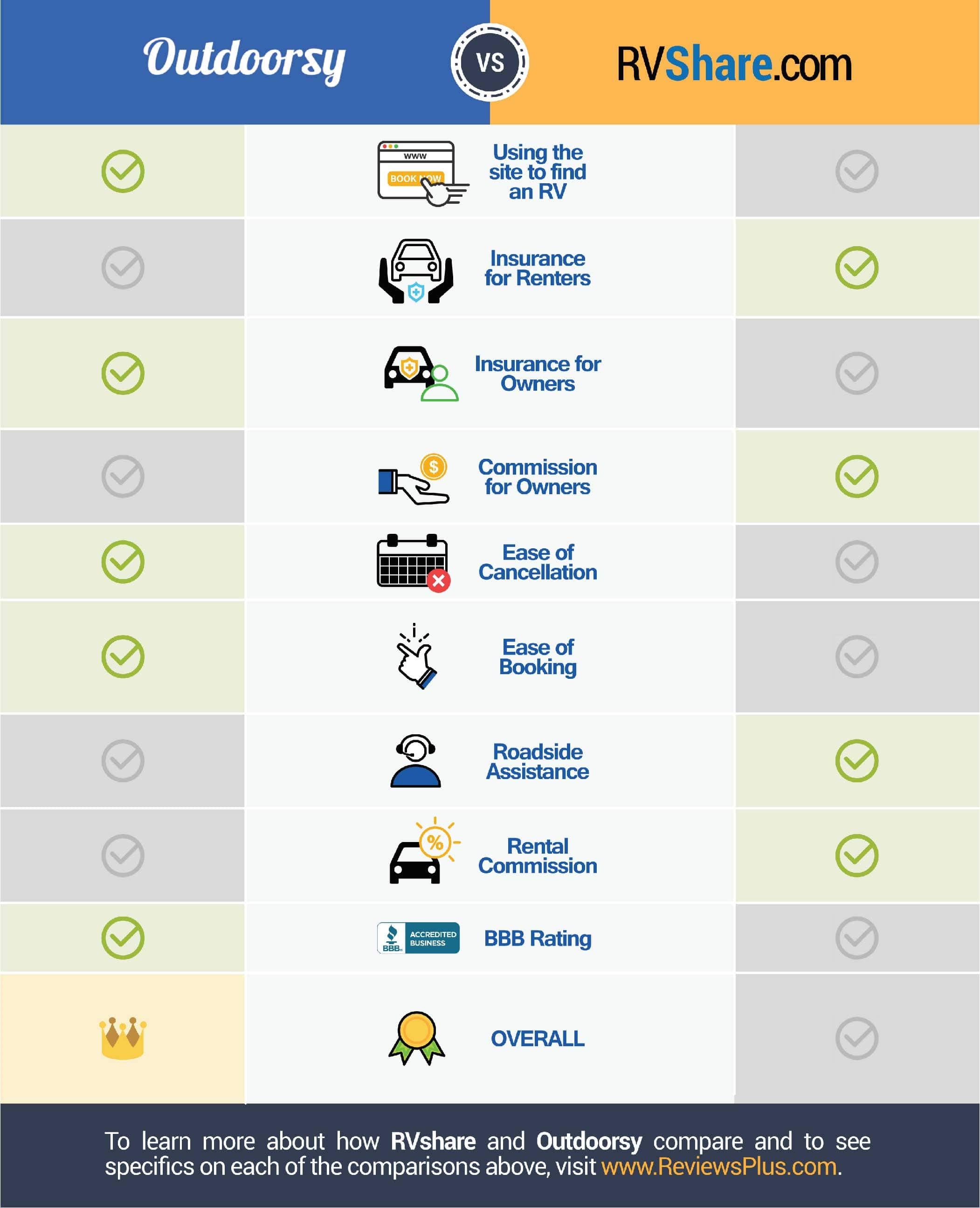 -Finding an RV-
Finding an RV is the very starting point of any RV adventure. Outdoorsy is the more intuitive of the two platforms when it comes to actually finding an RV. With a searchable map and a wider variety of search options, Outdoorsy feels more modern from the start. Outdoorsy has 12 searchable vehicle types including:
Class A
Class B
Class C
Camper Van
Truck Campers
Travel Trailer
Folding Trailer
Fifth Wheel
Toy Hauler
Tow Vehicle
Utility Trailer
Other
Additionally, Outdoorsy allows you to pinpoint your RV with search options like "Amenities" (air conditioner, bike rack, solar power, showers, etc), "Kitchen" (dining table, oven, fridge, etc) and even "Entertainment", "Rules" and "Rating". This is far more intuitive than what you'll find at RVshare.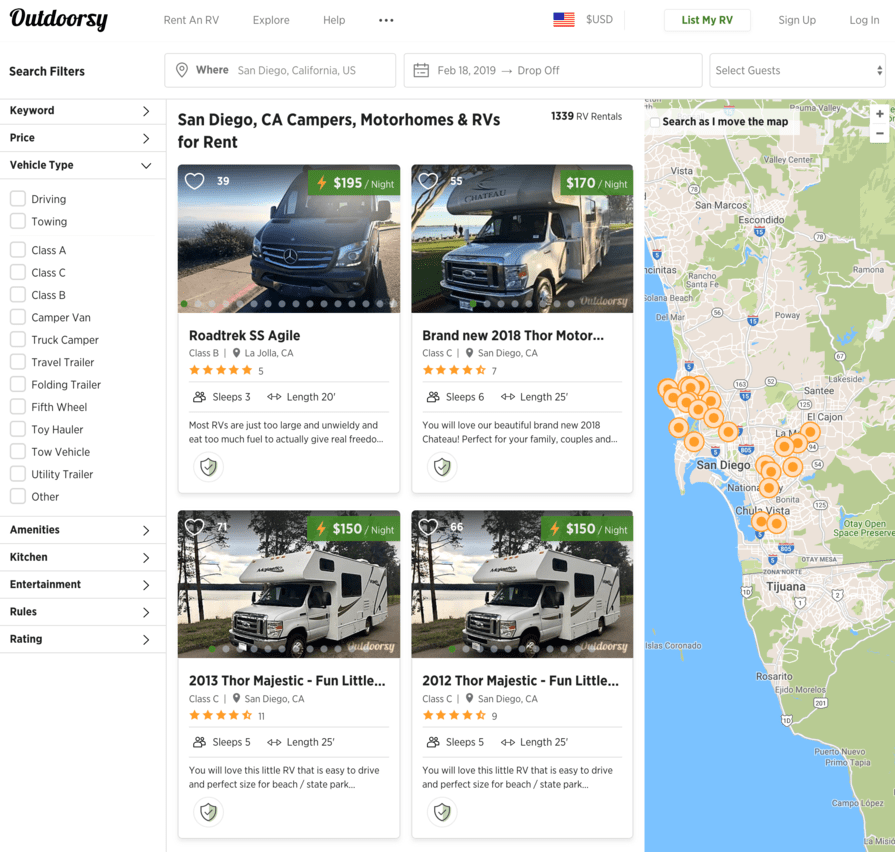 RVshare features a more basic setup, which actually may be preferred by those who are less technologically-inclined or who like things to be as straightforward as possible. RVshare features 7 searchable vehicle types:

Class A
Class B
Class C
Travel Trailer
Fifth Wheel
Toy Hauler
Pop-up Camper
Added search options include the number of travelers, your desired vehicle's age and length. These are cool options which Outdoorsy does not have, but they aren't actually more useful. Setting a minimum and maximum year of make for an RV has value, but the depth provided by Outdoorsy search filters allows users to get much more precise with a search.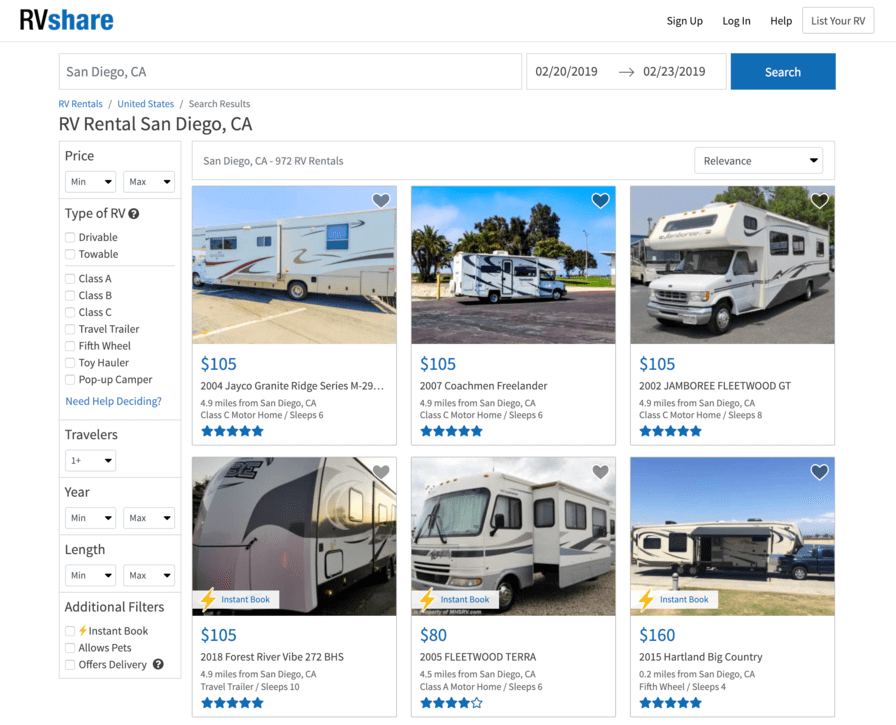 EDGE: OUTDOORSY
-Ease of Booking and Payment-
The process of booking an RV on both RVshare and Outdoorsy is relatively similar. You'll first pick your vehicle before submitting a request to the owner. The owner will either deny or confirm your request. If confirmed, you will then enter the payment and security deposit stage.

There is one major difference to be noted at this point in the process between Outdoorsy and RVshare. Both offer a two-part payment plan but each differs distinctly:
With RVshare, the booking must be made 30 days in advance and the decision whether or not to accept a two-part payment is up to the owner. If eligible for two payments, the first installment is due at booking. The second installment will be billed 30 days prior to the start date.
With Outdoorsy however, the booking may be made only 14 days in advance of the booking and the decision for complete or two part payment is up to the renter. If a two part payment is selected, the first payment will be due at booking. The second payment will be billed 14 days before the reservation date.
Booking within 30 days on RVshare or 14 days on Outdoorsy means you owe 100% of the payment upon reservation. Both accept major credit cards including Visa, MasterCard, Discover and American Express.
Another major difference between the two brands when it comes to payment is that Outdoorsy offers coupon codes that can be redeemed online whereas RVshare does not. This can be a major factor when choosing an RV rental brand to go with and swings this criteria firmly in Outdoorsy's favor.
EDGE: OUTDOORSY
-Insurance for Renters-
Insurance is automatically added to any reservation through both Outdoorsy and RVshare. Provided insurance is valid in the United States and Canada, only.

With RVshare, renters will be responsible for a $1,500 per-occurrence deductible that will automatically come from the renter's security deposit first.
With Outdoorsy, renters pay a deductible that ranges from $1,500-$3,000 per-occurrence.
While we hope that you don't end up needing the insurance on your vacation, having a stable base fee can be a source of confidence when making a final decision.
EDGE: RVSHARE
-Insurance for Owners-
For RV owners looking to make extra cash on either RVshare or Outdoorsy (or both), having peace of mind with good insurance makes a world of difference. Luckily for owners, both brands offer competitive insurance for owners. There are only slight differences in each. Insurance from both brands is offered to owners for free.

RVshare gives owners liability coverage of $500,000, with a $1M liability option available for an additional fee. Owners will also receive comprehensive and collision coverage equal to the vehicle but not over $200,000. RVshare insurance does cover interior damage.
Outdoorsy insurance for owners differs in two main aspects. First, Outdoorsy insurance does not cover interior damage. Secondly, you'll automatically receive $1M in liability coverage compared to the $500,000 offered by RVshare. Another minor difference between the two is that Outdoorsy will provide comprehensive and collision up to $250,000 in value. In other regards, both insurance plans are very similar.
EDGE: TOSS UP!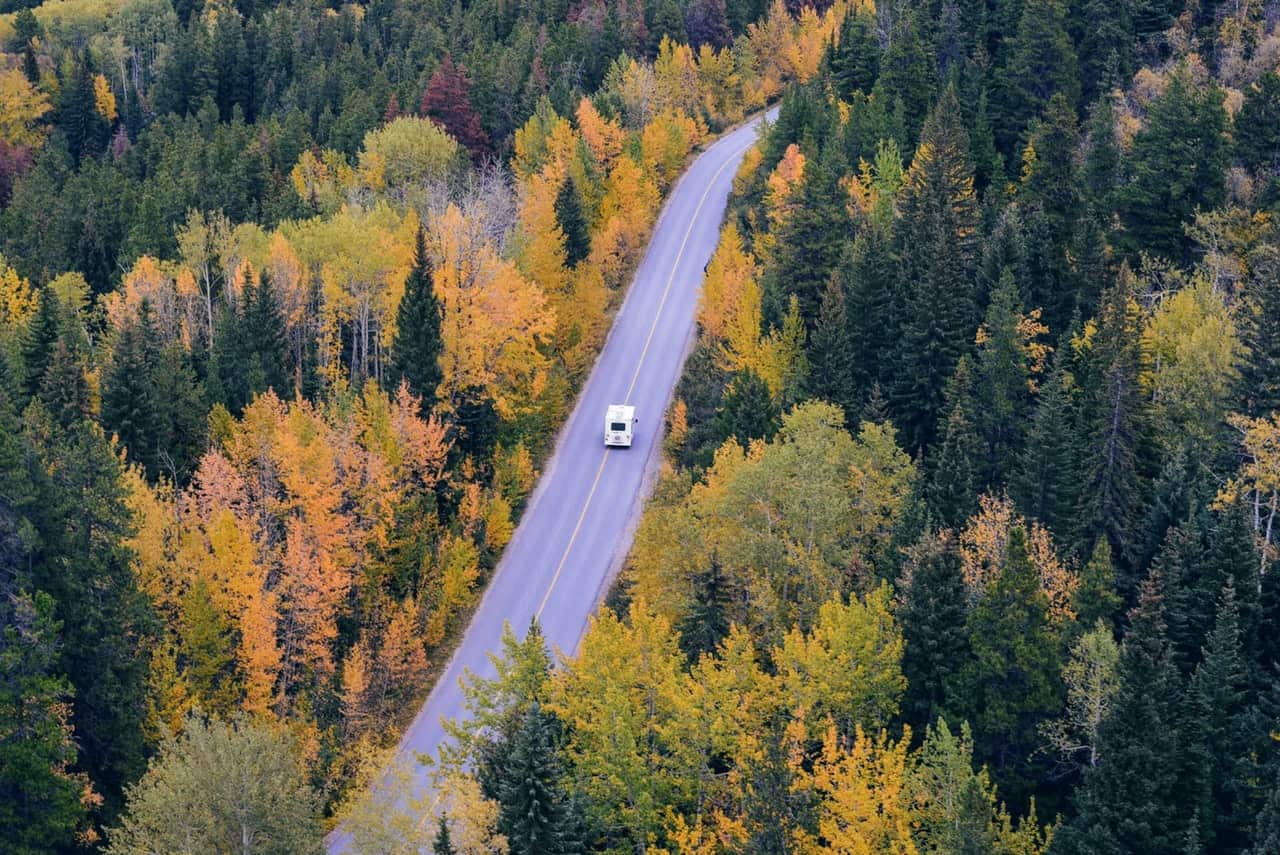 -Cancelation Process-
Canceling an RV rental is obviously no one's end goal when first planning a trip. However, the need to exercise that option may arise. In the event you are already aware that canceling your RV is a possibility, being familiar with both cancelation processes will only benefit you in the long run. The main thing to know for renters when it comes to canceling an RV is that the amount of refund you'll receive and how far in advance you need to cancel your reservation to receive that refund are totally at the discretion of the owner. With both RVshare and Outdoorsy, owners select a cancelation policy for their vehicles and renters are expected to be aware before booking. Here's how those cancelation policies stack up!
RVshare gives renters a 1-hour grace period to cancel after making a booking. RVshare also offers 6 different cancelation policies for owners to select from after that hour is up. Each cancelation on RVshare comes with a $99 cancelation fee. The RVshare cancelation policies are:
Most Strict: No refunds available
Very Strict: 50% refund available up to 30 days of start date however no refund within 30 days
Strict: Full refund is available up to 30 days of start date and no refund is available within 30 days
Standard: Full refund is available up to 30 days of start date, 50% is available between 14-30 days and no refund is available within 14 days of start date
Flexible: Full refund is available within 30 days of start date and 50% is available within 30 days of start
Forgiving: Full refund is available before 7 days of start date and a 50% refund is available within 7 days of start date
Outdoorsy offers renters a 48-hour grace period to cancel on bookings made at least 14 days in advance. They also make it a little more straightforward to cancel with three cancelation policies available for owners. They are:

Strict: Deposit is 50% of the trip cost; deposit is non-refundable; 50% refund available before 14 days of rental if full amount has been paid; no refund if canceled within 14 days of rental date
Moderate: Deposit is 25% of the trip cost; deposit is non-refundable; 75% refund if canceled before 7 days of start date if full amount has been paid; 50% refund if canceled within 7 days of start date
Flexible: Deposit is 25% of the trip cost; refundable when canceled before 5 days of start date; 75% refund if canceled within 5 days of start date
A main difference to note between the two RV rental brands is that a full refund is possible with RVshare and not with Outdoorsy. Another note is that with the most flexible plan from Outdoorsy, you have up until 5 days before your trip to cancel. With RVshare, you must cancel 7 days or more before your trip. The extra 2 days and the smaller variety in potential cancelation policies gives Outdoorsy a slight edge here.
EDGE: OUTDOORSY
-Roadside Assistance-
Roadside Assistance is essentially a second form of insurance that both brands offer for renters. Whether you need help changing a tire, have been locked out of your RV, run out of gas, or another issue has arisen during your rental, you can call the Outdoorsy or RVshare Roadside Assistance to help. Both services are offered 24/7. In sparsely populated areas or areas far from any town, customers may experience longer than average wait times and possible blackouts with service.
RVshare will charge a 5% service fee at booking for their Roadside Assistance. With Outdoorsy, you'll be charged $15/day.
EDGE: RVSHARE
-Rental Commission-
For those renting out a vehicle, one of the most important factors to consider is how much of the actual reservation owners will receive from each brand. RVshare will keep between 25-15% of the reservation, with the owner receiving compensation for missing items, damage or gas. To earn 85% of reservations (RVshare keeps 15%), owners must have listed 3+ vehicles on the RVshare website.
Outdoorsy will charge 25-20% of reservations. However, with Outdoorsy, owners will receive extra compensation for generator fees and other costs including mileage overages. With RVshare, mileage overages go to RVshare.
EDGE: RVSHARE
Overall Edge: Outdoorsy
For renters, you can't do much better than Outdoorsy. They offer a more intuitive and deeper site for finding and booking RVs, competitive insurance, a straightforward cancelation process and an overall higher BBB rating (A+ for Outdoorsy versus B- for RVshare). Outdoorsy is the first selection we'd recommend for those looking to plan a trip. It is worth noting that RVshare does offer more value for those looking to rent out their RVs.