Purple is a mattress brand that was launched by brothers Tony and Terry Pearce in 2016 after years of research. Their goal was to create a mattress that would be "be better than any $4,000 mattress and cost only about $1,000," and they have found success in doing so. The key to the success of the Purple mattress is the brothers' patent-pending machine called the Mattress Max™ which is used to make Hyper-Elastic Polymer™ for the brand.

Their Purple mattress was the very first mattress made with the unique "Purple Grid" comfort layer, which resembles a honeycomb. The grid conforms to the body like memory foam does, but it absorbs less body heat and is more responsive, regardless of body type or sleep style.

Although Purple mattresses claim to suit any sleeping style, some sleepers may prefer different levels of firmness. As such, Purple offers three different mattress options: its flagship Purple Mattress, also known as the Original Purple as well as the Purple Hybrid and Hybrid Premier. Keep reading this review of Purple mattress to learn if they are the right choice for your sleeping style.
Purple Review
Who is a Purple Mattress Good For?
Because of the different mattress styles and levels of firmness that Purple offers, the brand can be a good choice for most types of sleepers and body types. But while the mattresses may accommodate all sleeping styles, some might appreciate one mattress over another. Here are some specific recommendations based on sleeping style:

Hands-On Purple Mattress Review
We started our search for a new mattress at our local mattress store where we inquired about the Purple mattress since my husband was intrigued by the reviews he read online. They had four different types of mattresses lying next to each other, ranging in firmness levels with the Original Purple being the most firm, followed by the Hybrid and then the two Premium Hybrids (one with the 3" grid and one with a 4" grid).
To be honest, we weren't impressed with the Original Purple, so we didn't give that one another thought. But it got interesting when we tried the Purple Hybrid and the two Premium Hybrids. It caused a bit of a debate between me and my husband.
My husband preferred the soft Premium Hybrid - with the 4" grid. I preferred the 3" Premium Hybrid which was a little firmer but still soft and felt amazing when I slept on my side. Still, I couldn't understand how a mattress that was even softer than our current memory foam one could make my back feel better, so I decided the Hybrid would be a better choice. However, my husband had other ideas. We ended up going home and ordering the king-size Premium Hybrid 3" directly from Purple.com since their financing options appealed to us.

We ordered the white-glove delivery because we heard that their mattresses were quite heavy, and we also had an old (albeit only 5-year-old) mattress to get rid of. The delivery process was impressive and quick. The men who delivered it were professional, although they did seem to struggle with the weight and getting it up our narrow staircase. They told us that Purple mattresses were the heaviest mattress they delivered. That helpful service justified the $149 extra we paid to have it delivered.
For several nights, the softness and the cool design of the Premium Hybrid 3" Purple mattress were enough to keep us happy. However, it did not help our back pain. My husband waited two months before throwing in the towel and admitting that we had purchased the wrong mattress. We started the return process and opted for the firmer Purple Hybrid. To initiate the return, we had no problem contacting customer service, and they found a donation center to come pick up our Purple mattress for us. The entire return process took less than two weeks altogether, and we weren't charged anything extra.

Purple Mattress Construction
The construction of each of the three Purple mattresses is different, although each features the trademarked Purple Grid™. Although there are three main mattress models, there are technically four altogether since one of the models (the Hybrid Premier) is offered with the choice of a 12" or 13" height. The Original Purple Mattress has a support foam base, while the other three hybrid mattresses have encased pocketed coil bases.
1. Cover
The cover of the Original Purple mattress is made of a custom, SoftFlex Wave Knit that uses its ability to stretch to maximize the flexing properties of the Purple Grid™. It also promotes airflow, keeping sleepers cool. The cover for the Hybrid and Hybrid Premier mattresses is a "StretchMax Top with ultra-breathable side panels." The stretchy material allows for optimal support from the Purple Grid™.
2. Comfort Layer
Underneath the cover is a 2" Purple Grid™ for the Original Purple mattress and the Hybrid mattress. The Hybrid Premier offers the option of a 3" or 4" Purple Grid™.
3. Core
The Purple Grid™ of the Original Purple mattress sits between two layers of foam to support the pressure points as well as the rest of the body. The top layer of foam is 3.5 inches, while the bottom layer of foam is 4 inches. In total, the Original Purple mattress measures 9.25 inches thick, making it slightly shorter than average mattresses.
The Hybrid and Hybrid Premier mattresses have 7.5 inch responsive support coils in their core to enhance the support of the grid. In total, the Purple Hybrid is 11 inches thick, the Hybrid Premier 3" is 12 inches thick and the Hybrid Premier 4" is 13 inches thick.
4. Transitional Layers
Above and below the core support coils of the Hybrid and Hybrid Premier mattresses are thin layers of CertiPUR-US® certified transition foam for added comfort and structure.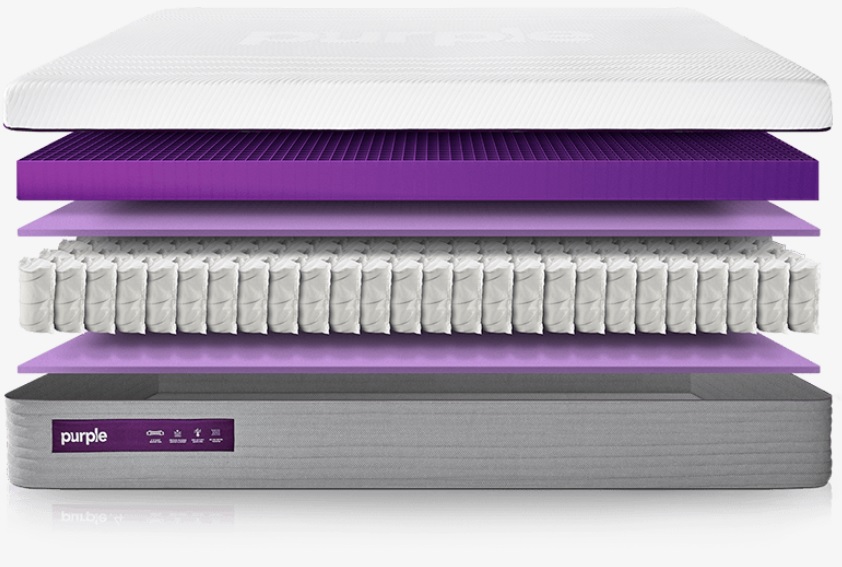 Off-Gassing?
Some mattress-in-a-box buyers report a temporary odor from the mattress when it is unrolled. Regarding the Purple mattress, some people have noticed a slight initial odor but that this smell went away soon after opening. The reason it may have less off-gassing odors than other mattresses is because the open-grid design doesn't trap odors in the same way that solid foam does.
Purple Mattress Comfort Levels
The different constructions of the Purple Mattress allow for different comfort levels to please a wide variety of sleepers.
Original Purple Mattress
The Original Purple is a different mattress now than when it was first introduced. It now has edge support and a SoftFlex cover. While suitable for all sleeping positions, it is a good choice for average-size sleepers under 250 pounds. Its firmness is great for stomach and back sleepers.
Purple Hybrid
The Purple Hybrid is also recommended for stomach and back sleepers, although combo sleepers and side sleepers find it suitable as well. Heavier people will appreciate this mattress more than the Original Purple due to its core layer of coils for added support. The Hybrid makes you feel more like you're sleeping on a bed than the Hybrid Premier (which makes you feel like you're sinking in further), and feels less firm than the original Purple.
Purple Hybrid Premier
The Purple Hybrid Premier mattresses are the softest of all the Purple mattresses, but the 4" one is softer than the 3" one. They provide the same amount of support as the Hybrid, but the extra thickness of the grid makes it more pliable and cushiony. Side sleepers especially may appreciate the extra cushioning since it conforms to all the pressure points while also keeping the spine straight.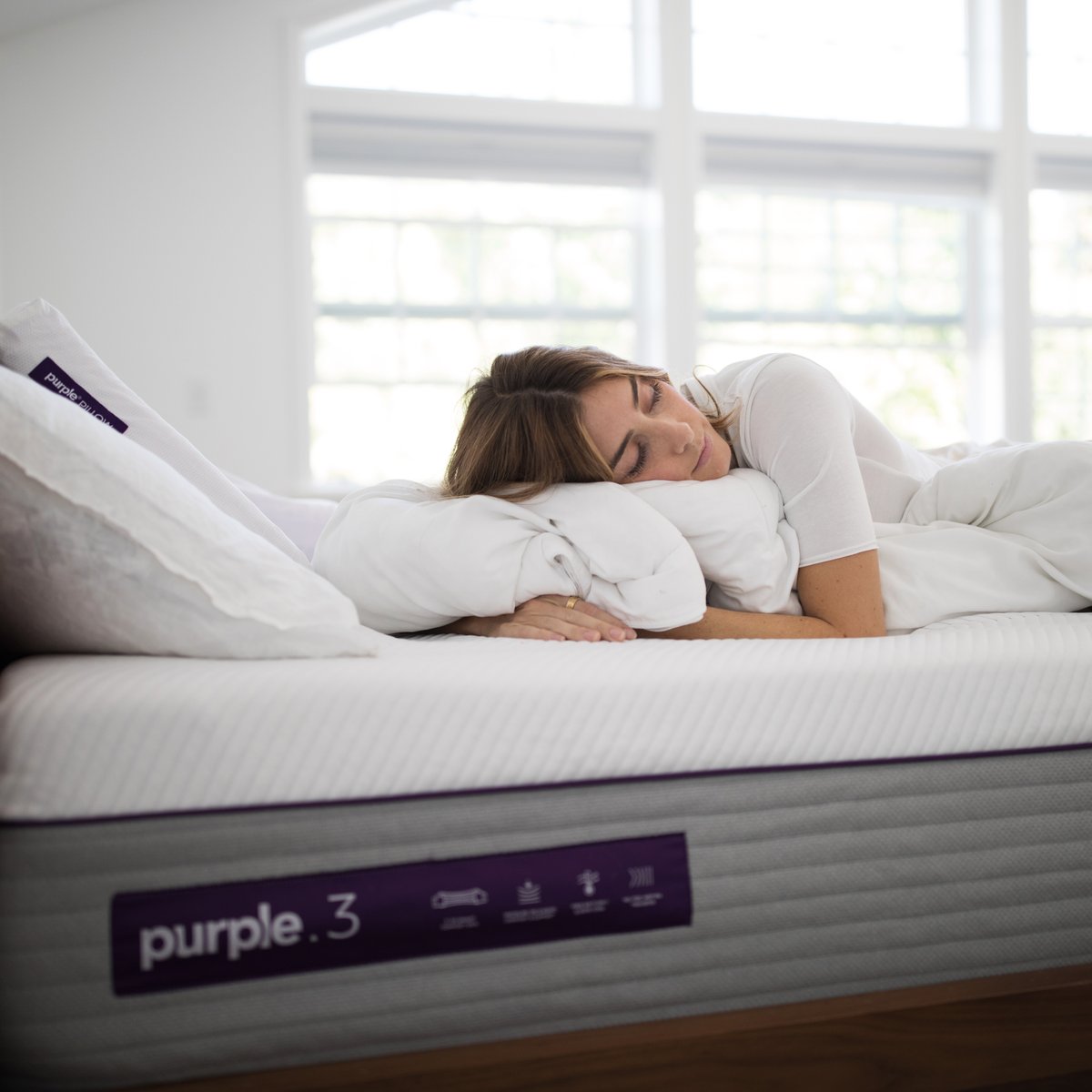 Purple Mattress Foundations
Purple offers three different foundation options: the Purple PowerBase, the Purple Foundation and the Purple Platform Bed.
Purple PowerBase
The Purple PowerBase is their adjustable base which also includes a massage feature. You can use the remote to move the head or foot of the bed up or down (or both). It also comes in Split King, which is a popular choice for couples who prefer different comfort levels and different sleeping positions.
Purple Foundation
The Purple Foundation is an upholstered bed frame. It comes in a choice of two colors: charcoal grey and walnut. Stylish wooden pegs support it from underneath. It does not include a headboard but comes with headboard attachments.
Purple Platform Bed
For those who like to sleep high off the ground or who have limited storage space in their bedroom, Purple's Platform Bed foundation is a practical and affordable option. It is simple to set up, holds up to 2,000 pounds and offers 13 inches of storage space underneath. Just tuck your storage bins underneath and hide them behind a bed skirt.
Purple Mattress Pricing
| SIZE | ORIGINAL | HYBRID | HYBRID PREMIER 3 | HYBRID PREMIER 4 | POWERBASE | FOUNDATION | PLATFORM BED |
| --- | --- | --- | --- | --- | --- | --- | --- |
| Twin | $599 | n/a | n/a | n/a | n/a | $379 | $139 |
| Twin XL | $699 | $1,149 | $1,699 | $2,299 | $1,399 | n/a | $139 |
| Full | $849 | $1,349 | $1,899 | $2,299 | n/a | $429 | $169 |
| Queen | $999 | $1,449 | $1,999 | $2,799 | $1,499 | $449 | $179 |
| King | $1,299 | $1,749 | $2,499 | $3,299 | $2,798 | $499 | $199 |
| Cali King | $1,299 | $1,749 | $2,499 | $3,299 | $2,798 | $499 | $199 |
| Split King | $1,399 | $2,448 | $3,598 | $4,798 | $2,798 | n/a | n/a |
How Does Purple Compare?
| | PURPLE | DREAMCLOUD | CASPER | SAATVA |
| --- | --- | --- | --- | --- |
| Price (King) | $1,749 | $1,399 | $1,166 | $1,699 |
| Warranty | 10-Year | Lifetime | 10-Year | 15-Year |
| Sleep Trial | 100 Nights | 365 Nights | 100 Nights | 120 Nights |
| Free Shipping | Yes | Yes | Yes | Yes |
| Free Returns | Yes | Yes | Yes | No |
Purple Mattress Company Info
Purple is headquartered in Lehi, Utah. Their mattresses are sold online as well as in retail stores around the country. The fact that shoppers can test out the mattresses in-person, and then decide whether to buy the mattress at the retailer or online, makes this mattress-in-a-box company unique.
Purple offers free basic delivery on all their mattresses. Buyers of the Hybrid Premier receive free white-glove delivery. Buyers of the Purple Hybrid can choose white-glove delivery and removal of their old mattress for an added fee of between $99-$149. There is no white-glove delivery option for the Original Purple mattress which is only shipped via ground shipping. Purple ships to the US and Canada. Shipping is free within the 48 Contiguous United States. For ground shipments, the mattress arrives vacuum-sealed in a plastic tube with carrying handles.
Purple Pros and Cons
Pros
Keeps cool throughout the night

100-night sleep trial

10-year warranty

Free shipping and returns

Available for testing in showrooms

Excellent motion isolation

Wide range of comfort levels available
Cons
Purple Grid takes getting used to

Not ideal for heavier sleepers

Mattresses are heavy and hard to move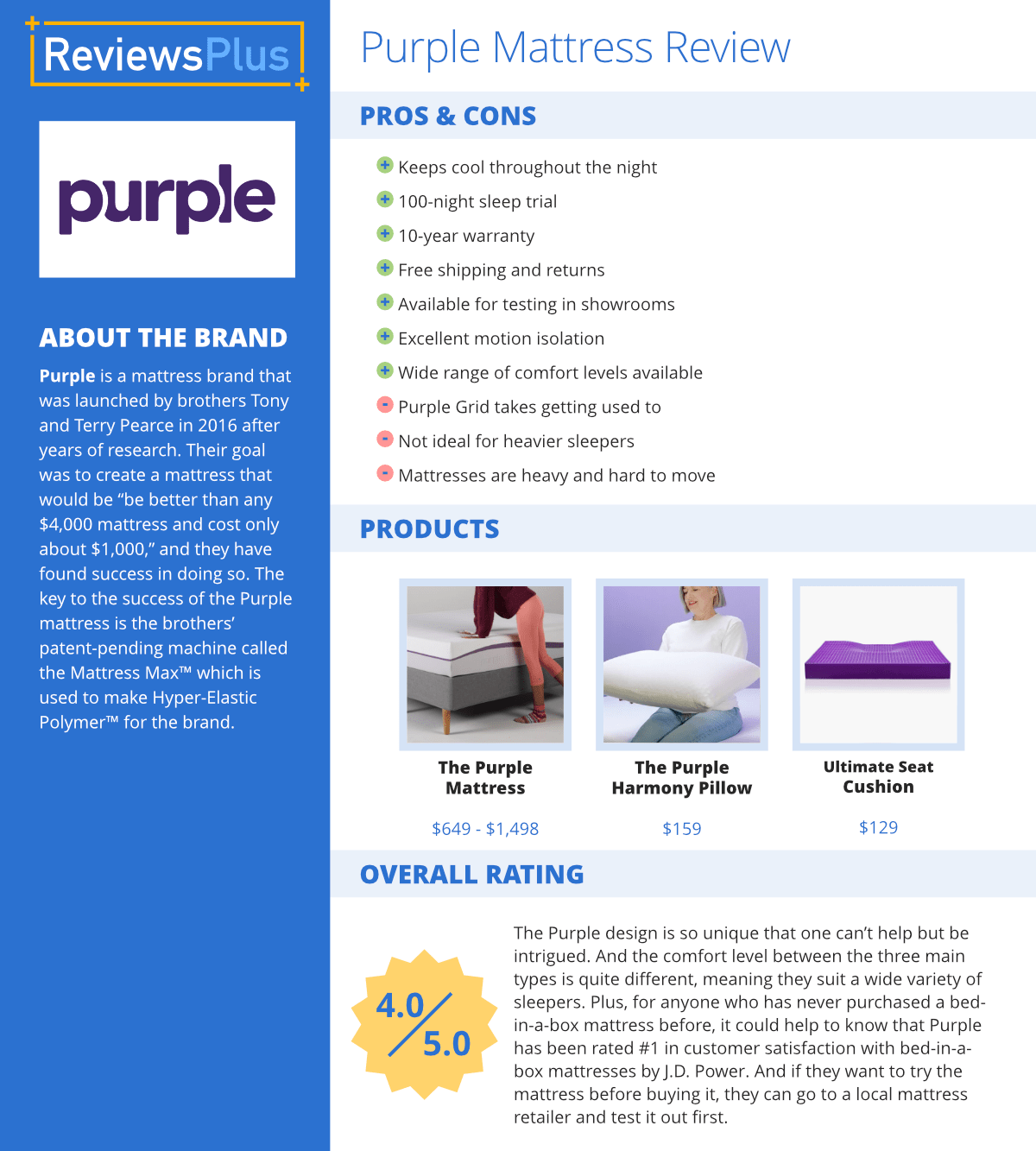 Overall Purple Review 4.0/5
The Purple design is so unique that one can't help but be intrigued. And the comfort level between the three main types is quite different, meaning they suit a wide variety of sleepers. Plus, for anyone who has never purchased a bed-in-a-box mattress before, it could help to know that Purple has been rated #1 in customer satisfaction with bed-in-a-box mattresses by J.D. Power. And if they want to try the mattress before buying it, they can go to a local mattress retailer and test it out first.
Even after buying it, they make the return process easy, providing you buy it online directly from Purple. (Retailers may have their own rules on returns and exchanges.) The main drawbacks in comparison to other mattress brands are the shorter sleep trial and warranty.