Dogs bring loads of joy into our lives and as pet owners, it's natural to want to bring as much joy into theirs. A pet subscription box like PupBox is a novel way to keep a pet dog having fun with new treats, chew toys and development and training tips shipped each month. In this PupBox review, we'll take a look at what sets PupBox apart from competitors, what you get with a subscription box for dogs and all the other details that may be important in your buying process, in addition to diving into the contents of a real PupBox.
**Please note that to complete this review PupBox provided a one-time shipment. When making purchases through links presented on this page, ReviewsPlus will receive a commission.**
PupBox Review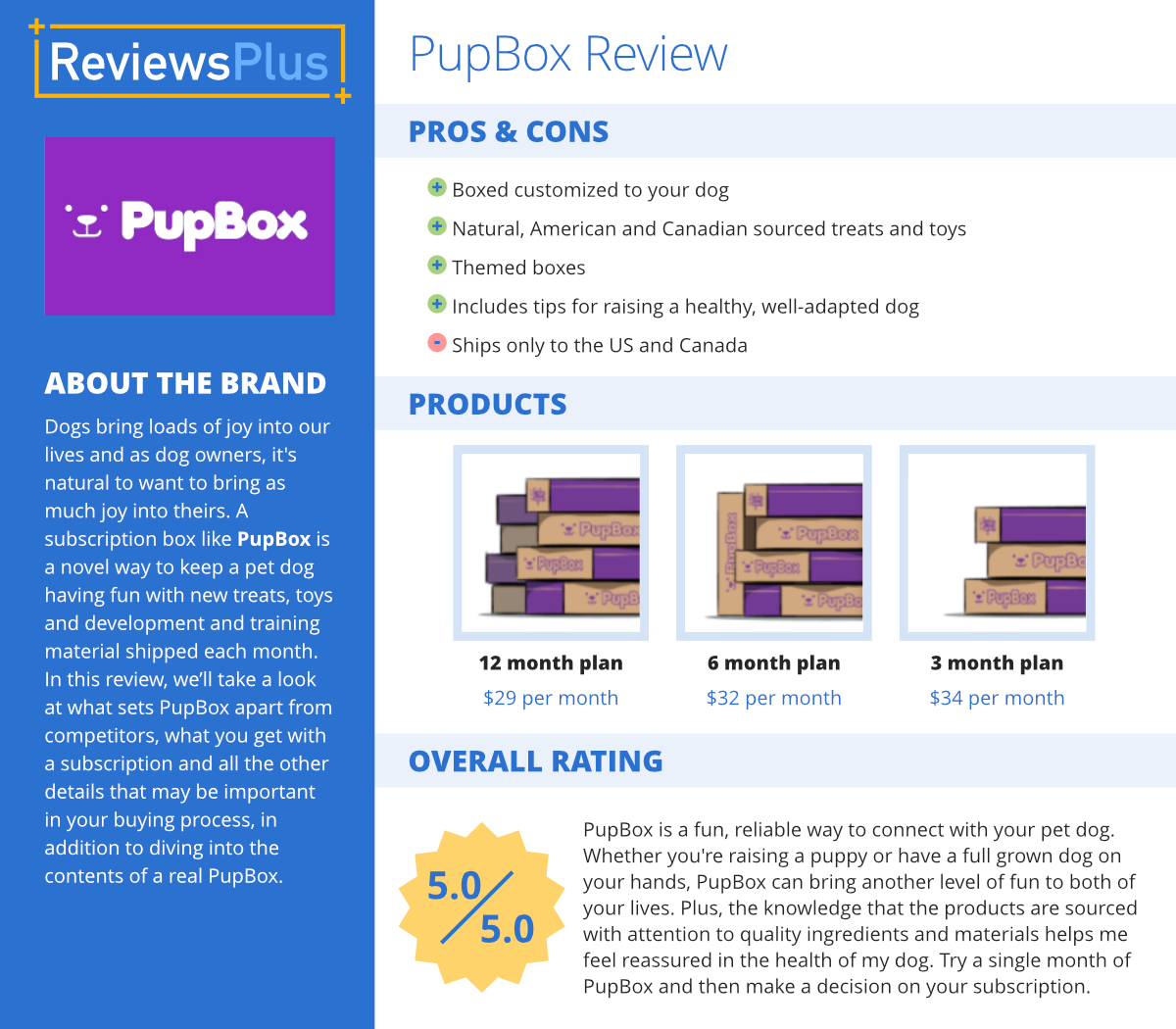 What Sets PupBox Apart
As the name implies, PupBox is a subscription box targeted at puppies. Compared to other boxes, which commonly provide unique or natural toys and dog treat alternatives as their main focus, PupBox is most focused on helping new puppies develop healthily. Included in each box are toys and treats for the puppy chewer, but also information you can use to raise a well-behaved dog. From guides on changes your puppy may be going through to tips on how to keep up, PupBox is a true friend when it comes to raising a healthy dog. However, PupBox is not limited to puppyhood. Dogs of any age can enjoy a monthly subscription, with shipped products reflecting the age of the subscribed pooch.
As a further bonus, all training guides included in PupBox have actually been put together by Andrea Arden, the celebrity dog trainer. If you're not familiar with Andrea Arden, check this out to see what she's all about!
While the training and development material included in PupBoxes may be most appropriate for new puppies, they also have boxes available for dogs of all ages. These boxes also come with tips for dog owners to keep developing their dogs in things like potty training.
All treats included in a PupBox order are sourced from North America, either Canada or the USA. Toys included in PupBox are mindfully curated and based on where your dog is in their development. Treats and other accessories are also found in PupBox. We'll get into more specifics on what's in a PupBox below when we open one ourselves. First, here's how to order one.

PupBox Price and How to Order
PupBox offers a few options when it comes to subscribing. Here are the possibilities for term-length and pricing:
1 month plan - $39/month
3 month plan - $34/month
6 month plan - $32/month
12 month plan - $29/month
As you can see, signing up for a full year provides the best value. You end up saving 25% by committing to the 12-month plan. However, all PupBoxes ship for free and other savings are available. At the time of this writing, PupBox is offering 80% off your first month! Deals like this can regularly be found online, especially PupBox coupon codes for a percentage off your first box.
Ordering PupBox is a simple process and takes only a few minutes. New customers will be required to answer a series of questions about their dog, including the dog's name, birthday, size and gender. You can even upload a photo of your dog to finalize the customization process.
Products sent to you each month of your PupBox subscription will be based on the information you input here. For example, if your dog is small, you will receive smaller toys and goodies and vice versa for larger dogs.

Once you've answered the questions and made your subscription selection, it's time to checkout. Fill out the necessary information and you're done! Boxes from PupBox are sent out about 5-7 business days after the order has been received by the PupBox team. A tracking number will be provided to your email. Now, let's check out what actually comes in a typical PupBox! Returns of items received are not accepted and it's worth noting that PupBox is currently only available in the US and Canada.
Hands-On PupBox Review
What comes in a PupBox? Here are the items from a real PupBox, which was sent to us for the purposes of this review.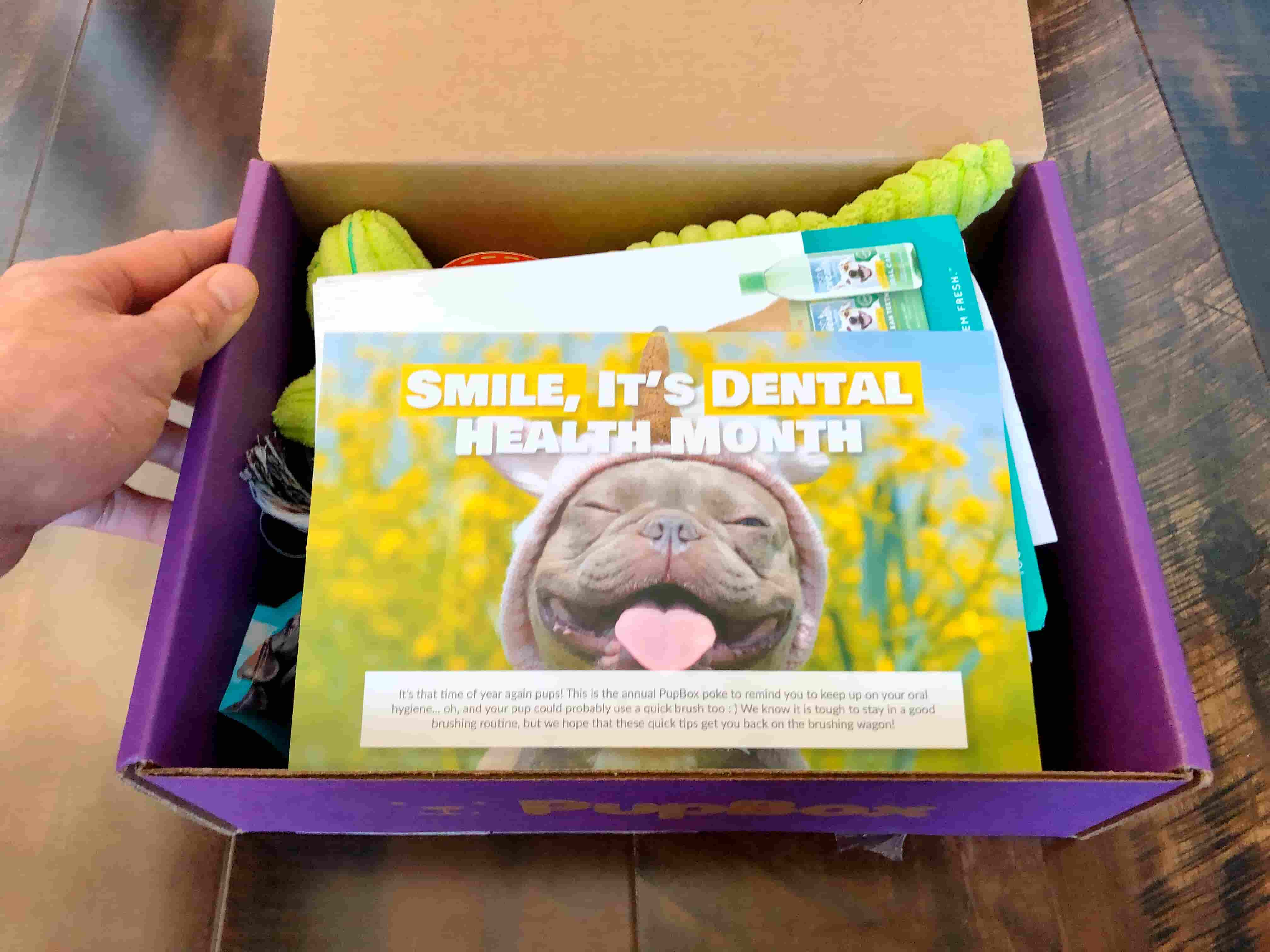 The dog subscription box was centered around "Dental Health Month" and included information and items to support the theme. My box includes seven items total:

Snif Snax Salmon & Sweet Potato Cutlet Treats
Spunky Pup Squeaky Gem
Booda 2 Knot Rope Bone
Charming Squeakin' Squiggles Plush Gator
Tropiclean Fresh Breath Oral Care Gel
Dental Health Month info sheet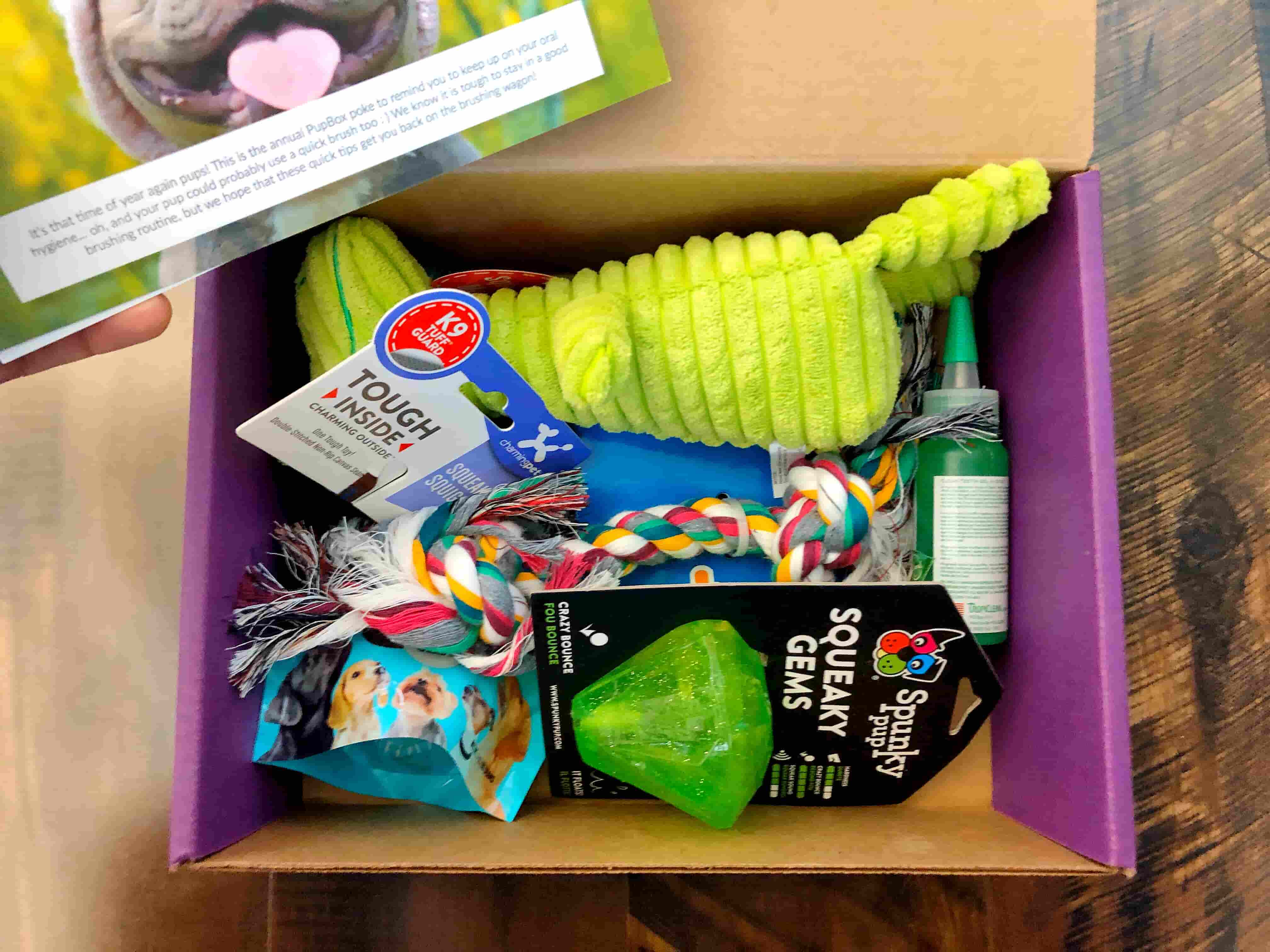 The products sent by PupBox to puppy owners certainly feel high quality to the touch and have held up after hours of rough use by my dog, Buster Scruff. His breath has never been fresher and I plan on continuing to purchase the oral care gel for future use. He's also really enjoyed the salmon cutlet treats. If he had it his way, they'd already be gone.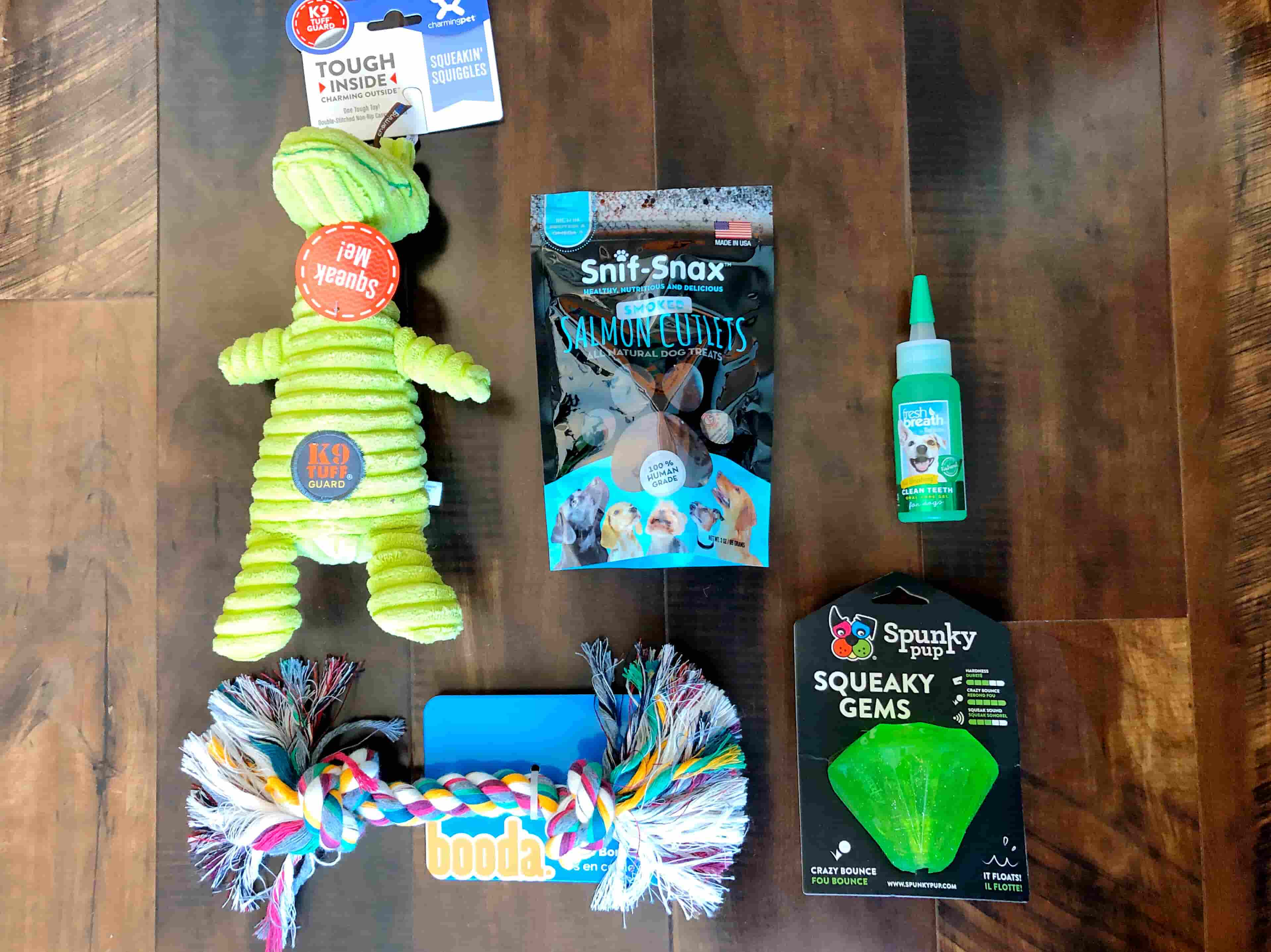 I'm definitely impressed with what was sent by PupBox. These are far superior items to those you'd typically buy for cheap at the grocery store, and I appreciate the regularly changing themes! So does Buster Scruff.

PupBox Pros and Cons
Pros
Boxes customized to your dog

All-natural American and Canadian sourced treats and toys

Themed boxes

Includes tips for raising a healthy, well-adapted dog
Cons
Ships only to the US and Canada

Overall Pupbox Review - 5/5
PupBox is a fun, reliable way to connect with your pet dog. Whether you're raising a teething puppy or have an adult dog on your hands, PupBox can bring another level of fun to both of your lives. Plus, the knowledge that the products are sourced with attention to quality ingredients and materials helps me feel reassured in the health of my dog. Try a single month of PupBox for the first time and then make a decision on whether you want to continue with this best dog subscription box for puppies..