Many of us cat owners don't take the time to really think about cat litter other than when we have to clean out the litter box or when we need to lug a heavy new box of it home from the store. But with all the buzz surrounding an innovative kitty litter called PrettyLitter, we couldn't help wonder what we were missing. Not only is it a subscription delivery service, meaning we don't have to break our backs taking it home from the pet store, but it is also a product that is meant to monitor our cat's health. Considering how our feline friends aren't big on telling us their feelings, this concept was intriguing. Here's what we found when we compared PrettyLitter to other cat litters.
PrettyLitter Review
We Learned Lots About Cat Health in General
Cats naturally hide their pain better than dogs. When a cat does display symptoms or signs of distress, it is often because they can't hide it much longer and are possibly in severe stages of distress. By that time, a veterinarian's job becomes more difficult, the cat is in more pain than they would have been if their health condition was discovered sooner, and your vet bill skyrockets.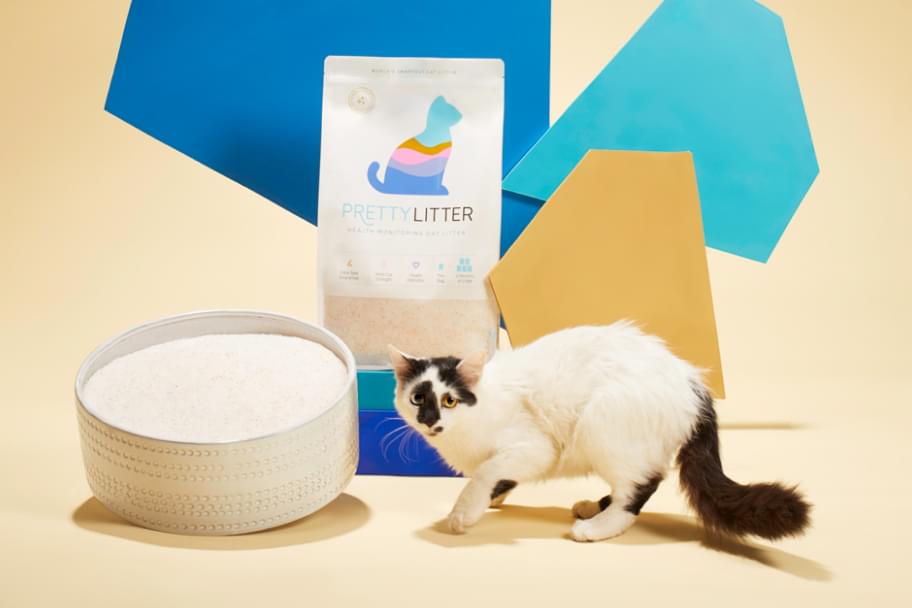 How PrettyLitter Works
PrettyLitter changes color to detect abnormalities in a cat's urine, which many common cat ailments can be detected by. If the litter changes to a color other than the normal greenish-yellow color, it indicates that a call to the vet might be in order.
PrettyLitter is sold online via subscription. The fact that it is delivered is a major bonus, as kitty littler isn't necessarily easy to tote around. On the website, you're asked to select the number of cats in your household before entering your payment information and enrolling in a monthly subscription. You'll get a new bag each month, which is also how often they recommend changing the litter.
PrettyLitter will turn one of four colors after your cat uses it:
Dark yellow/olive green indicates urine within a typical range.

Blue indicates abnormal alkalinity and high urinary pH, which can lead to bladder stones and indicate a high risk for urinary tract infections.

Orange indicates low urinary pH, which can indicate kidney acidosis or metabolic acidosis. It could also indicate that bladder stones or oxalate stones are already present and need to be removed before causing complications.

Red indicates the presence of blood, which means there could be a more urgent case of bladder stones, a urinary tract infection, bladder inflammation, kidney stones, an internal injury or even cancer.
Cost of PrettyLitter
One bag of PrettyLitter will last one month, and weighs 5 times less than an equivalent amount of traditional clay cat litter. The cost is $22 on the PrettyLitter website, but there are also discounts for buying more than three bags at a time, and you can also inquire about bulk discounts. Shipping is free, and you can cancel at any time.
Common Findings
The most common findings among PrettyLitter customers is that they enjoy having the subscription as they don't have to do any heavy lifting, and it is automatically sent to them when they need it. However, many customers say that one bag does not last a full month.
It is highly absorbent though and offers good odor control. It also offers peace of mind that health concerns will be brought to their attention so they can contact their veterinarian if need be.
Overall PrettyLitter Review - Thumbs Up
While every experience is unique, most reviews for PrettyLitter were very positive. Any negative reviews could be addressed by changing the litter more often and gradually introducing the litter to the cat of the house so they can more easily transition them to the new litter.