Piedmontese meat delivery is a popular option for people who want to order high-quality meat for delivery right to their home. The company sources its steaks, roasts, and other prime cuts exclusively from Piedmontese cows. These animals originated in Italy's northwestern Piedmont region and were first discovered 100 years ago.
Piedmontese offers exceptional taste with a nutrition profile that better for you than traditional beef. In addition to their high quality cuts of beef, Piedmontese also gives customers the opportunity to order organic chicken and even Great Range bison. Now is the perfect time to stock up and try a high-quality meat delivery service like Piedmontese.

Continue reading this Piedmontese review to learn more about Piedmontese and their wide selection of delicious meat products.
Piedmontese Review
How Does Piedmontese Meat Delivery Work?
Piedmontese is a ranch-to-fork operation that sells meat online. They differ from other meat delivery services in that they don't operate under a subscription-based business model. Instead, customers are free to select the exact cuts of meat that they want with every order. You can choose from options like New York strip steaks, chicken breast, skirt steaks, grass-fed ground beef, and even American wagyu.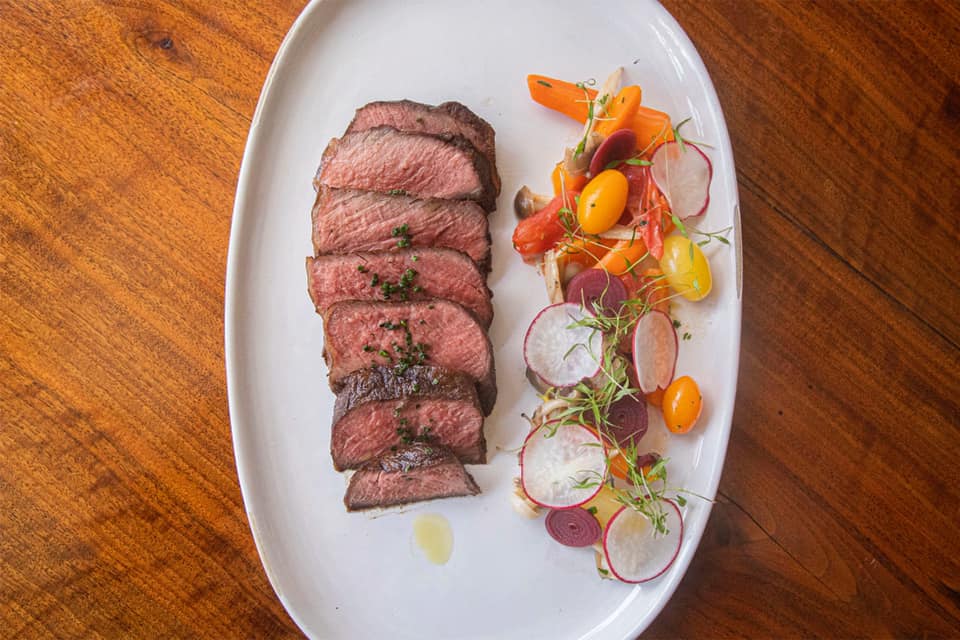 Once you've finalized your order, just pay online and wait for it to be shipped to your home. There's no waitlist or queue you have to wait in before getting your food. Each cut of meat will be individually vacuum-sealed and frozen to ensure safe delivery. Piedmontese provides an easy way to eat the best meats without having to visit any specialty butcher shops, stores, or farms. The entire purchasing process is done from the comfort of your home.
The biggest point of differentiation for Piedmontese compared to other online meat services is its focus on providing 100 percent Certified Piedmontese beef. This is a rare breed of cow that originated in Italy. Piedmontese has brought the breed to America and their meat to your dinner table. There are several reasons why you should try this unique type of beef.
First, Piedmontese offers a taste that rivals that of the most tender USDA Prime-grade cuts. Meat that comes from Piedmontese cattle doesn't rely on fatty marbling for its tenderness. This makes for cuts of meat that are naturally flavorful and healthy. In fact, a serving of Certified Piedmontese beef has fewer calories than salmon ounce-for-ounce. These cows produce steaks that have fewer calories, less saturated and total fat, and more protein per ounce than average beef.

Typically, you would need to either visit a farm or a specialty butcher shop to purchase Piedmontese meat. Piedmontese cuts out the hassle and enables you to experience the benefits of these unique cattle with just a few clicks. The company stands out from the pack through its focus on selling high-quality cuts of meat directly to consumers at an affordable price.
What Does Piedmontese Sell?
Piedmontese sells a wide variety of products to satisfy the tastes of every pallet. Visit their website and you'll find meats like:
| | | |
| --- | --- | --- |
| T-Bone Steak | Chuck Roast | Ground Beef Patties |
| Chicken Sausage | Ground Bison | Seasoning Variety Pack |
Additionally, Piedmontese offers gift box options that bundle multiple meat products together. If you want to try a little bit of everything, then one of these could be perfect. There are several different gift box options to choose from. A good starting point is the Certified Piedmontese Beef Sample Pack. It includes 1 6oz Filet Mignon, 1 8oz New York Strip, 1 8oz Flat Iron Steak, and 1 16 oz package of Ground Beef for a total of $53.95.
If you've already fallen in love with Piedmontese beef, then you may be ready for the company's Presidential Freezer Filler. This massive gift box includes enough meat to feed the entire family for months. You'll receive a total of 98 cuts of meat, including 14oz Boneless Ribeye Steaks, 48oz Chuck Roasts, Grass-fed ground beef, and much more.
Depending on the season, Piedmontese also periodically sells cuts of meat from its Dynasty Selection. Products in this category are hand-selected from the company's purebred Piedmontese herds. The Dynasty Selection allows customers to enjoy authentic Italian beef that's been raised here in America.
Piedmontese Pricing
Certified Piedmontese differs from many other delivery services in that it doesn't offer any subscription plans. However, the company keeps its prices affordable so that you can handpick your favorite cuts of Piedmontese meat for delivery as often as you want. This makes it easy to try a little bit of everything to see what you like.
Piedmontese sells its meats in packs that range from 2-4 cuts each. Here are some of the company's most popular options:
| CUT | COUNT | SIZE | PRIZE |
| --- | --- | --- | --- |
| Filet Mignon | 4 | 8oz | $99.95 |
| Boneless Ribeye Steaks | 4 | 10oz | $69.95 |
| New York Strip | 4 | 10oz | $66.95 |
| T-Bone | 2 | 28oz | $112.95 |
| Sirloin Filet | 4 | 8oz | $50.95 |
| Flat Iron Steaks | 4 | 8oz | $49.95 |
| Morgan Ranch All Natural Wagyu Filet Mignon | 2 | 6oz | $112.95 |
| Morgan Ranch All Natural Wagyu NY Strip | 2 | 12oz | $74.95 |
Are Piedmontese Animals Ethically Raised?
Certified Piedmontese raises all of its cattle in free-range, sustainable and humane ways. Their animals are brought up on family ranches that span the Midwest. However, the bulk of Piedmontese cattle grow up on Western Nebraskan farmlands that cover tens of thousands of acres. The company takes pride in holding ranchers accountable to care standards and practices that are specific to every herd.
Piedmontese understands that cows that are treated humanely yield a higher-quality product. That's why they strictly enforce low-stress handling techniques that correspond to the natural instincts of the animal. Certified Piedmontese also gives their ranchers regular training through Beef Quality Assurance (BQA) certification programs. You can have confidence in the fact that the meat you purchased from Piedmontese was responsibly brought to your table.

Certified Piedmontese feeds its cattle on open rangelands where they're free to roam and graze for the majority of their lives. Some cows are part of the company's grass-fed, grass-finished program while others are finished on grain. You can choose between these options when making a purchase. Regardless, you'll find that Piedmontese cattle are raised without any antibiotics, added hormones, or steroids. These things simply aren't needed when cattle are raised healthily.
Piedmontese Company Info
Certified Piedmontese is a company with strong roots in the United States. Any meat you order from them will come from a family farm located in the Midwest. Piedmontese vacuum-seals each cut of meat individually then freezes it. Next, your order will be packaged into a styrofoam cooler filled with dry ice and shipped to your door. When your order ships, you'll be provided with a tracking number so you can know exactly when your meat arrives.
Piedmontese is dedicated to its customers' satisfaction. That's why they provide a guarantee to make your order right if you're unhappy with any part of it. They promise to only deliver meat that's of exceptional condition and quality. If the company fails in any way, they'll fix it as long as you contact them within 10 days.
When ordering from Certified Piedmontese, you should plan on spending at least $99. All orders over this price point receive free 2-day shipping. However, if your order is under $99, then you will be charged a standard rate of $20 for shipping and handling. Either way, you'll get to choose a delivery date from Wednesday through Friday during checkout.
Piedmontese Pros and Cons
Certified Piedmontese is a company with a lot of pros but also some cons. Here's a list that showcases the best and most challenging aspects of the company.
Pros
Exceptional cuts of beef

Affordable prices

Excellent nutritional value

Satisfaction guaranteed shipping

Ethically raised cattle
Cons
Meat comes in packs with preset counts

$20 shipping and handling fee for orders under $99

Limited selection of grass-fed products
Overall Piedmontese Review - 4.5/5
Certified Piedmontese is a meat delivery service with a unique spin. The company specializes in selling cuts of meat from Piedmontese cattle directly to consumers. These flank steaks, filet mignons, and related products offer nutritional values that are hard to match through other beef products. If you've been searching for an affordable, healthy, and tasty way to enjoy beef, then Certified Piedmontese could be an ideal option.
The company raises its cattle ethically and prides itself on implementing strict procedures and training practices to ensure rancher compliance. All of this is made available at a price that's very affordable for luxury cuts of meat. Piedmontese enables you to enjoy restaurant-quality meals from the comfort of your home.

No company is perfect and Certified Piedmontese isn't an exception. The retailer sells its meats in packs with a highly limited count. For example, you won't be able to purchase just one 16oz Skirt Steak from the company. Instead, you'll have to purchase three. This could be challenging for some consumers.
Still, Certified Piedmontese is a high-quality meat delivery service that can provide you with a kind of meat that very few other delivery companies offer. Their cuts aren't USDA-certified given the unique nature of Piedmontese cattle. However, they have been independently confirmed to be of the same or better quality than the highest USDA grades. The company also has a satisfaction guarantee and a production pipeline that is 100% traceable from ranch to fork.