Cleaning a phone is as easy as using PhoneSoap - a UV-C light sanitizer for your smartphone. One of the dirtiest, most bacteria-infested objects in your home is not your toilet seat... it is your phone. Mobile phones have been tested for cleanliness and can be up to 18 times dirtier than a public restroom. It is no wonder with the incessant touching of our smartphones that the bacteria and germs from our hands are all over our devices!
Keep reading this PhoneSoap review to see what sets PhoneSoap apart and why they're a popular option for sanitizing smartphones.

What Sets PhoneSoap Apart?
If you are trying to sanitize your phone, your first thought may be to grab a handy disinfectant wipe and clean it that way. These cleaning wipes are effective, however, they can not reach the many crevices in your phones that PhoneSoap's technology can.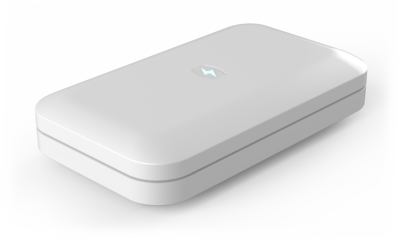 PhoneSoap works through powerful UV-C light that works to kill microorganisms. This system is unique in that while the UV-C light works to eliminate 99.99% of the germs on your mobile device, it also works to charge your phone simultaneously. This 2-in-1 system makes it effortless to sanitize your phone while you keep your charge up. The design of the PhoneSoap is sleek and fits perfectly at your bedside table or desk. It sanitizes your phones in minutes.
A perk of the PhoneSoap is that it can sanitize more than just your phone. It can be used for your keys, credit cards, and other germ-infested objects. This product is built to be long-lasting and to be universally used by any device or object that fits in it.
PhoneSoap Pros and Cons
PROS
Kills up to 99.99% of germs
Utilizes UV-C light instead of anti-bacterial wipes
Reaches crevices that other disinfectants cannot
Charges your device as it sanitizes
Sleek, aesthetic look

CONS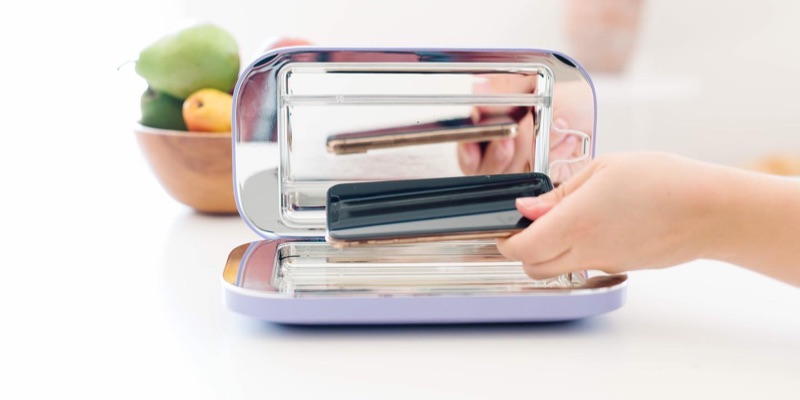 Overall PhoneSoap Review - 4.8/5
Our mobile devices are a breeding ground for germs and making sure they are sanitized is important to halt the spread of germs. PhoneSoap is a great option to use on your smartphone and other objects you touch daily. PhoneSoap products deliver a quick and simple sanitation process without having to think twice about it. You can simply pop your device in the PhoneSoap and leave it to do its job while also charging your device simultaneously.