Let's be honest, no woman enjoys seeing the doctor when it comes to sexual health. Whether it's refilling your birth control, STI testing, or simply finding the answers to your questions, waiting to see a doctor can seem like a daunting and inconvenient task. That's where Nurx birth control and other services come in.

Founded by Hans Gangeskar and Dr. Edvard Engesaeth and staffed by world-class physicians, Nurx's primary mission is to make women's lives easier, which includes making it easier to get birth control. Nurx also helps women gain access to affordable, confidential and speedy emergency contraception (the morning-after pill), HIV PrEP, and HPV screening.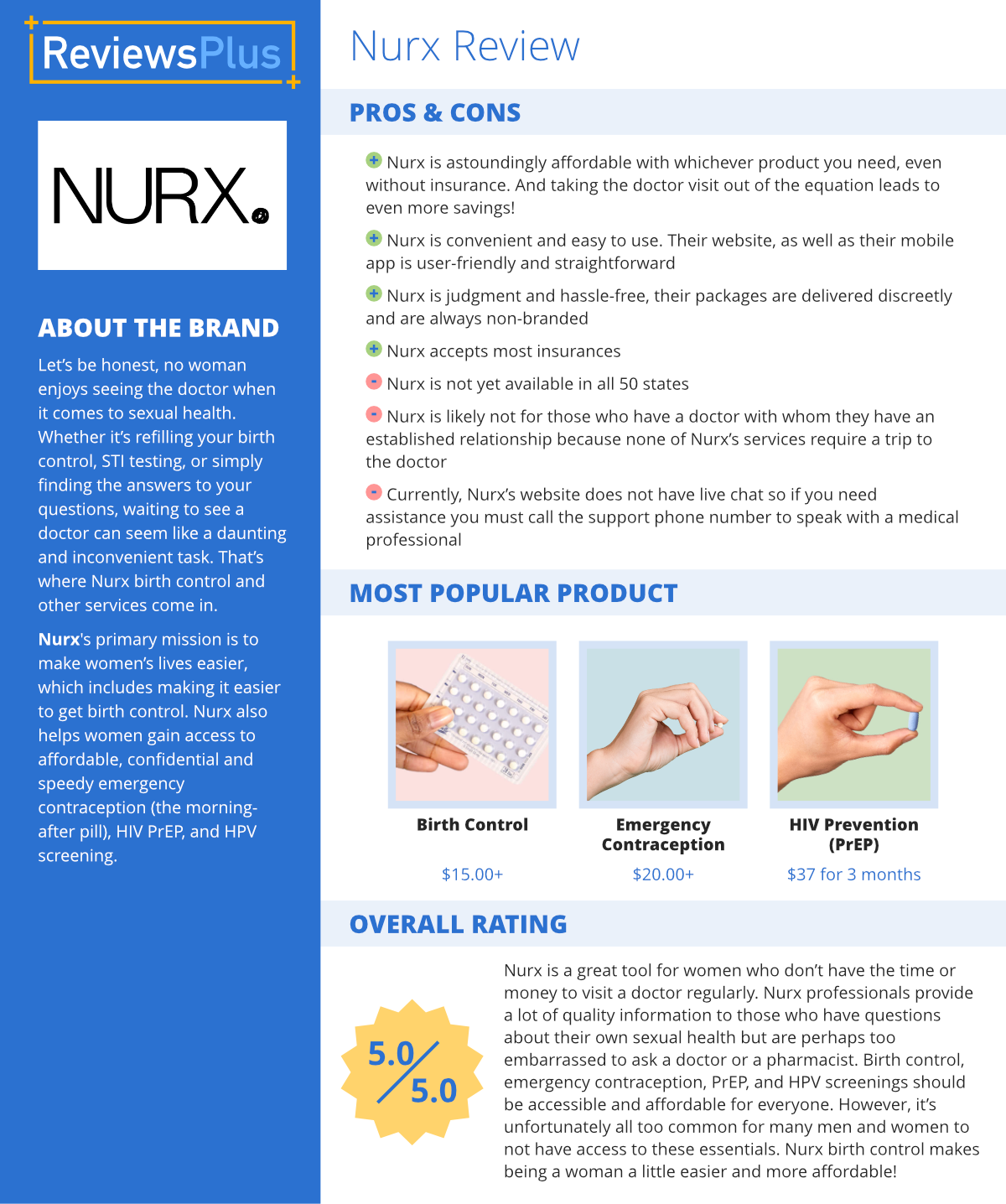 What Sets Nurx Apart
Although Nurx isn't the first company to offer affordable, online contraception, they are in fact the first and only to offer emergency contraception, HIV PrEP, as well as HPV screenings.
Also, you can't beat Nurx's prices! They work with most insurance companies and the only payment that's required is a one-time $12 consultation fee that gives you access to all of their products and unlimited communication with Nurx's board-certified physicians.
Nurx coupons are regularly available to help you save money on most purchases. Currently, we have a coupon available for $20 off Nurx birth control!
How Nurx Works
Ordering from Nurx is as easy as 1, 2, 3! All you need to do is select your medication or seek guidance from their medical team. Next, you'll answer a few questions and enter your insurance info (if you have coverage — if not, it's no problem). Finally, a Nurx-approved doctor in your state will review your request and write a prescription. Nurx will handle the rest by sending your medication directly to you on time, in a discreet package, and with no added costs.


Unfortunately, Nurx is not yet available in all 50 states, but you can check this list to see if it offered in your current state. Nurx accepts most forms of private insurance, including Aetna, Anthem, Blue Cross Blue Shield, Cigna, United Healthcare, and others. If you have specific questions about insurance, you are encouraged to email the Nurx team at support@nurx.co. It's important to keep in mind that although your prescription will likely be covered, you may still be responsible for paying your copay which is set by your particular insurance policy.
Nurx Products
Nurx offers four different products to cover any and all of your sexual health needs:

The Nurx Mobile App
The Nurx mobile app is free and easy to use. Once you log on, you'll have the option to select the product you're interested in. If you're looking to start a birth control prescription there's an option that says "I know what I want" which allows you to search freely among all the different birth control options Nurx offers, each option also conveniently cites common side effects of each separate brand!
The other option you can choose is "Help me find what's right" where you will be asked a series of health questions and then Nurx will set you up with one of their board-certified physicians to help you navigate the overwhelming world of birth control options. The app allows you to request the product or prescription you want and then Nurx will take it from there, delivering straight to your door and sending automatic refills and renewals so that you're always protected.
Download the Nurx app at the App Store or Google Play.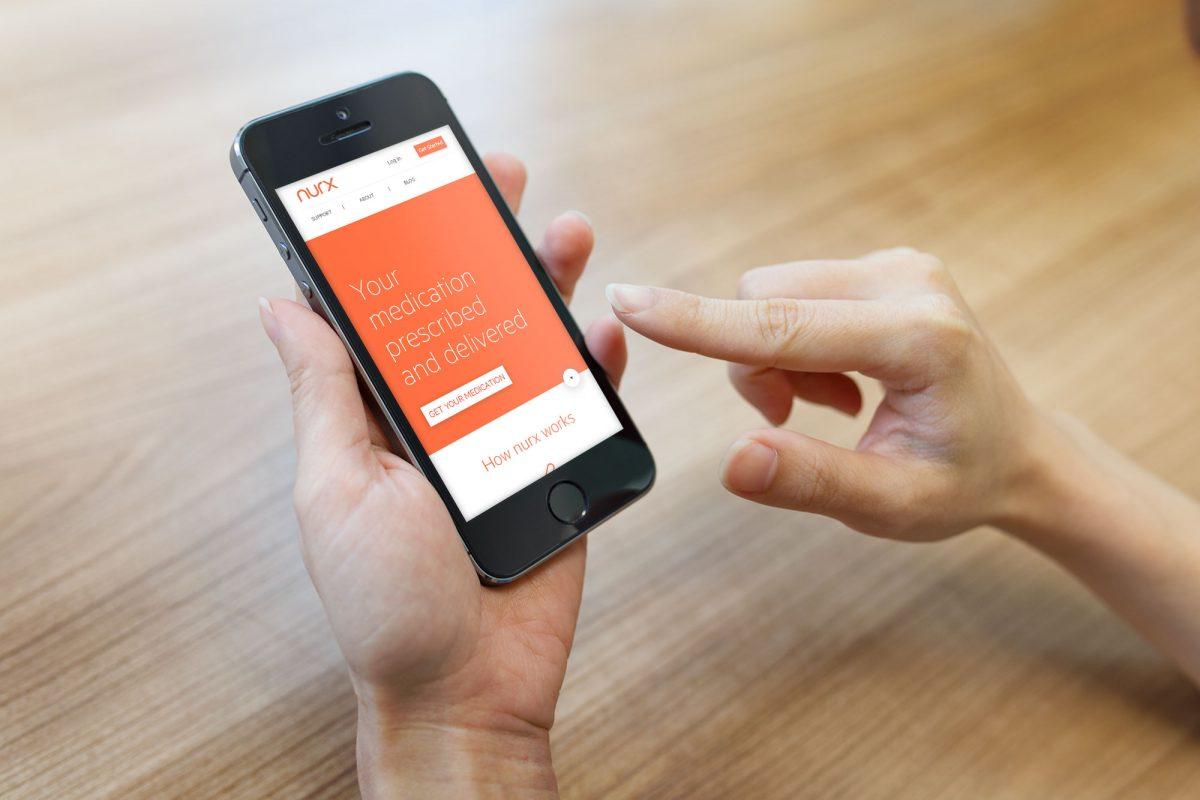 Nurx Pros and Cons
-PROS-
Nurx is astoundingly affordable with whichever product you need, even without insurance. And taking the doctor visit out of the equation leads to even more savings!
Nurx is convenient and easy to use. Their website, as well as their mobile app is user-friendly and straightforward.
Nurx is judgment and hassle-free, their packages are delivered discreetly and are always non-branded.
Nurx accepts most insurances.
-CONS-
Nurx is not yet available in all 50 states.
Nurx is likely not for those who have a doctor with whom they have an established relationship because none of Nurx's services require a trip to the doctor.
Currently, Nurx's website does not have live chat so if you need assistance you must call the support phone number to speak with a medical professional.

Nurx Overall Rating - 5/5
Nurx is a great tool for women who don't have the time or money to visit a doctor regularly. Nurx professionals provide a lot of quality information to those who have questions about their own sexual health but are perhaps too embarrassed to ask a doctor or a pharmacist. Birth control, emergency contraception, PrEP, and HPV screenings should be accessible and affordable for everyone. However, it's unfortunately all too common for many men and women to not have access to these essentials. Nurx birth control makes being a woman a little easier and more affordable!