What is CBD?
CBD, short for cannabidiol, is a trending ingredient in the natural products industry and is the focus of a new area of cannabis research. CBD is one of many cannabinoids, or molecules produced uniquely by the cannabis family. Unlike tetrahydrocannabinol (THC, the primary psychoactive element in marijuana), CBD is non-psychoactive, meaning it doesn't have a strong effect on cognitive brain activity and doesn't cause the "high" associated with marijuana.

This quality makes CBD an appealing option for those who are looking for relief from pain and other symptoms. CBD oil is made by extracting CBD from the cannabis plant, then diluting it with a carrier oil like coconut or hemp seed oil. CBD is gaining a lot of momentum in the health and wellness world, with some scientific studies suggesting it may help treat a variety of ailments like chronic pain and anxiety.
Though there is much to be learned about the efficacy and safety of CBD, results from recent studies suggest that CBD may provide a safe, powerful natural treatment for many health issues.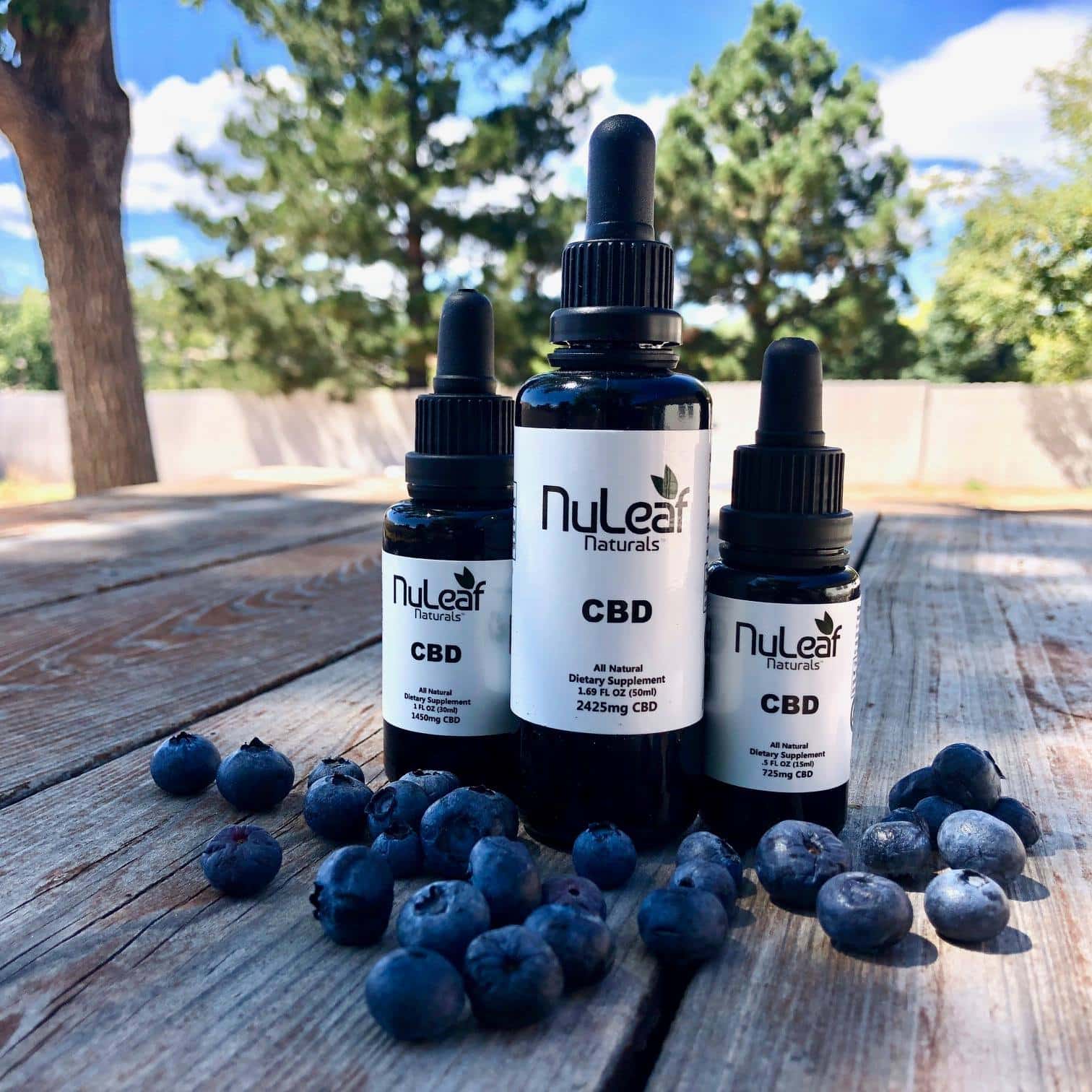 Why Choose NuLeaf Naturals?
Founded in 2014 by a group of health-conscious plant medicine aficionados, NuLeaf Naturals is one of America's top pioneering hemp companies. NuLeaf Naturals wellness products are derived from specially bred therapeutic hemp (Cannabis Sativa) plants grown on licensed farms in Colorado. Their products are whole-plant, full spectrum extracts, not synthetic and not an isolate. The plants used to manufacture their products are grown using organic and sustainable farming practices. NuLeaf's advanced cloning programs promise continued enhancement of their natural genetic strains and ensure a safe and regulated product, with unsurpassed potency and consistency. They also use CO2 extraction systems as their primary tool for extracting the phytonutrients from each plant. This method does not require heat or solvents, and the entire spectrum of cannabinoids are retained in the blend.
So, in less scientific terms, NuLeaf Naturals CBD wellness products are all-natural with no additives or preservatives and contain all the synergistic cannabinoids, terpenes, essential oils and other compounds of the original plant. This makes NuLeaf Naturals one of the top CBD brands overall. NuLeaf delivers the highest-grade products in their most pure and simple form so you get more of the stuff you do want and less of what you don't!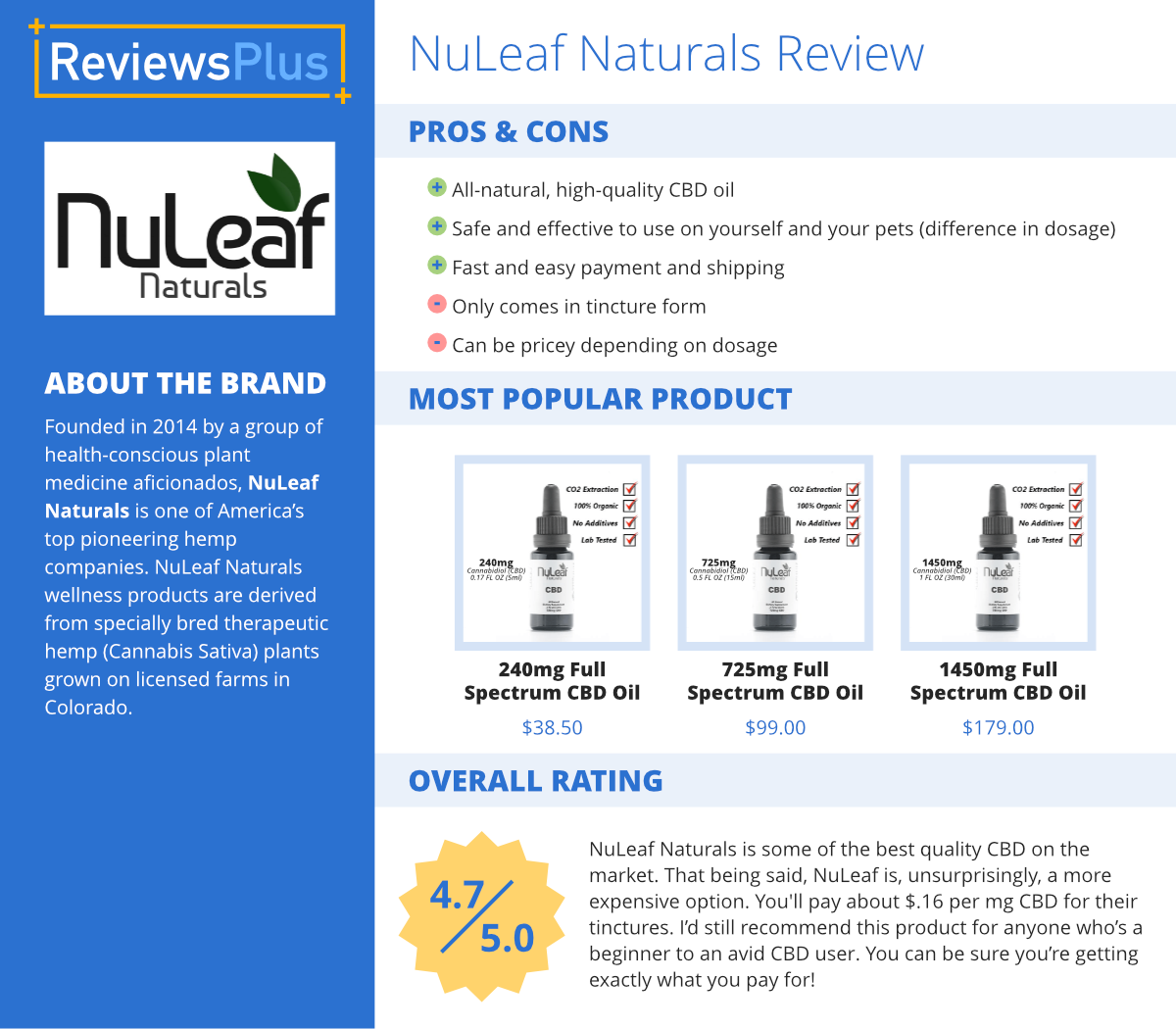 NuLeaf Naturals Products
NuLeaf offers 5 differently sized tinctures and one specific oil that's safe for dogs, cats, rabbits and other pets. They have:
• 240 mg Full Spectrum CBD Oil for $38.50
• 725 mg Full Spectrum CBD Oil for $99.00
• 1450 mg Full Spectrum CBD Oil for $179.00
• 2425 mg Full Spectrum CBD Oil for $239.00
• 4850 mg Full Spectrum CBD Oil for $439.00
• 240 mg Full Spectrum Pet CBD Oil for $38.50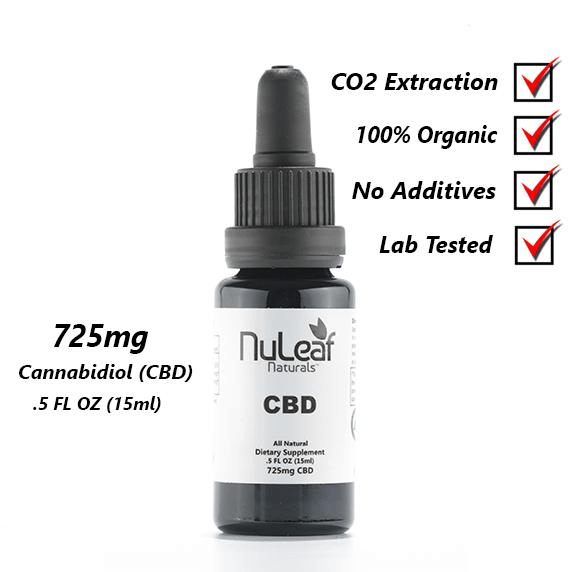 How To Use It
The CBD oil offered by NuLeaf Naturals has a couple of different applications. You can hold a sublingual dose under the tongue for 30-60 seconds (recommended for fastest absorption), apply the oil topically to your skin (can be applied directly to a problem area or mixed with your favorite moisturizer), or blend the oil in a health-conscious smoothie.
Shipping
NuLeaf has a very fast shipping speed. You can expect your order to arrive within 2-3 business days after your purchase. They ship to all 50 states, as well as internationally to over 40 countries including Argentina, Austria, Australia, Belgium, Belize, Brazil, Bulgaria, Chile, China, Colombia, Costa Rica, Croatia, Cyprus, Czech Republic, Denmark, England, Estonia, Finland, France, Georgia, Germany, Greece, Guam, Guatemala, Hong Kong, Hungary, Iceland, India, Ireland, Italy, Japan, Latvia, Lithuania, Luxembourg, Mexico, Netherlands, Antilles, Northern Ireland, Norway, Paraguay, Peru, Poland, Portugal, Puerto Rico, Romania, Russia, Slovenia, South Africa, Sweden, Switzerland, U.S. Virgin Islands, Uruguay, and many others!

NuLeaf Naturals Pros and Cons
-PROS-
• All-natural, high-quality CBD oil
• Safe and effective to use on yourself and your pets (difference in dosage)
• Fast and easy payment and shipping
-CONS-
• Only comes in tincture form
• Can be pricey depending on dosage
Overall Rating: 4.7/5
NuLeaf Naturals is some of the best quality CBD on the market. You can't beat the pureness that NuLeaf offers in its' products. That being said, NuLeaf is, unsurprisingly, a more expensive option. You'll pay about $.16 per mg CBD for their tinctures. I'd still recommend this product for anyone who's a beginner to an avid CBD user. You can be sure you're getting exactly what you pay for!