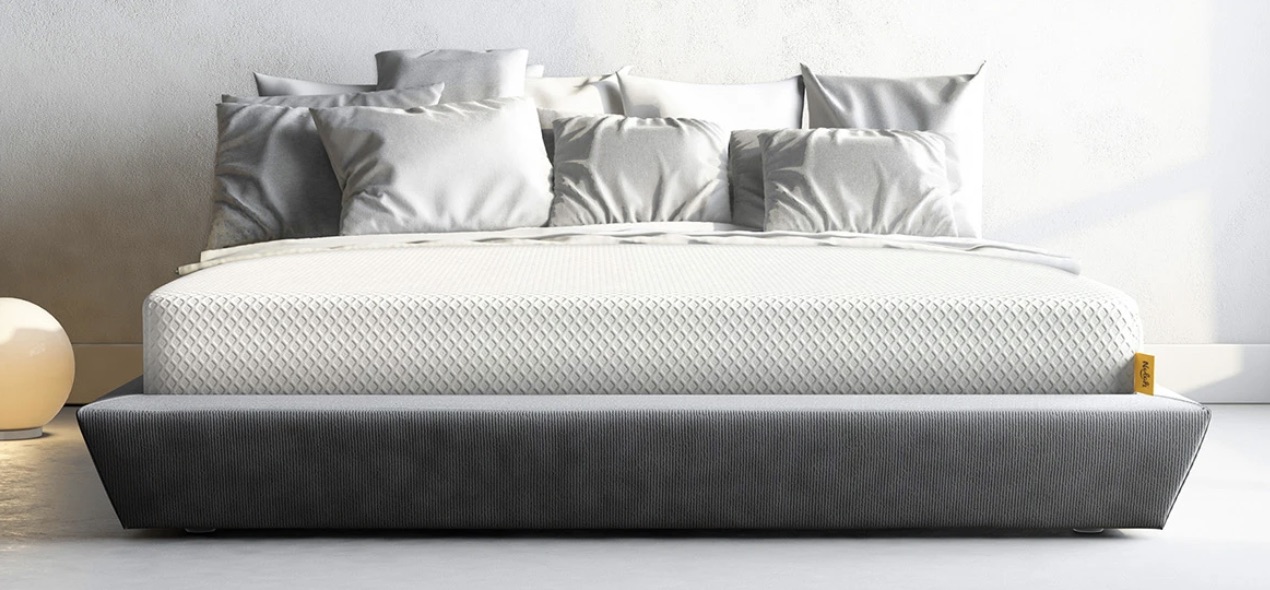 According to the National Library of Medicine, we spend about a third of our lives either sleeping or trying to fall asleep. With numbers like that, it's clear why investing in the right mattress is essential.
However, sometimes finding the right mattress isn't easy. There are dozens of brands to choose from, each of which claims to offer the best of the best. One company that's actually delivering on that promise is Nolah.
Nolah is a sleep technology company that's focused on building tomorrow's mattress. Their technological focus has enabled them to create their own proprietary high-resilience and pressure relieving foam called Nolah AirFoam, which sleeps cooler than most other mattresses while also placing 4X less peak pressure on sleeper's hips and back. Keep reading to get our first hand review of Nolah mattresses.

**As a result of making purchases through links in this review, ReviewsPlus will earn a commission. The Nolah Original Mattress featured here was provided by Nolah to complete this review.**

Nolah Mattress Review
Hands-On Nolah Mattress Review
I'm a side sleeper and Nolah is supposed to be great for side sleepers, so I was eager to give a Nolah a try during my search for a new mattress. After having slept on a Casper mattress for the last 6 years, I was ready to make the leap to another brand. And I'm no stranger to the mattress in a box concept, so I was comfortable in receiving the Nolah Original King Size 10 mattress delivered to me in a box.
The mattress arrived punctually and unpacking the vacuum-sealed container was a breeze. It took less than 5 minutes to open up and only an hour or so before the mattress measured it's full 10". I didn't notice any weird smells as I've read about from other mattresses in box brands.
The Nolah Original mattress is super cozy! After sleeping on it now for 2 weeks I can confidently say it has a nice balance of relief and support. At first, I had a mattress cover on top but after a few nights of sleep, it didn't seem to breathe that well as I was waking up very hot. Once I took that off, I never had any issues again as the mattress now appears to breathe very well, even when I sleep with my goose feather down comforter. With my Casper, I had to use a mattress cover but since Nolah's AirFoam does not contain heat-trapping viscoelastic memory foam chemicals it sleeps cool without anything extra needed.
The materials seem very durable (300% more durable than memory foam according to Nolah) and I expect this mattress to last a long time. It's my first time owning a king size and I must say I'm pretty thrilled. I'm waking up each morning very well rested and with no pain.
After my personal experience with a Nolah mattress, I feel safe recommending the Nolah Original for:
Side sleepers
People looking for superb pressure relief on hips, shoulders and back
Anyone who sleeps hot and doesn't like traditional memory foam
Consumers looking to get more bang for their buck
Nolah AirFoam Pillow Review
The Nolah AirFoam Pillow resembles many similarities to the mattress. It has more of a memory foam form and feel to it. It's quite comfy when sleeping on my side and on my back. It has a sleek square design, so it won't be as round and fluffy as your typical pillow. It's still a lovely addition to my nightly sleep!
Nolah AirFiber Pillow
The Nolah AirFiber Pillow a nice pillow that compares to a 5-star hotel where you get the nicest goose feathers one could ask for. It's soft, yet firm enough to comfortably melt into, no matter if you sleep on your side, stomach or back! Construction and materials seem very luxurious and I'd imagine this pillow lasts a long time.
Who is Nolah Mattress For?
Nolah mattresses are a good option for several different types of sleepers. They feature an all-polyfoam construction that provides contouring and exceptional responsiveness. This combination can be difficult to find in a single mattress. Anyone who weighs under 230 pounds should find that the Nolah Original mattress is a good option.
It's also worth pointing out that the Nolah Original is a great option for those with sleep with a partner - especially those who are awoken by their partner often. This mattress has a foam-based construction which will limit the amount of motion transfer that sleepers experience.
That being said, there are several different mattresses available from Nolah. Each of them can be a good option for different types of sleepers. For example, consider the list below:
Nolah Mattress Construction
There are three different Nolah Mattresses for consumers to choose from. As you do your research, one factor that you'll want to consider is how each Nolah mattress is constructed. Doing so will help you make a more informed decision about the mattress that's right for your needs. With that in mind, here's a look at how Nolah constructs each of its mattresses:
The Original
1. Cooling Nolah AirFoam
The top layer of The Original mattress is 2 inches of cooling AirFoam. It provides exceptional pressure relief while also keeping you cool throughout the night. Even better, it will contour perfectly to your body without trapping in it as memory foam toppers do.
2. Deep Supportive High-Resilience Foam
Next comes 1 inch of supportive foam. This is stronger and more durable than latex, which enables the Original to provide more responsiveness and bounciness than most other mattresses.
3. High-Density Base Foam
Next, Nolah uses 7 inches of high-quality foam. This layer is built out of high-density breathable foam, which reinforces the support of the mattress while also adding some extra durability to it.
Botanic Origin Tencel Cover
The snow-white Tencel cover is the perfect conclusion to the Original's construction. It increases the mattress' sustainability and also adds to your sleep comfort.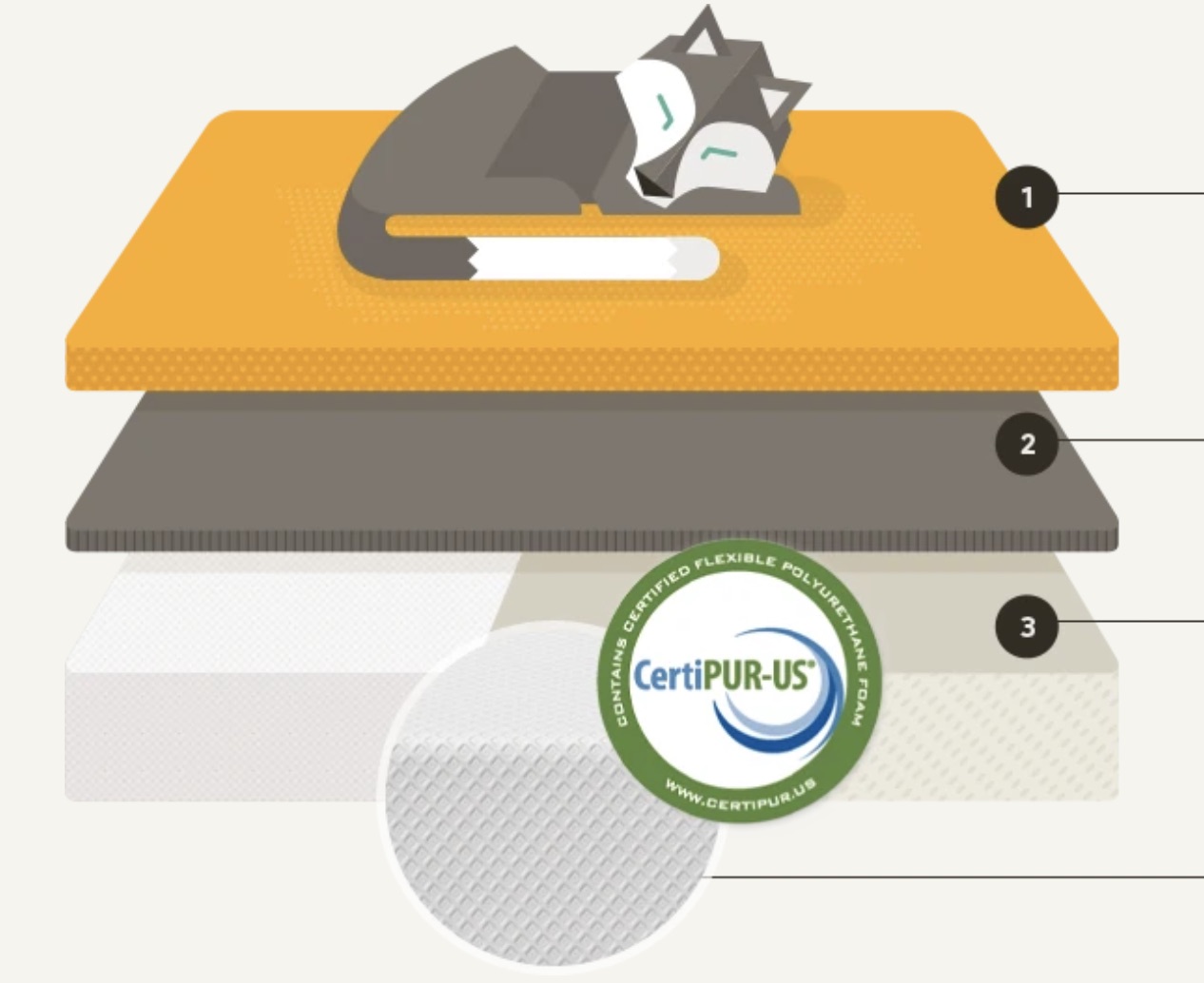 The Signature
1. Soft Side - Cooling Nolah AirFoam
This layer is virtually identical to the top layer of the Original. It simply has 2.5 inches of cooling AirFoam instead of 2 inches.
2. Deep Supportive High-Resilience Foam
Once again, this is very similar to the Original, except the layer is 1.5 inches instead of 1.
3. Reinforced High-Density Core Foundation
This layer is identical to the Original's base foam layer.
4. Firm Side - Cooling Nolah AirFoam
Finally, this is what sets the Signature's construction apart from the other mattresses sold by Nolah. This mattress has a second layer of cooling AirFoam on the bottom of it. This is done so that those who own it can choose to sleep on either side of the mattress. That means you'll get to choose between a softer and firmer mattress at your will.
The Evolution
1. High-Performance Cooling Quilted Euro Top
The Evolution begins with 2 inches of cooling ArcticTex quilted euro top fibers. These draw excess heat out of the body for a better night's sleep.
2. Cooling Nolah AirfoamICE
This layer features 2 inches of graphite-infused AirFoamICE, which takes the cooling qualities of standard AirFoam to the next level.
3. Deep Supportive High-Resilience Foam
2" layer of high-resilience foam that is stronger and more durable than latex adds a supportive and responsive transition layer.
4. HDMax Eco Support Coils and Edge Support System
This layer is 8 inches of tri-zoned support coils. These will provide you with 25% more support than most spring systems.
5. High-Density Orthopedic Support Core
Finally, the construction concludes with 1" high-density core support foam that stabilize the tri-zoned support coils and makes the mattress last for years.
Nolah Mattress Comfort Levels
Mattresses are commonly given a firmness rating that ranges from 1 to 10. On this scale, 1 is ultra-soft whereas 10 is ultra-firm. The mattresses sold by Nolah are all fairly close to the middle of this scale. Here's a complete list of their firmness rankings:
The Original - Medium, 5-6 out of 10
The Signature - Firm, 6-7 out of 10
The Evolution - Medium, 5-6 out of 10

Nolah Mattress Foundations
Nolah sells two primary bases for its mattresses: the Adjustable Base with Massage and the Adjustable Base with Massage Plus Wall Glide. Here's a closer look at each of them.
Adjustable Base with Massage
This base features everything that you would expect from a high-quality adjustable base. However, it's also loaded with extra features. This includes built-in head and foot massage, built-in USB chargers, and a wireless remote.
Adjustable Base with Massage + Wall Glide
This base features everything you read about above. However, it also includes innovative glide technology that will move towards the wall to keep you within arm's reach of your nightstand.
Nolah Mattress Pricing
| SIZE | ORIGINAL | SIGNATURE | EVOLUTION |
| --- | --- | --- | --- |
| Twin | $499 | $849 | $999 |
| Twin XL | $599 | $899 | $1,099 |
| Full | $699 | $1,099 | $1,299 |
| Queen | $699 | $1,099 | $1,299 |
| King | $899 | $1,499 | $1,599 |
| Cali King | $899 | $1,499 | $1,599 |
How Nolah Mattress Compares to Competitors
| | NOLAH | CASPER | NECTAR |
| --- | --- | --- | --- |
| Warranty | Lifetime | 10-Year | Lifetime |
| Trial | 120 Nights | 120 Nights | 365 Nights |
| Free Shipping | Yes | Yes | Yes |
| Free Returns | Yes | Yes | Yes |
| Price (Queen | $799 | $1,199 | $799 |
Nolah Mattress Pros and Cons
Pros
Easy to unbox and fast to fill

Limited off-gassing

Lifetime warranty

Free shipping and returns

Excellent blend of relief and support

Durable mattresses built with high-quality materials

Ideal for side sleepers

Perfect pressure relief for hips, shoulders and back

Proprietary AirFoam leaves anyone sleeping on a Nolah cool and comfortable
Cons
Can't test in person before buying

Mattress covers can reduce the cooling effect
Overall Nolah Mattress Rating - 4.8/5
Nolah makes one of the best mattresses on the market. Its design is cutting-edge and built to last. Even better, the Nolah Air Foam Mattress sleeps cooler than most foam mattresses while also reducing peak pressure on sleepers' hips and backs to help them wake up feeling more refreshed.
Nolah also stands out through how it sells its mattresses to consumers. They're priced very affordably despite being higher-end products. Additionally, customers never pay for shipping or returns. The company even offers a free 120-night trial so that you can use the bed and see if you like it.

Nolah would earn a perfect review if not for two minor problems. First, there is no way to try a Nolah Mattress in person before you buy one. Second, it appears that if you place a mattress cover on top of a Nolah mattress, it may significantly reduce its ability to breathe, thereby negating its cooling effects.