When the mid-morning or mid-afternoon productivity slump kicks in and you have a deadline to meet, it is tempting to reach for a snack that will keep you going and satisfy your hunger pangs. However, the most convenient snack options tend to be loaded with sugar or salt, and full of empty calories that don't leave you feeling full for long. Some snacks — especially those with high fructose corn syrup or loads of sugar — can even make you feel more tired after an initial but brief burst of energy.
Considering the statistic that 97% of Americans snack at some point during the week, snacking smart is necessary not only for productivity, but for overall health. That's where NatureBox can help. Read on for a firsthand NatureBox review followed by some more pertinent information about the company itself.
**Please note that by making NatureBox purchases through links on this page, ReviewsPlus will earn a commission.**
NatureBox Review
Hands-On Review of NatureBox
In order for me to fully grasp the concept of NatureBox and the delicious snacks they offer, they sent me a box that included eight different great snacks ranging from savory to sweet. Here is the full list of NatureBox snacks I received:
Dark Chocolate Sea Salt Almonds

My NatureBox arrived really quick, with FedEx 2-day shipping. The box it came in was cute, with a big pineapple (likely representing their Big Island Pineapple snacks) and the words "Happy Snackin" on it, which you can see in the photo below.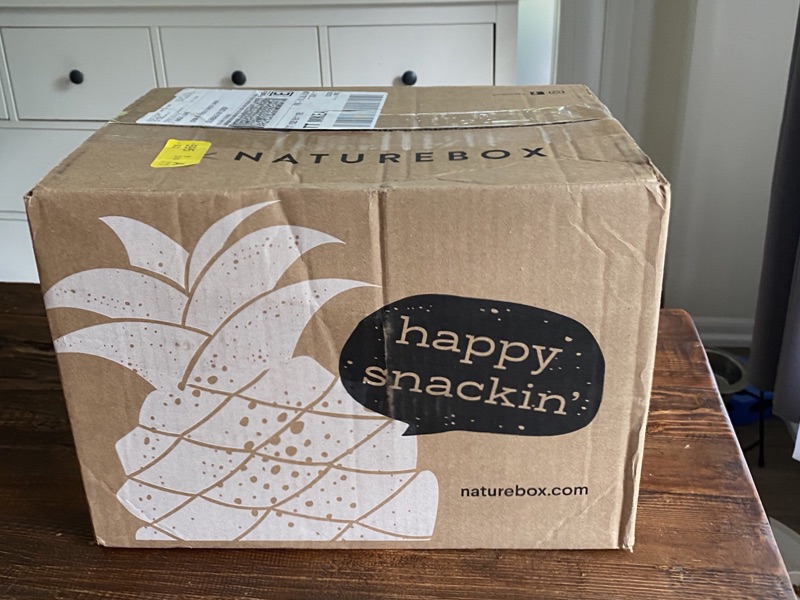 I was super excited to find out what was inside my first box, since I am a true snacker at heart. I would actually prefer snacking over full meals three times a day. Give me something salty to munch on, and I'm happy. As I unboxed my first order, I was pleased that there weren't any added, wasteful packaging products inside, as all the snacks were arranged in a way that made them snug in the box while avoiding breakage. Since I didn't know what products to expect, I was also intrigued by names of the products. I was mostly curious about an ingredient I'd never seen before: maca, which was in the Banana Maca Energy Bites as well as the Peanut Butter Maca Cookies.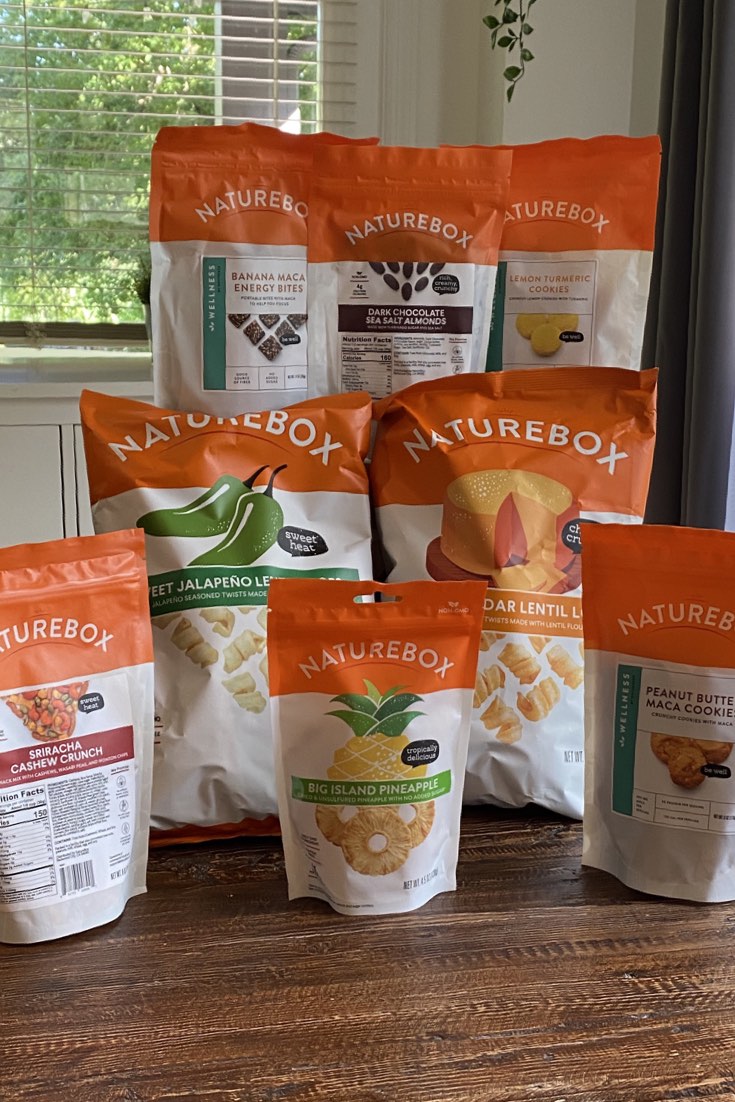 I wanted to try everything, but decided to pace myself and try it all over a few days' time. What I jumped right into was the Sriracha Cashew Crunch, and I wasn't disappointed. I thought I wouldn't be able to put this yummy NatureBox snack down, but it had a surprising way of keeping me satisfied without feeling like I had to keep eating more of it. It is my favorite of all the NatureBox items, and although the package appeared small, I still had more left after snacking for a day.
My next favorite snack would have to be the Lemon Turmeric Cookies from NatureBox. The flavor combination and the stark color of the turmeric against the lemon made them not only tasty, but fun to eat. The serving size is generous. You could eat six of this healthy snack without feeling guilty. Plus, the turmeric has loads of health benefits, including boosting memory — great for snackers with a sweet tooth.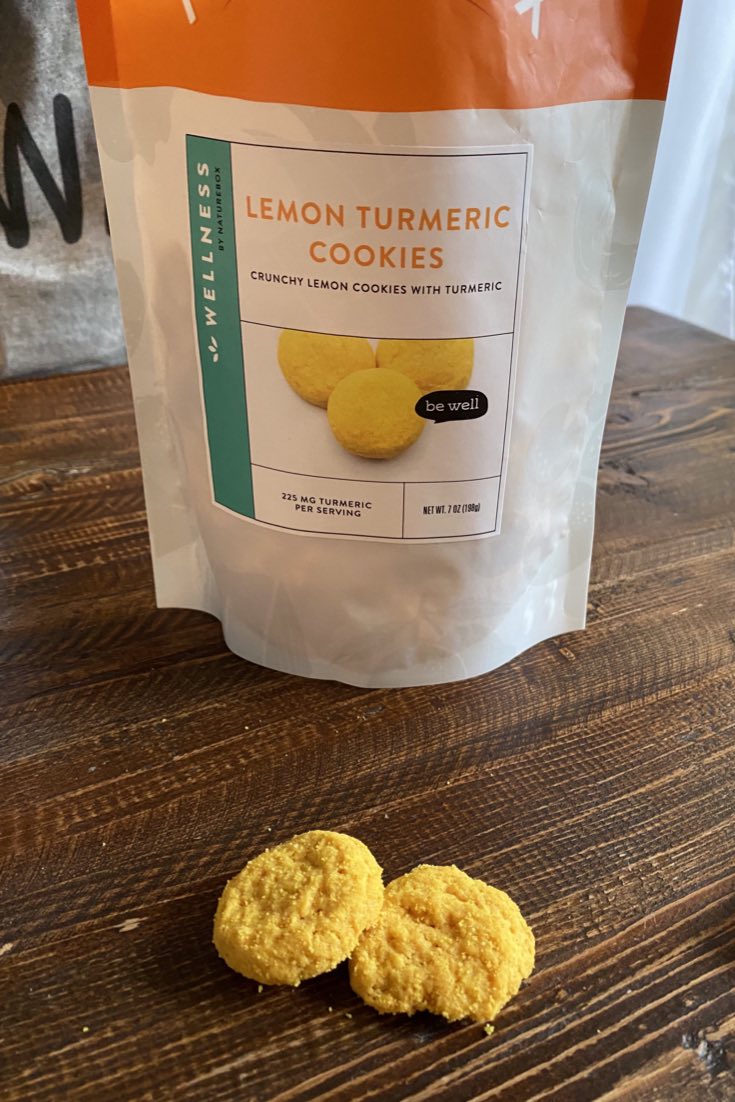 Next were the Aged Cheddar Lentil Loops. At first bite, I wasn't blown away, but I found that I had a hard time putting them down after snacking on more. The taste was a little more mild than I'd prefer, but the crunch was great, and I could tell I was eating real, healthy food that could still fill me up.
The rest of the NatureBox items were good, but I had a hard time getting myself to finish the Banana Maca Energy Bites. I consider myself to be an adventurous eater, but I'm not a fan of banana, and the consistency of the energy bites was a little off-putting for me. However, many other NatureBox reviews were favorable!
Overall, what I received matched the online item descriptions perfectly, but some of the bags looked half-full when I opened them. I didn't have any complaints about it but found it odd that they would use such big bags only to partially fill them, as you may notice in some of my photos.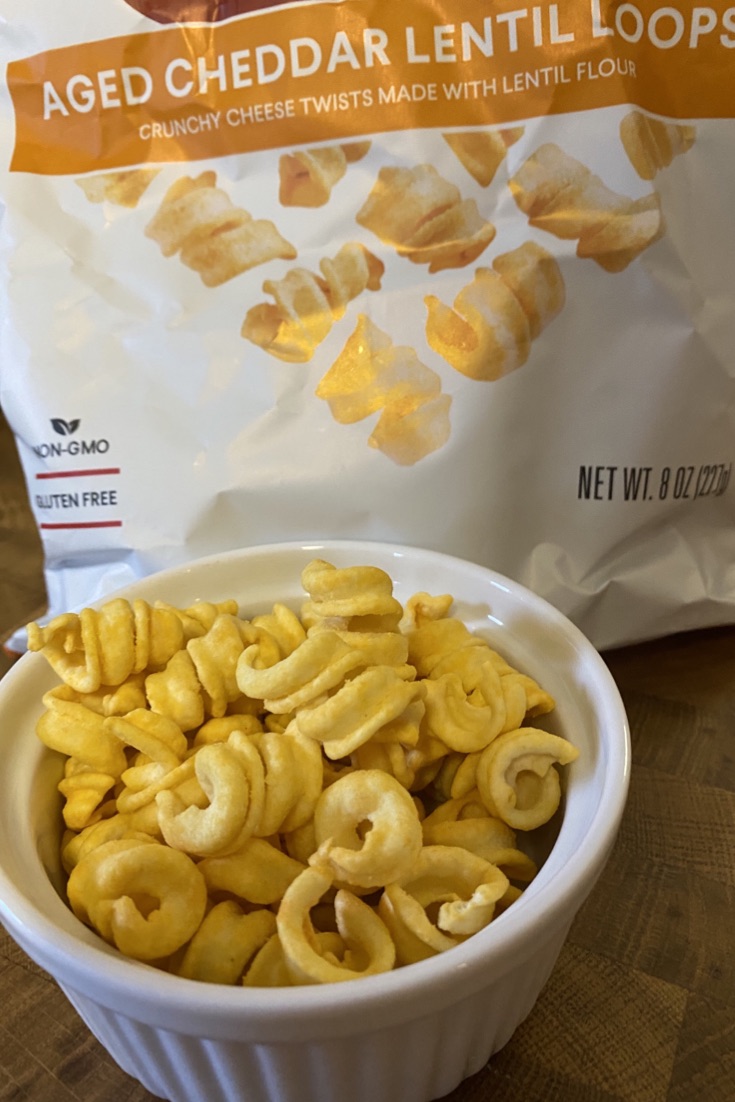 Other than that minor complaint, my NatureBox really made me rethink my snacking options, not only for myself, but for my family. Outside of fruits, vegetables, cheese and popcorn, we tend to stick to a few favorites when it comes to snacks, and none of them are necessarily healthy. They're just full of empty calories that don't really fill us up.
The taste and quality of the NatureBox snacks made it something I would definitely want to purchase in the future, but it's a matter of justifying the cost. Still, why throw money at junk food that serves no purpose when you could buy high-quality, healthy snacks that you can feel good about? It's something for me to consider. Nonetheless, I highly recommend NatureBox for healthy snack delivery.
What Sets Naturebox Apart?
NatureBox was founded by a man named Gautam Gupta in 2012. They've grown by leaps and bounds since then and now deliver over 100 healthy, satisfying snacks with new snacks being offered every month.
NatureBox's promise is that if you don't like it, don't eat it. Contact them, and they'll add a credit to your next order. And in an effort to meet the wellness needs of a wider variety of consumers, NatureBox also offers hemp oil supplements and tinctures, as well as hemp-based teas and snacks.
NatureBox's motto is "Better snacks. Less stress." They believe that offering tasty, healthy snacks, such as granola and dried fruit, that are delivered conveniently to your home or office is the best way to promote wellness and reduce stress. There's no artificial ingredients in their products, and they're tasty enough for even picky eaters to enjoy.
In addition to having vegan, non GMO and gluten-free products available, you won't find any of the following ingredients on a NatureBox ingredient label:
Artificial flavors, colors or sweeteners
Corn syrup
Hydrogenated oils
MSG
If you find that you really enjoy NatureBox and plan to make purchases regularly, it pays to become a member. They let you check it out before committing with a risk-free 30-day membership. After the 30 days, the cost is $30 per year, but you get free shipping on every order, a discount between 25% and 40% and $5 in-store credit every month (so you pay $30 but get that money back through future purchases). You can cancel NatureBox any time.
Another option you have when you check out is to check the "Subscribe to Save 5%" box. You don't need to be a member and it doesn't cost anything. You'll simply get the order delivered on a monthly schedule, and they'll knock off 5% of the cost.
How Does NatureBox Work?
When you visit NatureBox.com, you'll be able to shop either as an individual or as an employer. For example, many businesses purchase from NatureBox to keep their employees happy, healthy and productive.
As an individual consumer, you simply take the following steps:
Click on the "Shop by Categories" dropdown box at the top of the page.
Check out the products and add whatever you like to your shopping cart.
When you're ready to check out, click on the shopping cart icon on the top right-hand corner of the page, and select "Proceed to Checkout."
At this point, you'll have to either create a new account or sign in to an existing one.
Add or confirm your billing and shipping information.
Choose whether you want to become a member and save between 25% - 40% on your purchases, subscribe and save 5%, or make a one-time purchase.
Wait two days for your box to be delivered to your doorstep.

For companies buying for their employees, the process is similar. The main difference is depending on the size of the company and whether you want to buy NatureBox bulk snacks.
What Does NatureBox Sell?
NatureBox sells a variety of snacks a la carte (all types of snacks and coffee), but they also sell "boxes" which are grouped by category and include a variety of snacks. Currently, they are offering four different snack boxes:
NatureBox also sells hemp supplements and tinctures.

NatureBox FAQs
How long does NatureBox take to ship, and what is the cost of shipping?
Your NatureBox should arrive in two days with FedEx 2-day shipping. Shipping is free on orders of $25 or more. Anything under $25 has a $4.95 shipping cost.
What are the NatureBox Payment Options?
NatureBox accepts all major credit and debit cards including Visa, MasterCard, American Express and Discover. Another option is to link your Amazon account and use Amazon Payments. Prepaid cards are not accepted. If you have a store credit on your account, it is automatically applied to your next order. Automatic shipments for memberships and for Subscribe and Save purchases are charged to whatever payment method you have on file.
What if I don't enjoy my Naturebox snacks?
If you receive a snack that you don't like, contact NatureBox and they'll credit the cost of the product to your next order. There's no need to return open products.
Can I buy snacks in bulk?
Yes, this is a great option for businesses with more than 10 employees. Check out their Corporate Snacking options.

NatureBox Pros and Cons
Pros
Great tasting and healthy

Free 2-day shipping on orders $25+

Deep discounts for members

Try unique snacks and brands

Subscriptions available
Cons
Snacks pricier than traditional snacks

Lack of temperature control may make products in box to stick together
Overall Naturebox Review - 4.5/5
I had a great experience with NatureBox. I found their snacks to not only taste great, but also fill me up quicker so I wouldn't continue to eat, no matter how tasty the products were. If I'd been eating my typical pretzels or crackers, it would have taken me much longer to feel full and muster the self-control to put them back in the cupboard. And I wouldn't have felt as energized after eating them either.
My kids also liked most of the NatureBox snacks. While I don't know if I'll want to continue to buy NatureBox cookies for them, it at least encouraged them to try something new and expand their taste buds.
The biggest downside to NatureBox, for me, is the cost. I still need to evaluate whether it is worth it, but I can see myself checking it out at least for the free 30-day membership instead of sticking with items from the grocery store. I'd rather spend money on quality products that are good for me than waste it on junk food that serves no purpose other than tasting ok. If you're not loyal to any brand name snacks and you want to boost your energy during the day or simply lead a healthier lifestyle, NatureBox is definitely worth checking out, especially with a NatureBox promo code!