Maintaining a speedy, clean and secure Mac is essential to ensuring you are never left overly frustrated with your machine. Programs like MacKeeper have been developed to streamline the process of optimizing Mac performance. Does MacKeeper work? In this MacKeeper review, we'll answer this question and take a look at the features and functions that set the software apart.
If you just purchased a Mac and are looking to take the best care of it as possible, or if you already own a Mac and want to do better, you'll want to keep reading!
Note: ReviewsPlus does use affiliate links to generate revenue. Purchasing MacKeeper through a link provided by ReviewsPlus will result in a commission.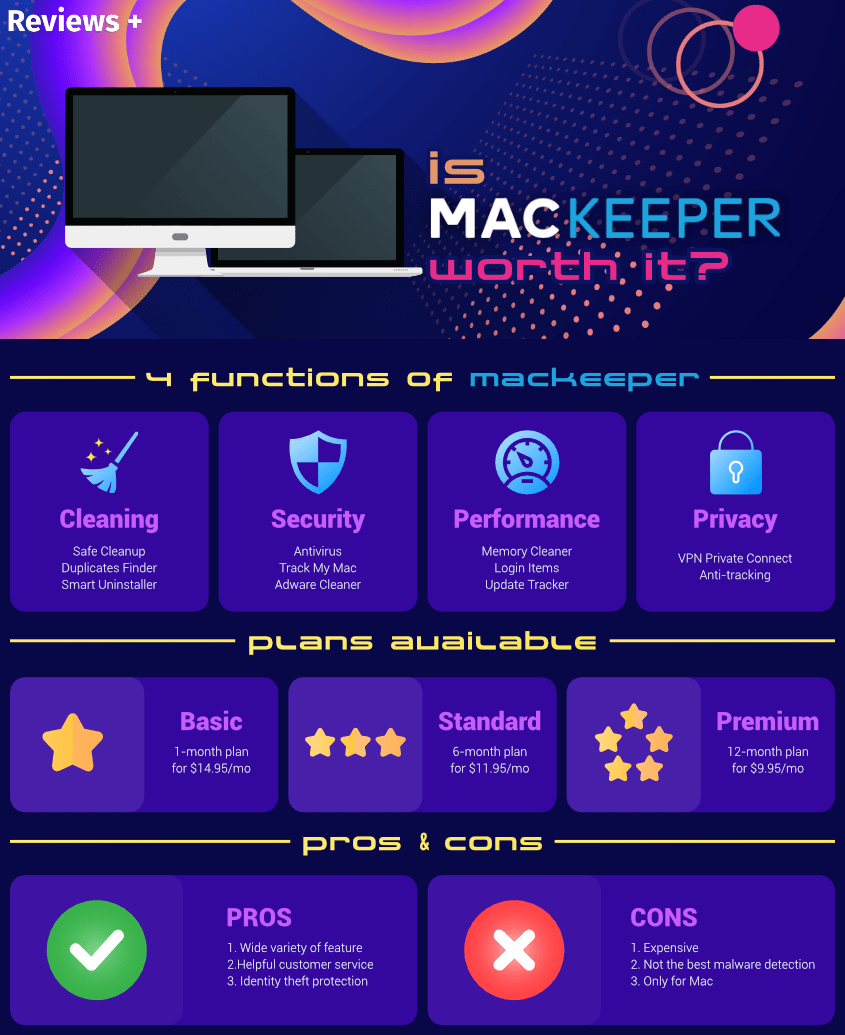 MacKeeper for Mac Review
MacKeeper from Kromtech Alliance is a utility software that will help you maintain a healthy Mac with a handful of useful features. Here are the basic functions you can employ with a MacKeeper subscription, we'll get more specific below:

Cleaning: Keep your hard drive neat and tidy with MacKeeper. Use MacKeeper to find and delete duplicate and junk files or to completely remove programs, plugins, widgets and extensions. MacKeeper is a proven method for getting hard drive disk space back!
Security: Maintain high level security on your Mac with features on MacKeeper like malware protection and adware cleaner. Another feature, Track My Mac, will help you find a lost Mac and can even take a picture of anyone who may be actively using your machine.

Performance: Don't let your computer become sluggish! With MacKeeper, RAM memory is monitored and optimized in real time to ensure a speedy workflow. Additionally, MacKeeper can help you manage which programs are firing up when you start your computer and thus impropve on the speed with which it boots.
Privacy: Privacy features on MacKeeper include VPN Private Connect, which encrypts online data you enter or search for. This allows you to safely use public Wi-Fi at lower risk. MacKeeper also includes an anti-tracking software which protects you from having your data used to target advertisements at you.
MacKeeper Plans and Pricing
MacKeeper is not a free program and is billed as part of a 1, 6 or 12-month subscription plan. You won't get anything different from one plan to the next, but you can save money by purchasing the longest plan. Here are the pricing options for MacKeeper:
Premium: 12-month plan for $9.95/mo ($119.40 billed yearly)
Standard: 6-month plan for $11.95/mo ($71.70 billed every 6 months)
Basic: 1-month plan for $14.95/mo ($14.95 billed every month)
It's possible to save on
MacKeeper
for Mac pretty much anytime during the year! Currently, we have MacKeeper coupons for 30% off any order and 67% off Premium plans. Check back when you're ready to purchase to see what kind of savings are available.

6 Most Useful MacKeeper Features

Duplicates Finder: Duplicate files can take up massive amounts of unnecessary disk space. With MacKeeper, users can scour their hard drive for files that have been accidentally duplicated and stored. Files are not deleted until the user confirms their removal and the originals are protected.
Adware Cleaner: Equal parts annoying and dangerous, malicious adware can be a nuisance when it comes to operating a computer. Adware Cleaner on MacKeeper scans your device for adware and can remove it in one click.
Track My Mac: Nothing can dampen a mood quite like misplacing a Mac. Whether your device has been lost or stolen, MacKeeper will help safeguard and secure your Mac (and thus your information). You'll be able to remotely lock your Mac from a smartphone as well as track your machine's location. Finally, you can even use MacKeeper to take a picture of anyone who might be currently using your Mac!
Memory Cleaner: Real time memory optimization can help your Mac run faster than you remembered it could. If your computer feels as though it's running slower than normal, using the Memory Cleaner function from MacKeeper is a great way to clear RAM and restore efficiency. It won't affect any of the apps or files on your computer and makes a huge difference when running massive applications such as media editors or video games.
VPN Private Connect: A good VPN goes a long way in protecting data sent over an internet connection. With MacKeeper, users are able to utilize VPN Private Connect to encrypt data and protect ISPs. This allows you to establish a 100% secure connection on public Wif-Fi and adds security to online payments, as well.
Anti-tracking: Search engines like Google use the data you've entered to develop targeted ads. Many people find this to be an intrusion on one's privacy. Even if privacy is not a concern, computer speed should be. With the Anti-tracking browser extension, you'll be able to avoid being monitored in both Safari and Chrome, thus removing your online footprint and speeding performance on both platforms.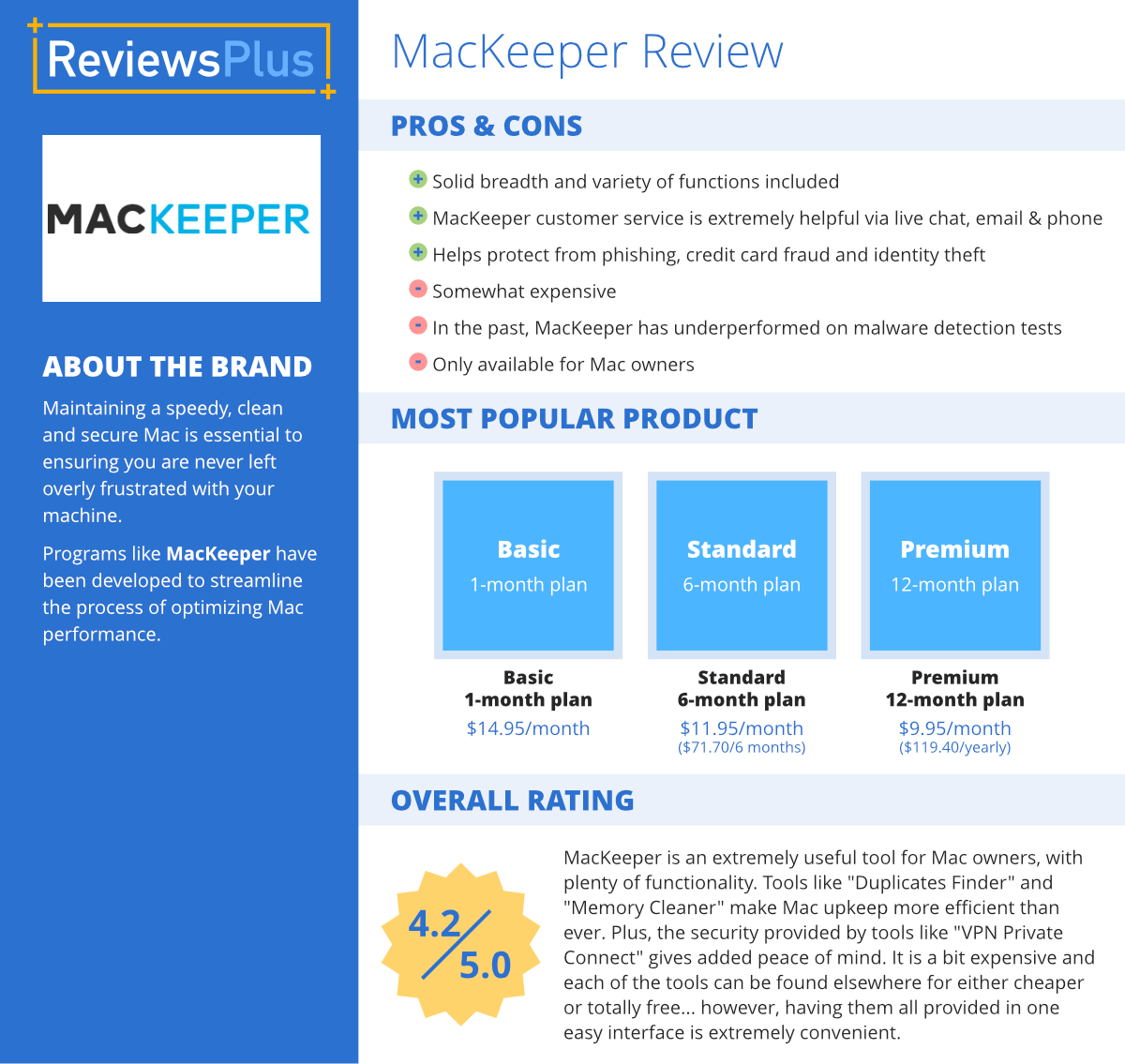 MacKeeper Pros and Cons
PROS
Solid breadth and variety of functions included
MacKeeper customer service is extremely helpful via live chat, email and phone
Helps protect from phishing, credit card fraud and identity theft
CONS
Somewhat expensive
In the past, MacKeeper has underperformed on malware detection tests
Only available for Mac owners