For this review, we were given a promo code from LifeLock which made LifeLock Ultimate Plus™ free for 1 year. We will receive a commission for purchases made through links on this site.
Identity theft is an especially intimidating threat in the 21st century. There are many ways your information can be taken and distributed in the age of the internet. According to LifeLock, 1 in 4 people has experienced identity theft³. Thankfully, there are also effective tools that help people take steps to protect their personal information. Here, we'll look at a very popular identity theft protection and identity restoration service, LifeLock.
If you think you may be the victim of identity theft or need to take immediate action, signing up for a service like LifeLock may be a step taken too late. Freezing your credit with all three major credit bureaus is another way to help protect your identity.
Signing Up for LifeLock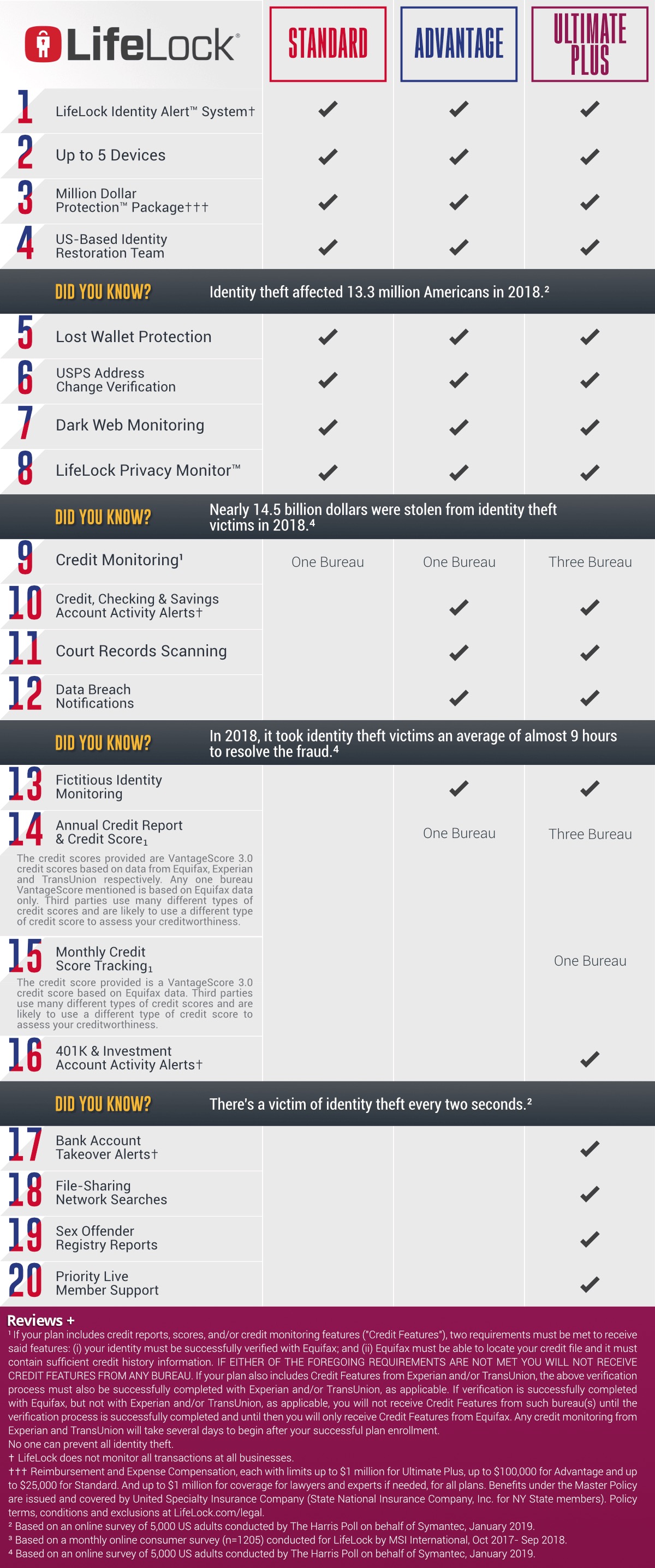 Starting a LifeLock membership is extremely easy and takes only a few minutes, with protection starting almost immediately. The first step is deciding which plan you would like to purchase. You can pay for each of these either monthly or annually. You'll save a little money by paying for the entire year up front.
Here are the LifeLock packages available:
LifeLock Standard™ - $9.99/month for 1st year then $12.99/month (plus applicable taxes). Up to 25% off the first year - terms apply.
LifeLock Advantage™ - $19.99/month for 1st year then $24.99/month (plus applicable taxes). Up to 25% off the first year - terms apply.
LifeLock Ultimate Plus™ - $29.99/month for 1st year then $34.99/month (plus applicable taxes). Up to 25% off the first year - terms apply.

We recommend each plan based on different financial situations:
LifeLock Standard is recommended for people with basic assets and an SSN (which you'll need for all plans, anyway).
LifeLock Advantage is recommended for those with more than two bank accounts and a savings account.
LifeLock Ultimate Plus is the most comprehensive protection plan and is recommended for those with retirement and 401(k) investments and considerable net worth.
If you have a LifeLock promo code for your purchase, you will enter it at the same screen you make your plan selection. From here, you will continue to finalize your order with personal and payment information.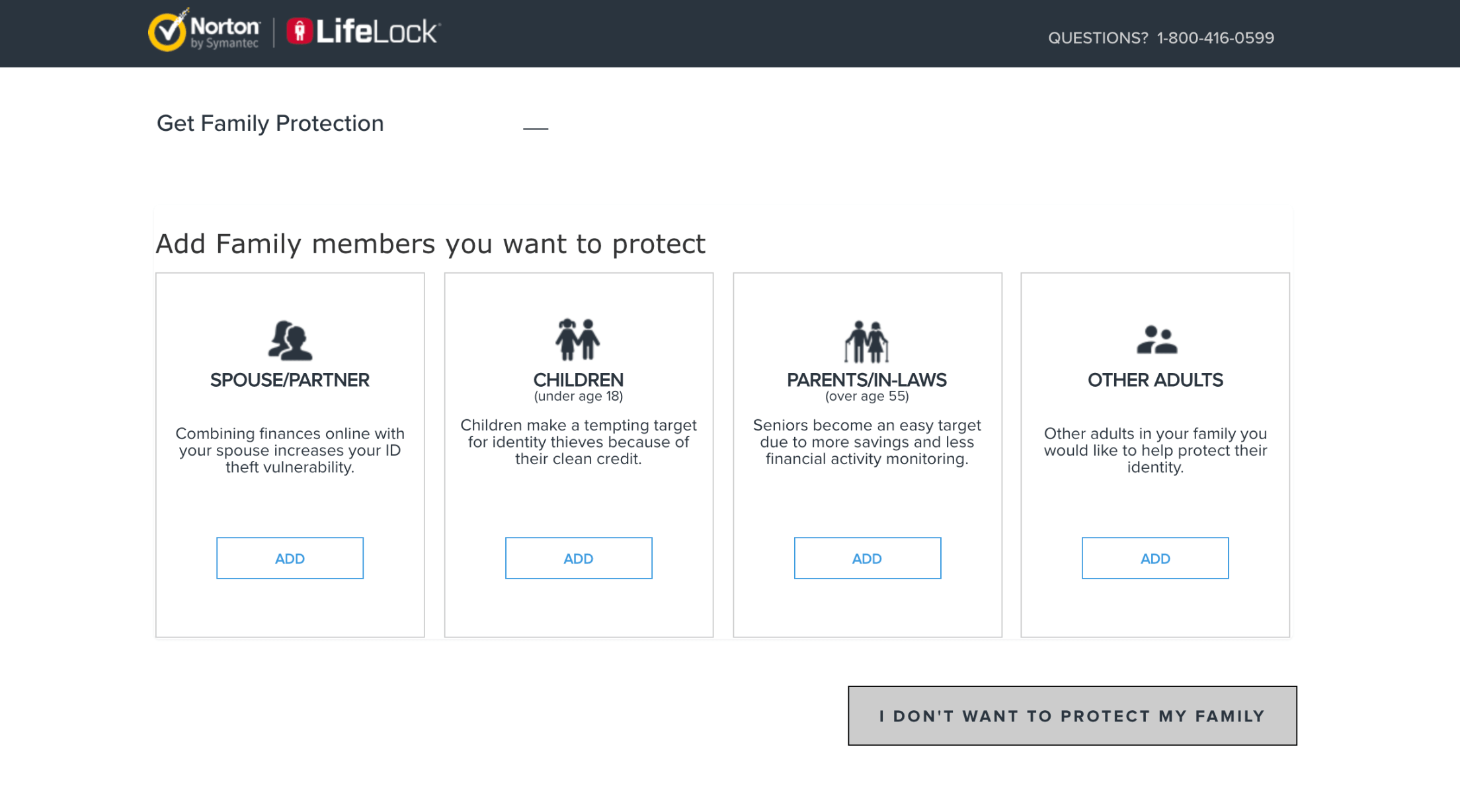 Next, you will be asked to add members of the family to your plan individually as LifeLock does not offer an actual "Family Plan". Instead, each family member added will be billed individually. So, a couple looking to purchase LifeLock Standard ($9.99) will pay around $20 (plus applicable taxes) for their first month of service. If they decide they want Ultimate Plus, they will owe $29.99 (plus applicable taxes) each the first month and will pay a total of around $60. LifeLock Junior costs $5.99/month (plus applicable taxes). LifeLock Junior™ membership is available only as an added membership to an adult LifeLock plan. New users will receive up to 25% off the first year - terms apply
Let's get into a few of the features I liked most with LifeLock Ultimate Plus.
LifeLock Ultimate Plus™ Features
Million Dollar Protection™ Package†††

Hopefully, I never need to use this feature, but it sure is nice to know that it's there. In the event of identity theft, LifeLock would be my lifesaver. With LifeLock Ultimate Plus, I receive up to $1M in coverage for each:
Stolen funds

Personal expenses

Lawyer and expert fees
This amount of coverage is pretty generous considering an average of $1,088 was stolen in identity theft cases last year, according to data collected by The Harris Poll⁴.
LifeLock Standard and LifeLock Advantage plans include coverage for stolen funds and personal expenses, up to $100,000 for Advantage and up to $25,000 for Standard. The $1M coverage for lawyer and expert fees is consistent across each plan. It really gives me great peace of mind knowing that if something were to happen, I would have the LifeLock team there to help me contact banks and creditors and help to hire lawyers and pay for legal fees if needed.

Credit Card, Checking & Savings Account Activity Alerts†
This feature is essential and it's unfortunate that those who choose LifeLock Standard will not have access to it. This feature is only available for LifeLock Ultimate Plus and Advantage subscribers. An alert will be sent to you when withdrawals, transfers, and large purchases are made with your accounts. As with many identity theft protection tools, this is one that you won't use until you actually need it... but is essential. The lack of this feature with the Standard plan is enough to make me choose a higher level of service.
Three-Bureau Credit Monitoring¹
One of the major advantages to selecting LifeLock Ultimate Plus over Standard or Advantage is in the level of credit monitoring you'll receive. Credit monitoring for all three major bureaus is provided with LifeLock Ultimate Plus compared to just one-bureau with LifeLock Advantage and LifeLock Standard. We highly recommend monitoring all three major bureaus for the most complete identity theft protection plan.
You can, of course, check your credit score for free through competitors. By law, every citizen is entitled to one free report update per year per bureau. You can view all three reports at AnnualCreditReport.com for annual updates or view more regular updates on two of the bureaus with Credit Karma.
LifeLock Ultimate Plus provides Monthly Credit Score Tracking¹ from a single bureau. LifeLock Ultimate Plus also provides Annual Credit Report & Credit Score¹ from three bureaus.
The credit scores provided are VantageScore 3.0 credit scores based on data from Equifax, Experian and TransUnion respectively. Any one bureau VantageScore mentioned is based on Equifax data only. Third parties use many different types of credit scores and are likely to use a different type of credit score to assess your creditworthiness.
Dark Web Monitoring
Another great feature from LifeLock, which is available with all plans, is Dark Web Monitoring. This tool will scan sites and forums on the dark web for your information and notify you when it finds anything. This is particularly useful because unlike some of the other features you get with LifeLock, dark web monitoring is not something that is easily done on your own.
USPS Address Change Verification
A sneaky tactic that identity thieves use when stealing an identity is to put in a change of address with the USPS. They do this to try to divert mail to get important financial information. Purchasing any of the three LifeLock plans will keep you informed of suspicious address changes that could be the result of identity theft.
Lost Wallet Protection
I'm not one to lose my wallet... but it can happen. In the event I lose my wallet, I could use my LifeLock subscription to help me cancel and replace my driver's license, Social Security and insurance cards, credit cards and more. This feature is available across all plans!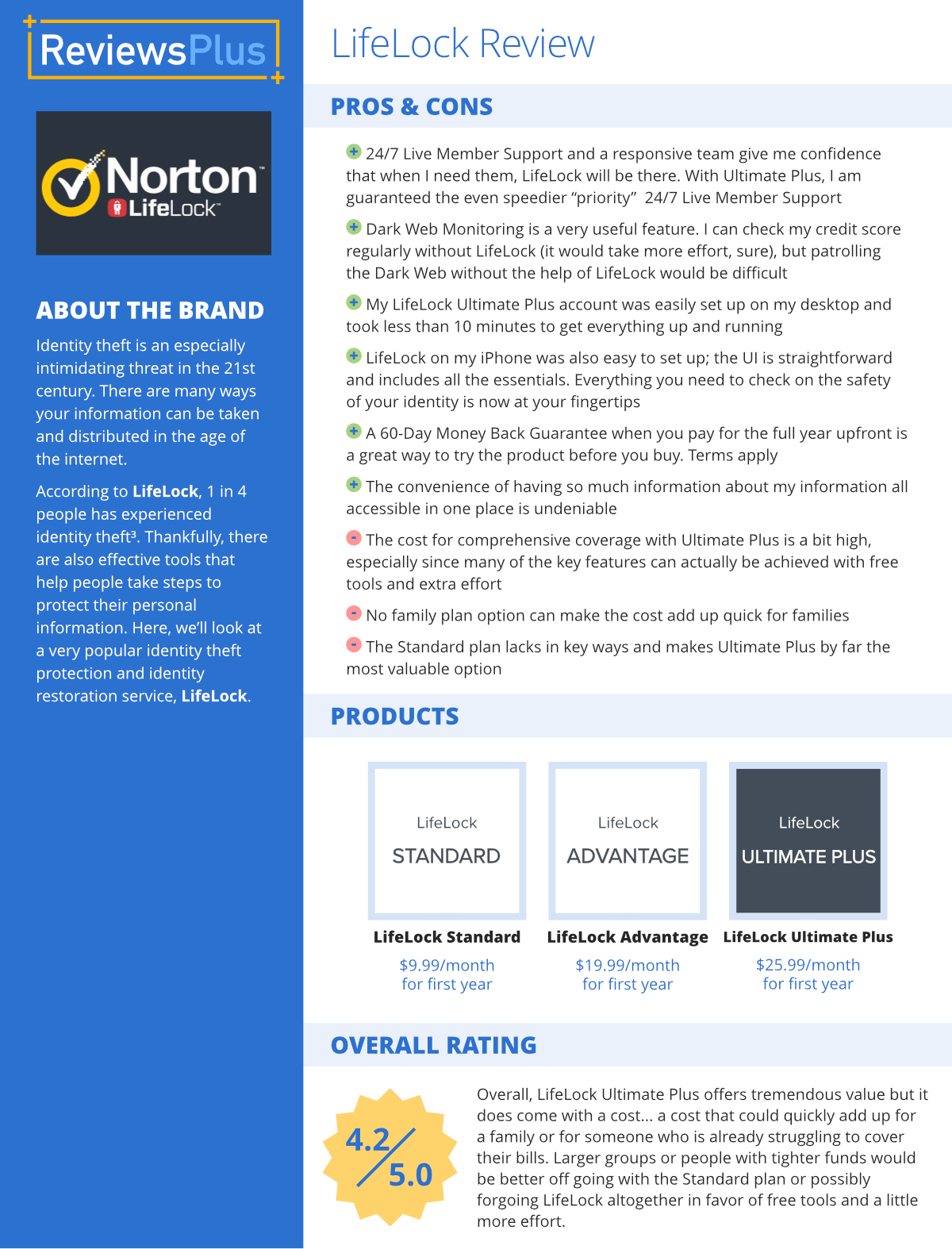 LifeLock Ultimate Plus™ Pros and Cons
Pros
24/7 Live Member Support and a responsive team give me confidence that when I need them, LifeLock will be there. With Ultimate Plus, I am guaranteed the even speedier "priority" 24/7 Live Member Support.
Dark Web Monitoring is a very useful feature. I can check my credit score regularly without LifeLock (it would take more effort, sure), but patrolling the Dark Web without the help of LifeLock would be difficult.
My LifeLock Ultimate Plus account was easily set up on my desktop and took less than 10 minutes to get everything up and running.
LifeLock on my iPhone was also easy to set up; the UI is straightforward and includes all the essentials. Everything you need to check on the safety of your identity is now at your fingertips.
A 60-Day Money Back Guarantee when you pay for the full year upfront is a great way to try the product before you buy. Terms apply.
The convenience of having so much information about my information all accessible in one place is undeniable.
Cons
The cost for comprehensive coverage with Ultimate Plus is a bit high, especially since many of the key features can actually be achieved with free tools and extra effort.
No family plan option can make the cost add up quick for families.
The Standard plan lacks in key ways and makes Ultimate Plus by far the most valuable option.

Overall Review - 4.2/5
Overall, LifeLock Ultimate Plus offers tremendous value but it does come with a cost... a cost that could quickly add up for a family or for someone who is already struggling to cover their bills. Larger groups or people with tighter funds would be better off going with the Standard plan or possibly forgoing LifeLock altogether in favor of free tools and a little more effort.

An Ultimate Plus plan does provide peace of mind when it comes to identity theft protection, however. While no one can prevent identity theft, having LifeLock Ultimate Plus gives me plenty of confidence in my preparedness for the possibility.
---
Symantec, the Symantec Logo, the Checkmark Logo, Norton, Norton by Symantec, LifeLock, and the LockMan Logo are trademarks or registered trademarks of Symantec Corporation or its affiliates in the U.S. and other countries. Other names may be trademarks of their respective owners.
No one can prevent all identity theft.
¹=If your plan includes credit reports, scores, and/or credit monitoring features ("Credit Features"), two requirements must be met to receive said features: (i) your identity must be successfully verified with Equifax; and (ii) Equifax must be able to locate your credit file and it must contain sufficient credit history information. IF EITHER OF THE FOREGOING REQUIREMENTS ARE NOT MET YOU WILL NOT RECEIVE CREDIT FEATURES FROM ANY BUREAU. If your plan also includes Credit Features from Experian and/or TransUnion, the above verification process must also be successfully completed with Experian and/or TransUnion, as applicable. If verification is successfully completed with Equifax, but not with Experian and/or TransUnion, as applicable, you will not receive Credit Features from such bureau(s) until the verification process is successfully completed and until then you will only receive Credit Features from Equifax. Any credit monitoring from Experian and TransUnion will take several days to begin after your successful plan enrollment.

⁴=Based on an online survey of 5,000 US adults conducted by The Harris Poll on behalf of Symantec, January 2019.
†=LifeLock does not monitor all transactions at all businesses.
†††=Reimbursement and Expense Compensation, each with limits of up to $1 million for Ultimate Plus, up to $100,000 for Advantage and up to $25,000 for Standard. And up to $1 million for coverage for lawyers and experts if needed, for all plans. Benefits under the Master Policy are issued and covered by United Specialty Insurance Company (State National Insurance Company, Inc. for NY State members). Policy terms, conditions and exclusions at: LifeLock.com/legal.