For over 100 years, KitchenAid has been a common household name - especially in the kitchen. This classic brand of kitchenware and home appliances has made the acts of baking, cooking and food preparation so much simpler over the years. KitchenAid appliances are found in almost all homes in America, but are they truly worth the hype and popularity? Keep reading this review of KitchenAid to learn more about what sets this kitchen brand apart, how it compares to other kitchen brands and the pros and cons of KitchenAid.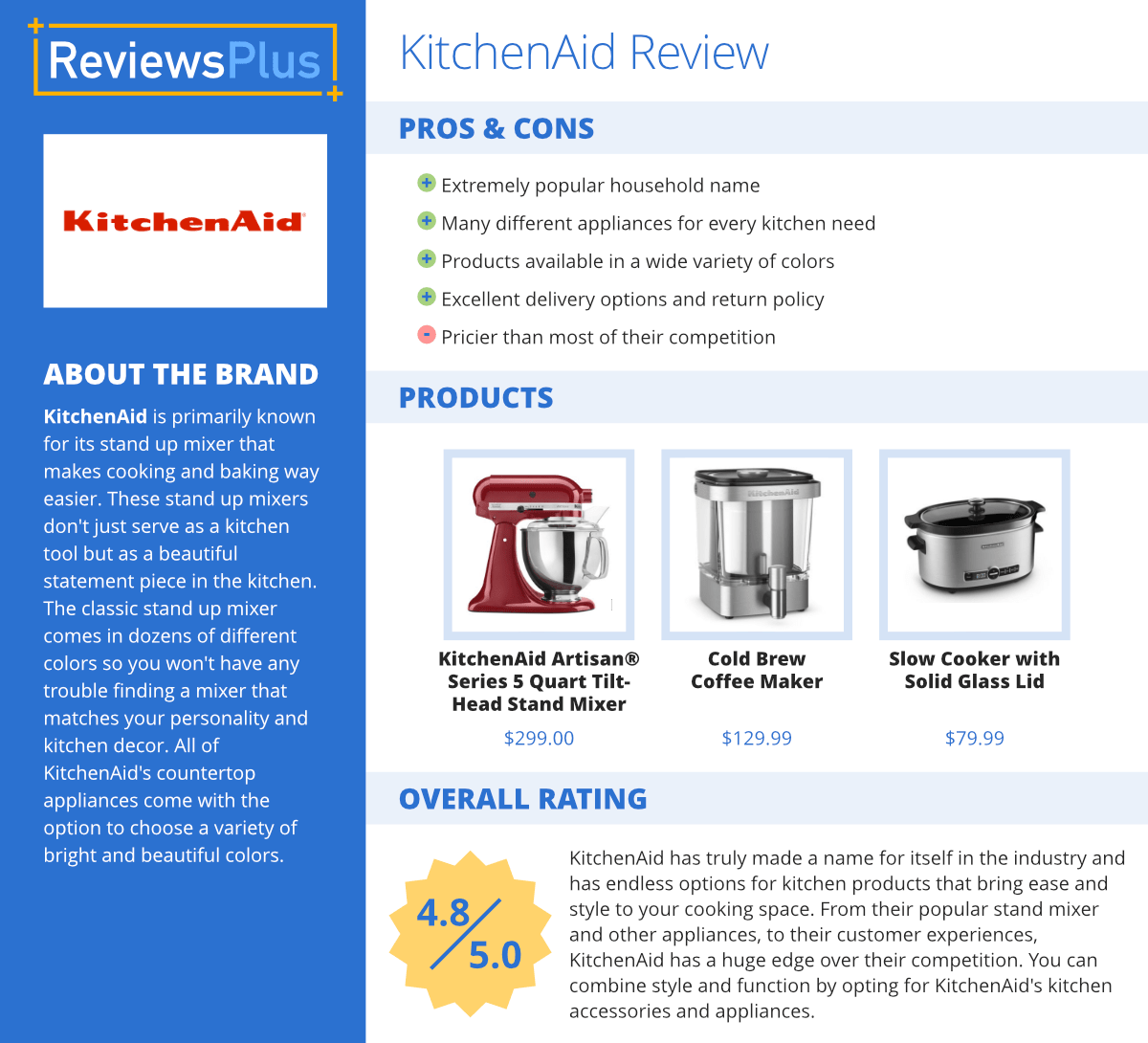 What Sets KitchenAid apart?
In general, kitchen hardware and appliances aren't exactly the most exciting things in the world, and they weren't all that aesthetically appealing in the past either. KitchenAid products stood out from the crowd for one major reason: their appearance.
KitchenAid is primarily known for its stand up mixer that makes cooking and baking way easier. The KitchenAid stand up mixers don't just serve as a kitchen tool but as a beautiful statement piece in the kitchen. The classic stand up mixer from KitchenAid comes in dozens of different colors so you won't have any trouble finding a mixer that matches your personality and kitchen decor. All KitchenAid countertop appliances come with the option to choose a variety of bright and beautiful colors.
Another added feature that adds to the beauty of the classic stand up mixer and sets it apart from other mixers on the market is the option to include a decorated ceramic bowl. KitchenAid has endless customization options that will have you setting your mixer out for all to see instead of hiding it in your cabinets.
In addition to the classic KitchenAid stand up mixers, you can also find the following products available:

KitchenAid coupons are offered regularly to help customers save. At the time of this writing, a KitchenAid promo code offers 10% off all purchases plus free shipping!
KitchenAid vs. Competitors
There is no doubt that KitchenAid has a ton of competition, especially since they have been around for so long. Cuisinart is one of the biggest competing brands to KitchenAid as they sell many of the same products. Check out how these KitchenAid mixers and a mixer from Cuisinart stack up against each other.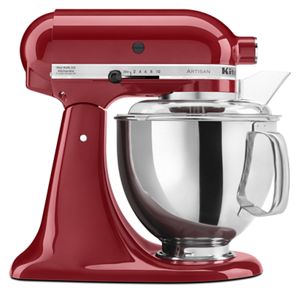 KitchenAid Artisan® Series 5 Quart Tilt-Head Stand Mixer - $299
This KitchenAid mixer is the most iconic on the market and considered by many to be a kitchen staple, especially for baking. It has a 5-quart bowl capacity and features 10 different mixing and kneading speeds. It includes a stainless steel mixing bowl, dough hook, wire whip, flat beater, and pouring shield. This mixer from KitchenAid also comes in 40 color options including classic black, lavender cream, toffee delight, crystal blue, and many more. This mixer from KitchenAid has an astounding 4.9/5 stars on its website with over 20k awarding 5 stars to the mixer.
Cuisinart Precision Master™ 5.5-Quart Stand Mixer - $199.95
The Cuisinart stand mixer, a close equivalent to the classic KitchenAid mixer, brings a lot of great features to the table. It has a 5.5-quart bowl capacity and has 12 different mixing speeds to choose from. The mixer includes a chef's whisk, dough hook, flat mixing paddle, and splash guard with a pour spout. This mixer only has 6 different color options so there are not many customization options available. Overall, they are given 4.6/5 stars on their website with just over 80 awarding 5 stars to the mixer.
Overall, the KitchenAid mixer costs a bit more than the Cuisinart mixer, but it rates better, has far more customization options, and is used and trusted by literally thousands of people.

KitchenAid FAQs
1. What other countertop appliances does KitchenAid sell?
KitchenAid sells stand up mixers, blenders, hand mixers, hand blenders, food processors, countertop ovens, coffee machines, slow cookers, kettles, toasters, and microwaves.
2. What uses does the KitchenAid stand mixer have other than mixing?
This mixer features over 10 attachment options to be used for other kitchen purposes. You can purchase these attachments which include a cheese grater, a pasta roller/cutter, an ice cream maker, a grain mill, a spiralizer, a juicer, a grinder/strainer, a vegetable strainer, a meat grinder, a sifter, and even a large tray you can pop right on the mixer.
3. What is the return policy?
Any items purchased from the KitchenAid website can be returned for free if returned within 30 days.
4. What major appliances does KitchenAid sell?
KitchenAid sells cooktops, wall ovens, refrigerators, under-counter refrigerators, ranges, microwaves, dishwashers, disposals and compactors, hoods and vents, grills, and water filters.
5. Will someone install my major appliance for me?
KitchenAid delivery and installation is available for all of their major appliances and even their smaller countertop appliances. Delivery and installation from KitchenAid also has the option of uninstalling and hauling away your old appliances.
KitchenAid Pros and Cons
-PROS-
Extremely popular household name
Many different appliances for every kitchen need
Products available in a wide variety of colors
Excellent delivery options and return policy
-CONS-
Pricier than most of their competition

Overall KitchenAid Review - 4.8/5
KitchenAid has truly made a name for itself in the industry and has endless options for kitchen products that bring ease and style to your cooking space. From their popular stand mixer and other appliances, to their customer experiences, KitchenAid has a huge edge over their competition. You can combine style and function by opting for KitchenAid's kitchen accessories and appliances.