Among health and wellness gurus, CBD is becoming an increasingly popular supplement. While the science is still young and no statements can be yet made regarding its efficacy with 100% certainty, there are encouraging signs. From anxiety to joint pain, the health claims run the gamut. It's no wonder then that pet owners have turned to the supplement for their pets.

King Kanine is one CBD brand that develops products specifically for dog wellness. In this review, we'll take a look at what sets King Kanine products apart from competitors before looking at some King Kanine CBD for dog products firsthand. Read on to see if King Kanine is right for your dog.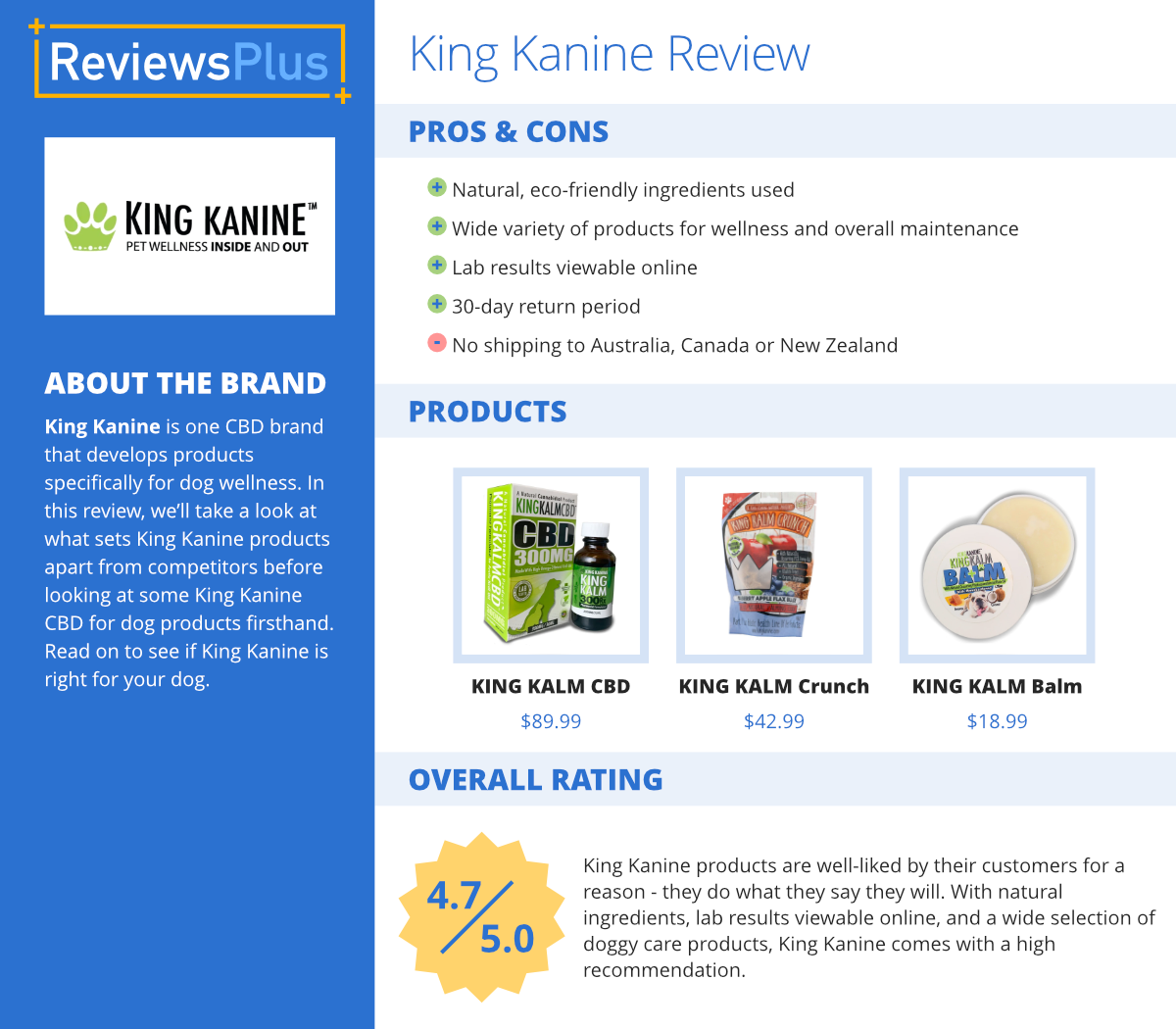 What Sets King Kanine Apart?
King Kanine for pets is completely organic and natural. You won't find any of the usual chemical perpetrators in King Kanine products. Founded in 2015, King Kanine has enjoyed a quick rise to prominence, appearing in places like High Times, Dogster, CBS, ABC News and Pet Business Magazine.
King Kanine utilizes CO2 extraction methods to separate the molecule from the plant. This is common practice among many of the top CBD brands. Dog supplements found at King Kanine range in potency from 75mg-600mg and are priced between $30-$100. Naturally occurring CBD, hemp oil and krill oil are used in King Kanine edible products.

King Kanine customers who are not satisfied can return their purchase for up to 30 days. Deliveries ship for free if they are over $100 and typically ship within 1-2 business days. There are three countries King Kanine is currently not able to ship to:
Canada
Australia
New Zealand
Another major attribute that sets King Kanine apart is their commitment to giving back to the community. They became a business ambassador for the American Society for the Prevention of Cruelty to Animals (ASPCA) in 2017 and have been a help in raising awareness and funds for the organization. In addition, King Kanine brings local communities and their dogs together through activities like group walks and puppy brunches.
King Kanine Products
Here are the main products that King Kanine offers through their online store:
The first King Kanine product produced and sold was the KING KOMB - a heavy duty dog brush developed by owners of a Great Dane. Only recently has King Kanine started creating and marketing formulas meant to be ingested or rubbed onto pet dogs. They are proud to use minimal ingredients in their products and the ingredients that are included are natural and organic. The KING KLEAN dog shampoo has only six ingredients:
Coconut oil
Olive oil
Jojoba oil
Lemongrass
Aloe vera
Rosemary oil
Rosemary extract

The "Pet Grooming" section of King Kanine includes:
Next, let's take a closer look at three products from King Kanine: KING KLEAN In Between Bath Spray, KING KALM CBD and the highly popular KING KOMB.
Hands-On King Kanine Review
To complete this review, King Kanine sent us a care package with three products, pictured here.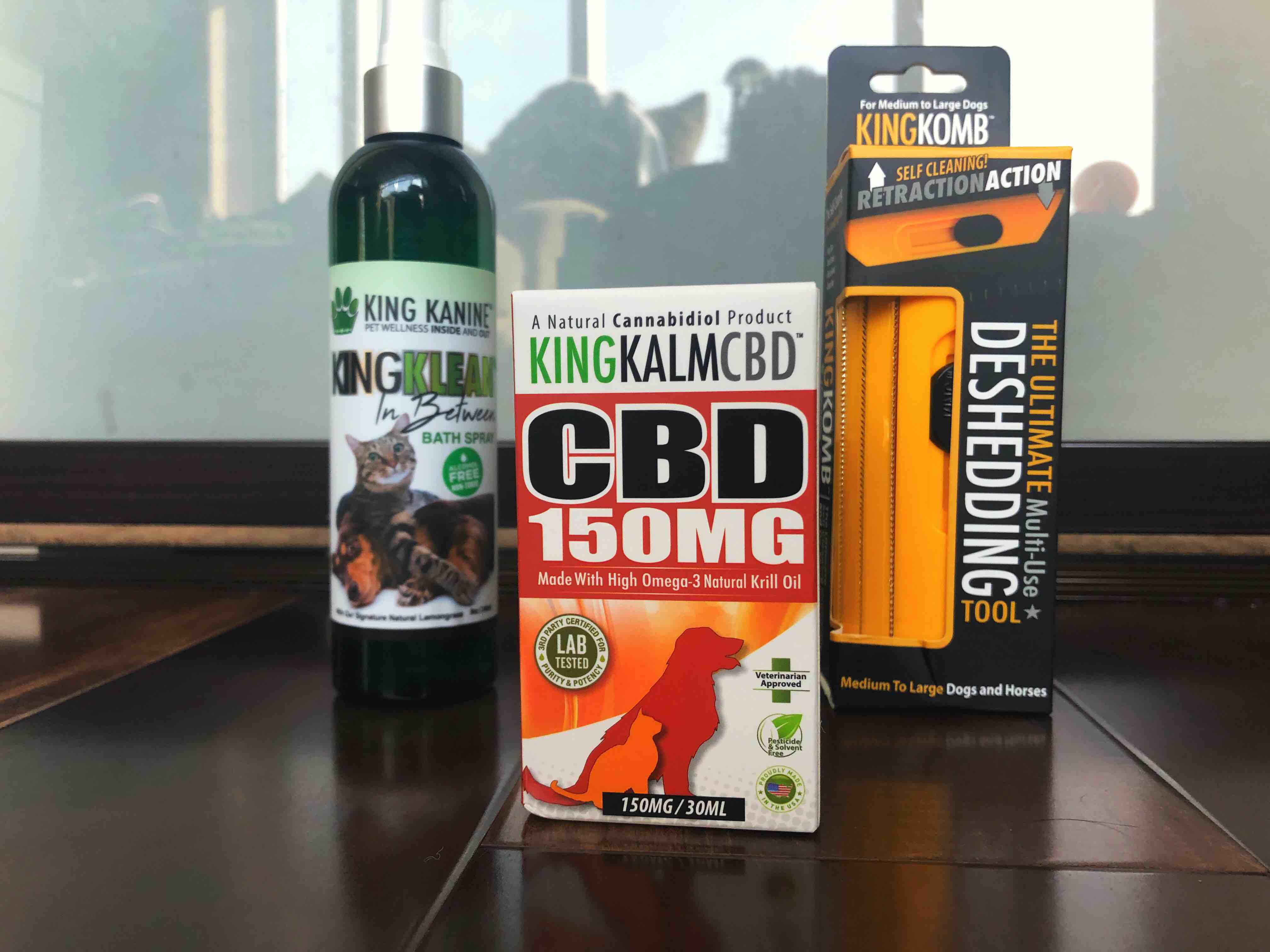 The In Between Bath Spray has fragrances of King Kanine's signature lemongrass and uses aloe vera to help soothe the pets skin. It has no alcohol in it and is completely eco-friendly. The best part about the spray is that it had my dog smelling like he had just taken a bath, and there was no rinsing involved!
I've started my dog on the KING KALM CBD and while I'm eager to see how it helps him, not enough time has elapsed at the time of this writing for me to note any benefits.
The KING KOMB is truly a powerful tool. It did a fantastic job deshedding my dog and the self-cleaning design is a masterpiece. It had my dog clean in a flash and the usual mess of hair was easily maintained.

Another very popular brand for pet CBD is cbdMD. Check out there store and before purchasing make sure to find a new cbdMD coupon to help you save money.
King Kanine Pros and Cons
-PROS-

Natural, eco-friendly ingredients used
Wide variety of products for wellness and overall maintenance
Lab results viewable online
30-day return period
-CONS-
No shipping to Australia, Canada or New Zealand
Overall King Kanine Review - 4.7/5
King Kanine products are well-liked by their customers for a reason - they do what they say they will. With natural ingredients, lab results viewable online, and a wide selection of doggy care products, King Kanine comes with a high recommendation.