The fascinating and growing industry of nootropics - brain supplements made to increase cognitive function - has been a game-changer for many individuals. Kin Euphorics, a beverage that's made to positively affect the way we interact with each other, is making its own brand of noise.
Imagine you're at a networking event or a blind date and you need to socialize. Those who consider themselves introverts might need a little liquid courage from the bar to strike up a conversation. A few too many visits can quickly turn sour, though.
Kin Euphorics replenishes your brain's nootropics and provides plant-based, nourishing, stress-reducing nutrients. The delicious beverage has the effect of relaxing your body and improving your mind for social situations, without any alcohol.
Kin Euphoric Review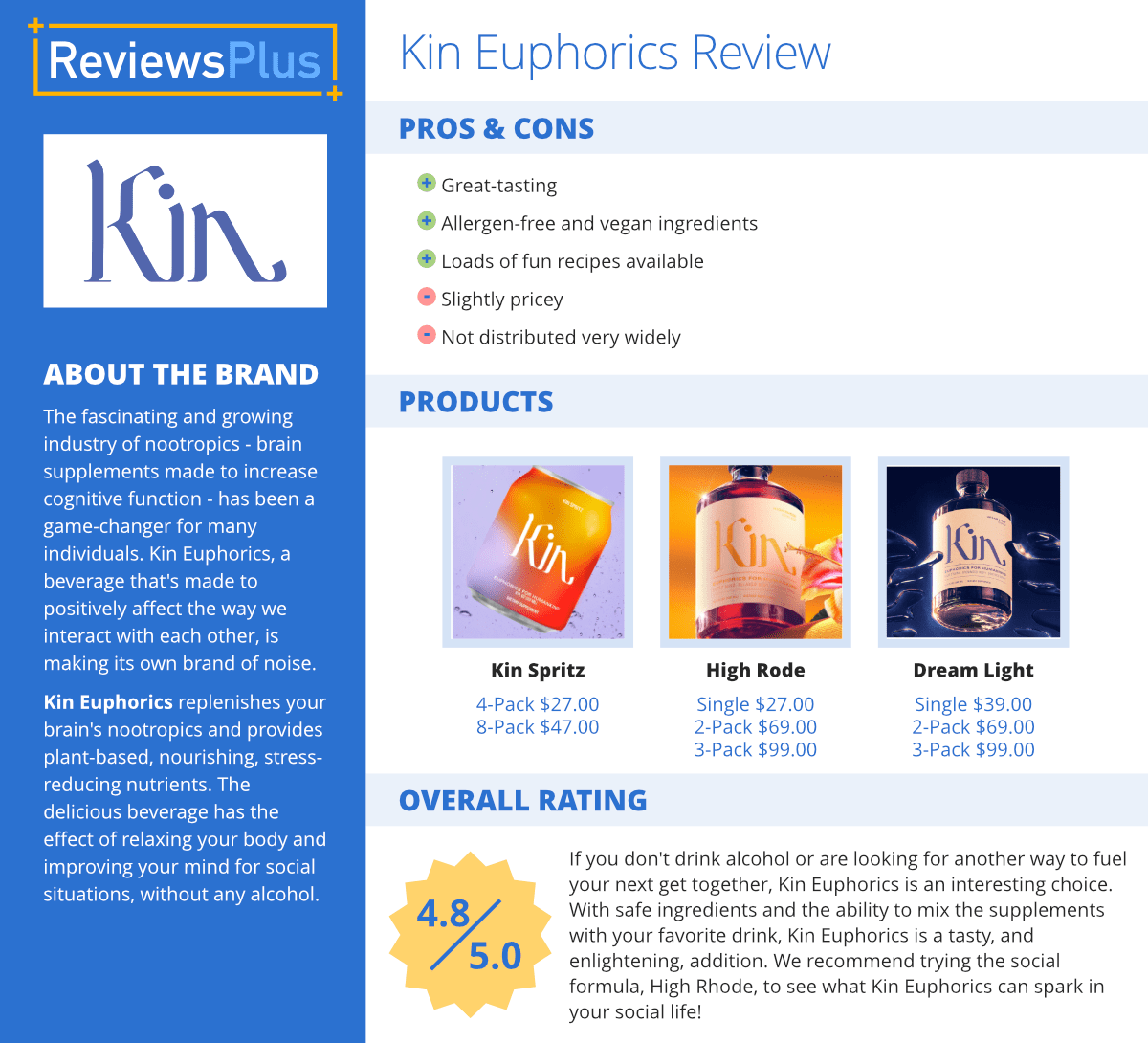 Kin Euphorics Products
First, here are some keywords you should know when shopping Kin Euphorics products.
Adaptogens
Adaptogens are stress-relieving herbs that adapt to what our bodies need by controlling our hormones. Hormones like cortisol, which is how our body responds to stress, is one of the hormones that adaptogens control. The adaptogens in Kin Euphorics help us re-establish our calm and take control of how we react to situations.
Botanics
Botanics are simply plants. These plants are added to harmonize with adaptogens. Oh yeah, they also taste great!
Nootropics
Nootropics are natural and synthetic compounds. They ideally help support memory and the ability to learn - as well as help the mind under intense conditions. All this while being non-toxic. The way they work is by targeting sensors that transmit dopamine and serotonin. Kin Euphorics uses these to reap the benefits, without overdoing it.

Kin Euphorics offers three main products: High Rhode, Dream Light and Spritz.
High Rhode
High Rhode is for the social hour. It's an all-natural liquid supplement that is meant to be mixed, just like a cocktail! It's made to elevate the mind and invigorate the spirit, which allows for meaningful connection with the people around you. Expect a floral, tart finish.
Dream Light
Dream Light reduces mental chatter, lowers stress and relaxes muscles to promote restful sleep. It is tasty with earthy and forest flavors. Mix this Kin Euphorics supplement with your favorite drink before bedtime.
Spritz
Unlike Dream Light and High Rhode, Spritz is a ready-to-go drink that doesn't require being mixed with anything. It tastes like mineral water - the nonalcoholic version of a White Claw - only with the powerful blend of nootropics and adaptogens to enlighten the mind.
Kin Euphorics FAQs
How much does Kin Euphorics charge for shipping?
Shipping is free with all orders from Kin Euphorics!
To where does Kin Euphorics ship?
Kin Euphorics will ship to all 50 states. International shipping is currently not available.
What is the return policy?
Kin Euphorics does not accept returns or refunds. Please be aware of the ingredients before ordering. If your item is damaged upon receipt, notify customer service within 14 days for a replacement.
How much of each Kin Euphorics drink should I have at a time?
Start with a single serving and increase slowly. Do not consume more than 4 servings in 24 hours. If you have a health condition, are taking medications, or have health-related questions, consult with your doctor before drinking Kin Euphorics.
Can I mix Kin Euphorics with alcohol?
Do not drink any Kin Euphorics beverage with alcohol or any other mind or mood-altering substances. If you have any health conditions, take any medications, or have any health questions, consult with your doctor before consuming Kin Euphorics.

Kin Euphorics Pros & Cons
Pros
Great-tasting

Allergen-free and vegan ingredients

Loads of fun recipes available
Cons
Slightly pricey

Not distributed very widely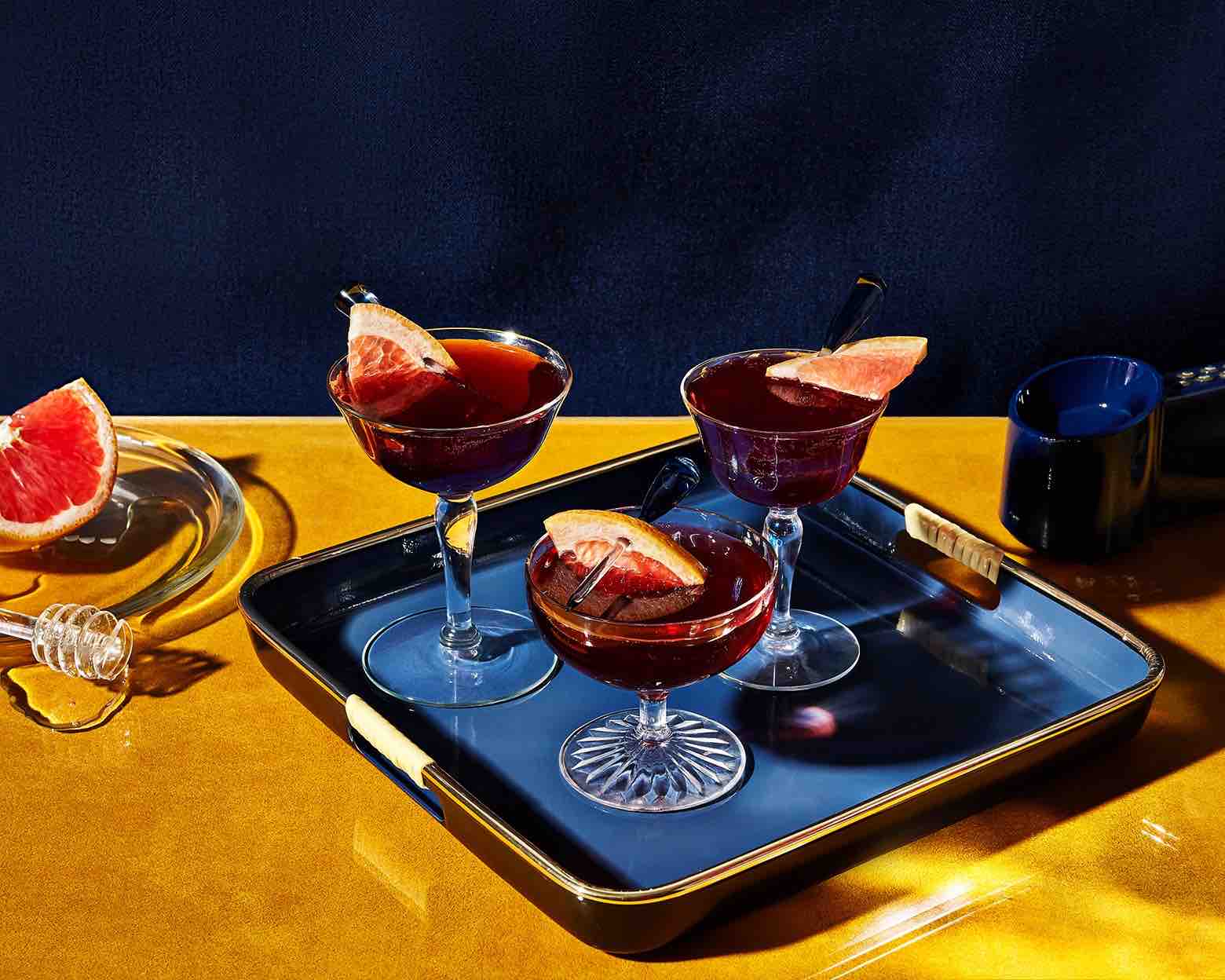 Overall Kin Euphorics Review 4.8/5
If you don't drink alcohol or are looking for another way to fuel your next get together, Kin Euphorics is an interesting choice. With safe ingredients and the ability to mix the supplements with your favorite drink, Kin Euphorics is a tasty, and enlightening, addition. We recommend trying the social formula, High Rhode, to see what Kin Euphorics can spark in your social life!