Since its origin, Instagram has had its users coveting one extremely important asset: followers. Followers are the people who are buying what you're selling - whether it is a product or your image. They engage with your content and share it with their followers. The general goal when using Instagram as a marketing tool is to gain new and unique followers who actively interact with your content.

Growing an Instagram following is one of the highest goals as a thriving Instagram account, but it is not always the easiest task. How do you generate an organic following who is genuinely interested in your content and not constantly spamming you?
Kicksta is an organic follower growth tool that helps grow your account's influence via AI technology. Check out this review to understand just exactly how Kicksta works and whether it is worth buying into.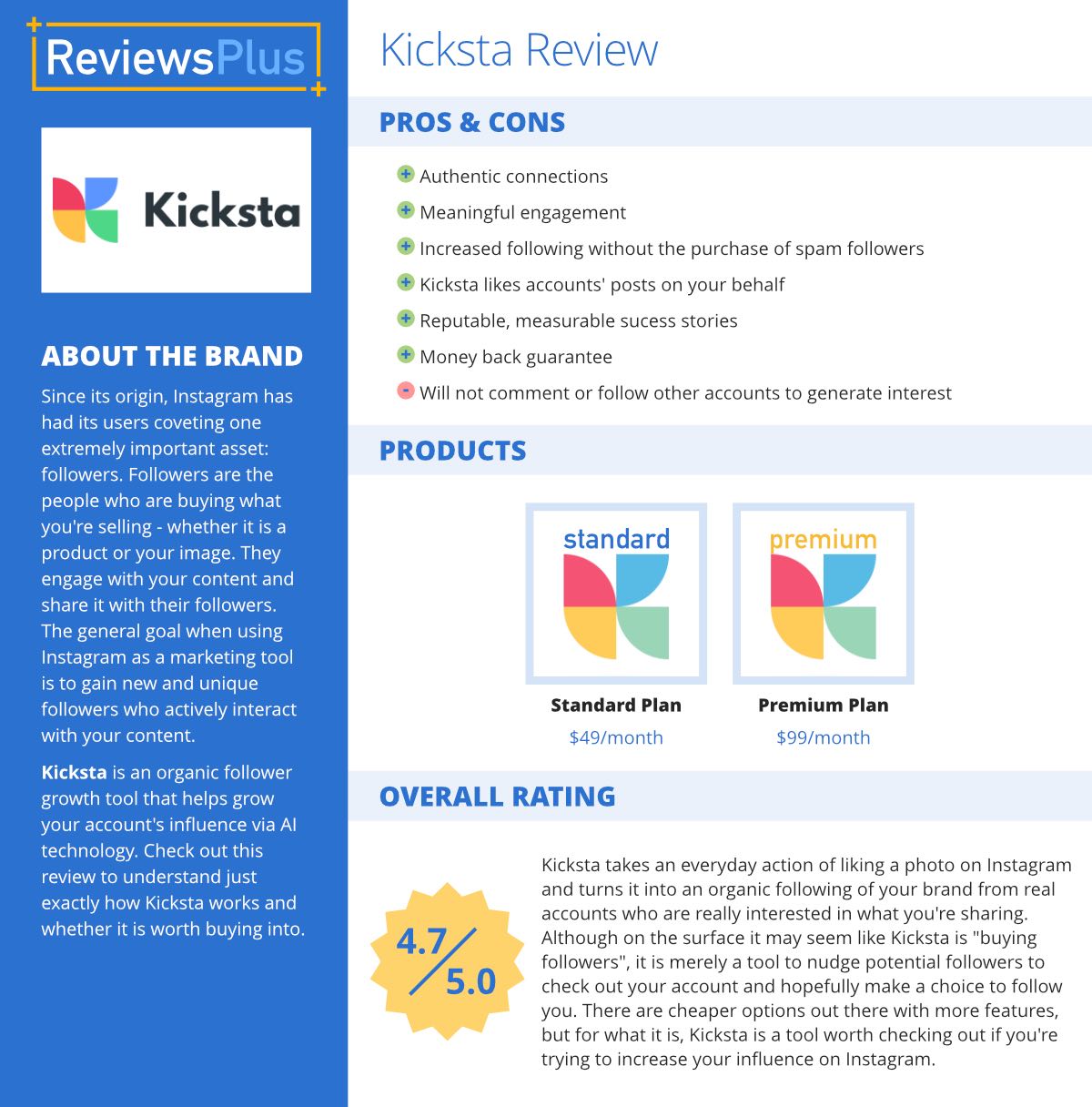 What Sets Kicksta Apart
First and foremost, the quality that most sets apart Kicksta from other Instagram follower growth tools is the fact that the way they grow your brand's following is 100% organic.
Organic growth, a feature that Kicksta guarantees, is different than other methods of increasing growth that involve the purchase of followers. These paid followers are attributed to running spam accounts that leave irrelevant comments and have no real impact on your brand. Organic followers, however, are not bought and they happen upon your profile by their own will. The hope is that when they interact with your brand's profile, they will follow you.

How does the Kicksta instagram growth tool accomplish growing your Instagram following organically? It's as simple as likes. Through one of the two Kicksta growth plans (which we will discuss below), you can choose several targeted Instagram accounts that are similar to your own. Kicksta will then like several posts on accounts that follow your targeted accounts. The idea is that because those users already follow the target account, they may also be up to following your account too.
For example, if you are a high-end flower shop, you could choose another flower shop or a high-profile florist as your targeted account. Kicksta will like their followers' posts, acting as a figurative "tap on the shoulder", and those accounts may follow your own.
Although Kicksta does the work of liking potential followers posts, you still have to do your part to gain a genuine following base. Kicksta states that as long as you post quality content frequently, success is guaranteed! A stand-out feature of this tool is that Kicksta completely refunds the cost of their service to you if you don't have success in the first 14 days of utilizing the tool.
It should be noted that there does exist some negative feedback from users who claim they were never issued a refund after being dissatisfied with Kicksta's service.
Kicksta Products and Prices
Kicksta has two different packages to choose from to help increase your following organically: the standard plan and the premium plan. Here is some information on each!

Standard Plan $49/month
The Kicksta Standard Plan for more organic Instagram followers is the cheapest option you can choose and it is a simple plan that helps you get started off strong growing your following.
The Instagram follower growth speed for this plan is described as being moderate growth that is steady and slowly increases over time. With this plan, you get to choose up to 10 targeted accounts that Kicksta will use to find followers for you. This number is limited, so you would have to really think about which accounts would be the most beneficial to choose which are similar to your brand.
As far as support goes, the Standard Plan doesn't offer much, other than video onboarding which explains how the program works and how your brand can use it. The Kicksta Standard Plan is great for individuals and social media novices looking to gain more Instagram followers.

Premium Plan $99/month

The Kicksta Premium Plan, at double the cost of the Standard Plan, has more options and features than the Standard Plan. A majority of the success stories found on Kicksta's website credit their success to the utilization of the Premium Plan.
This plan has all of the same features as the Standard Plan but offers way more options for targeting accounts and maintaining organic growth over time. The growth rate for this plan is described as having "maximum growth" and accomplishes this through the higher volume of likes it executes. The plan allows for up to 40 targeted accounts and even has an option for advanced targeting that can target accounts based on location and gender.
The Kicksta Premium Plan also has a plethora of options for dedicated support and guidance. They provide live chat support and VIP email support to ensure all of your questions are answered. As with the 14-day money-back guarantee that is available for both plans, there have been negative reviews about the quality of Kicksta's customer support system.

As far as price points go, Kicksta is one of the cheaper auto-liker tools on the market but has relatively less capability than other nearly identical tools. Many of Kicksta's competitors are more straightforward with trying to gain followers by actually following other accounts, viewing their stories, and placing comments. Following a bunch of Instagram accounts usually results in about 30% of those accounts following you back. Kicksta is less involved, however, and strictly likes posts to generate more Instagram followers of your profile.
Signing Up for a Premium Kicksta Account
The Premium Plan for Kicksta costs $99 and includes a ton of different capabilities for you to generate more followers on Instagram. The sign-up process is also pretty straightforward and makes it easy for you to be well on your way to growing your brand on Instagram.
To sign up, you just need to go on the Kicksta website and click on the "Get started now" button. This will bring you down to Kicksta's pricing options as well as all of the perks of choosing this plan. Then you simply click on the "Choose Premium" button.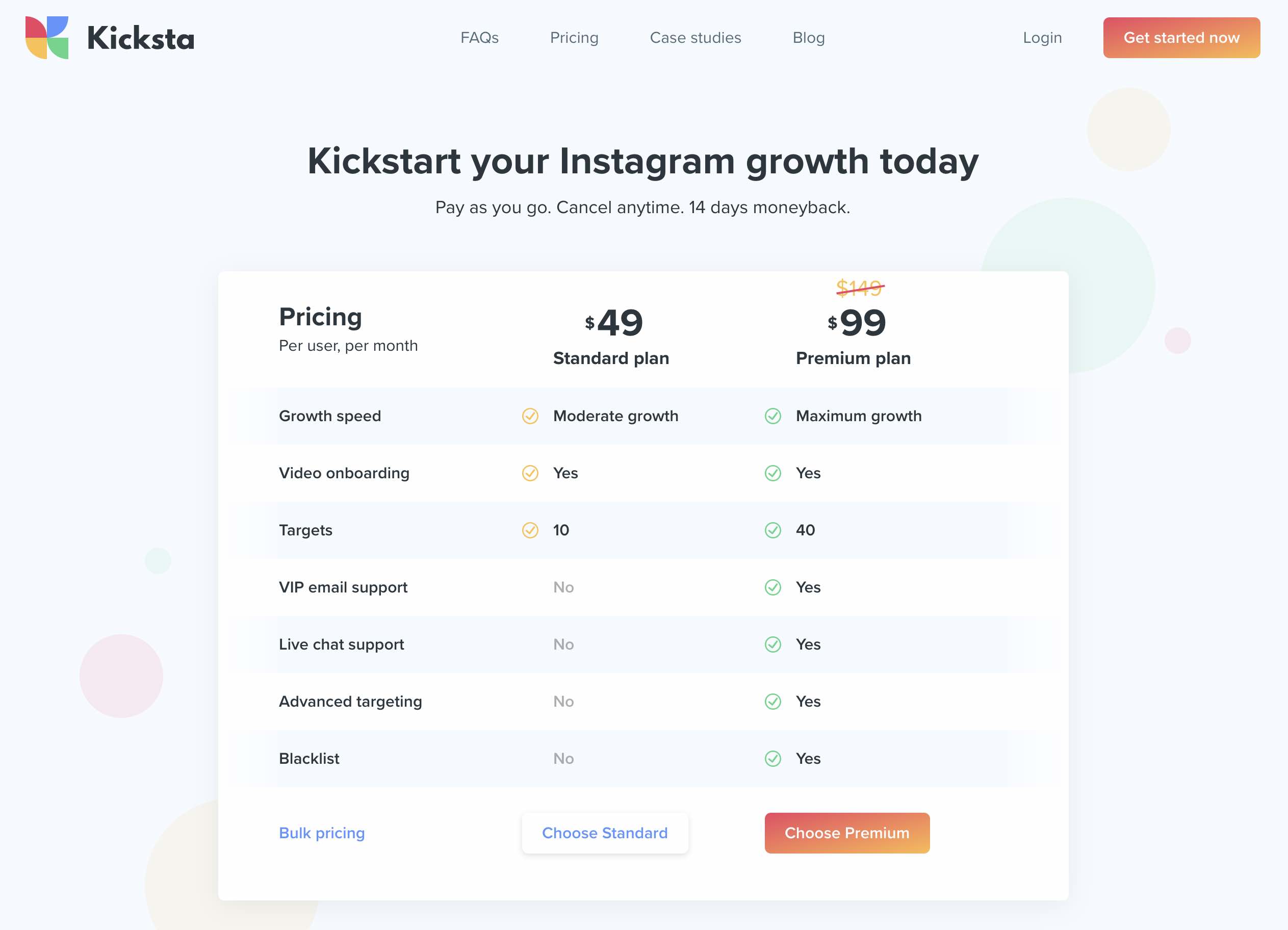 This takes you immediately to a sign-up page where you enter your email address and credit card information. There really isn't much information before you go straight to paying up for the Premium Plan. It's important to research before purchasing.
When you sign up, Kicksta makes it clear that your payment is secure and that there is a 14 day money back guarantee. After you sign up, you then go straight into choosing your target accounts which Kicksta will use to gain you organic Instagram followers.
Kicksta Pros and Cons
-PROS-
Authentic connections
Meaningful engagement
Increased following without the purchase of spam followers
Kicksta likes accounts' posts on your behalf
Reputable, measurable success stories
Money-back guarantee
-CONS-
Will not comment or follow other accounts to generate interest
Overall Kicksta Review - 4.7/5
Kicksta takes an everyday action of liking a photo on Instagram and turns it into an organic following of your brand from real accounts who are really interested in what you're sharing. Although on the surface it may seem like Kicksta is "buying followers", it is merely a tool to nudge potential followers to check out your account and hopefully follow you. There are cheaper options out there with more features, but for what it is, Kicksta is a tool worth checking out if you're trying to increase your influence on Instagram.

Kicksta FAQs
Why do I need more followers in the first place?
More followers equals more exposure and social support for your brand. This is important whether you are selling products or trying to raise awareness for a cause. A lot of engaged Instagram followers means there are a lot of people who care about your brand. This means credibility.
Does Kicksta just buy me followers?
Kicksta prides itself on growing an organic following, not paid ghost followers who contribute nothing to your brand and leave nonsense comments. Although you pay for the plan, Kicksta does not pay accounts to mass follow you. Kicksta merely taps them on the shoulder and encourages them to follow you of their own free will.
How does it work then?
Kicksta's process is simple: you give them accounts that are similar to your own, they like photos of the followers of those accounts (the shoulder tap), and hopefully, those people follow! It is that easy.

How many followers will Kicksta get me?
The truth is, there is no guaranteed magic number of followers Kicksta will generate for you. Utilizing Kicksta is a two-way street: they will grow your followers but you must put the work into your brand. If you are posting consistent, quality content, you will have a much better chance to grow your following.
What is the difference between the Kicksta Premium Plan and Standard Plan?
The Standard Plan has features that include moderate growth speed, video onboarding, and only 10 target accounts. The Premium Plan has video onboarding like the Standard but additionally has maximum growth speed, 40 targets, VIP email support, live chat support, advanced targeting, and blacklist. The Standard plan is priced at $49 while Kicksta Premium is $99.
What are some Kicksta success stories?
There are a ton of great success stories on Kicksta's Case Studies portion of their website. Thus far, Kicksta has saved Raindrop Marketing Agency 15 hours a week, helped increase Original Grain's online commerce by 15%, and Kristi Eide grew her fitness account by 10K organic Instagram followers in 2 months.