For serious CBD users, high-quality products with natural ingredients and transparent testing are an absolute imperative. Joy Organics, a family founded and American operated brand, is a favorite option among those seeking the claimed benefits of CBD use. With products including tinctures, softgels, topical creams, drink mixes, gummies and more, Joy Organics has a breadth of selection and quality of ingredients that will make even the pickiest customer happy.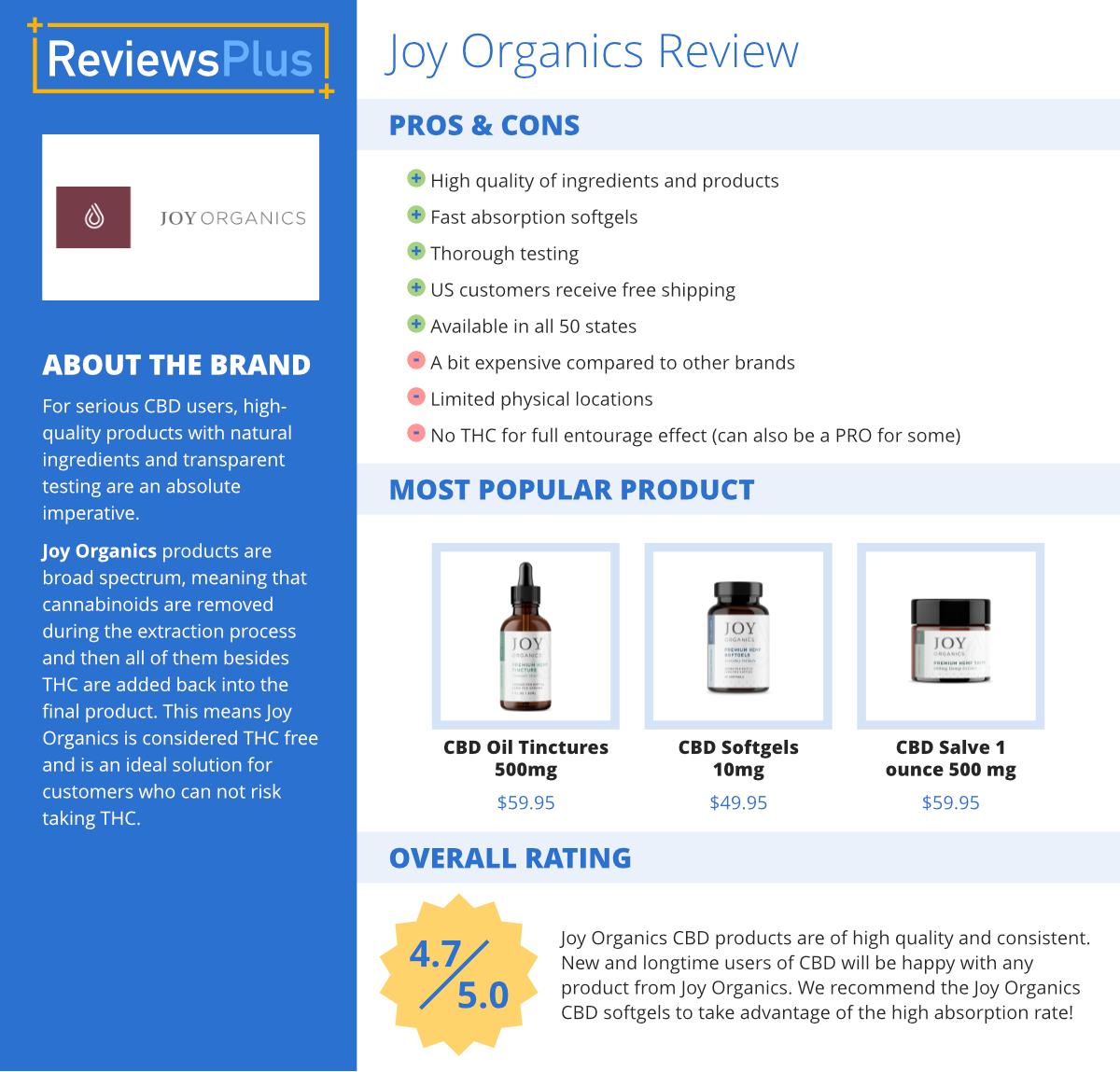 Joy Organics products are broad spectrum, meaning that cannabinoids are removed during the extraction process and then all of them besides THC are added back into the final product. This means Joy Organics is considered THC free and is an ideal solution for customers who can not risk taking THC.
In addition to making the products THC free, broad spectrum allows the user to experience the "entourage effect". This occurs when the wide spectrum of cannabinoids are allowed to work together on the body and purportedly causes a more significant impact than would be caused by CBD acting alone. To learn more about the entourage effect and broad spectrum, visit our overall CBD review.
In this review, we'll get into the specifics about Joy Organics from their process to their products (all prices USD).
Joy Organics was started by Joy Smith, who was experiencing chronic pain and trouble sleeping. After trying several CBD products to no avail, Joy decided to start her own CBD company with strict extraction processes and extensive lab testing. Today, Joy Organics is a widely respected name in the CBD industry for their high quality and consistent product. This is at least in part due to their 7-step process.
The Joy Organics 7-Step Process
1. Quality farming. It all starts with high quality hemp at Joy Organics. Hemp is grown in the United States in nutrient-rich soil with strict guidelines. This is to ensure quality and safety.

2. Processing. Following the strictest standards in the industry, Joy Organics processes the raw hemp after harvesting.
3. CBD extraction. Joy Organics uses proprietary CO2 extraction and purification, preserving the best parts of the plant and leading to premium quality oil.
4. Separation. The CO2 from step 3 is separated from the hemp extract, allowing for further refinements.
5. Removing THC. Using proprietary technology, Joy Organics separates THC from the hemp extract.
6. Testing. Before being used by consumers, Joy Organics sends every batch to a third-party lab for testing. Testing is comprehensive and ensures the quality of all CBD Joy Organics products.
7. Nanoemulsion Technology. Oil to be used in softgels goes through an extra step which transforms the oil into nano-sized emulsions. This increases surface area and overall absorption rates of the softgels. Learn more about the process here.
What Sets Joy Organics CBD Apart
Joy Organics is set apart from its competitors by a few key factors:
Premium quality ingredients: Joy Organics CBD products are made with US-grown, premium hemp and every batch of CBD oil is tested for both quality and potency. Additionally, CBD products from Joy Organics are broad spectrum and THC free. Joy Organics CBD undergo a 7-step process to ensure high quality and consistency.
High absorption softgels: On their website, Joy Organics claims that their CBD softgels are twice as absorbable as traditional tinctures.
Top-notch customer support: Some of the benefits Joy Organics shoppers enjoy include free shipping in the US, a 30-day money-back guarantee and responsive customer service.
Joy Organics coupons are available: It's easy to find a deal to help you save with Joy Organics. At the time of this writing, we have a coupon available to save 15% off your order!

Joy Organics CBD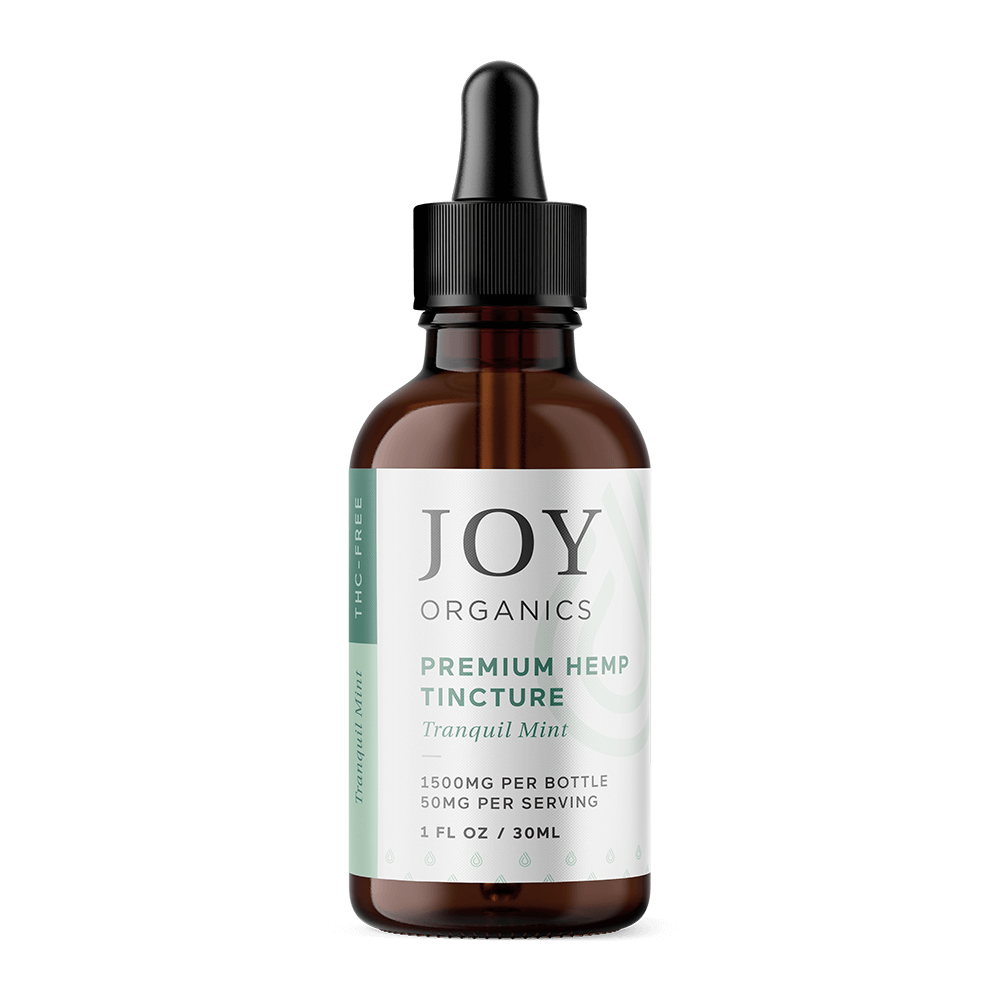 Tinctures: Joy Organics CBD oil tinctures are an easy way to integrate regular CBD into a daily routine. CBD tinctures from Joy Organics are all 30ml in size. Natural, mint, orange and lemon are the flavors available. Here are the CBD per mg quantities and corresponding prices:
250mg - $34.95
500mg - $59.95
1000mg - $99.95
1500mg - $134.95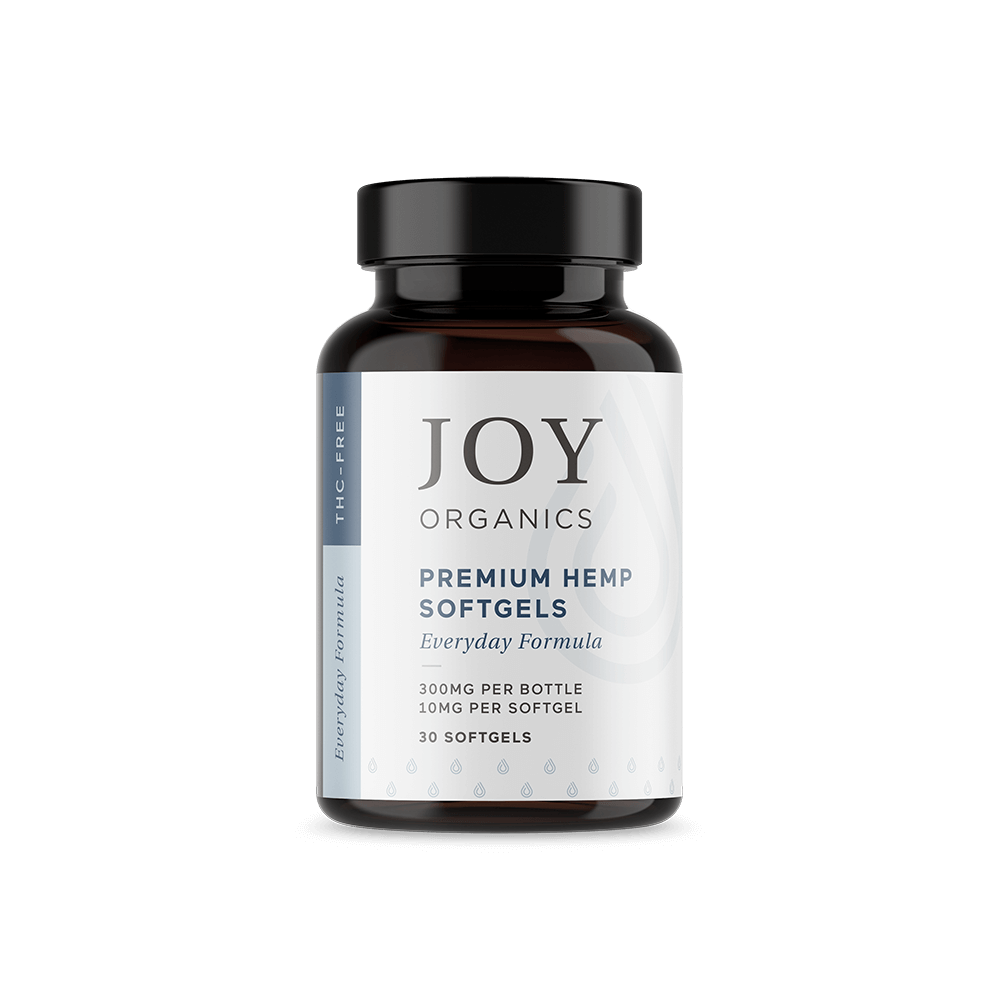 Softgels: As mentioned above, Joy Organics softgels provide customers with higher CBD absorption levels than most competitors. This is due to the smaller size and increased surface area of the most important ingredients. These molecules of about 25 nanometers in size make Joy Organics CBD softgels absorb twice as fast as normal oil tinctures! Normal softgels are available in either 10mg or 25mg CBD per softgel, for $49.95 and $84.95 respectively, with 30 softgels per bottle. Here are the formulas you can find for the Joy Organics softgels:
Normal CBD Softgels
CBD Softgels with Curcumin ($99.95)
CBD Softgels with Melatonin for Sleep ($99.95)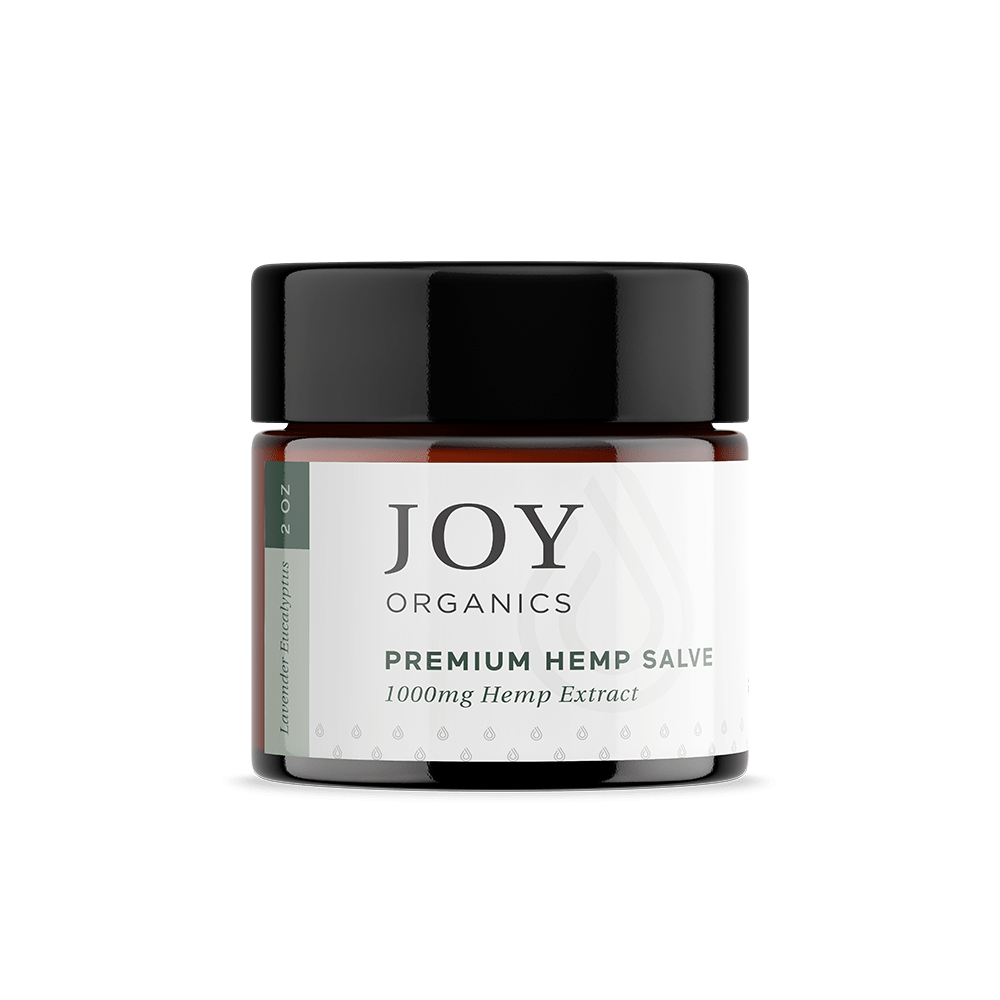 Salve: For achy joints, some users claim that CBD salves can relieve. Joy Organics CBD salve is available in two sizes: 1 ounce with 500mg CBD ($59.95) or 2 ounces with 1,000mg CBD ($99.95). Other ingredients in the Joy Organics salve include organic MCT oil, beeswax, hemp extract and essential oils.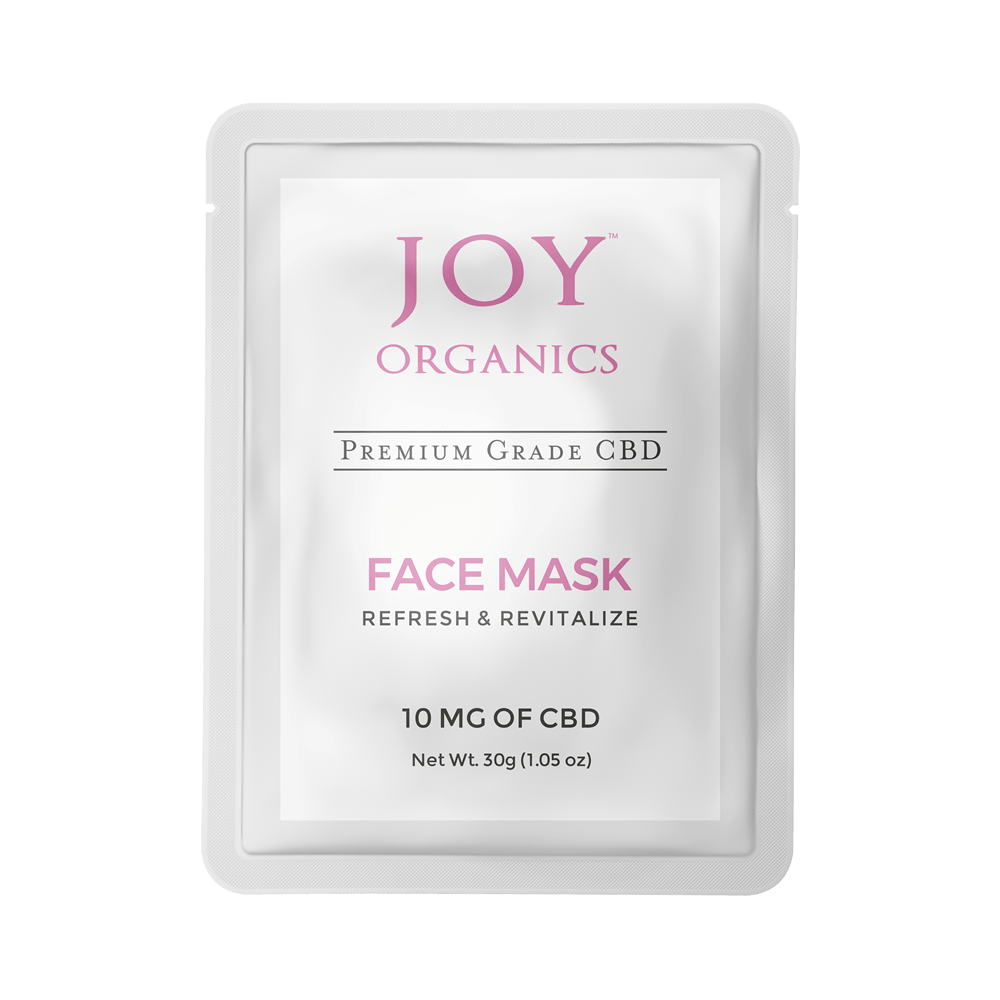 Skincare: Joy Organics skincare CBD products come in a variety of forms but all seek to provide the same benefits: healthier skin. Here are the products you'll find here:
CBD Face Mask - 10mg CBD per mask for $12.95 each
CBD Day Cream - 30ml with 100mg CBD for $79.95
CBD Face Serum - 30ml with 90mg CBD for $99.95
CBD Eye Serum - 30ml with 150mg CBD for $99.95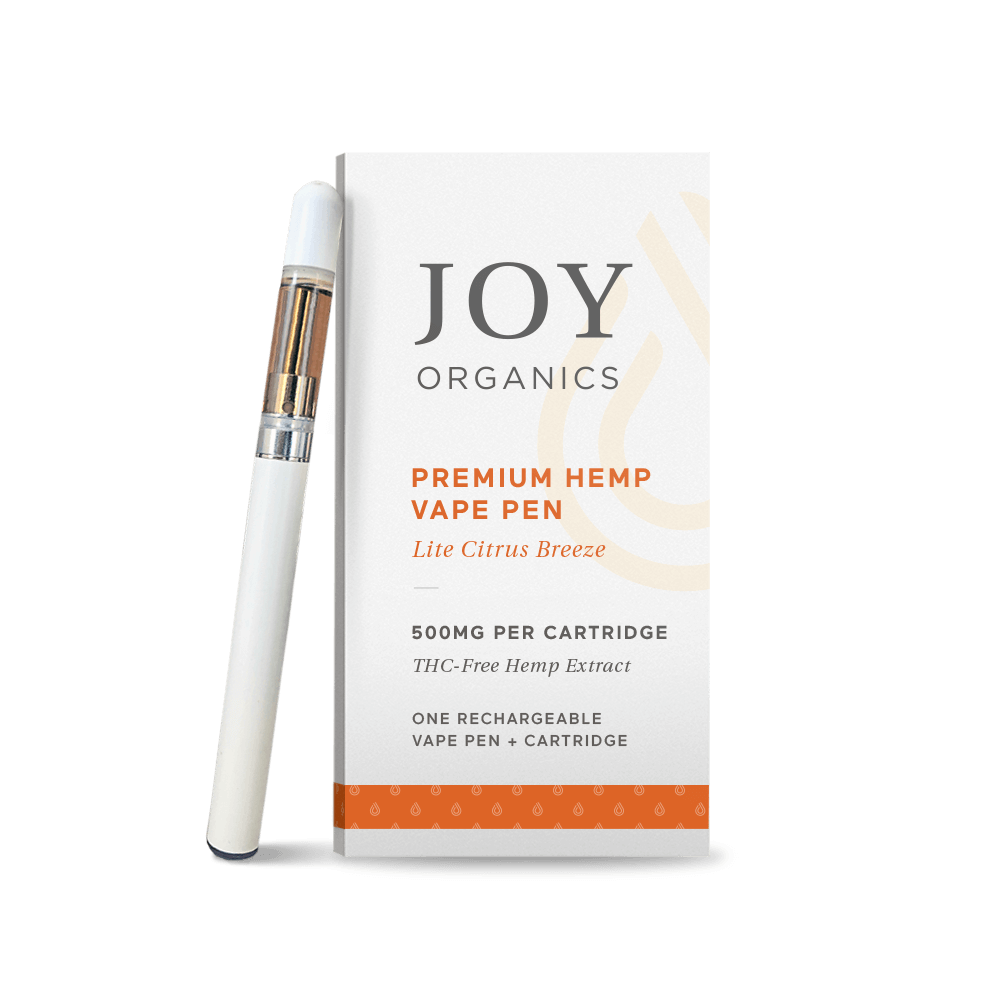 Vape Pen: Vape pens are a classic way to enjoy CBD and you'll find that the Joy Organics CBD cartridges and vapes are top quality. You can purchase the pen and cartridge combo for $99.95 or a cartridge for $79.95.
Each cartridge contains 500mg of CBD in a 1mL container. The only additional ingredients to the hemp extract are MCT oil and terpenes extracted from plants and fruits.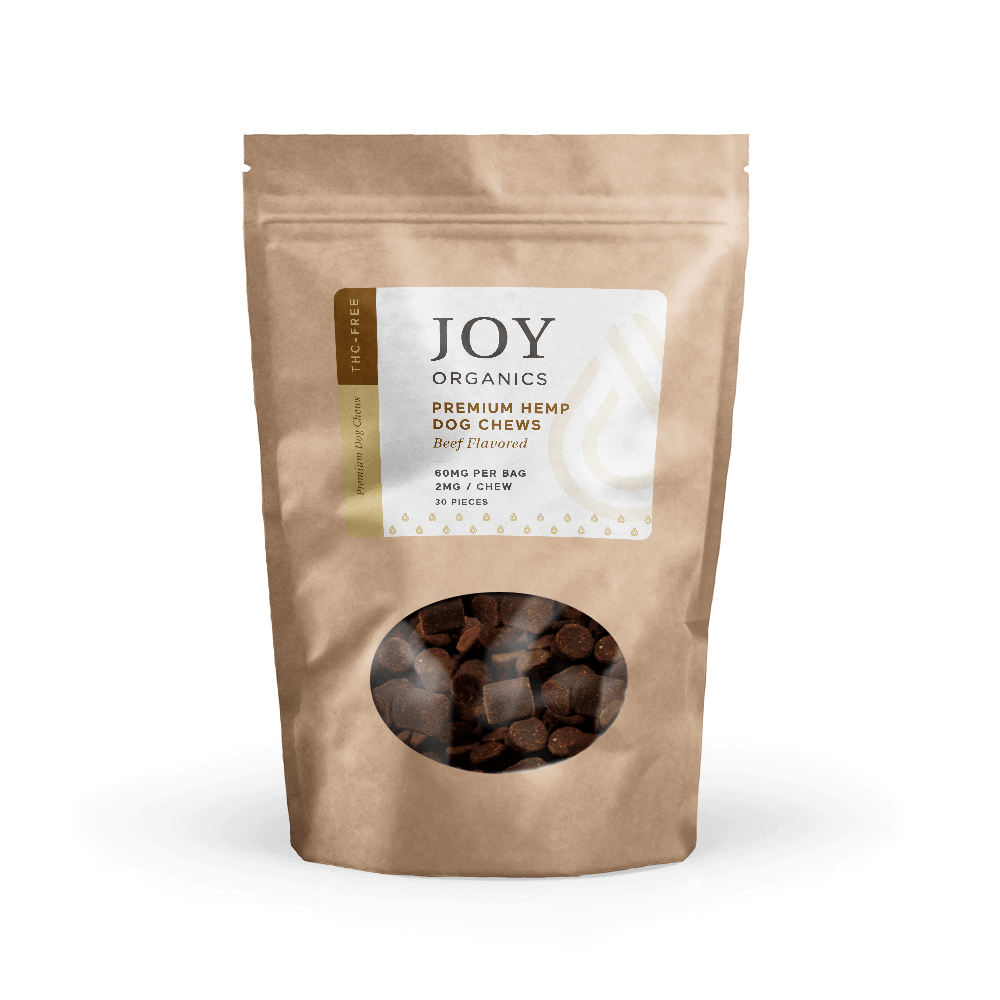 Pet Products: The CBD craze isn't limited to humans. Pets can get in on the CBD action as well. Specifically, dogs are catered to with Joy Organics premium dog chews with CBD. The CBD dog chews from Joy Organics come in bags of 30 treats for $34.95 and each chew has 2mg of CBD. We recommend visiting the Joy Organics website for the full list of ingredients.
If you'd rather add CBD oil to your pets food instead of introducing a new treat to their life, the CBD tincture for pets from Joy Organics provides the solution. The only additional ingredient besides hemp extract is extra-virgin olive oil. 30ml bottles are available for the following prices:
250mg of CBD for $34.95
500mg of CBD for $59.95
1000mg of CBD for $99.95
1500mg of CBD for $134.95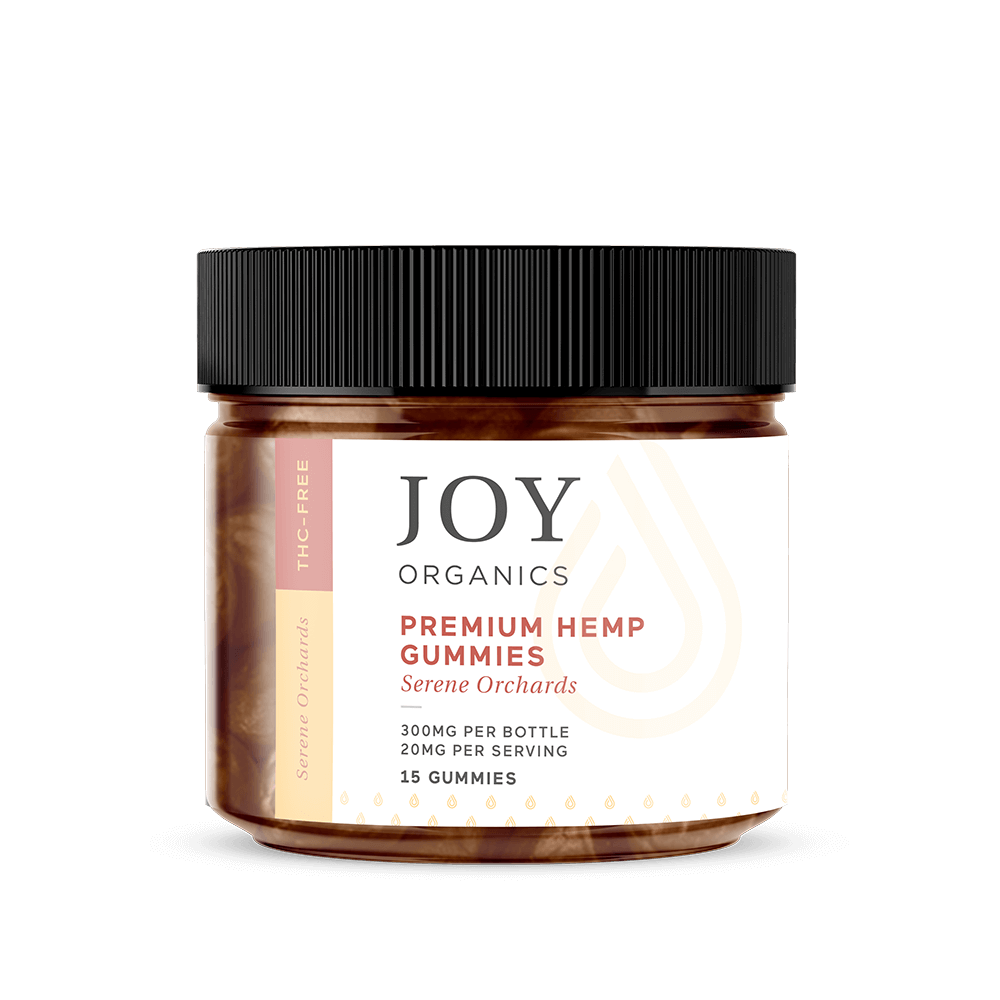 Gummies: CBD gummies are one of the most popular (and tastiest) ways to ingest CBD. Joy Organics gummies with CBD use apple juice as the dominant flavor. The 8 ingredients included in the Joy Organics CBD gummies are:
Organic apple juice
Organic stevia
Pectin
Organic Agave
Organic coconut oil
Citric acid
Hemp extract
CBD isolate
The gummies come in a 15 pack with 20mg of CBD in each serving for $44.95.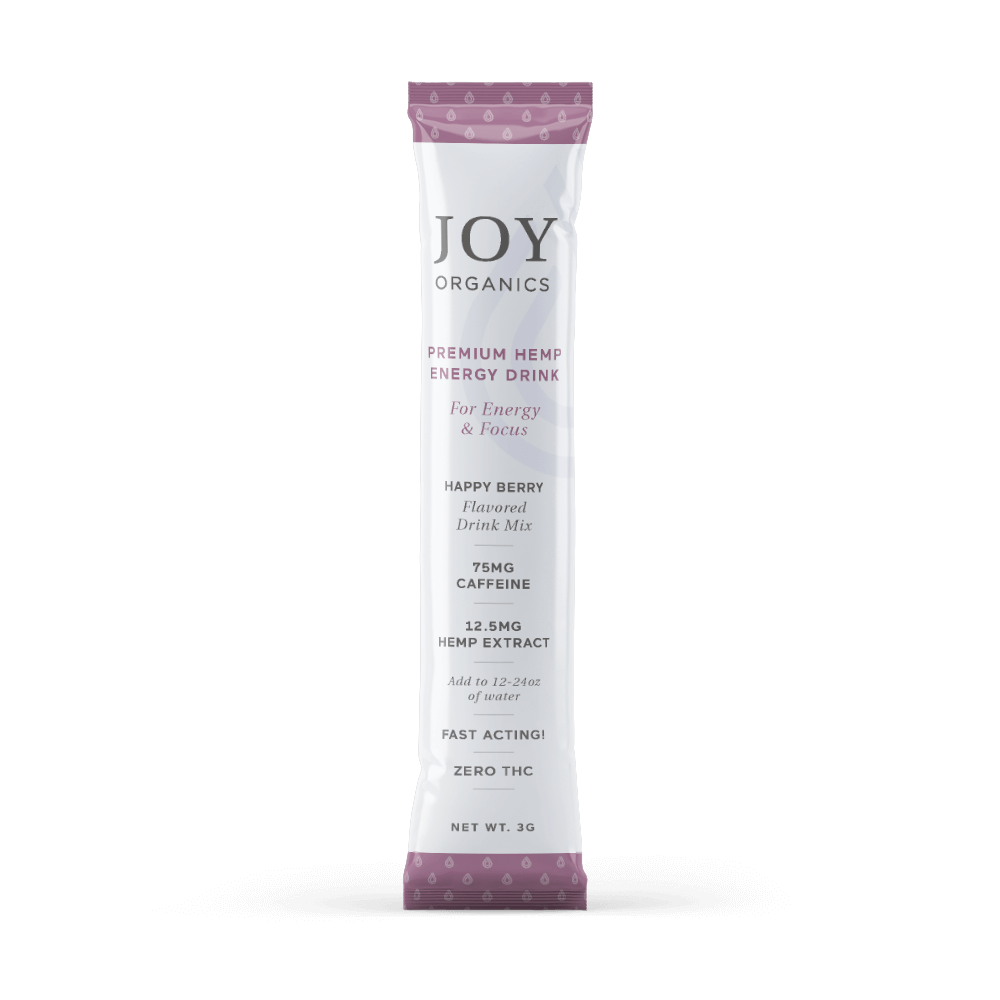 Energy Drink: Joy Organics claims their CBD energy drink will provide an energy and focus boost, with a blend of vitamins, the Joy Organics blend and other ingredients. This is the perfect sidekick for workouts. Simply add to 12-24oz of water, mix and enjoy. Joy Organics CBD energy mix comes with 5 packets for $19.75, and includes 12.5mg of caffeine and 12.5mg of hemp extract.
Joy Organics CBD Pros and Cons
-PROS-
High quality of ingredients and products
Fast absorption softgels
Thorough testing
US customers receive free shipping
Available in all 50 states
-CONS-

A bit expensive compared to other brands
Limited physical locations
No THC for full entourage effect (can also be a PRO for some)

Overall Review - 4.7/5
Joy Organics CBD products are of high quality and consistent. New and longtime users of CBD will be happy with any product from Joy Organics. We recommend the Joy Organics CBD softgels to take advantage of the high absorption rate!