Meal replacement shakes are becoming extremely popular in our modern, fast-paced yet health-concerned, culture. There are thousands of different companies out there who are tapping into this market and selling many different flavors, types, and brands of powders and supplements for replacing meals.
IdealShape dubs themselves as a brand that produces "The Best Weight Loss Shakes, Bars, and Plans". Does IdealShape's declaration run true? Keep reading to see if IdealShape supplements stack up.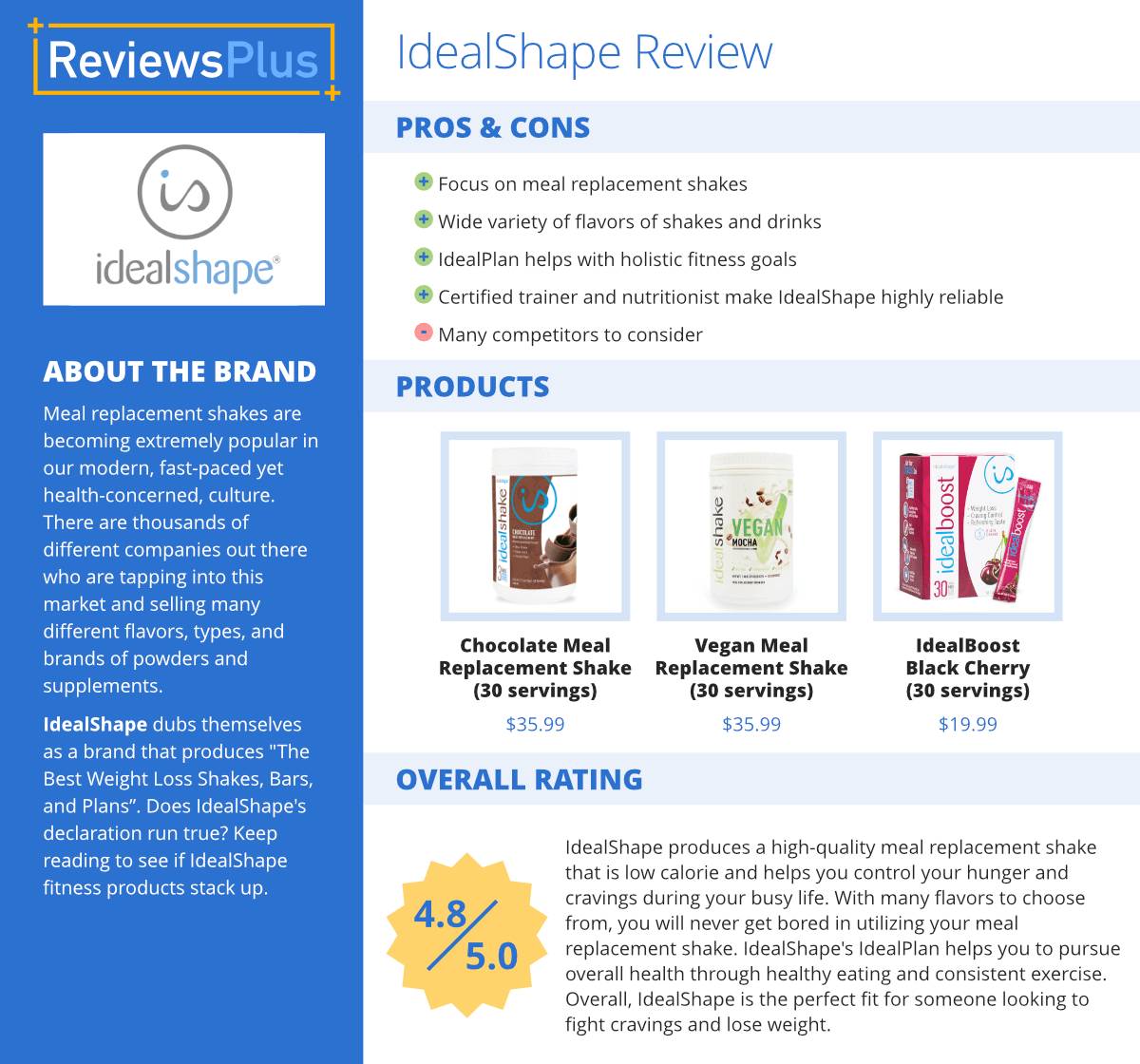 What Sets IdealShape Apart?
IdealShape primarily focuses on meal replacement shakes, drinks, and health bars. IdealShape seeks to help women fulfill their nutritional needs through convenient meal replacement products that block hunger and help keep you full for up to 3 hours.
While many companies may sell meal replacement products, IdealShape specializes in these products and includes an entire fitness plan along with the shakes to help you reach weight loss goals. IdealShape creates a holistic view of health by encouraging both healthy eating and routine physical exercise.

Their IdealPlans help you get motivated, teach you how to prepare healthy foods and how to find moderation and balance in your lifestyle, and encourage you to discover the exercises that are best for you. The IdealShape plans employ a certified nutritionist and trainer who is qualified to help you transform and improve your life.
IdealShape Meal Replacement vs. Competitors
More and more meal replacement shake and drink brands are popping up in the fitness world. Shakeology is one of IdealShape's biggest and most well-known competitors in meal replacement shakes. How do these two brands compare?
IdealShake Chocolate Meal Replacement Shake (30 servings) - $35.99

One of the most popular of their shake options, IdealShape's chocolate IdealShake meal replacement is 120 calories, has 11g of protein, 3g of sugar, and 12g of carbohydrates. This meal replacement powder from IdealShape features Slendesta, a potato protein extract, that helps to curb hunger. This powder will provide you meal replacements for an entire month for just $1.67 per meal.
Chocolate Whey Shakeology (30 servings) - $129.95
A nearly equivalent product to the chocolate IdealShake is Shakeology's whey protein shake. This shake is 160 calories, has 17g of protein, 7g of sugar, and 17g of carbs. This shake comes at a cost of over $4 per meal.

You can get a lot better quality meal replacement powder from IdealShape for a fraction of the cost of popular Shakeology options. IdealShake has fewer calories, less sugar, and far fewer carbs. Even though the IdealShake has less protein, the Slendesta compound in it makes up for it by helping to prevent hunger. IdealShape's meal replacement is a lot cheaper, and according to reviews, is extremely delicious.
IdealShape FAQs
1. Why use a meal replacement shake?
These shakes are ideal for people who want to stay healthy while curbing unnecessary hunger. IdealShakes from IdealShape help you feel full for up to 3 hours while aiding you in avoiding unhealthy snacks and junk food.
2. What flavors of IdealShakes are there?
IdealShakes flavors that are in stock on IdealShape's website are chocolate peppermint, chocolate, vanilla, chocolate peanut butter, strawberry, cookies and cream, mocha, mint chocolate chip, salted caramel, chocolate coconut, snickerdoodle, key lime, pumpkin spice, and vanilla chai.
3. What other meal and snack replacement products does IdealShape sell?
IdealShape also sells the Ideal Break Bar which is a perfect alternative to snack on. There is also IdealBoost drink mix that you can put in plain water to help curb hunger!
4. What is included in the IdealPlan weight loss program?
IdealPlan features healthy meal recipes and meal plans, customized exercise routines, and tips on how to utilize IdealShape's products to meet your goals.
5. What is IdealShape's return policy?
There is a 30-day money-back guarantee. If you are not satisfied with your IdealShape purchase, you can receive a full refund.

IdealShape Pros and Cons
-PROS-
Focus on meal replacement shakes
Wide variety of flavors of shakes and drinks
IdealPlan helps with holistic fitness goals
Certified trainer and nutritionist make IdealShape highly reliable
-CONS-
Many competitors to consider
IdealShape Overall Review - 4.8/5
IdealShape produces a high-quality meal replacement shake that is low calorie and helps you control your hunger and cravings during your busy life. With many flavors to choose from, you will never get bored in utilizing your meal replacement shake. IdealShape's IdealPlan helps you to pursue overall health through healthy eating and consistent exercise. Overall, IdealShape is the perfect fit for someone looking to fight cravings and lose weight.