IdealFit fitness products for women were born to provide a feminine-focused alternative in the fitness world for women in pursuit of a healthy lifestyle. IdealFit is a brand that seeks to help women realize their ideal self. IdealFit is a sort of one-stop-shop for women who are seeking to pursue physical health. What exactly makes this dynamic brand so special? Keep reading to discover what sets IdealFit apart from the crowd, how it stacks up with the competition and some pros and cons to using IdealFit women's fitness products.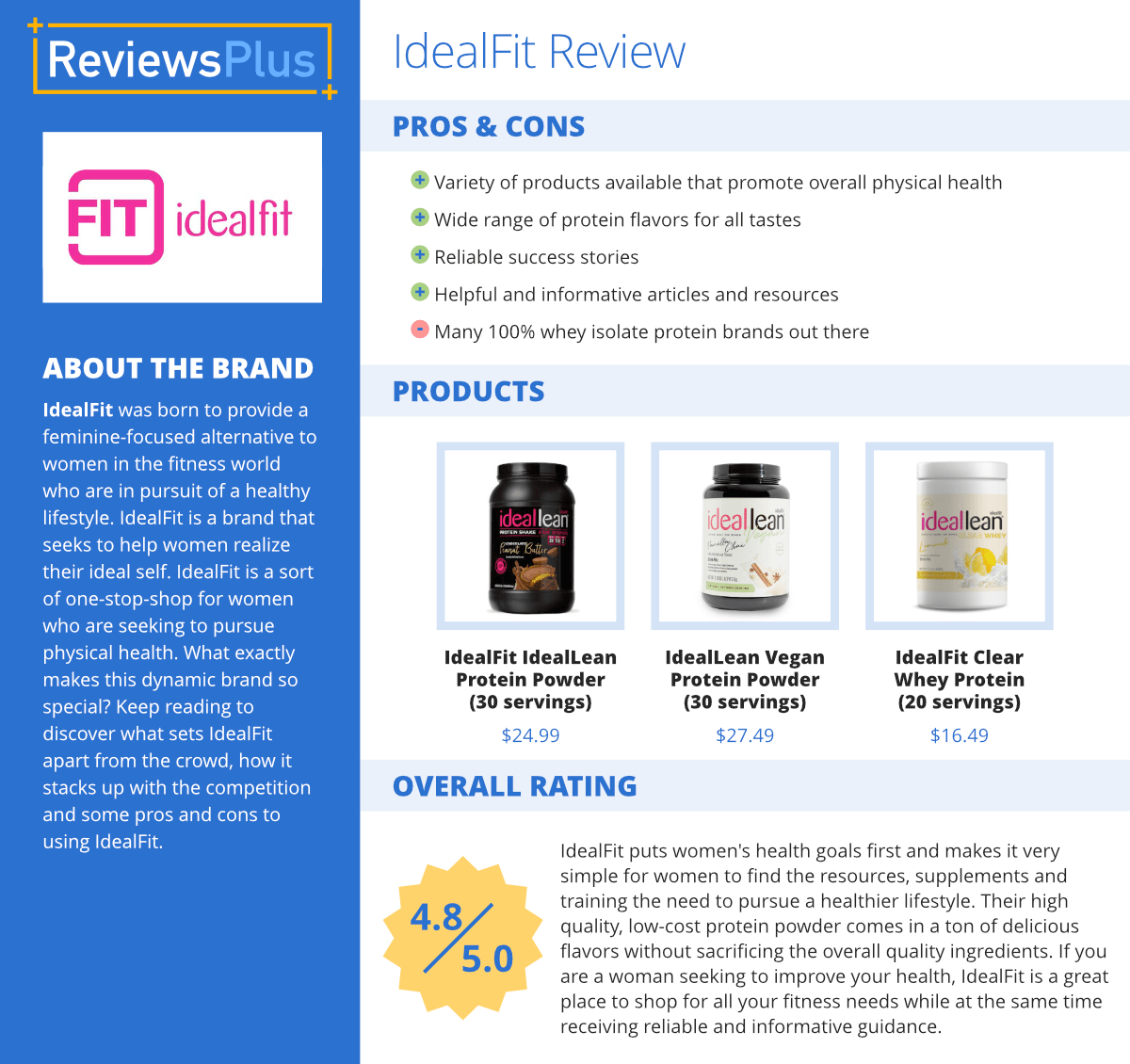 What Sets IdealFit Apart?
Fitness products from IdealFit are specifically designed to fit women's needs. What truly sets this brand apart is that they sell everything you could need to prepare you for your workout, from what you wear to what you eat.
IdealFit helps women dress to perform in their comfortable sports bras, tops, and bottoms. They also sell delicious flavors of low calorie, high-quality protein powder to help you maintain peak workout performance. IdealFit even features trainer challenges and success stories that help motivate you and inform you along the way.

IdealFit brings a holistic view of personal health and provides all you need every step of the way as you pursue a healthy lifestyle.
IdealFit Whey Protein Powder vs. Competitors
IdealFit is known for its high-quality whey isolate protein powder, but they are not the only company on the market that specializes in this protein. Isopure is one of IdealFit's biggest competitors. Check out a comparison between these two top companies and their most popular product: 100% whey isolate protein powder.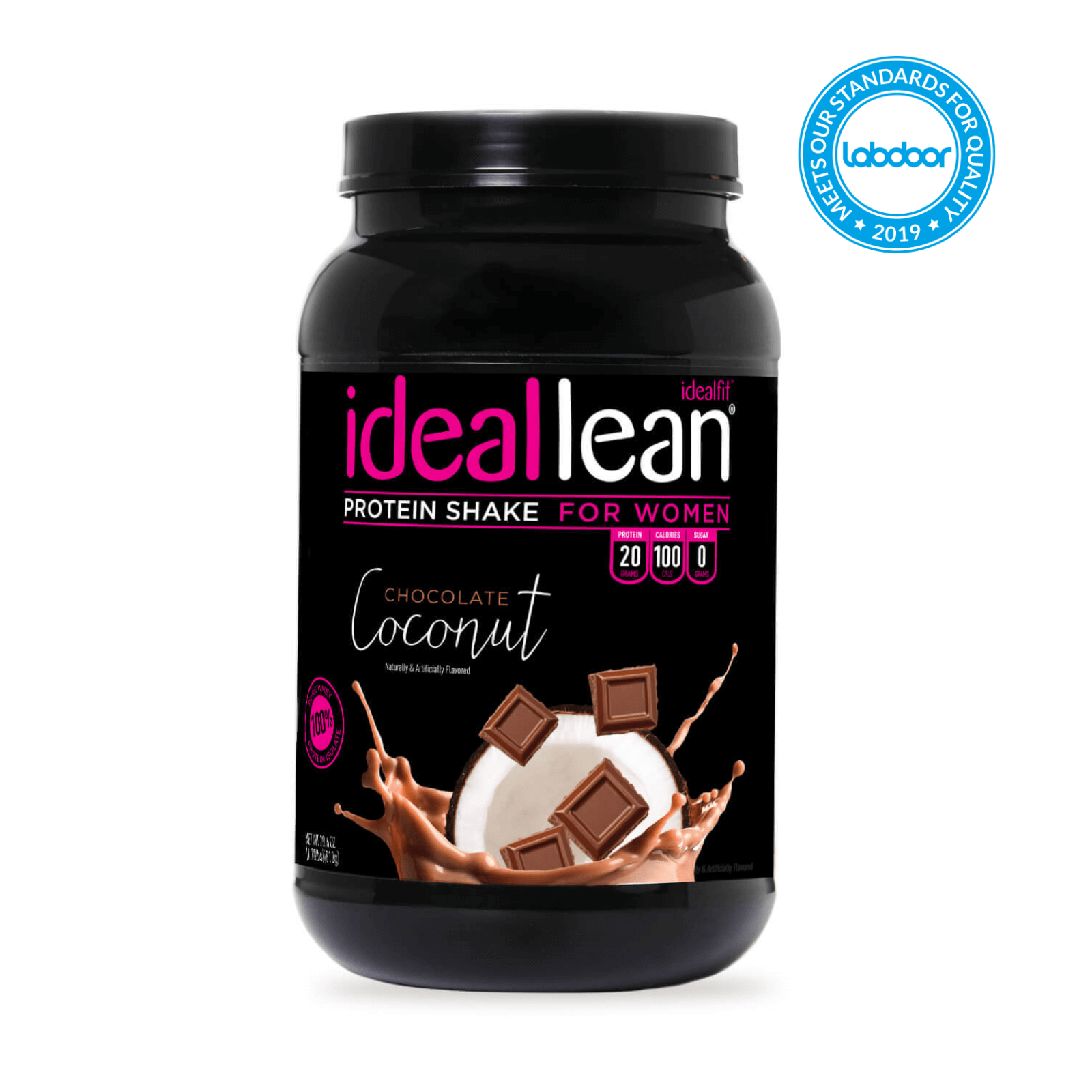 IdealFit IdealLean Protein Powder (30 servings) - $24.99

The IdealLean protein powder for women is a high-quality whey isolate. It has 100 calories per serving and includes 20g of protein, 1g of sugar, and 3g of carbohydrates. This protein comes in a wide variety of flavors including cookies and cream, chocolate brownie, French vanilla, rocky road, and more.
Isopure Infusions Protein Powder (20 servings) - $24.99
Isopure's popular line of women's protein powder comes at the same price as IdealFit's but comes with 10 fewer servings of powder per container. Each serving is 90 calories per serving including 20g of protein, 1g of sugar, and 2g of carbohydrates. They also have less variety in flavors than IdealFit. Flavors include tropical punch, mixed berry and few others.

Both women's protein powder brands have a lot to offer to women seeking to boost their health performance with a high-quality whey isolate. However, the added 10 servings and wider variety of flavors make IdealFit whey protein for women the winner in this direct comparison.
IdealFit FAQs
1. What products does IdealFit sell?
IdealFit sells women's workout clothing, protein powders and workout accessories such as shaker bottles and workout ropes.
2. Are there any subscriptions through IdealFit?
IdealFit has a customer loyalty program which enables you to receive a bi-monthly or monthly package. All sale prices are locked in with this package - you receive 10% off all products and shipping is free.
3. How do I know IdealFit is legit?
IdealFit has transformed the lives of women everywhere who are seeking to improve their health and lifestyle. You can read real stories from real women under the Transformation tab on IdealFit's website.
4. Are there any discounts available?
IdealFit offers a generous student discount of 55% on all IdealFit orders through their Student Beans program. This discount makes pursuing health in college extremely easy.
5. What other resources are available through IdealFit?
IdealFit has an excellent women's nutrition and fitness blog available on their website that contains articles on daily exercises, recipes using their whey protein, and lifestyle blogs.

IdealFit Pros and Cons
-PROS-
Variety of products available that promote overall physical health
Wide range of protein for women flavors for all tastes
Reliable success stories
Helpful and informative articles and resources
-CONS-
Many 100% whey isolate protein brands out there
IdealFit Overall Review - 4.8/5
IdealFit puts women's health goals first and makes it very simple for women to find the resources, supplements and training the need to pursue a healthier lifestyle. Their high quality, low-cost whey protein powder for women comes in a ton of delicious flavors without sacrificing the overall quality ingredients. If you are a woman seeking to improve your health, IdealFit is a great place to shop for all your fitness needs while at the same time receiving reliable and informative guidance.