Delivery companies are getting more and more popular. Now, when we want something delivered to our homes, it seems like we have dozens of options to choose from. However, none of them are doing it quite like goPuff. This delivery company stands out from the crowd, making it an excellent option for your next purchase. Keep reading this goPuff review for more information and for an overall look at the service.
**When making purchases through links on this review, ReviewsPlus will earn a commission from goPuff.**
goPuff Review
What Sets goPuff Apart?
goPuff stands out thanks to its unique focus. The company was built to provide consumers with a more convenient way to get the home essentials they need, delivered straight to their doorsteps. You can use goPuff to receive quick delivery of products like:
Electronics
Shampoos, medicine, and soaps
Baby supplies
Pet food, treats, and toys
Smoking accessories
Home and cleaning products
Quick meals, groceries, and drinks
Snacks and desserts
Alcohol

goPuff houses all of these products in their own central facilities. This eliminates the need for them to visit a store before dropping off what you ordered. Because of this, goPuff can deliver goods to your home faster than just about anyone else. It also gives you the freedom to order the products you want even if most stores that carry them are already closed.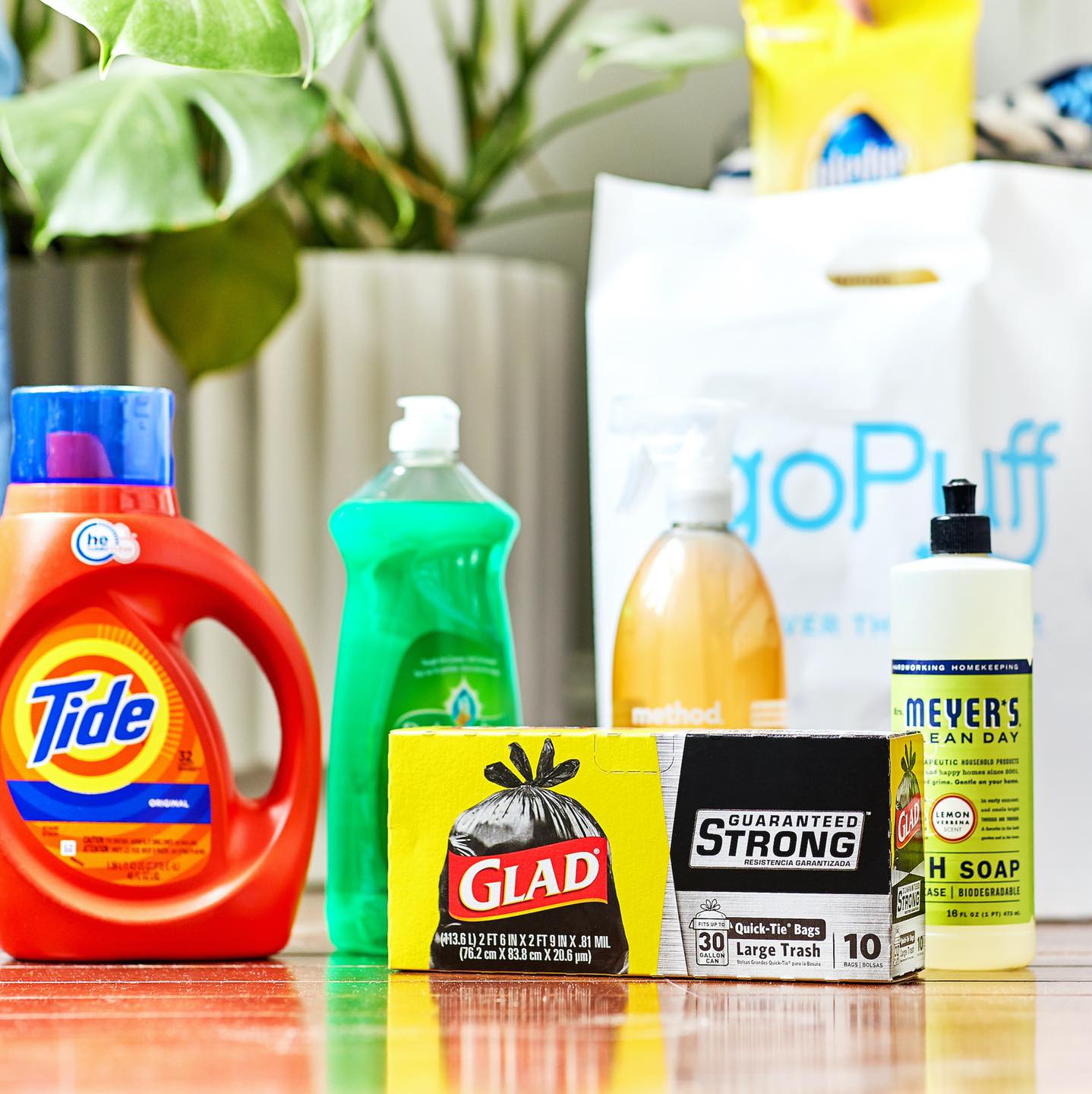 Essentially, goPuff is like having access to a supermarket in the palm of your hand. While other companies are capable of delivering these goods, they aren't capable of doing so in the same way goPuff does.

Additionally, goPuff's delivery charges are incredibly affordable. Deliveries start at just $1.95. The company is committed to providing consumers with a cheap way to have the goods they need delivered to their homes. It's why they don't do surge pricing. If your goPuff delivery costs you $1.95 one day, that's how much it will always cost you, regardless of how busy the company is in the moment.
All of this is possible right from your smartphone and the goPuff mobile app. goPuff is available on the Apple App Store and Google Play. goPuff is currently available in over 500 US cities. To see where goPuff delivers, click here.
How goPuff Works
Are you ready to give goPuff a chance? If so, it's exceedingly easy to get started. Simply visit the companies website here. Then, create an account and enter your address and payment information. At this stage, you'll figure out whether goPuff is available in your area.
Once you've inputted your information, you're ready to place your first order! The website will automatically redirect you to the main ordering page. From there, just use the search bar to look for the items you want. goPuff stocks everything themselves so you're free to order products from as many different categories as you like.
Simply add the goods you want to your cart and select check out when you're ready to complete your purchase. Once you've done so, a delivery driver will arrive at your home or apartment within the delivery window quoted to you as you checked out. Getting your home essentials delivered by goPuff is as easy as that.
goPuff Prices and Savings
You can save money on your home essentials delivery by ordering from goPuff. You won't find a delivery service that can match this company's speed or affordable delivery charges. Additionally, goPuff offers you more opportunities to save while you shop.
For example, as you browse for the goods you want to purchase, you'll be presented with special goPuff offers to save money. These are similar to what you would find when shopping at a supermarket. You'll find discounts on purchasing certain products, multiple products, and multiple products from specific categories like snacks, ice cream, or drinks. You can buy your home essentials in bulk from goPuff to save even more.

goPuff also has a rewards program called Puff Points. You can use these to receive discounts on your orders and the products you purchase. It's another way that goPuff is making home product delivery more affordable and convenient.
goPuff Pros and Cons
Pros
Wide selection of diverse goods

Cheap delivery prices

Faster delivery times

Available in more than 500 cities (and growing)

Open 24/7 in most areas
Cons
Can only order items that goPuff keeps in its warehouses

No delivery from local businesses and restaurants
Overall goPuff Review - 4.7/5
goPuff manages to stand out amongst the myriad of delivery services modern consumers have to choose from. They do so by specializing in home essentials delivery, which they've been able to make more convenient and affordable.
With goPuff, you can get everything you need for your home - from groceries to cleaning supplies - delivered in minutes. Even better, you'll only have to pay $1.95 for delivery no matter how busy the company is. One of the only downsides to goPuff is the inability to order from local businesses.