Verdict

For those looking for a sleek-looking, small fitness tracker with tons of data to geek out on, the Garmin Vivosmart 4 is your best bet.
Pros
Feature-loaded
Sleek design
Long battery life
Body battery
Cons
Interface can be glitchy
App interface could use improvement
Features

Continuous heart rate monitor and stress tracking
Relaxation breathing timer
Body Battery energy monitor
Advanced sleep tracking with REM sleep and pulse Ox2 sensor
Dedicated activity timers for running, biking, walking, yoga, swimming, strength training and more
Vibration notifications for everything from calls to texts and everything else you get on your phone
7-day battery life
Waterproof for shower and swimming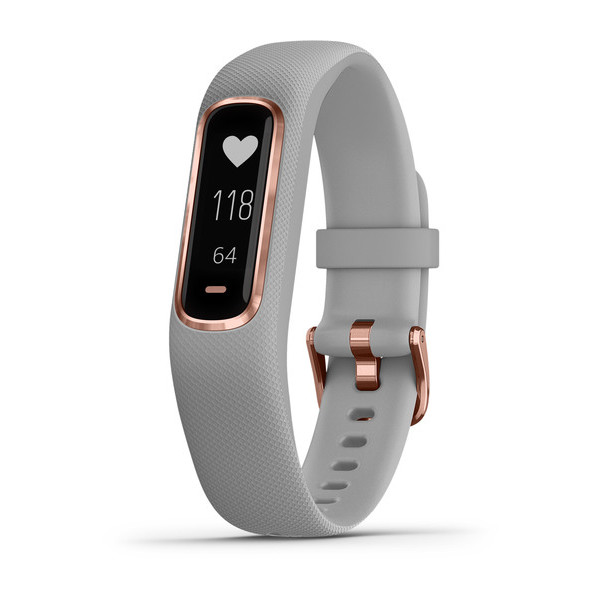 Sleek Design
The overall design is a top feature of this fitness tracker. It's very stylish and small, which is great for those with small wrists. The Garmin Vivosmart 4 is great for people who think most fitness trackers look too big. There are "pretty" color options that are more design-forward than typical black. Color options include grey with rose gold bezel, all black, berry with light gold bezel, and azure blue with silver bezel. The Garmin Vivosmart is offered in two sizes, Small/Medium and Large. The Small/Medium is 15 x 10.5 x 197 mm, fitting wrists with a circumference of 122 - 188 mm. The Large is 15 x 10.5 x223 mm, fitting wrists with a circumference of 148 - 215 mm. The lens is made from polycarbonate, the strap is silicone, and the bezel is aluminum.
Fitness Tracking
The fitness tracking itself of the Garmin Vivosmart is fairly accurate. It will automatically begin a logging a workout when it senses you start. This happens reasonably quick for a run and bike ride, and about 10 minutes into a walk. This ensures that the Garmin Vivosmart 4 won't start tracking data for just a short walk. Users may experience some issues with this auto-start feature when doing activities like CrossFit. For example, taking a few classes of CrossFit during a given week may only result in 15 minutes of exercise being logged. That's why we recommend tracking strength workouts using the manual start which is accessible on the activity timer menu.
Another nice feature is the relaxation breathing timer. When your stress shows too high, the breathing timer will pop up which you can accept or decline. If you accept, it will start a timer and give a few vibrations every few seconds or so for a couple of minutes. While this is a nice feature, it sometimes turns on during a workout which is when your stress levels are high but not necessarily the time for relaxation exercises. Additionally, the feature is nearly impossible to find outside of those high stress moments when you may consciously want to do relaxation exercises. This is a nice feature, but it doesn't add as much value as some of the other Garmin Vivosmart features.
Easily my favorite feature of the Garmin Vivosmart 4 is the Body Battery. This score from 1 to 100 takes into account stress, heart rate variability, sleep and activity data to provide you with an idea of where your body's energy levels are at. I found this great when planning workouts or afternoon naps (when I could). It also is nice when tracking your energy levels for evening versus morning, which may help determine when the most optimal time to work out is.
Sleep Tracking
The sleep tracking on the Garmin Vivosmart 4 is excellent. The snapshot shows total hours slept, then a breakdown of time spent in each of the four stages: Deep, Light, REM and Awake. A graph on the bottom of the screen shows what times of the night you were in each stage, including when you fell asleep and woke up. It also indicates periods of movement as well as your pulse ox score and how it mapped out during the night. An average is taken and displayed as a percent, along with color-coded measures of which percentages are good versus needing improvement. You may be surprised at what the Garmin Vivosmart has to say about the quality of your sleep!
Garmin App
The Garmin app is lacking in several key ways. We found the Garmin app to be poorly designed and a little tricky to navigate at times. However, a learning curve should be expected with all new devices and the Garmin Vivosmart is no exception.