In the world of web design, the right graphic can change everything. Humans naturally connect with visual imagery more than they connect with words on a screen. That's why designers spend so much time on finding the right graphics for the tone and message they're trying to convey with a particular web page.
However, finding the right graphic can be both challenging and time-consuming. Making things even more difficult, it can be very difficult to find graphics that can be used without first paying for either exclusive ownership of them or a license to use them on a web page.
That's exactly why FreePik is beginning to make a name for itself in the web design world. The company provides copyright-free high-quality graphics to designers across the world at no cost at all. Keep reading this FreePik review to get a look at what makes FreePik worth trying and for our overall look at their service.
FreePik Review
What Sets FreePik Apart?
FreePik stands apart from its competitors for a few key reasons. The first is the sheer number of resources that FreePik provides. The company has millions of graphics that you can access to enhance your web pages. With so many options, there's truly something for everyone to use.

Another important differentiating feature is the way that FreePik displays its graphics. Finding the right graphic for your needs is as simple as typing what you're looking for into the website's search bar. However, sometimes you don't know exactly what you need until you see it. That's why FreePik displays its resources in several other ways that designers will find incredibly helpful.
For example, you can click on FreePik's "Collections" tab to see groups of resources built around a singular theme. Themes include things like:
Delicious Posts
Design Your Closet
Creative 3D
And many others
The company also has a wide variety of vectors and stock photos that are displayed in this way. Even better, you can zero in on the exact type of resource that you want with a single mouse click. Finding free graphics is rarely that easy. It's one of the main reasons why FreePik is projected to continue gaining users well into the future.
FreePik Company Info
FreePik was founded in 2010 by two brothers, Alejandro and Pablo Blanes, as well as their friend Joaquin Cuenca. The goal of the project was to create an online platform that designers could use to find free graphics for their work. Since then, the company has expanded rapidly.
Today, FreePik is one of Europe's fastest-growing start-ups. It has more than 18 million monthly unique users and over 100 million monthly downloads. Additionally, the company has made more than 4 million graphics available for free use. That's attracted some of the top brands in the world, including Amazon, Spotify, and Microsoft.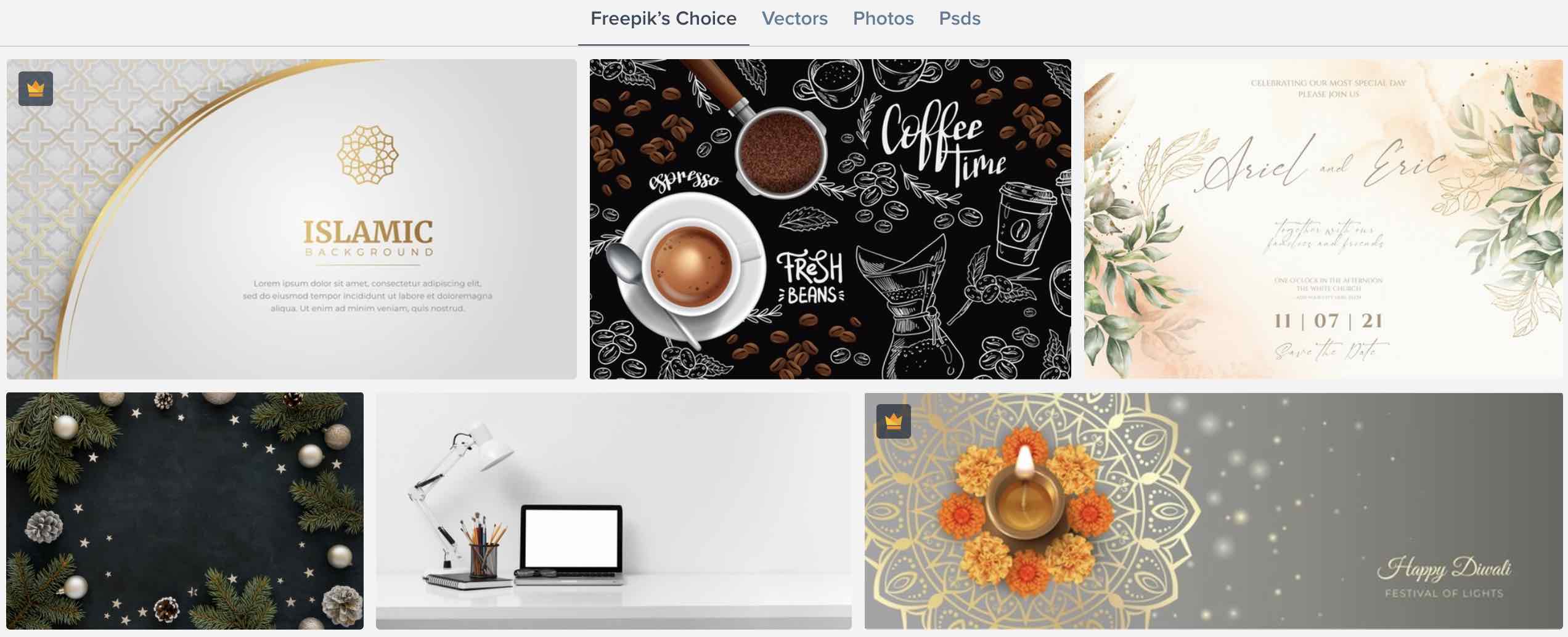 When browsing FreePik, you can choose between either a free or premium plan. Free plans will be enough for many users, as they provide access to thousands of free resources that you can use on your website without having to worry about copyright issues. If the free plan isn't quite enough for you, then you can upgrade to a premium plan for a very low price.
Premium plans cost $14.99 each month. However, you can bring that number down to $10 per month if you pay for a full year of FreePik in advance. The benefits of signing up for a premium plan are enormous. They include:
Access to 3.2 million premium vectors, 6.5 million premium stock photos, and 230,000 premium PSD files
No attribution requirement
Unlimited downloads
Customer support priority
No ads
Most professional web designers will find the costs of a premium FreePik subscription well-worth paying for. The company is also continuously updating its content, so you'll never run out of things to use on the websites you manage.
FreePik FAQs
Do I need to attribute the content I find on FreePik?
Yes, if you are a free user then you do need to place an attribution under any resource that you find on FreePik. Premium users don't have this requirement.
How many resources can I access for free on FreePik?
Without signing up for a premium FreePik subscription, you can still access thousands of free resources on FreePik. You'll just have limits on how many downloads you can have and will encounter ads while you search.
Do premium users have the full license of the FreePik resources they use?
Yes, when you sign up for a FreePik premium plan, you can use any resource as if you were the original creator of it. This includes both personal and commercial uses.

Can I sell my content to FreePik?
Yes, FreePik is always looking for new artists and creators to help expand its library of resources. If you fall into that category, then you can visit this link to create a FreePik account and begin selling your creations to others.
Can I use a resource on FreePik as my company's logo?
Unfortunately, no, you cannot use FreePik resources as a company logo. This is because FreePik owns the content so you can't legally register any of it as something that belongs to your brand.
FreePik Pros and Cons
Pros
Easy-to-use interface

Resource collections can be used to spark new design ideas

Affordable premium plans

Full licensing for premium members

Millions of resources to choose from
Cons
Free resources are limited

Ads can be frustrating for free users
Overall FreePik Review - 4/5
It can be incredibly difficult to find graphics and image resources that will take your website to the next level. If you've been struggling with this, then FreePik could be just what you've been looking for.
The company makes finding the resources that your website needs easier than ever. While their free resources are limited and feature ads, you're still ultimately getting to use high-quality graphics on your company's website without having to pay a dime for them. Not many companies offer that.

The main reason we didn't assign a full score to FreePik is because although the word "Free" is in their brand name, there exist notable limitations to using them with a free account. Users who opt for free vectors and graphics from FreePik will have a limited selection of media and will also have to deal with ads.
What makes FreePik special is its premium subscriptions. These are very affordable and give web designers the full license to millions of resources. If you're someone who needs to find high-quality web graphics often, then signing up for a premium FreePik subscription is almost a no-brainer. It could be the only platform that you need to bring your websites to life.