Flat Tummy Co is a lifestyle company formed by women who felt like they had tried everything on the market with little success. They wanted products that were easy to use, safe, healthy and designed to ensure users not only get back on track but also stay on track. The idea is to help women be the best version of themselves, whether consuming their products or utilizing their accessories and lifestyle guidance.
Read this Flat Tummy review to learn more about the products and if they're right for you!
Flat Tummy Review
What Sets Flat Tummy Apart from Competitors?
All of the products sold by Flat Tummy are designed by women and for women. The founders experienced the struggles with staying healthy first-hand and wanted to share their findings with like-minded women who also were looking for something that finally worked. Flat Tummy products are designed to help women achieve their fitness goals while maintaining them into the future! Products are not marketed as a cure-all and are recommended to be used along with a healthy lifestyle. Flat Tummy also has a fitness and nutrition app for iPhone and Android users.
What Does Flat Tummy Sell?
Flat Tummy sells products geared toward weight management, but not under the guise of a "quick fix." They promote a healthy lifestyle in addition to the Flat Tummy products for optimal results. There are three Flat Tummy products specific to weight management.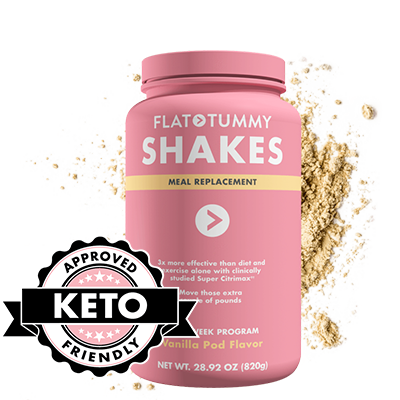 Flat Tummy Shakes
The Flat Tummy shakes are meant to kick unhealthy cravings to the curb, control your appetite and also cut calories. Ingredients include Super Citrimax, which is a clinically studied ingredient, designed to be 3x more effective than diet and exercise alone. The shakes are vegan, have no added dairy sugar or soy and are gluten-free. There's a lot in the shakes besides Super Citrimax, including 20 grams of plant-based protein, 22 vitamins and minerals and 50 fruits and vegetables. The Flat Tummy shakes come in three flavors: vanilla, chocolate and strawberry. The cost is $69 for a two-week program and $89 for a four-week program.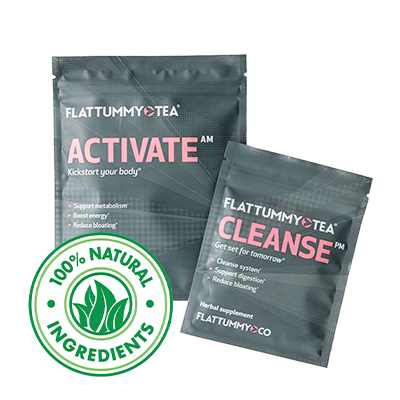 Flat Tummy Tea
Flat Tummy tea is a two-step detox program with one tea called Activate and the other tea called Cleanse. The two Flat Tummy teas work together to boost energy, speed up your metabolism and reduce bloating. It's 100% natural and tastes naturally sweet with a flavor similar to that of green tea. Here is more info about both their #1 Original 2-Step Detox:
The Activate tea uses 10 ingredients to support energy and provide antioxidants. The ingredients include peppermint leaf, lemon balm leaf, licorice root, green tea leaf, dandelion leaf and root, cleaver leaves, fennel seed, caraway seed and cardamom pods.
The Cleanse tea uses a detoxifying blend of seven natural ingredients that include Senna leaf, peppermint leaf, cassia chamaecrista pods, licorice root, caraway seed, dandelion root and rhubarb root.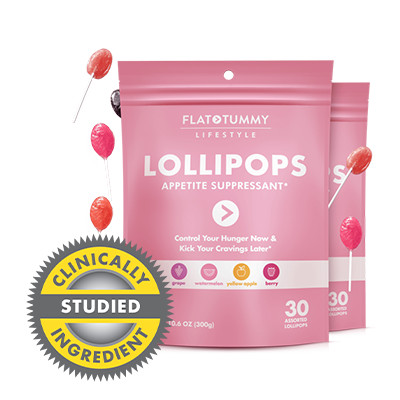 Flat Tummy Lollipops
Flat Tummy lollipops are intended to help you control your hunger between meals, naturally. With 35 calories each, they come in grape, watermelon, yellow apple and berry flavors. The active ingredient is Satiereal, which is a clinically proven safe ingredient that comes from plants and works by maximizing the feeling of being full so you're not tempted to eat. The recommended intake is 1-2 per day, and the cost is $55 for a four-week program (which is 60 lollipops).
Flat Tummy also sells a handful of accessories (a shaker bottle, tea infuser and workout towel), supplements (vitamins) and apparel to help promote a healthy lifestyle.
How Do You Use Flat Tummy?
The Flat Tummy lollipops are pretty self-explanatory: Eat one or two per day between meals to keep satiated. But you may have questions about how to use the shakes and tea. Here's a quick summary for each.

How to Use Flat Tummy Shakes
Unlike the lollipops which are meant to keep you satisfied between meals, the Flat Tummy shakes are meal replacements and intended use once a day, Monday-Friday while taking the weekends off. You can use the shakes up to twice a day, but women typically see great results with only 1 a day! They say if you have cravings, you can give in now and then, but try and keep it healthy for the most part! For best results, incoporate some exercise into your routine. Their app offers a 7-day free trial if you're not sure where to start.
How to Use Flat Tummy Tea
The Activate tea is what gives you energy, and it should be consumed every morning. Cleanse should be consumed every second night before bedtime for the first week, and then every three nights before bedtime after that (weeks 2-4 depending on the length of your program). Like other Flat Tummy products, best results are achieved with proper activity and diet. Even adding a long walk to your routine is great!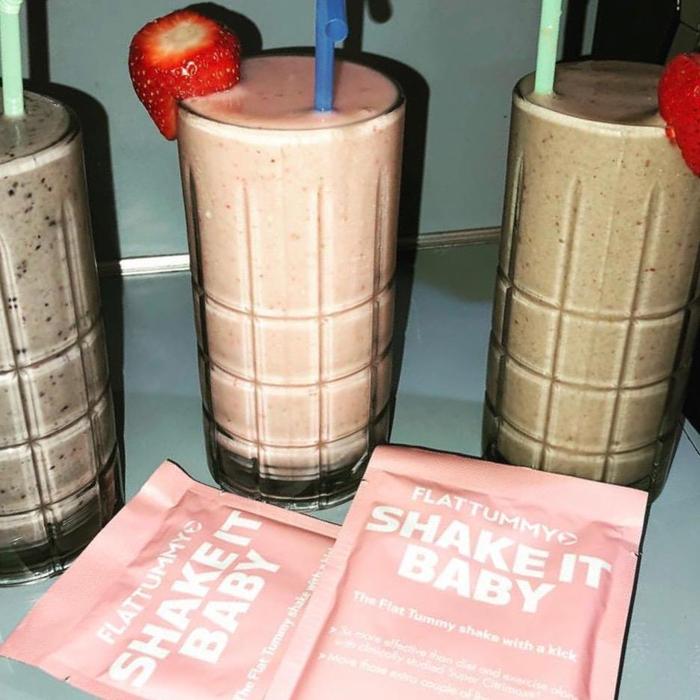 Flat Tummy Pros and Cons
Pros
Made by women for women

Wide variety of weight management products available

Significant discount and savings available

Affordable programs

Easy-to-follow instructions

Positive customer reviews online
Cons
Not intended for male weight management

Not a quick fix - healthy diet and exercise highly recommended
Overall Flat Tummy Review - 4.5/5
Anyone who is on social media likely sees the ads with D-list celebrities promoting weight loss products, especially teas. What those pictures communicate is that drinking the product will result in weight loss and that there's nothing else to it. What they don't communicate is everything behind the photo including diet, exercise and even editing of the photo itself. This isn't the case with Flat Tummy. Flat Tummy is reviewed by normal users that you need to pay attention to. Those reviews combined with the fact that Flat Tummy communicates that they promote a healthy lifestyle instead of a quick fix for weight loss are what sets them apart. As a result, consumers who purchase Flat Tummy products end up pleasantly surprised with the results, especially if they already live a healthy lifestyle and are looking for a bit of a boost in energy and reduction in bloating. For those reasons combined with the taste of the products, I highly recommend Flat Tummy.
**Thorough research online was completed in order to write this review. The products mentioned were not actually sampled by the author. Additionally, this post was paid for by the merchant being reviewed. Purchasing products through links in this review will result in ReviewsPlus earning a small commission.**