The most difficult part of being an artist is simply getting your art out there. With so many artists out there creating beautiful art, it can be hard to stand out amongst the crowd and make a legitimate living as an artist. Luckily, creatives living in the 21st century can utilize fulfillment services to easily sell their original artwork. This enables artists to distribute their art without much heavy lifting, lending them plenty of time to do what they do best: create.
FineArtAmerica is one of the world's largest online art marketplaces and print-on-demand companies that partners with artists and sells their goods online. FineArtAmerica helps sell products for thousands of artists around the globe including graphic designers, illustrators, painters, photographers, and more.
This art marketplace sells a wide variety of products from its many artists and has a beautiful, original piece for just about anyone! Keep reading to learn more about FineArtAmerica and what makes them so special.
Review of FineArtAmerica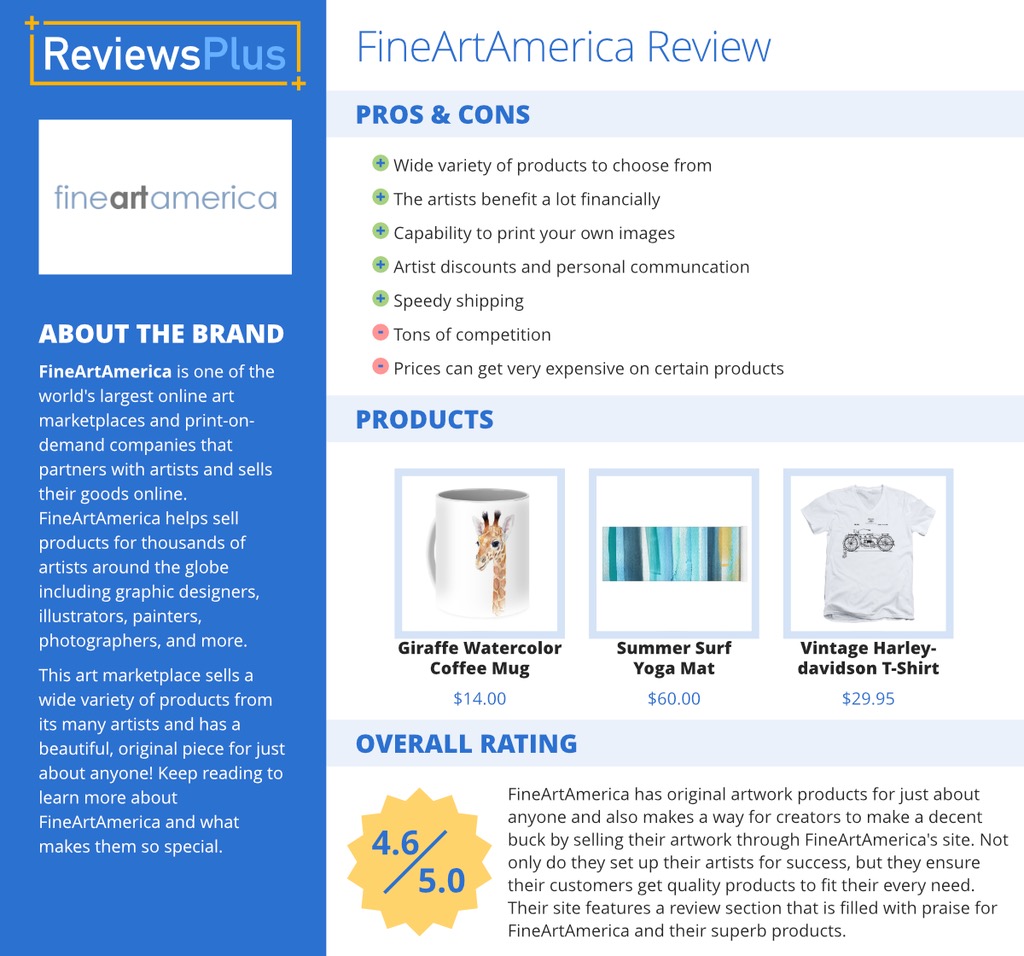 What Sets FineArtAmerica Apart?
Buying art online is a wonderful advancement for those who love art, especially when there are marketplaces that sell the products of thousands of individual artists. FineArtAmerica has been actively helping artists sell their art for 14 years and have built themselves quite a reputation. They have an intimate, small business feel to them with a focus on their artists. What does this company have that sets them apart from all of the other art marketplaces?

FineArtAmerica for Artists:
A huge hindrance for many artists is the high percentage cuts that art hosting companies take from the artists to feature their artwork online. Some only give 10% or 15% of each purchase to the artist who created the design. A huge advantage to choosing FineArtAmerica that sets them apart from other companies is that they pay artists 100% of the markup price. For example, FineArtAmerica has a base price of $50 for their 24" x 36" canvas prints, so if an artists wants to make $75, they would set their markup at $75 and the buyer would spend $125 for the canvas.
By setting their own prices, artists have the freedom to make as much money per item as they desire. Something to keep in mind is the willingness of the consumer to spend the amount of the base cost plus the markup amount. However, FineArtAmerica is very generous with their artists and have affordable base prices for their products.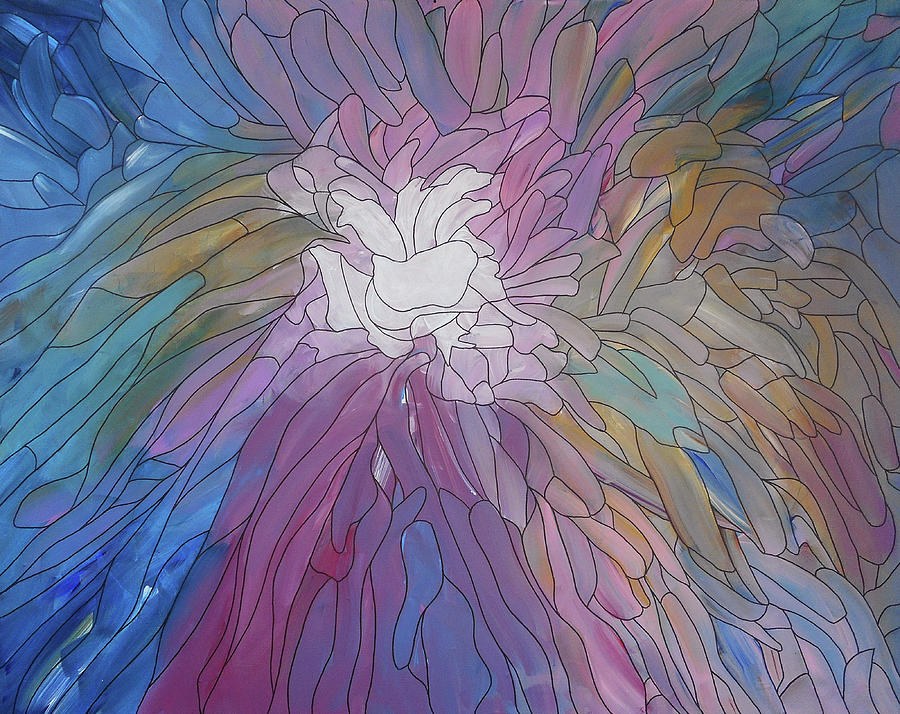 Another major perk of selling through FineArtAmerica is the excellent guidance they provide for actually marketing products. They have two membership options - a free plan and a premium plan which costs $30 per year. These memberships both include the same marketing features such as selling products, order fulfillment, multiple sales channels, marketing and promotional tools, networking, and image management. The only difference between these two plans is that with the premium plan, artists have unlimited image uploads (as opposed to only 25 on the free plan), custom email marketing, and a website to sell art on.
FineArtAmerica goes above and beyond to set up their artists for success through fair selling rates and a ton of different marketing tools and features.
But what sets them apart for the consumer?

FineArtAmerica for Shoppers:
Shopping for art online can be a bit overwhelming in light of the hundreds of sites to choose to shop at. Why should you choose to buy original art from FineArtAmerica instead of the many other options?
First off, if you value supporting small business owners and playing a part in contributing to their livelihood, FineArtAmerica is a great place to spend your money. The artists are getting a decent chunk of the money you spend (if they have a good markup price set) so you can rest assured you aren't supporting a company that shortchanges their creatives.
Another reason FineArtAmerica is worth buying from is the numerous options you have for products. You can get original art printed on virtually every type of product you could imagine. They currently sell art under these categories:

Not interested in buying someone else's artwork but you want to create your own? You can upload your photos and transform them into artwork that can be printed on any of FineArtAmerica's products.
FineArtAmerica vs. Competitors
There is a lot of competition in the online art world for FineArtAmerica, so how exactly do they compare to other popular sites such as Society6 or Zazzle?
These three sites have a ton in common as far as the types of products they produce for consumers. Here is an example of the pricing differences between the 3 for a simple coffee mug: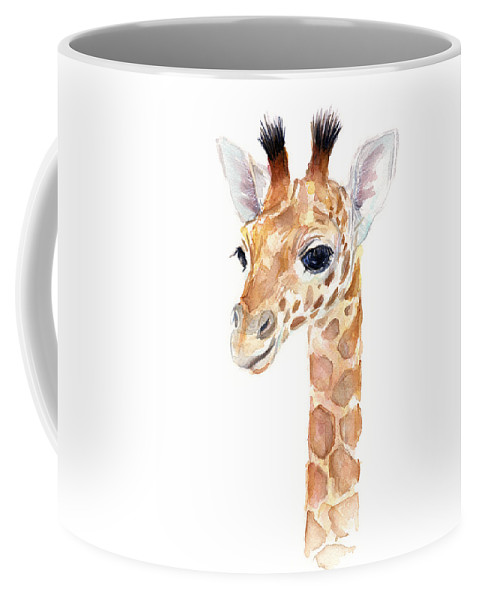 FineArtAmerica has generally lower prices for a lot of their products, with a base price of $50 for their canvases and most of them costing under $100. Zazzle and Society6 sell many of their canvases at a more expensive price, with many exceeding $100 each.
As far as product variety goes, FineArtAmerica has a ton of different products you can print artwork on. They are a bit limited in their apparel options compared to Zazzle and Society6, but they still have quite a bit to choose from.
FineArtAmerica FAQs
1. What types of wall art does FineArtAmerica sell?
FineArtAmerica sells a variety of unique and beautiful wall hangings for your home or office. They sell wall tapestries, canvas prints, metal prints, framed prints, acrylic prints, art prints, wood prints, posters, and originals.
2. What is the return policy?
There is a 30-day return policy in which if you are unsatisfied with your order, you can return it for a full refund.
3. Can I get discounts on FineArtAmerica products or via their website?
While there are no site wide discounts, individual artists can provide a discount code to consumers at their discretion.
4. Can I print my artwork?
FineArtAmerica has a feature to design your products. You simply upload your image and choose to print it on wall art, apparel, tech accessories, and more.

5. How long do products take to ship?
Each order is custom made and will ship within 2-3 business days.
6. How do I contact the sellers?
Contacting an artist is very simple. You can either search the artist in the search bar or click on any of their products and click on the button that says "View Artist Profile." From there, you will see a contact button on their profile which will give you options to email them or visit their website.
FineArtAmerica Pros and Cons
Pros
Wide variety of products to choose from

The artists benefit financially

Capability to print your own images

Artist discounts and personal communication

Speedy shipping
Cons
Tons of competition

Prices can get very expensive on certain products
FineArtAmerica Overall Review - 4.6/5
FineArtAmerica has original artwork products for just about anyone and also makes a way for creators to make a decent buck by selling their artwork through FineArtAmerica's site. Not only do they set up their artists for success, but they ensure their customers get quality products to fit their every need. Their site features a review section that is filled with praise for FineArtAmerica and their superb products.

Next time you're looking to score some quality art pieces for a decent price and simultaneously support artists in their craft, FineArtAmerica is the place to go!