Finding quality food to eat during a busy day can often mean sacrificing diets for quick-yet-greasy fast food or having to settle for unsatisfying snacks that leave you wanting. Subscription boxes make putting meals together easier than ever, but even then, sometimes there's just not enough time to prepare everything.

A ready-to-eat subscription box like Factor 75 can make preparing lunch, dinner or even breakfast, as easy as preheating an oven or working a microwave. Here is everything to know about Factor 75 before trying it out for yourself, including how it works and specifics on 6 meals I tried firsthand.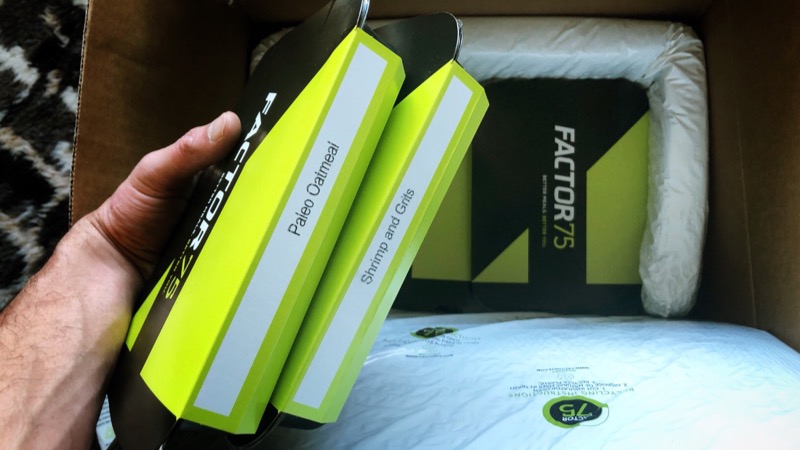 Factor 75 sent these meals free of charge to be reviewed.
Factor 75 Review
-Ordering-
Factor 75 single serving meals all come ready-to-eat and are packaged together in a simple 3-compartment, microwave-safe and BPA free plastic container. Here are some lifestyles we recognize as ideal for a Factor 75 prepared meal subscription:
Busy athletes
Dieters - specifically keto, paleo, dairy free and/or gluten free
Workers of long and/or unusual hours
Bachelors and bachelorettes
Meals are sent in individually packaged plastic containers, as mentioned above, which are themselves packaged in paper sleeves that provide a list of ingredients, nutritional facts and a fun description of the meal itself. From the Paleo Oatmeal: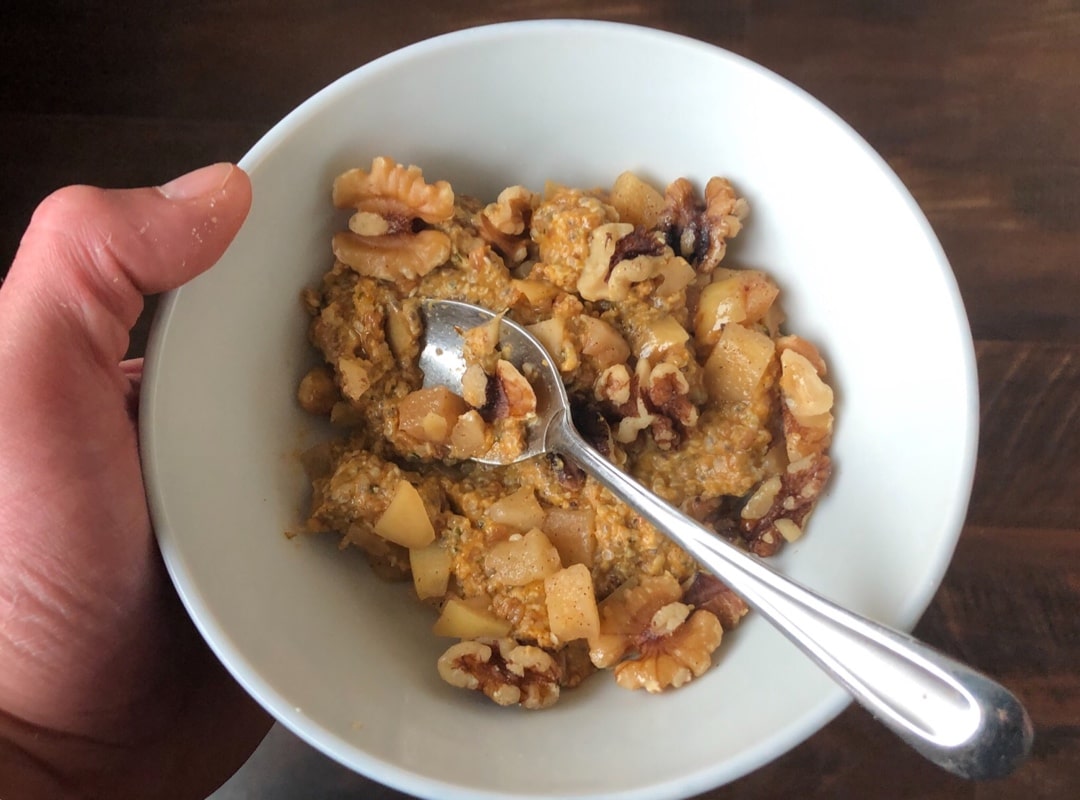 Factor 75 touts its meal selection as being health-oriented with an emphasis on fresh ingredients. All ingredients are:
Gluten-free
Soy-free
Non-GMO
Grass-fed & pastured
Antibiotic and hormone free
Free of refined sugars
Meals are delivered on Monday through Wednesday on a weekly basis with menu items also rotating weekly. Here are the plan options available from Factor 75:
4 meals for $60 ($15 per meal)
6 meals for $77 ($12.83 per meal)
8 meals for $99 ($12.37 per meal)
12 meals for $138 ($11.50 per meal)
18 meals for $198 ($11 per meal)
Customers have the option to preselect meals they want or have them shipped randomly based on predetermined taste and diet preferences. Diets catered to specifically through Factor 75 are keto, paleo, dairy free and gluten free. There are vegetarian options but only a couple options are offered each week.
Factor 75 offers a variety of coupons that customers can use during the ordering process. Coupons may include a dollar or percentage off your order, or free shipping!
-Delivery and Storage-

As mentioned above, Factor 75 will ship meals each week between Monday and Wednesday. I received my order while I was away from home on a Tuesday. The box was waiting outside my apartment when I came back and I was pleased to find the meals well insulated and cold.
Meals from Factor 75 don't come frozen and can be kept in your fridge for up to a week. If you need more time, you can easily freeze most meals beyond that first week. I kept all 6 in my fridge. As you can see, they don't take up much room and can be efficiently stacked on a bottom shelf.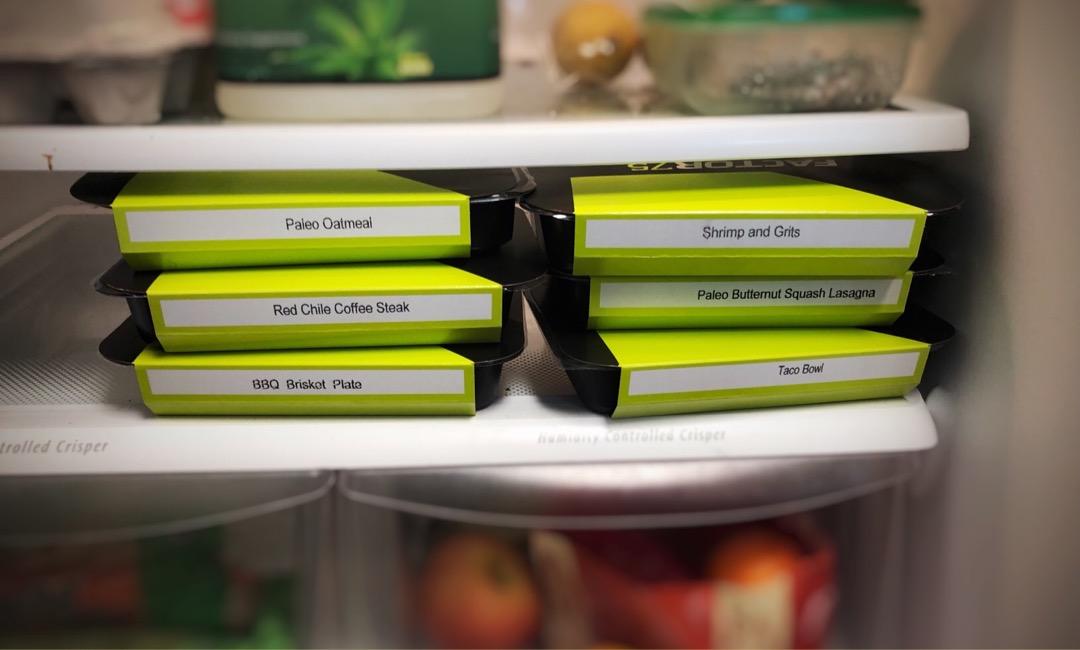 -Preparation-
Preparing Factor 75 meals is about as easy as it gets. Every meal can be prepared in a microwave or an oven. None of the 6 meals I was sent took more than 10 minutes to warm up with either method. I cooked 2 in the microwave and 4 in the oven. Every meal I tried required at least 1-2 extra minutes of heating to get the temperature right.
The most cooking I had to do during my trial was take an item out of the container before heating the rest of the meal up and then eventually mixing everything together. For example, the Taco Bowl came with a plastic container of Greek Yogurt that wasn't safe to heat up and the Paleo Oatmeal came with pecans that needed to be set aside while heating the dish.
Factor 75 recommends that you mix many of the dishes halfway through preparation, though this is a skippable step for those who just want to pop it in and go.
All in all, for those leading busy lifestyles where eating properly is one of the first things to get sacrificed, Factor 75 is a quick, easy, and as we will see next, tasty option to have in your back pocket.
-Taste and Appearance-

I found each of the 6 meals to taste fresh, with sodium levels lower than what I have come to expect from ready-to-eat frozen meals. When it comes to prepared meals, I am mostly familiar with TV dinners and frozen pizzas. These are items I now avoid, not only because I know they are unhealthy, but also because I have become more sensitive to the taste of processed, frozen food. I found each meal from Factor 75 to exceed what I have come to know from ready-to-eat meals in terms of taste, nutrition and texture.

I was impressed with how tasty the Factor 75 meals looked coming right out of the fridge. Indeed, all of the recipes include interesting ingredient combinations that make tasting each Factor 75 dish a little bit of an adventure. I highly recommend using the oven over the microwave with these, but it all depends on your time constraints.
Here are notes from the meals I ordered to give you a better picture on specific tastes and overall impressions.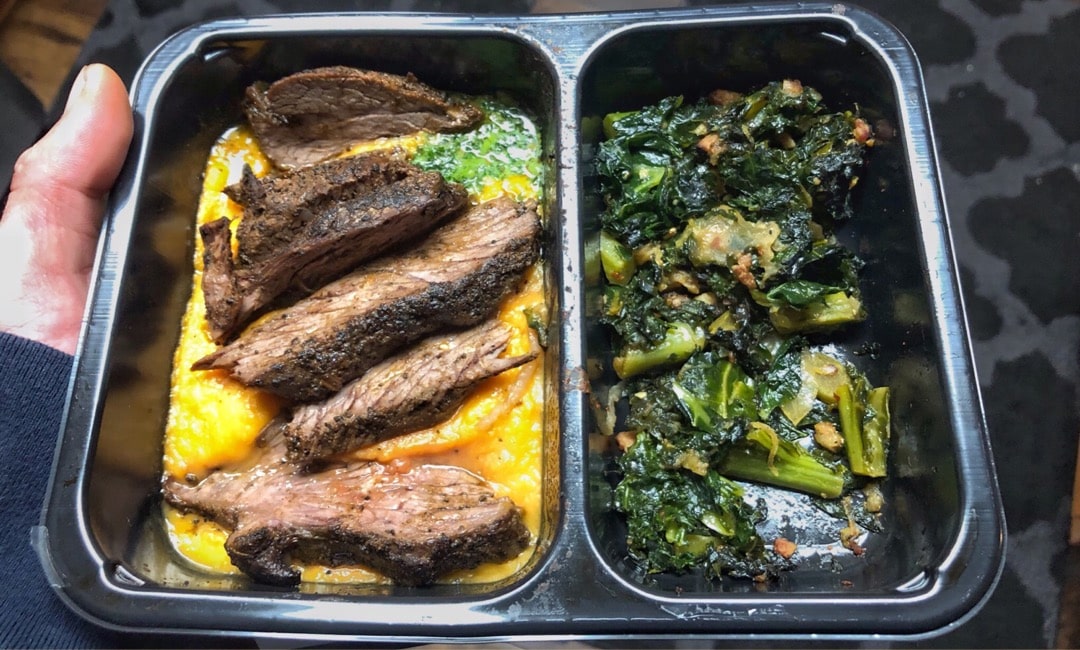 1. Red Chile Coffee Steak

I thoroughly enjoyed this steak dish from Factor 75. For this and a few other dishes, I chose to use the oven over the microwave to heat it up. Factor 75 recommends 5-7 minutes at 400 degrees however it took 8 minutes to get it to sizzle.
I've never had coffee-seasoned steak but I immediately realized I had been missing out. The earthy taste of the coffee seasoning was delicious, especially combined with the spice of the chilies. The real star here may honestly have been the bacon braised kale, which tasted much meatier than they actually were. It's hard to view this option as "healthy", with 690 calories and 45g of fat, but it was certainly tasty and is a great protein builder for athletes.
2. Shrimp and Grits

My expectations for mail delivered and ready-to-eat shrimp were pretty low but I was pleasantly surprised after eating the Shrimp and Grits from Factor 75. Again, I chose to prepare this meal in the oven and had to add a few extra minutes to the Factor 75 recommendation to get the temperature right.
The shrimp and grits were filling for a late lunch, packed with a ton of bold creole flavor. I was really impressed with how bold the flavors were in this small dish. I did find the side, a combo of vegetables, to be a little soggier than I might've otherwise liked and pretty forgettable, but was overall impressed with this one.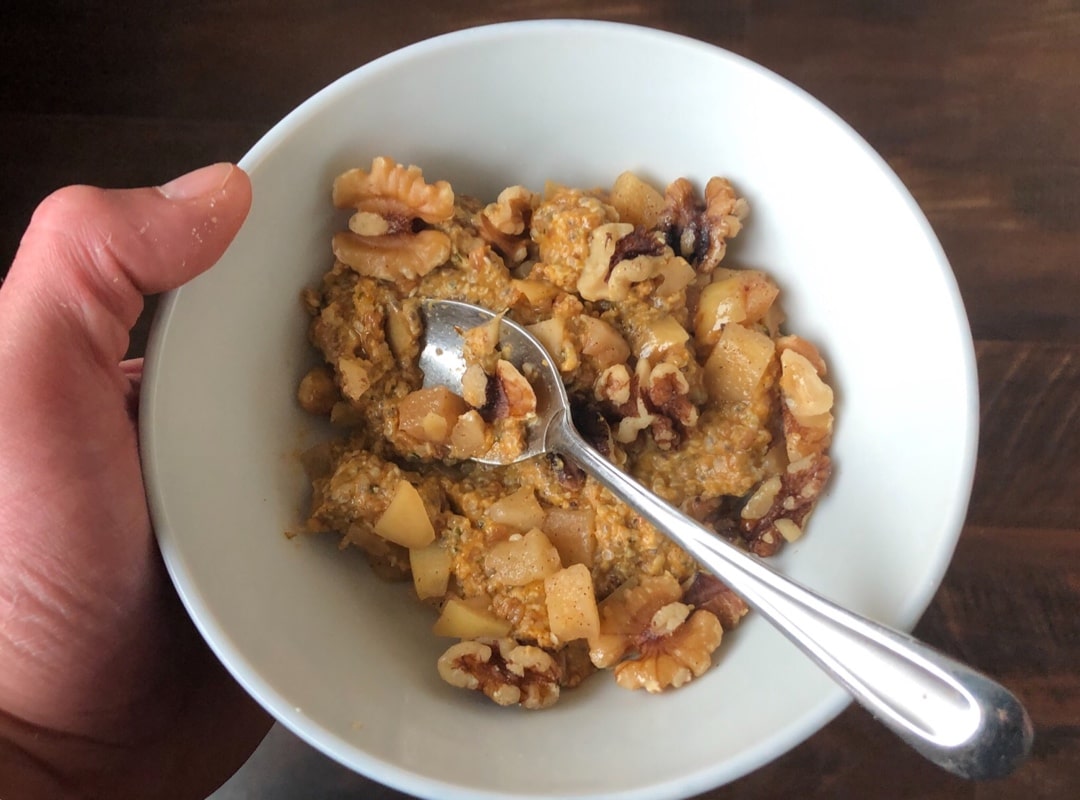 3. Paleo Oatmeal

I figured I had better try a Factor 75 breakfast to round out the review so I went with the Paleo Oatmeal, which I decided to prepare in the microwave. When I first peeled back the corners of the plastic covering to prepare the dish for the microwave, I was treated to a nose full of apple cinnamon. It was an extremely pleasant scent but was admittedly more enjoyable than the actual taste of the oatmeal.
I found this Factor 75 breakfast to be on the bland side and in need of a couple dashes of extra cinnamon. It was a little dry and clumpy, as well. Overall, it was an extremely easy breakfast to make but does not compare to the other dishes I tried in terms of flavor.
4. Paleo Butternut Squash Lasagna

We love squash in our house so when I saw the option to try a butternut squash lasagna from Factor 75, I was all in. I chose the oven again here and again had to add a couple minutes to the recommendation to get the temperature right.
This dish does not disappoint. The noodle-less lasagna was lighter than any lasagna I've had before, but was still hearty thanks to the generous helping of turkey sausage. It fell apart when trying to plate it but the taste far surpassed any shortcomings in appearance.
Interestingly enough, the butternut squash had the second least amount of calories (460) of any dish I sampled. Only the Paleo Oatmeal had less (410). I would highly recommend this dish.
5. Taco Bowl

Being a Southern California resident, I'm always down for tacos. I went with the microwave here and found that it didn't dehydrate the meal as much as I had been fearing it might. I decided to add in about 3/4 of the provided jalapeños and loaded the whole thing up with the provided chipotle Greek Yogurt.
As far as "healthy" taco bowls go, it wasn't bad. I would rather just make the tacos myself though, as I'm a self-proclaimed taco master. Plus, preparing this dish from scratch is far more cost effective than paying for this single portion from Factor 75. I was also not a huge fan of the Greek Yogurt and would have preferred some spicy salsa.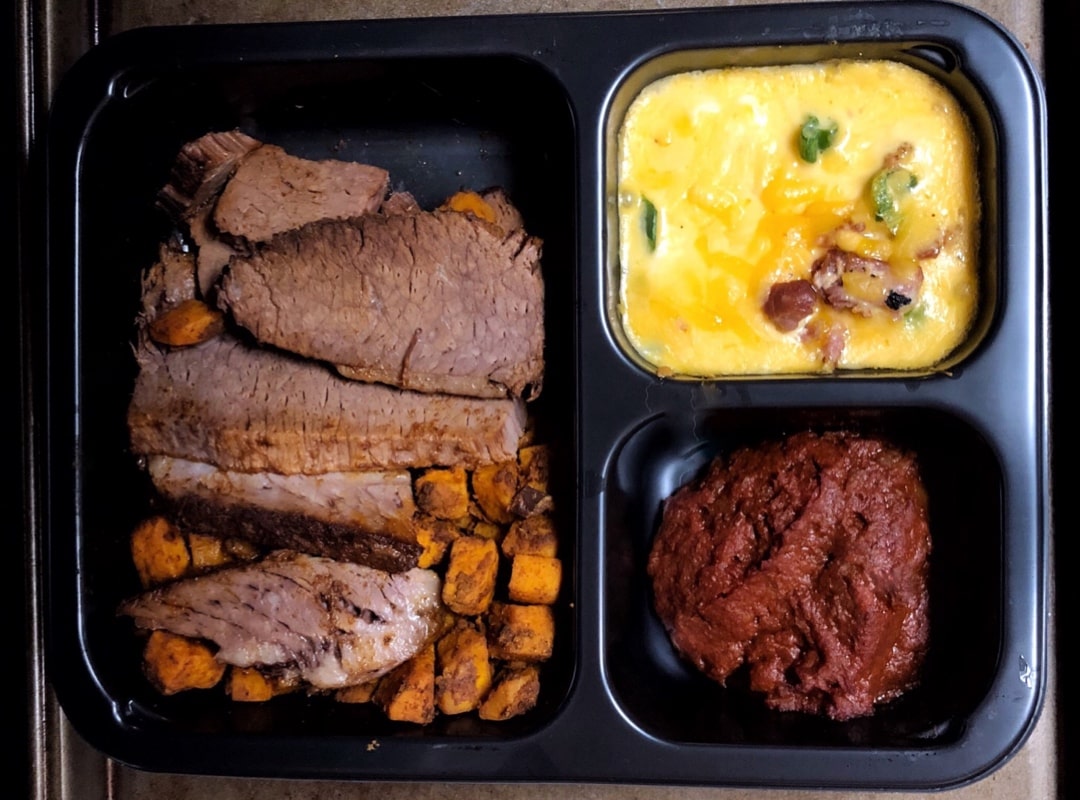 6. BBQ Brisket Plate

I saved the best for last with the BBQ Brisket Plate, my favorite dish from Factor 75 that I was able to try. After coming out of the oven, the brisket was extremely tender and I loved the apple BBQ sauce slathered on top. This is one of those Factor 75 dishes that just looks amazing coming out of the oven. The loaded cauliflower mash was a tasty (and cheesy) side.
My only complaint with the BBQ Brisket Plate from Factor 75 is really more of a critique on an aspect of the service as a whole. It would have been nice to have a separate section for the sweet potato hash, which was buried under the brisket. If you forego plating this dish (like I did), then the sweet potato hash becomes an afterthought as you gobble down the brisket. Sweet potatoes aside, this was my favorite meal. It coincidentally had the most calories of any meal (720).
Overall Factor 75 Rating - 4.4/5
Overall, I enjoyed Factor 75 and would recommend it to anyone who lives a busy lifestyle and has keto, paleo, dairy-free or gluten-free dietary needs. Specifically, athletes and those who regularly eat meals away from home would benefit most from Factor 75. I could easily see myself signing up for a Factor 75 meal and eating them on those particularly busy days!