Getting medicinal or recreational marijuana has never been easier in the digital, connected era in which we currently find ourselves. Eaze, a platform for ordering delivery from local dispensaries, was launched in 2014 with the dream of making it more convenient to obtain flowers. Not everyone who uses THC and CBD products has the capability or time to make regular trips to the dispensary.
For those that wish to find an easier alternative to traveling to a local shop, try Eaze to have your trusted local dispensaries come to you! Here is our review of the process of ordering, paying and receiving a delivery from Eaze.
Please note, that at the time of this writing, Eaze is only available around the Bay Area, Los Angeles and San Diego, California as well as Portland, Oregon. Find out if Eaze is available in your area here. Additionally, you must be 21 or older to use Eaze.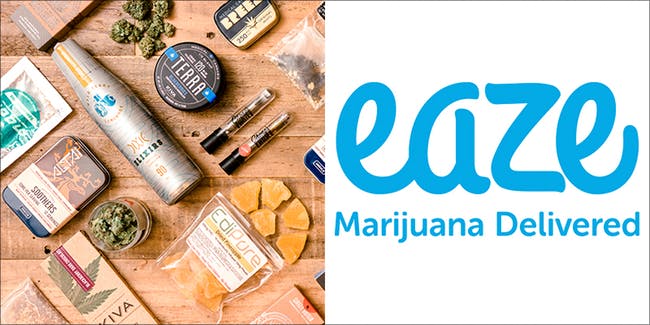 Using Eaze to Order Delivery
Ordering delivery from Eaze is extremely straightforward and painless, even for a first-timer like myself. I decided to place my order through Eaze on my tablet browser. I could have also used my computer.
Currently, the Eaze app only provides recommendations for products in your area, based on certain effects you are looking for like "Creativity" or "Relief". If you are altogether new at this whole thing, I would highly recommend checking out the app to see what the pros recommend for your needs. Otherwise, you'll want to visit the Eaze website directly to order.
The Eaze website provides a search bar where I entered my address and instead of being taken to a list of nearby dispensaries, I was brought directly to a page displaying everything available in my delivery area. Taking away the need to look through dispensary reviews to find the right option is a step in the right direction, in my opinion. It's much more efficient to choose from products broken into categories like "Edibles and Drinks", "All-In-One Vaporizers" and so on.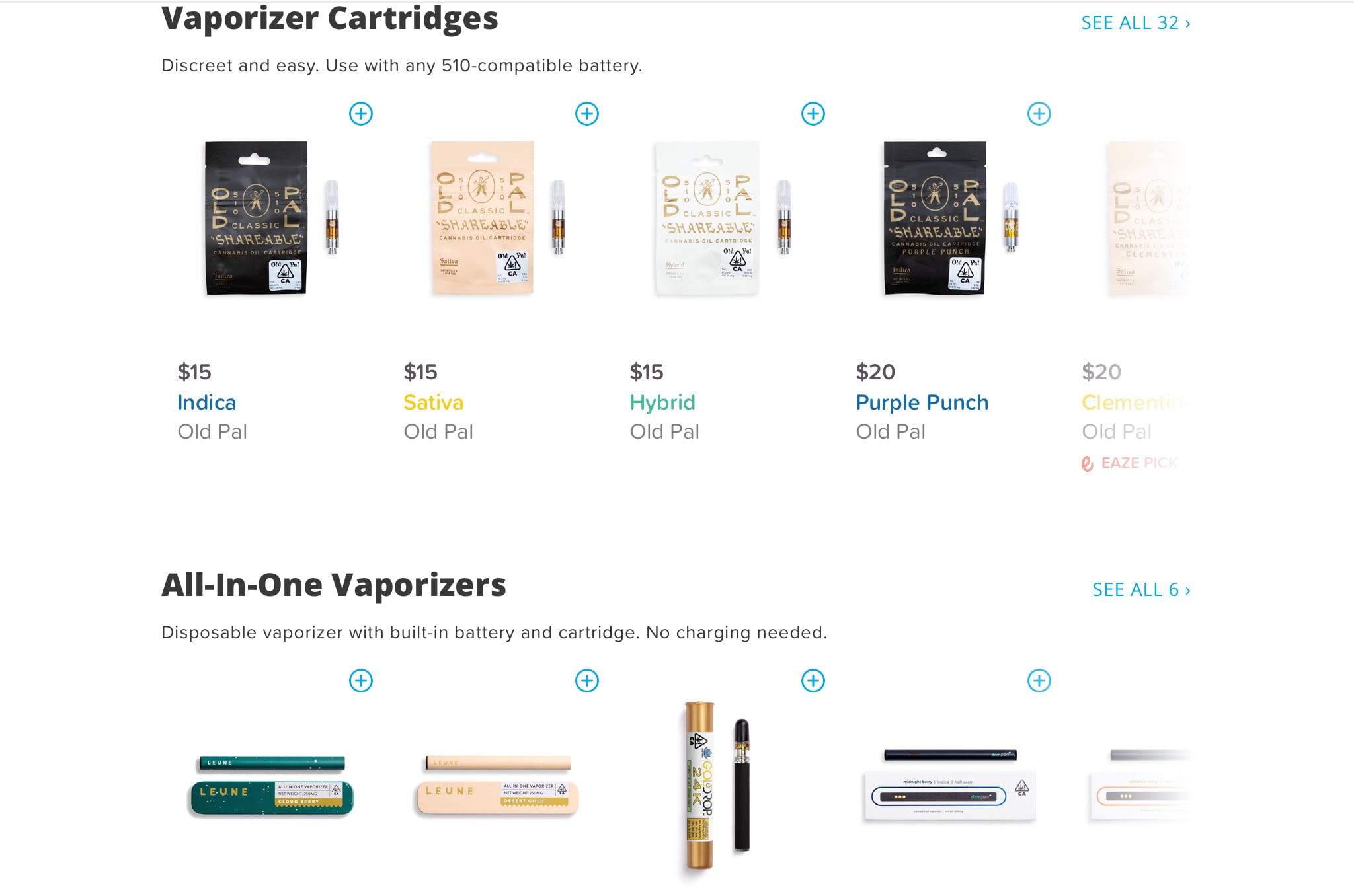 You'll need to add at least $25 worth of product to your cart to complete the purchase. That was no problem for me! The selection Eaze and their partnering dispensaries have put together is wide and covers all the bases. It must be a rare case for someone to use Eaze and not find what they are looking for.

Continuing to check out my cart took me to a screen where I could apply a promo code. If you're a first-timer like me, Eaze offers a coupon for $20 off your first delivery! Next, I was required to login with an account.

Signing up for an Eaze account is as straightforward as placing an order. Again, you need to be 21 or older to sign up. Here's what you'll need:
Valid ID
For those living in areas allowing only medicinal sales, a recommendation is required
Phone number with SMS
You'll receive a text message confirming your eligibility to receive a delivery. From there, it's time to confirm your address and add any special instructions for completing the delivery, such as a gate code or your specific unit number.
The final part in the process on my end was paying for the order. This too, I found to be very straightforward.
-Payments-
When checking out for an Eaze order, you have two options for payment: cash or visa. If using a credit card, please be aware that you will see a charge from "Sonic Logistix" on your statement. This is because Eaze Delivery uses a third-party payment processor on credit card transactions.
Select your payment method and complete the purchase. It's that easy!

In addition to credit card payments being processed by Sonic Logistix, customers should also note that taxes are applicable. Expect local, excise, and sales and use taxes to be applied to your Eaze purchase. Customers with medical cards do not have to pay the sales and use tax but will still be responsible for local and excise taxes.
Next, I was contacted by Eaze via SMS with a message notifying me that my order had been received and when I could expect it. Overall, I was thoroughly impressed with the level of communication maintained with me by Eaze during the delivery process.
Finally, my part was done and it was time for me to wait.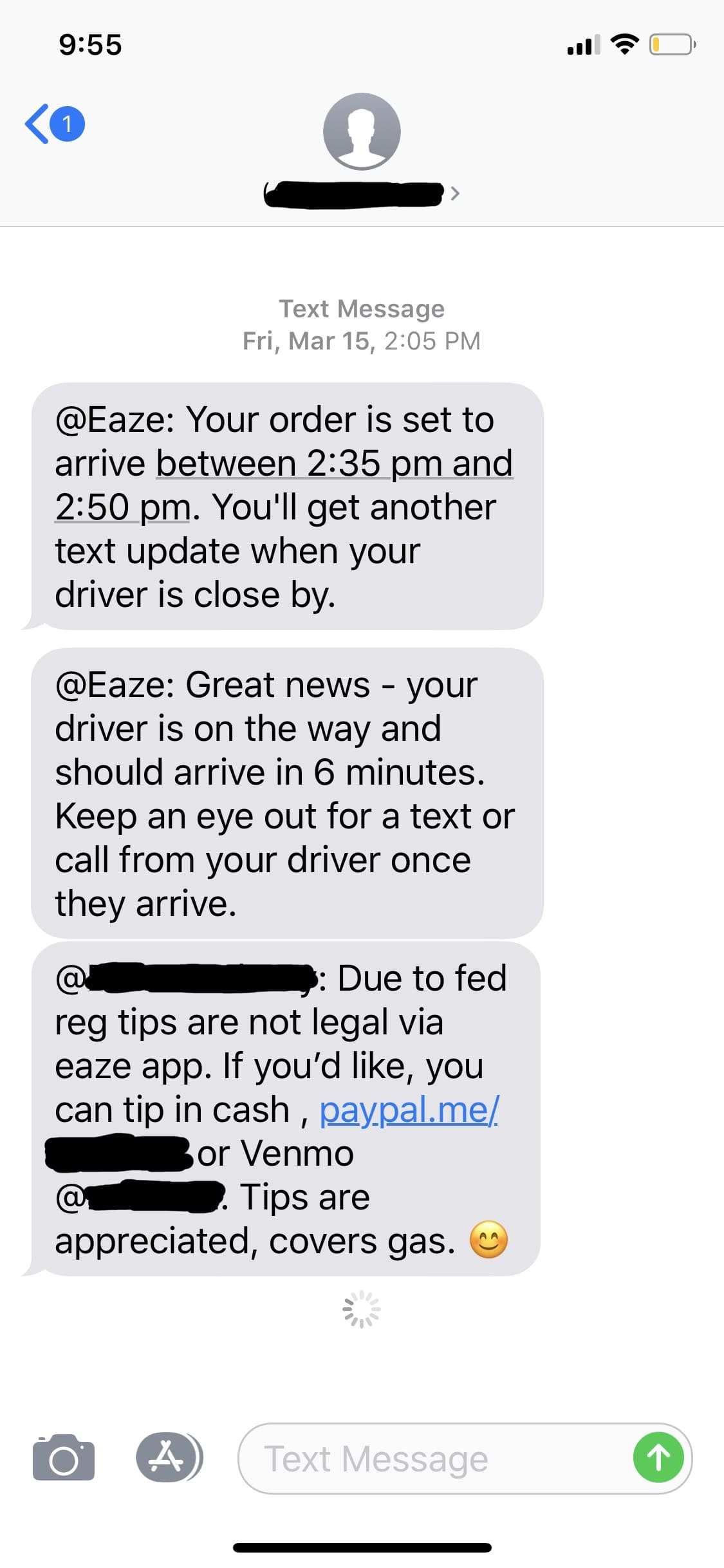 Eaze Delivery and Tipping
Eaze let me know when my delivery was scheduled and then sent me another SMS update whenever the order was actually en route. From processing of my order to delivery, I waited no longer than 30 minutes, bring my time spent in the entire process to 40 minutes or less.
At the moment, providing a tip to your driver is not possible through the Eaze platform when you complete your purchase. However, tipping drivers is encouraged. This can be done in a couple of ways:
1. You can tip with cash.
2. You can tip with Venmo or PayPal. The information needed to tip to these accounts will be sent to you via SMS.
Overall Rating - 4.7/5
Overall, ordering from Eaze is an incredibly easy and efficient process. The selection is wide and impressive and the customer service is top notch. So why no full score? Well, availability. Right now, Eaze is only available in limited locations in 2 states. It's not the biggest gripe, but it is a valid concern. And one this author is sure will disappear as our society evolves.