Direct Vapor offers a huge selection of vaporizers, e-cigs, vape juices, CBD and advanced mods for customers to shop online. With so many vaporizer brands online, choosing which is the best to purchase through can be a daunting task.
In this review, we'll highlight what sets Direct Vapor apart from competitors, what products they sell, some of their main pros and cons and an overall Direct Vapor rating, in addition to other important information.
Currently, you can visit Direct Vapor to receive a limited time 15% off all Vaporesso products. This offer is valid only on August 12.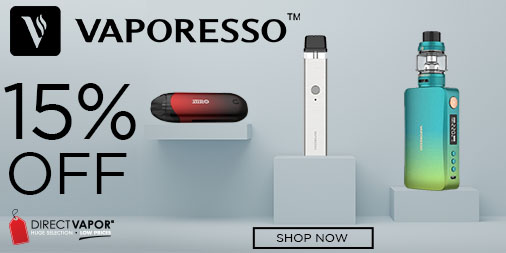 Direct Vapor Review
What Sets Direct Vapor Apart?
Direct Vapor has attracted attention from vapers mainly for their highly competitive pricing. Direct Vapor is so certain they have the lowest prices available that they have a very generous price-matching offer available for online customers. If you happen to find a product sold on Direct Vapor available from a competing merchant at a lower price, Direct Vapor will match that price. Even customers who have already made their purchase have the ability to request a refund if they find their product at a lower price elsewhere. Customers can request a refund for the difference.

Another thing that separates Direct Vapor apart from other competitors is their commitment to making sure that customers feel secure in their purchase. This is done with solid return and warranty policies. Customers have 15 days to decide if they ordered the right product. If not, the product can be returned with no restocking fee. The Direct Vapor warranty covers customers for 60 days and includes free shipping for delivery and return.
Finally, all orders over $30 ship for free within the United States and orders are processed quickly. In fact, for orders placed at Direct Vapor before 12PM EST, same-day shipping will be applied.
What Does Direct Vapor Sell?
Direct Vapor sells a wide variety of products for vapers to peruse on their online store. Many of the most popular vape and CBD brands can be purchased through the Direct Vapor online vape store. All products sold through the Direct Vapor online store are guaranteed to be authentic and are never fake "clones".
Here is a list of everything that can be found on Direct Vapor, including a few ways that you can filter your search when shopping.
In addition to the categories above, Direct Vapor also provides a wholesale section and plenty of resources for new and experienced vapers. Check out the Direct Vapor blog or their handy vaping glossary to learn more about vaping.
Direct Vapor FAQs
It's natural for customers to have questions before purchasing from Direct Vapor. Here is the part of the Direct Vapor review where we answer the most commonly asked questions about this popular brand.
Is Direct Vapor legit?
Yes, Direct Vapor is completely legit. They provide a wide selection of authentic vaporizer products, backed by a 15-day return policy and a 60-day warranty.
Does Direct Vapor ID?
Yes, Direct Vapor requires valid Government ID to complete a purchase on their website. Customers will be asked to upload a picture of their valid ID during checkout. Photos should have no glare and the date of birth and expiration date must be clearly visible. In the United States, customers must be at least 21 years of age.

Does Direct Vapor require a signature?
Not all Direct Vapor shipments will require a shipment upon delivery.
Does Direct Vapor sell clones?
No, Direct Vapor does not sell clones on their website. They state on their website that all products featured at Direct Vapor are 100% authentic.
Does Direct Vapor ship to Canada?
Yes, Direct Vapor will ship to Canada. In addition to Canada, Direct Vapor will also ship to Australia, Japan, Israel and New Zealand.
Does Direct Vapor take PayPal?
No, Direct Vapor does not accept PayPal at this time. Orders can be paid for with major credit cards including Visa, MasterCard, American Express and Discover.
Direct Vapor Pros and Cons
Direct Vapor is a popular online vape shop from which to place an order. However, as is true with anything, there are both pros and cons. Here are the pros and cons on Direct Vapor.
Pros
Wide selection of vaping products

Highly competitive pricing and price matching

Free shipping for orders over $30

100% authentic products

CBD available
Cons
Limited international shipping

Some negative customer reviews online

Overall Direct Vapor Review - 4/5
For new vapers or seasoned veterans, Direct Vapor is a worth choice for making online purchases. This online vape shop provides 100% authentic vape products at very competitive prices. Plus, Direct Vapor products are backed by a 60-day warranty and a 15-day return period. The main area of concern we have in shopping with Direct Vapor is in the existence of several negative reviews found online from real Direct Vapor customers. That being said, we still recommend Direct Vapor for your vaping needs!