Smoking culture has evolved over the decades and is now a full-blown movement full of various smoking methods and a plethora of tools to go with it. The smoking lifestyle doesn't differ much from the fashion or makeup lifestyle - its consumers are constantly looking for new products to try out.
Daily High Club taps into the desire for discovery in the smoking world and packages it in a subscription box. Dubbed the #1 Subscription Box For Smokers on their website, Daily High Club serves as an online head shop and also offers an inclusive subscription service.
Continue reading to see what Daily High Club has to offer and how their products and services compare to other companies like it.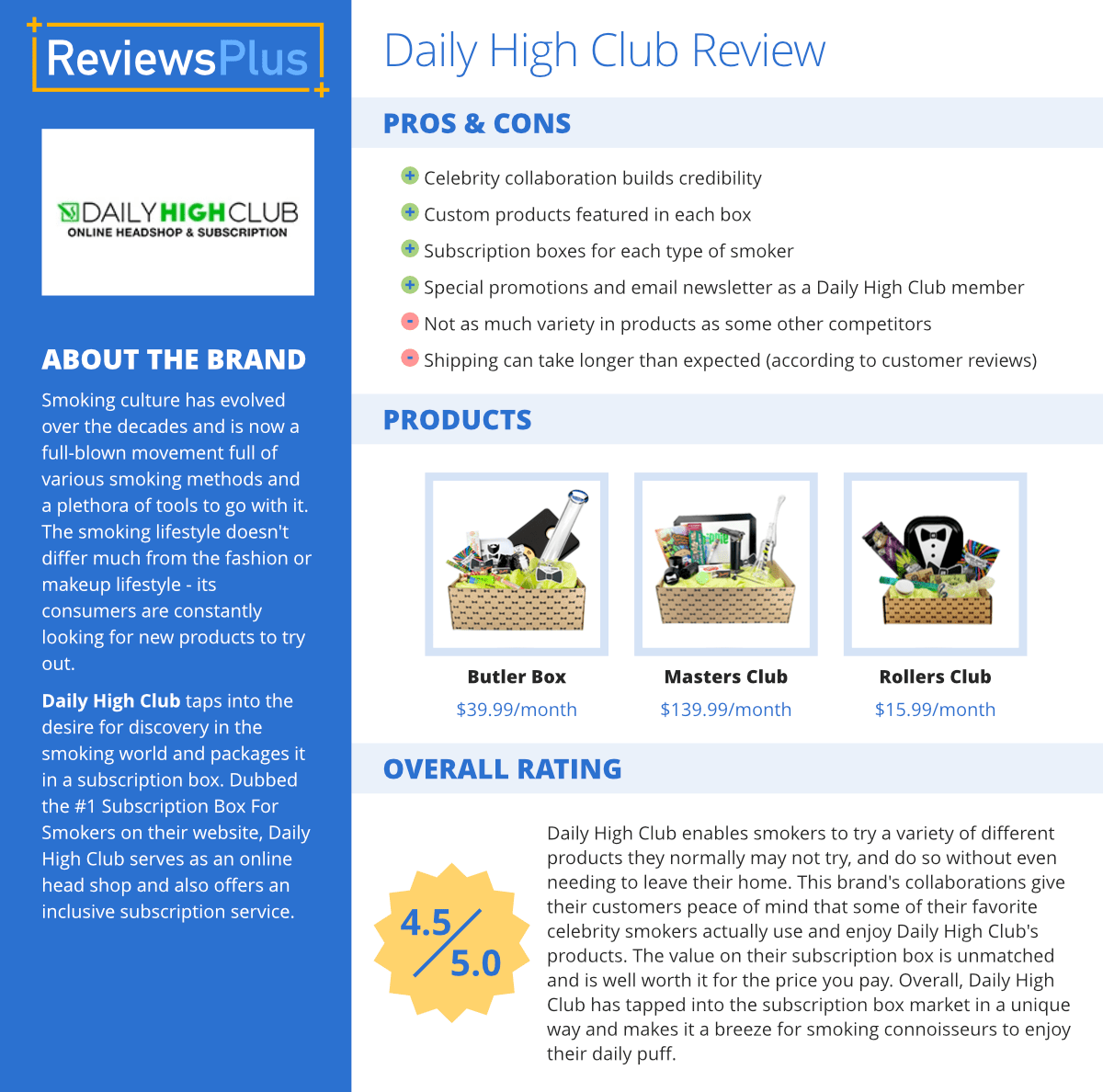 What Sets Daily High Club Apart?
Daily High Club offers many products in their online store but is most known for their subscription service. The Daily High Club boxes come once per month and vary in price from as low as $1.00 to $29.99. These subscriptions cater to every type of smoker, from the amateur to the well-seasoned and experienced.

What sets Daily High Club apart from other subscription services like it is the wide variety of products featured in each box and the collaborations with famous smokers. Daily High Club partners with various celebrities and influencers to curate special subscription boxes for their consumers. These boxes are created and marketed by famous celebrities such as Tommy Chong and Chanel West Coast.

These collaborations really add to Daily High Club's credibility in the industry. Add in all the rave reviews you find online from subscribers to Daily High Club, and you have one of the most popular subscription boxes for recreational smokers available. Let's take a look at how Daily High Club stacks up against its competitors.
Daily High Club vs. Competitors
Daily High Club has several competitors in the online smoke shop niche, one such being Hippie Butler. This site also sells various individual products just like Daily High Club, but they have a popular subscription service as well which is priced similarly to Daily High Club.
The best value subscription box that Daily High Club offers is the El Primo box which includes over $100 worth of products for just $29.99 per month. The comparable box from Hippie Butler, the Butler Box, also includes a variety of different smoking accessories. This box has about $60 worth of products for $39.99 per month. However, a higher end box is available through Hippie Butler for $139.99 per month.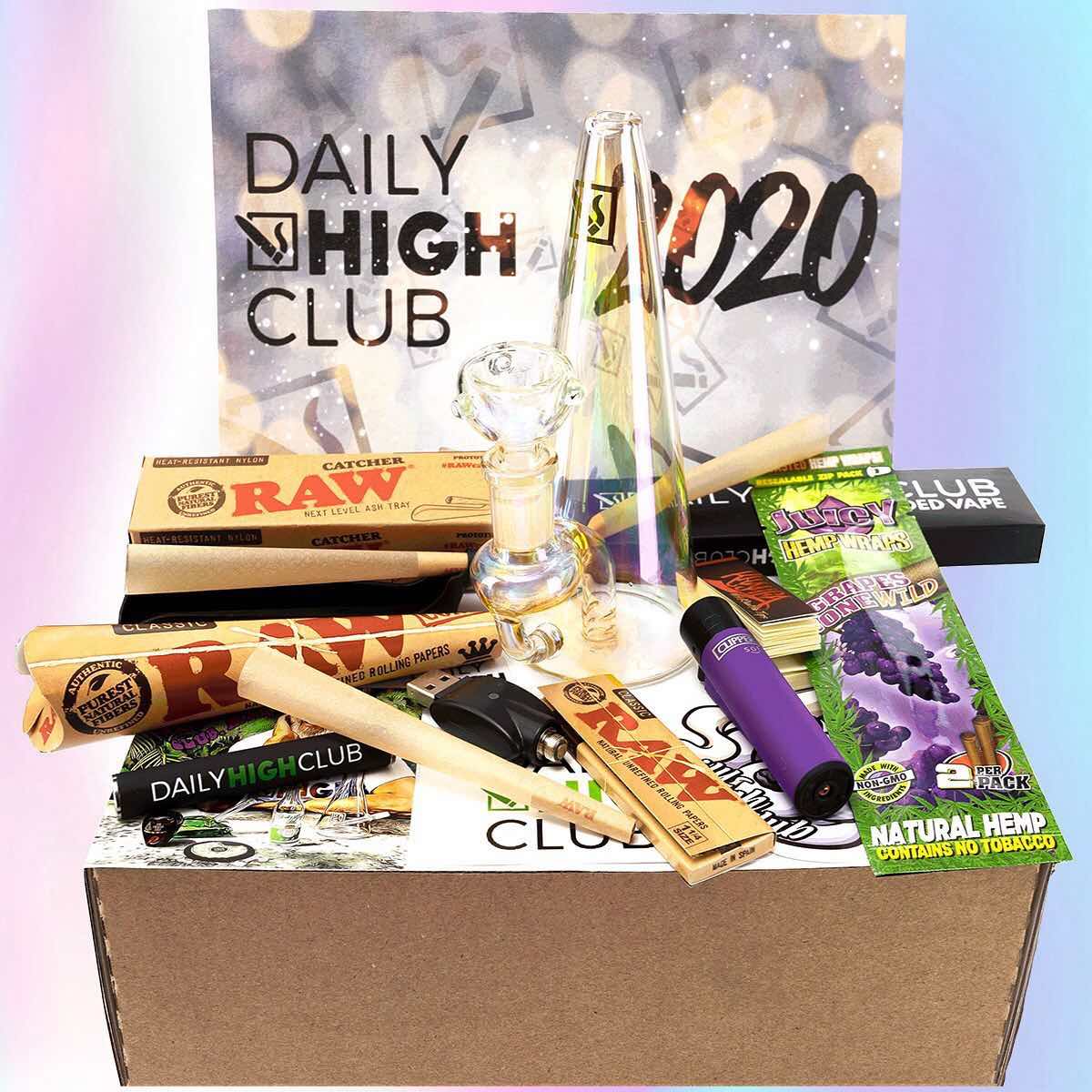 Daily High Club has a bit less variety in the products in their subscription box and comes at a smaller monthly cost than Hippie Butler's most popular box. Here are some commons FAQs customers have about Daily High Club.
Daily High Club FAQs
1. What other types of products does Daily High Club sell besides the subscription box?
Daily High Club also sells bongs, dab rings, bubblers, dry pipes, artistic glass pipes, grinders, vaporizers, apparel, and other accessories.
2. What are the other subscription plans?
The Connoisseur box is available for $9.99 per month, and the All Natural box is available for just $1.00 per month.

3. Does Daily High Club offer any promotional sales?
Promotional sales are primarily announced on Daily High Club's social media accounts and in the weekly email newsletters. Other sales can be found directly on the website.
4. What is the return policy?
As long as items are unused and undamaged, you can return any items for a full refund if they are sent within 14 days. The refund covers all the products but does not cover the shipping cost.
5. When can you expect to receive the subscription package?
Orders are fulfilled within 15 business days and take 1-3 business days to arrive within the US, but can take 15-30 days to arrive internationally.
Daily High Club Pros and Cons
-PROS-
Celebrity collaboration builds credibility
Custom products featured in each box
Subscription boxes for each type of smoker
Special promotions and email newsletter as a Daily High Club member
-CONS-
Not as much variety in products as some other competitors
Shipping can take longer than expected (according to customer reviews)

Daily High Club Overall Review - 4.5/5
Daily High Club enables smokers to try a variety of different products they normally may not try, and do so without even needing to leave their home. This brand's collaborations give their customers peace of mind that some of their favorite celebrity smokers actually use and enjoy Daily High Club's products. The value on their subscription box is unmatched and is well worth it for the price you pay. Overall, Daily High Club has tapped into the subscription box market in a unique way and makes it a breeze for smoking connoisseurs to enjoy their daily puff.