Crowd Cow is an online marketplace for high-quality craft meat. The company develops a personal relationship with every farmer and ranch they source from. This enables Crowd Cow to provide a depth of delicious offerings that can be hard to find anywhere else. If you've been looking for a better way to purchase grass-fed beef, free-range chicken, pork chops, sustainable seafood and other high quality meat, Crowd Cow is an option worth considering. Read this review of Crowd Cow to learn more.

Crowd Cow Review
How Does Crowd Cow Meat Delivery Work?
Crowd Cow helps people order meat delivery through a network of ethical and reliable farmers. You can use the company's online marketplace in whatever way suits your tastebuds. For example, you can browse protein by the farm, the cut, or the animal. You'll find dozens of high-quality beef, pork, chicken and seafood options. Ground beef, organic chicken breasts and ribeyes are just a few of the options you'll find through Crowd Cow.
Once you've decided what you want to purchase, simply checkout online. Your order will be delivered to you in a vacuum-sealed, frozen package. This ensures the delivered meat remains fresh throughout its journey from the farm to your plate.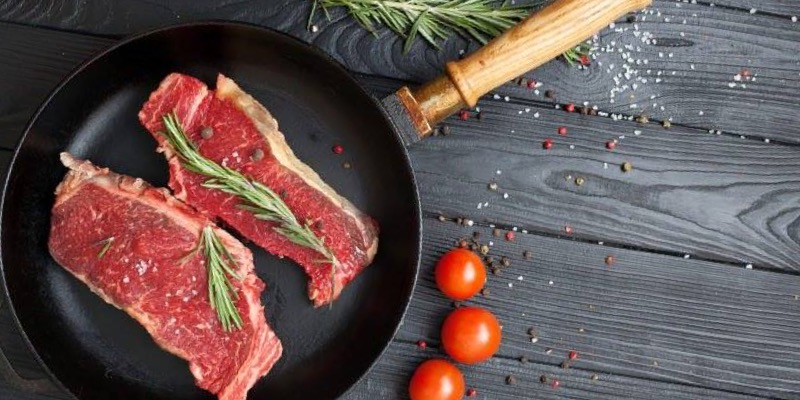 You can decide between hand-selecting your cuts of the best meat every time you order or signing up for a subscription box. Crowd Cow provides incentives that make subscribing an attractive option. For example, you'll save 5% on every order that's part of a subscription. Additionally, all subscription orders over $100 ship for free, whether you live in California or New Jersey.

Crowd Cow won't lock you into a long-term, inflexible contract either. Instead, the company gives you complete control over your subscription. You can customize your box as often as you want. You can also choose exactly when and how often your shipment comes. There are no commitments and you can change or cancel your order any time.
There are plenty of high quality meat delivery services for consumers to choose from. What makes Crowd Cow worth choosing over another retailer? The difference is in the way the company sources its protein. They actually visit every farm they source their meat from. Crowd Cow employees take the time to understand each of their ranchers' practices at an in-depth level. A representative also tastes each cut of meat personally for approval.
Crowd Cow believes that the best meat should be enjoyed like wine. They want to help consumers develop an appreciation for the finer varieties of meat while giving them more information about where their meal came from. The company stands out from its competitors through its laser-like focus on helping customers understand what they're eating and where it came from.

One thing to note is that Crowd Cow beef is not actually USDA graded though it is grown under USDA inspection. This is simply due to the smaller size of the farms that Crowd Cow sources from. Crowd Cow sells only dry-aged beef unless otherwise noted. Most beef is dry-aged for a minimum period of 14 days.
What Does Crowd Cow Sell?
Crowd Cow sells a protein for every eater. The company has a diverse range of offerings that can appeal to virtually anyone. Each of the following types of meat come in a multitude of cuts:
| | | |
| --- | --- | --- |
| NY Strip Steak | Wild Alaskan Halibut | Ground Beef |
| Wild Maine Lobster | Boneless Pork Chops | Chicken Drumsticks |
We recommend checking out some of the Crowd Cow's "Butcher's Specials". These change from week-to-week and provide an opportunity to purchase the meat you love at a more affordable price. You can also check out Crowd Cow's "Perfectly Imperfect Cuts" to stock up. These premium steaks have all the flavor you want at a fraction of the cost you would normally pay.

You can view the company's featured products by visiting their "Weekly Essentials" page. This is the perfect way to get all the protein you need for meal planning. You'll find all the classic cuts of meat that you love at affordable prices. Browse between dozens of options that covering the total spectrum of your palette. It's another way Crowd Cow is appealing to a more diverse group of consumers than the average meat delivery service.
Crowd Cow Pricing and Plans
Crowd Cow differs from other meal delivery services in the way they market their products. The company doesn't actually have a variety of pre-set plans for consumers to choose from. Instead, everything offered by Crowd Cow is customizable. The ultimate price of your subscription box will depend on the items you put in it each week, month, or the interval you choose for delivery.
Check out the following list of prices for Crowd Cow meat. You can add the cuts you would select together to get a better sense of how much you would pay for your Crowd Cow recurring meat deliveries.
| MEAT | SIZE | PRICE |
| --- | --- | --- |
| New York Strip Steak | 12oz | $21.00 |
| Chicken Breast | 1.5lbs | $16.50 |
| 100% Grass-Fed Beef | 1lb | $9.00 |
| Flat Iron Steak | 8oz | $11.00 |
| Wild Alaskan Halibut | 6oz | $16.50 |
| Filet Mignon | 8oz | $11.00 |
| Bone-In Pork Chops | 1lb | $14.00 |
| Whole Chicken | 3.5lbs | $21.00 |
| Japanese Wagyu Petite Striploin Steak | 4oz | $45.00 |
Are Crowd Cow Animals Ethically Raised?
Crowd Cow sources the best meat and sustainable seafood from all over the world. They work with a range of producers, including independent family farms and co-ops. These ranchers vary in how they bring up their animals. Therefore, there isn't a standardized way that all Crowd Cow animals are raised. Instead, it runs the gamut.
For example, the company sells both wild-caught and farm-raised seafood from some of the most sustainable sources in the world. They also offer 100% grass-fed beef, pasture-raised beef, and grain-finished beef. For chickens, Crowd Cow sources from farms that use both free-range and truly-pasture methods. All Crowd Cow chickens are raised without unnecessary antibiotics or added growth hormones.

Crowd Cow is unique because it lets you, the consumer, choose how your protein is sourced. Although the company's fish, chicken, beef, and pork are all sourced differently, you don't have to worry regarding the ethics behind your purchase from Crowd Cow. Every farm the company partners with uses some of the best sustainability practices in the industry. Crowd Cow makes it easy to feel good while enjoying your food.
Crowd Cow Company Info
Crowd Cow was founded by two ordinary guys, Ethan and Joe. The two began the company out of a deep passion for finding ethically sourced and tasty meat products. Since those early days, Crowd Cow has grown considerably. The company uses 100% recyclable and compostable packaging that can be dissolved in water.
Crowd Cow offers free shipping for all orders over $100. However, they don't provide any options for returning the products you order due to the highly perishable nature of what they're selling. Therefore, you should be sure about what you're buying before you place an order.

When you sign up for a subscription, the company will recreate your first box to the best of their abilities and ship it to you per the schedule you specify. There will be times when the company needs to replace one of the items in your box with a similar offering due to availability. That's why Crowd Cow encourages its customers to check the content of their box a week before shipping to make sure they're happy with any substitutions. If you decide you don't want your shipment anymore, you can cancel anytime online.
Crowd Cow Pros and Cons
Crowd Cow is delivering high quality meat and seafood to consumers across the country. Here are some of the pros and cons of using the service:
Pros
Wide selection of fish, beef, pork, and chicken products

Competitive prices

Flexible subscriptions

Ethically-sourced products

Farm-level purchasing options
Cons
No returns

Automatic replacements risk getting something you don't want

No free shipping unless the order total exceeds $99
Crowd Cow Overall Review - 5/5
Crowd Cow is a unique addition to the meal delivery industry. The company is perfect for customers who desire a closer relationship with the way their food is produced. With Crowd Cow, you'll get the opportunity to support farmers with practices you believe in. You can even purchase meat only from a specific farm if you fall in love with the taste of their products. This type of relationship can be difficult to find from other providers.
Additionally, Crowd Cow makes purchasing a subscription or standalone products a breeze. There are no membership fees or pesky long-term contracts. Instead, you only pay for exactly what you want right when you want it. You can even get free shipping if you spend enough each order. These features make Crowd Cow the meat delivery service you can try without risk.

Still, you should be aware that the company provides no way to return products you don't like. Crowd Cow also will automatically replace items from your last box if you're on a subscription plan. This means you have to stay on top of your box's contents or risk getting something sent to you that you don't want and you can't return. On the whole, Crowd Cow is an excellent option for customers who want access to high-quality, ethically-sourced meat and fish products.