Cirkul water bottles feature a special mechanism that allows users to turn flavor on and off with the flick of a switch. Called the "Cirkul Sip", this piece is packed with flavors and zero sugar. It features an actual dial that users can turn to select varying levels of plain water or flavor-packed. Is Cirkul worth it?
Keep reading this Cirkul review to learn what sets Cirkul apart from competitors and if they're the right water bottle for you.

Review of Cirkul
What Sets Cirkul Apart?
As mentioned in the intro, the standout feature of Cirkul water bottles is called the "Sip". The Sip is a cylindrical piece that includes the mouthpiece. Inside, users can pack the Sip full of flavor cartridges. In addition to flavors, users can purchase cartridges for their Cirkul water bottle that include vitamins, electrolytes or even caffeine. Users also have the option of purchasing a Cirkul starter kit.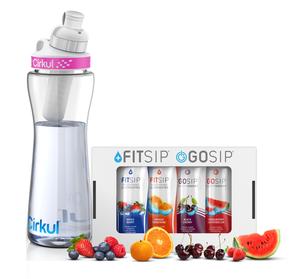 Cartridges have no sugar added and zero calories. They also have only natural flavors. Cirkul has over 30 flavoring options to choose from including:

Cirkul also offers cartridges infused with tea and iced coffee! Flavors are available in packs of 4 per box and can be mixed and matched with each order. Each Cirkul Sip cartridge provides enough flavor for six full water bottle fill ups, when used on a mid-level setting.
The dial on the Cirkul water bottle allows users to select the intensity of flavor with each sip. Turn it all the way up for maximum tastiness, or turn it to "X" to drink plain water.
Cirkul offers a subscription plan where subscribers are sent a pre-determined amount of Cirkul Sip cartridges each month, ranging from 8-32 cartridges per month. Shipping is free in the continental United States!
Each of the Cirkul flavoring packets fall into specific categories meant to help users get the most out of their purchase. Here are how the categories break down.
FitSip: FitSips are packed with tons of electrolytes to keep you going.
GoSip: GoSips are sugar-free with zero calories and have caffeine for an energy boost.
LifeSip: LifeSips also have no sugar or calories and are packed with B vitamins.
Cirkul Pros and Cons
Pros
39 different flavors to choose from

Customize the intensity of your flavored water

Cirkul subscription plans available

Choose cartridges with vitamins, electrolytes or even caffeine
Cons
Currently not available outside of the US

Overall Cirkul Review - 4.9/5
Cirkul water bottles utilize a unique design to bring people a tool that will make a positive difference in lives. Pack your water with flavor and vitamins and have full control of the flavor intensity. Cirkul water bottles will have you drinking water more regularly and staying better hydrated! Hydrate today and get yours from drinkcirkul.com.