Being a pet owner means a life full of fun and cute moments. However, there's also a tremendous responsibility that comes with owning a cat or dog, for example. From keeping up with vet visits to making sure they get enough exercise, dog and cat owners regularly have their hands full.
Luckily, Chewy is making the responsibility of staying stocked on pet supplies much easier to manage.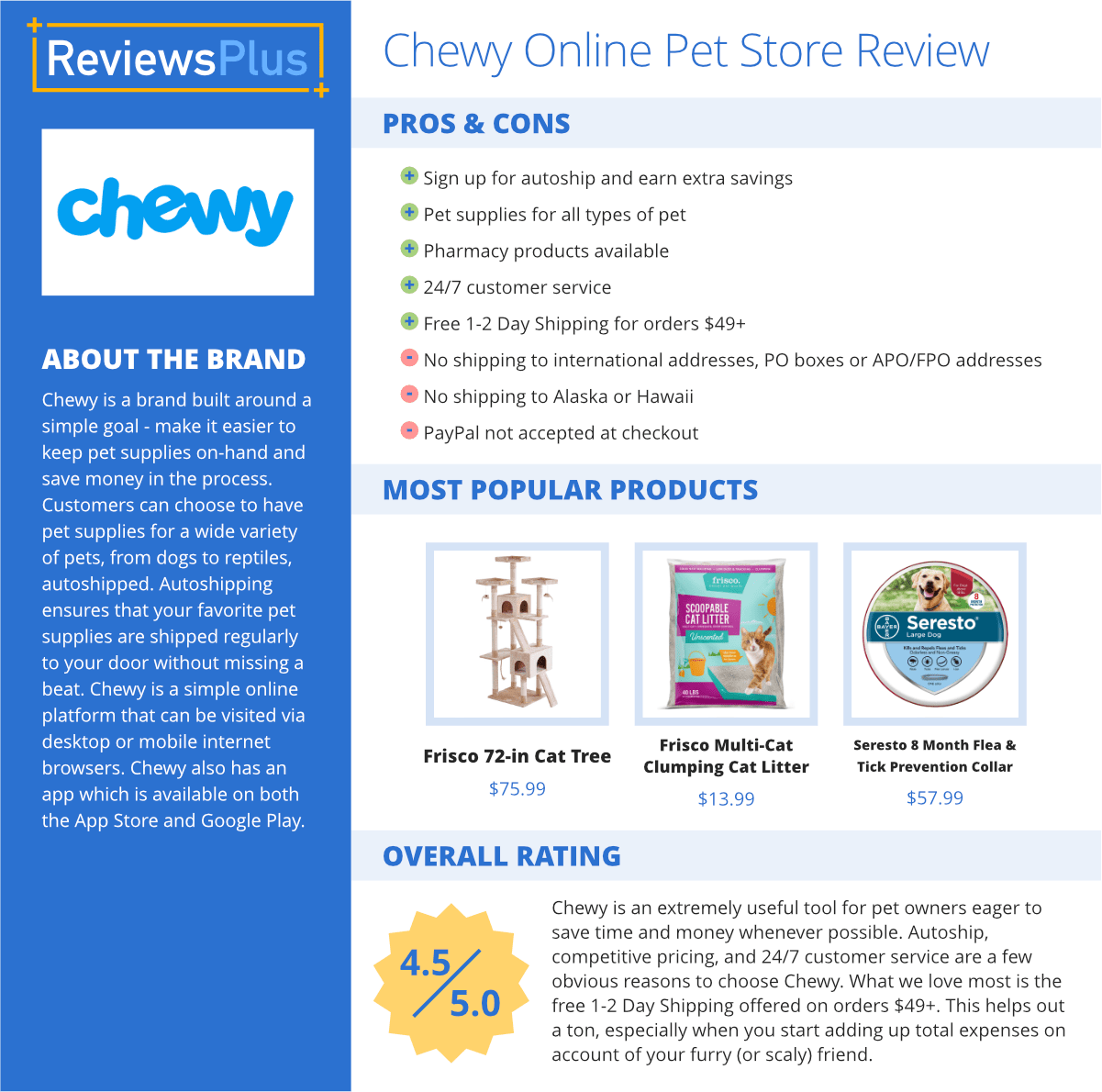 What Sets Chewy Apart
Chewy is a brand built around a simple goal - make it easier to keep pet supplies on-hand and save money in the process. Customers can choose to have pet supplies for a wide variety of pets, from dogs to reptiles, autoshipped. Autoshipping ensures that your favorite pet supplies are shipped regularly to your door without missing a beat, thus taking out the need to ever make a store run again. Additionally, autoshipping products allow you to increase your savings on every order! You can cancel or change your Chewy plan at any time.
Chewy Pros and Cons
-PROS-
Sign up for autoship and earn extra savings
Pet supplies for all types of pet
Pharmacy products available
24/7 customer service
Free 1-2 Day Shipping for orders $49+
-CONS-
No shipping to international addresses, PO boxes or APO/FPO addresses
No shipping to Alaska or Hawaii
PayPal not accepted at checkout
How Chewy Works
Chewy is a simple online platform that can be visited via desktop or mobile internet browsers. Chewy also has an app which is available on both the App Store and Google Play. It doesn't matter what type of pet you have, Chewy likely has pet supplies to meet your needs. Here are the pets you can find supplies for at the Chewy online pet supply store: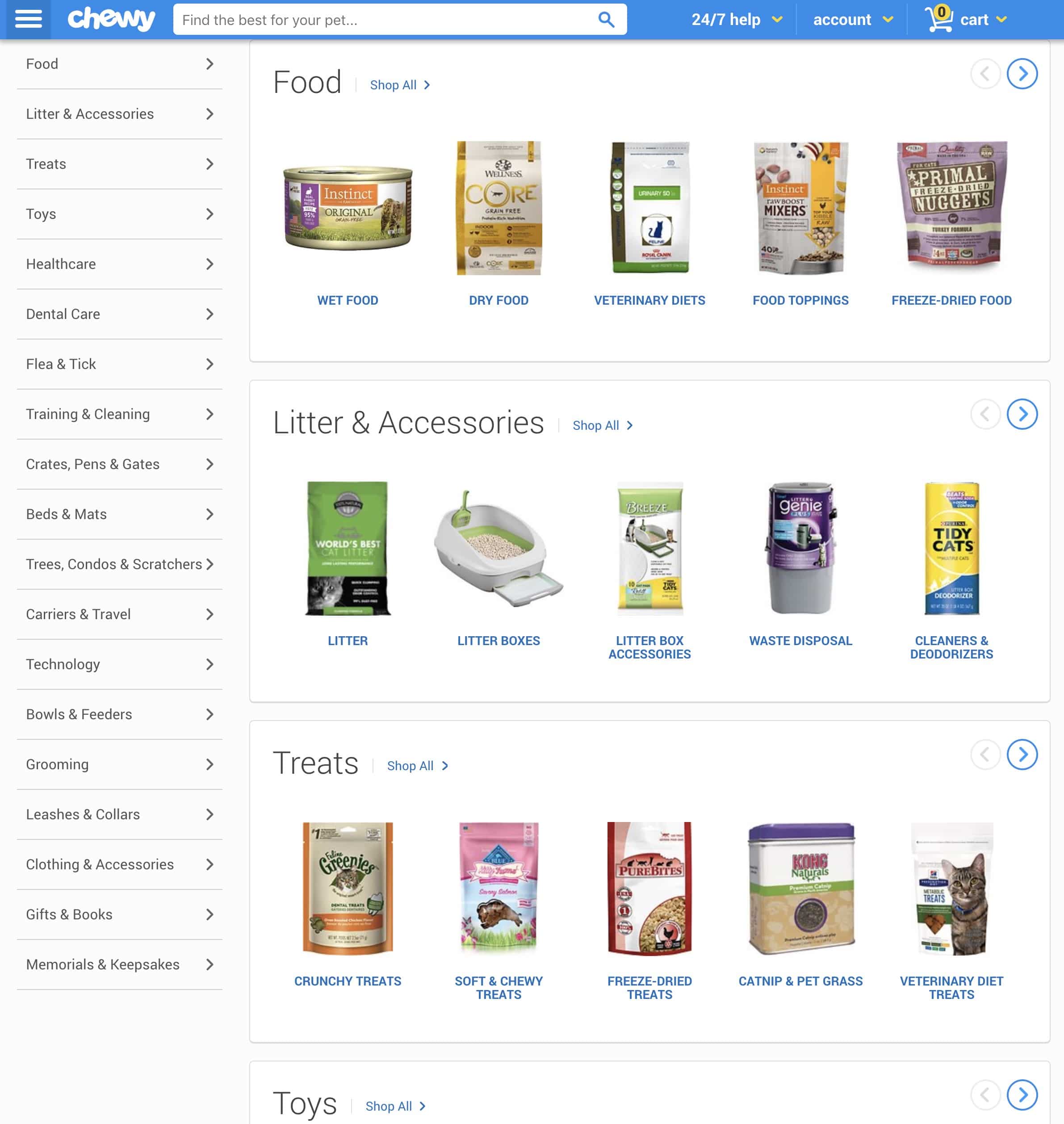 Within each pet category are further categories for specific species of pet, products and more. Or, you can choose to shop by brand. Chewy carries all of the most popular pet supply brands including ALPO, Blue Buffalo, Purina and many, many more. Over 1,000 are available!

In addition to everyday products needed to take care of a pet, Chewy also has a pharmacy where medication can be purchased. You can add many of these products to your autoship order, as long as you have the proper prescription. Heartworm, ticks, fleas, allergies, even depression and anxiety, stand no chance against the pharmacy product selection found at Chewy pet supplies online.
Signing up for autoship is the best way to take advantage of the Chewy platform. As we'll get into below, autoshipping adds an extra discount to products when they are part of an autoship order. And since food, treats and maintenance supplies are guaranteed costs as pet owners anyway, signing up for autoship for those regularly needed items makes tons of sense. It eliminates the need to keep tabs on your inventory and removes the need for last-minute runs to the store, ultimately saving you time. Currently, you can save 30% on your first autoship.
In addition to offering a great service, Chewy gives back to the community. In 2018 alone, they were able to donate 11 million pounds of pet supplies and food across the United States and supported over 3,000 non-profit partners through their Rescue+Shelter Network. Learn more about how Chewy gives back here.
Chewy Prices and Savings
On average, Chewy prices are slightly lower than competing online pet supply stores. With no physical stores to maintain, Chewy online pet store can cut prices in certain areas major competitors are not. Additionally, Chewy offers a 100% satisfaction lifetime guarantee on all products sold.
Signing up for autoship will allow you to purchase pet supplies at prices reduced even further than listed. You can expect to save an additional 5% when you sign up for autoship for products like dog food and treats.
The "Today's Deals" section is a great place to start looking if you're specifically at Chewy to bargain hunt. Here, Chewy has listed limited-time deals for pet supply items like snacks, food, toys and more. These deals change daily and are available for all pet types.
Overall Chewy Review - 4.8/5
Chewy is an extremely useful tool for pet owners eager to save time and money whenever possible. For customers who prefer browsing aisles and physically holding products, Chewy is not the right option. Autoship, competitive pricing, and 24/7 customer service are a few obvious reasons to choose Chewy. What we love most is the free 1-2 Day Shipping offered on orders $49+. This helps out a ton, especially when you start adding up total expenses on account of your furry (or scaly) friend.