How cool would it be to have your favorite pop culture icons wish you or your best friend a happy birthday? Or to have your partner's favorite comedian wish them a happy anniversary? With Cameo, this is now possible. This platform allows for personal celebrity cameos in your own life.
Cameo is an online retailer that connects celebrity personalities to their fanbase. Since their founding in 2017, they have helped create personalized and authentic fan experiences from celebrity personalities in all industries. Athletes, comedians, actors, musicians, reality TV stars, and anyone in between can all be found on Cameo's talent network.
But is Cameo legit? Find out more in this Cameo review!
Cameo Review
---
What Sets Cameo Apart?
---
Cameo provides a unique and personalized experience by allowing you to request unique content from any one of thousands of celebrities in the Cameo talent network. Within seven days you will receive a personalized video from the star of your choice. All of the stars set their own price, but are generally happy to accommodate the majority of requests. Whether it is to wish a happy birthday to a loved one, say congratulations to a friend, or simply as a fun gift, Cameo lets you request a personalized video message for any occasion.
People love Cameo for its versatility. Your personalized videos are just that- catered to your wants. In general, you should be able to find any sort of entertainer you want. The concept is well-received by most people. Even ten years ago, no one would have thought that you could be able to go online, send a message to Snoop Dogg, pay a bit of money, and get a personal shout-out.
Cameo offers more than personalized messages from your favorite celebs. There is an option to request a celeb for a promotional cameo related to your business, at a more premium rate than a standard message. They also feature live sessions for one-on-one interactions, where you and a set amount of others will have a short time on a live direct video call with the desired celeb.
How Do You Use Cameo?
---
One of the nice things about Cameo is it is very straightforward and easy to use. Let's take a look at the step-by-step for getting a personalized message.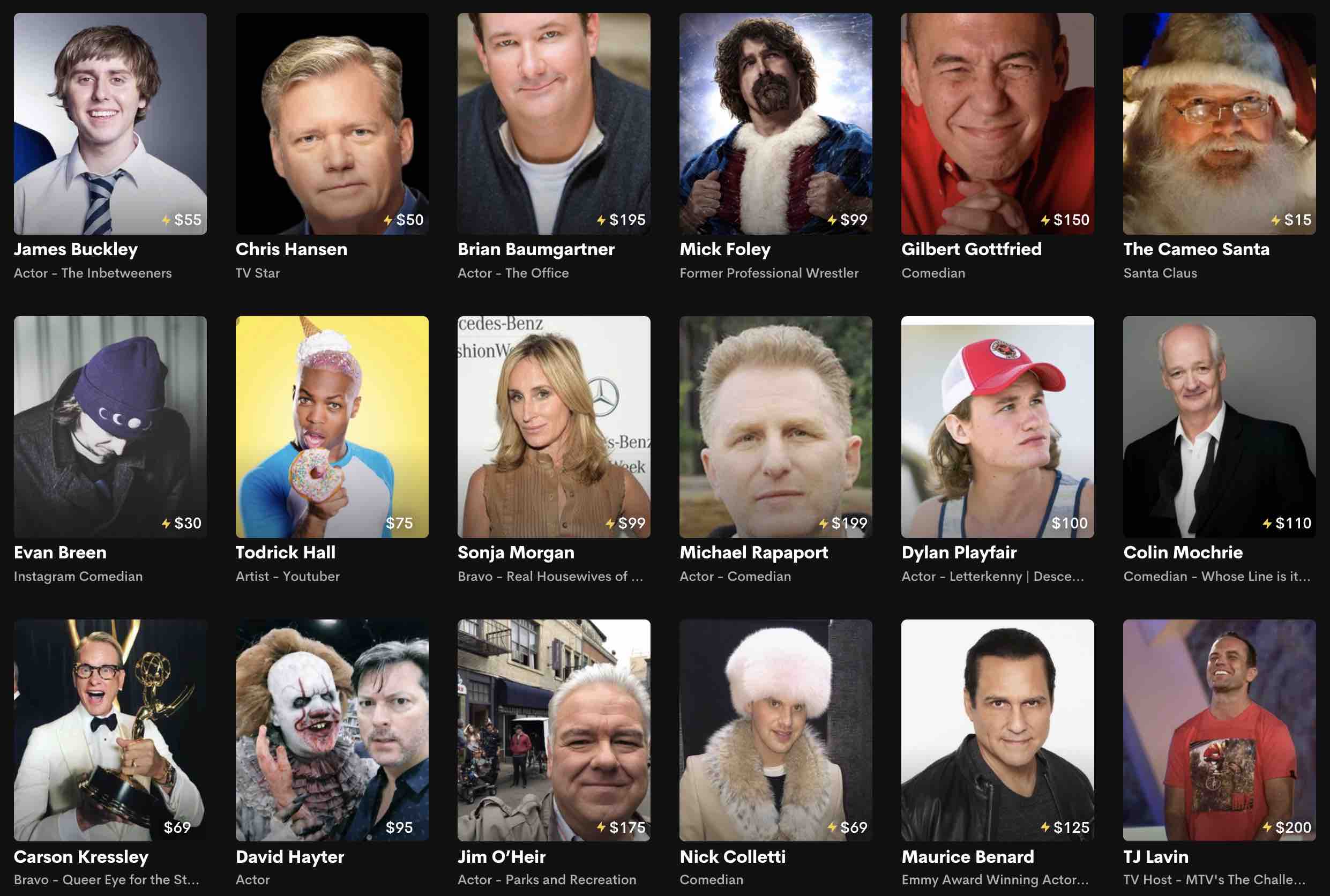 The first step is to "hire" your celeb of choice. You can search for someone specific to see if they are in the Cameo talent network, or browse certain categories. This includes topics like The Office, NASCAR, and Lead Singers.

Once you have made a choice, you will be directed to their offerings page. Here you can choose between the standard cameo, live chat, or business promotion, depending on what they offer.

Next, you will input the details of your personalized cameo. Your message can only contain 250 characters, so be sure to make it concise. If for whatever reason you need more, customer service may be able to help. At this point, you will enter your payment information.
The creator has seven days to respond to your request, so all that's left is to wait for your personalized message. You will get an email notification saying when your cameo is ready for download.
What Does Cameo Sell and Company Info
---
A wide range of famous and celebrity talent is available on Cameo. There are many big names and other well-known personalities, but be aware that not every celebrity is on the platform. Their talent network is composed of individuals who have been approved by the Cameo team. Some notable names include Snoop Dogg, Christopher McDonald (otherwise known as "Shooter McGavin"), Riff Raff, and Brett Favre, to name only a few.
Price and length are highly variable as well. There are certainly some big names on the platform, but many of the biggest stars come with a big price. At the top is Caitlyn Jenner, who offers her Cameo services for $2,500. While that may seem a bit steep, she also donates her proceeds to charity. You could also request Riff Raff for $85, but end up with something a bit less coherent.
In general, most talent offers their Cameos from $150-$450. The platform offers a featured category for offerings under $150, which is an interesting way to browse celebrities if budget is a restriction.
Before making your Cameo selection be sure to read the reviews others have left. One of the drawbacks to Cameo is that there is no way to guarantee that the request will be honored within the seven-day period. This can be disappointing if you were looking forward to a specific personality on a specific date, but in this case, the Cameo customer service team will be able to refund your payment. Most other services available on the website and mobile app are non-refundable transactions.
Cameo FAQs
---
Does Cameo work?
Yes, Cameo works as it advertised. While certain requests may be denied, thousands of positive reviews support that Cameo is high-quality and trustworthy.
Does Cameo cost money?
Yes, Cameo costs money, however there is no set price for services. Talents are allowed to dictate their own costs and the services they offer.
Does Cameo accept PayPal?
Yes, Cameo accepts PayPal. Cameo also accepts AMEX, Mastercard, Visa, or in the mobile app via Apple Pay and Google Play.
Is Cameo free?
Yes, using Cameo is free. This includes creating an account and browsing the celebrities available. The only costs occur when you actually request a Cameo or purchase Cameo Credits.

Is Cameo safe?
Yes, Cameo is safe. With any social media platform it is best to have a unique password to better ensure security.
Is Cameo worth it?
Yes, Cameo is worth it. If you are looking for a personalized message from an available celebrity or athlete, and you are willing to pay their price, you will almost certainly be satisfied.
Is Cameo legit?
Yes, Cameo is legit. Cameo connects celebrities and fans at the most intimate level currently available
Cameo Pros and Cons
---
Pros
Wide range of actors, musicians, athletes, and other personalities

Fun tool for having a celebrity cameo appearance in your life

The user interface of the website and mobile app is clean and intuitive

Generally high-quality, satisfying, and entertaining video

Generally affordable prices for the majority of stars
Cons
Cameo requests may be subject to talent interpretation

Response within 7 days not guaranteed

Celebrity selection may be limited
Overall Cameo Review - 4.2/5
---
Cameo is a one-of-a-kind social media and content creation tool. It pairs celebrities from all types of industries. If you are looking for a unique gift for a friend or family member, then Cameo might be able to provide just that. Their pool of celebrities has room for improvement but you should be able to find someone relevant to your needs.
People who are not starstruck or into celebrity engagements may not find value in receiving a Cameo video as a gift. It may seem like a bit much to shell out $250 for a short video clip. But to someone who will appreciate it, a Cameo video will come as a great value considering the unique niche service Cameo provides.

Cameo's platform costs nothing to browse and you are only charged when making a request. And if no video was produced you will be refunded. If you get an amazing video from Cameo, you will have that forever to cherish! So if you know someone who will appreciate it, Cameo is a great way to produce a unique, fun, memorable gift achievable through no other platform.