If preparing dinners with high quality meat is already part of your monthly home cooking plan, the subscription service ButcherBox has been created with you in mind. Check out this video unboxing of a ButcherBox shipment and then scroll below for a full review to get an idea of what ButcherBox is and why customers love it!
ButcherBox Review
As mentioned in the video above, I received a box of chicken and beef products with a bacon add-on. It's worth noting that all ButcherBox meat is hormone and antibiotic-free. Here are the cuts I received in my box:

Chicken - free range, USDA certified organic
-1 whole chicken
-3 chicken breasts
Beef - 100% grass-fed and finished, certified pasture-raised
-1 lb steak tips
-2 lbs ground beef
-2x 10 oz ribeye steaks
Bacon - Heritage Breed Pork
-10 oz

The ordering process is extremely simple and can be viewed below. I was home when my box was delivered and was able to transfer the contents to the freezer immediately. Everything was thoroughly frozen when I opened the box and I would have felt comfortable leaving it on my doorstep for a few hours longer.
Overall, I thought my ButcherBox cuts tasted high-quality and fresh. Since quality is ButcherBox's calling card, I was expecting everything to taste good but I still found myself a little surprised at just how good everything tasted. The ribeye steaks and whole chicken ended up being my two favorite cuts.
ButcherBox Current Promo
ButcherBox regularly runs promos that allow new customers to sign up for ButcherBox and receive added perks or discounts. Currently, sign up for ButcherBox and you'll receive 2 lbs of ground beef in every single box you receive during the life of your subscription. This promotion runs from August 22-September 30, 2019.
Here are my pros and cons to ordering meat from ButcherBox.
ButcherBox Pros and Cons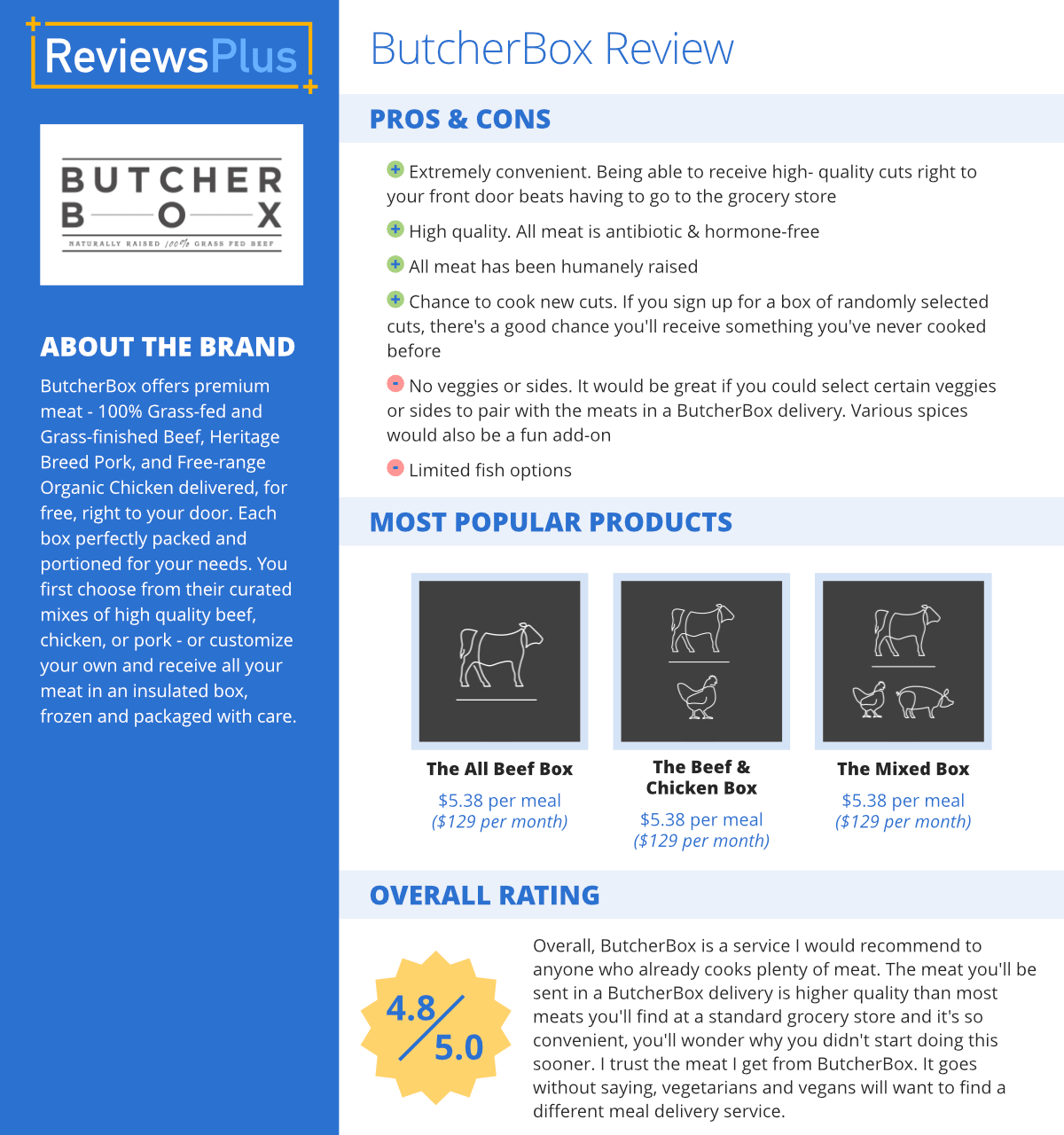 -PROS-
Extremely convenient. Being able to receive high-quality cuts right to my front door sure beats having to go to the grocery store and pick them out myself. If this is the future, I'm in!
High quality. All meat is antibiotic and hormone-free.
Chance to cook new cuts. If you sign up for a box of randomly selected cuts, there's a good chance you'll receive something you've never cooked before. This can be a lot of fun and a good way to stretch your horizons in the kitchen.
-CONS-
No veggies or sides. It would be great if you could select certain veggies or sides to pair with the meats in a ButcherBox delivery. Various spices would also be a fun add-on.
Limited fish options.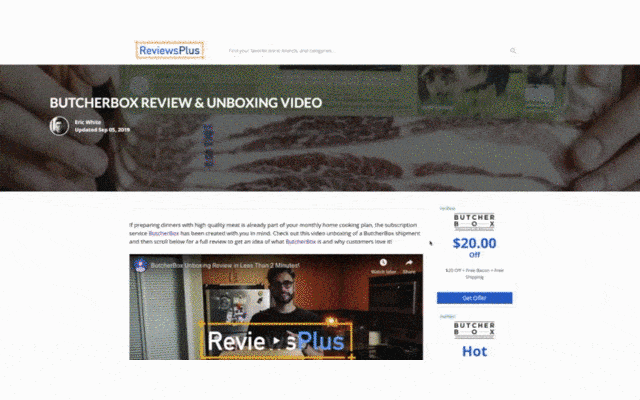 Overall Review - 4.8/5
Overall, ButcherBox is a service I would recommend to anyone who already cooks plenty of meat. The meat you'll be sent in a ButcherBox delivery is higher quality than most meats you'll find at a standard grocery store and it's so convenient, you'll wonder why you didn't start doing this sooner. I trust the meat I get from ButcherBox. It goes without saying, vegetarians and vegans will want to find a different meal delivery service.