If preparing dinners with high quality meat is already part of your monthly home cooking plan, the subscription service ButcherBox has been created with you in mind. Check out this video unboxing of a ButcherBox shipment and then scroll below for a full review to get an idea of what ButcherBox is and why customers love it!
ButcherBox is an online meat delivery service that sells subscription boxes directly to consumers. It's one of the most effective ways to get 100% grass-fed beef, free-range organic chicken, and heritage breed pork delivered directly to your door. The company thinks of themself as the neighborhood butcher shop for modern America. Keep reading to see why that's the case and why you should consider ordering from ButcherBox's wide selection of products.
ButcherBox Review
As mentioned in the video above, I received a box of chicken and beef products with a bacon add-on. It's worth noting that all ButcherBox meat is hormone and antibiotic-free. Here are the cuts I received in my box:

Chicken - free range, USDA certified organic
1 whole chicken
3 chicken breasts
Beef - 100% grass-fed and finished, certified pasture-raised
1 lb steak tips
2 lbs ground beef
2x 10 oz ribeye steaks
Bacon - Heritage Breed Pork

The ordering process is extremely simple and can be viewed below. I was home when my box was delivered and was able to transfer the contents to the freezer immediately. Everything was thoroughly frozen when I opened the box and I would have felt comfortable leaving it on my doorstep for a few hours longer.
Overall, I thought my ButcherBox cuts tasted high-quality and fresh. Since quality is ButcherBox's calling card, I was expecting everything to taste good but I still found myself a little surprised at just how good everything tasted. The ribeye steaks and whole chicken ended up being my two favorite cuts.
How Does ButcherBox Work?
Ordering meat online can be kind of scary if you haven't done it before. Luckily, getting the best meats delivered to you from ButcherBox is incredibly straightforward. Think of it as a simple three-step process. First, browse ButcherBox's website to find the right subscription box for your eating habits. You'll find options with different cuts of meat and various blends of pork, beef, and chicken products.
After a simple checkout process, ButcherBox will ship your order to you within a few days from the time you purchase it. You'll receive all of your meat in an insulated box that has been frozen and packaged with care. ButcherBox uses high-grade insulation that will keep your entire order fresh from the moment it leaves the warehouse to when it gets to your doorstep.

Once you've received your box, you're ready to cook with confidence. You can follow your own favorite recipes or use the company's website to find new ones. Getting high-quality meats delivered from ButcherBox is as simple as that. It's easy enough for anyone to try.
ButcherBox is far from the only online meat delivery service. However, they still manage to stand out from the crowd in a few key ways. The company distinguishes themselves through their commitment to providing customers with exclusively 100% grass-fed beef products. ButcherBox was actually created when Mike, its founder, realized how hard it is to find high-quality grass-fed ground beef and other meat products. You can have confidence that every item you receive from ButcherBox is of the highest quality.
Additionally, ButcherBox stands out through the quality of their production process. The company puts every product it sells through a rigorous taste-testing process. This involves finding meat products that both taste great and have wonderful textures. A ButcherBox specialist has personally taste-tested every item they sell.
ButcherBox regularly runs promos that allow new customers to sign up for ButcherBox and receive added perks or discounts. Currently, sign up for ButcherBox and you'll receive 2 lbs of ground beef in every single box you receive during the life of your subscription.
What Does ButcherBox Sell?
ButcherBox is somewhat unique among online meat vendors in that they focus exclusively on subscription boxes. Many companies in this industry sell both subscription options and standalone products. Not ButcherBox. If you want to purchase something from the company, you'll have to do so as a part of a meat subscription box.
However, the company does allow customers to build their own custom subscription box. This enables you to try a wide selection of the specific products that you want each month instead of relying on ButcherBox to choose products for you. Here's a list of some of ButcherBox's most popular products:
Grass-fed ground beef
Organic chicken breast
New York strip steak
Top sirloin
Boneless pork chops
Premium steak tips
ButcherBox Pricing and Plans
ButcherBox offers several distinct ways to enjoy their products. The company currently has five different subscriptions to choose from. The exact items included in each of these boxes changes from month to month. Here's an overview of each of them based on what they included in the latest shipment:
| Box Name | Monthly Price | Cut 1 | Cut 2 | Cut 3 | Cut 4 | Cut 5 |
| --- | --- | --- | --- | --- | --- | --- |
| The Mixed Box | $129 | 2lbs Grass-fed Ground Beef | 2 New York Strip Steaks | 4 Top Sirloin Steaks | 1lb Whole Pork Tenderloin | 3lbs Boneless Skinless Chicken Breast |
| The Beef & Pork Box | $129 | 2lbs Grass-fed Ground Beef | 2 New York Strip Steaks | 4 Top Sirloin Steaks | 4 Boneless Pork Chops | 2lbs Whole Pork Tenderloin |
| The Beef & Chicken Box | $129 | 2lbs Grass-fed Ground Beef | 2 New York Strip Steaks | 4 Top Sirloins | 3lbs Boneless Skinless Chicken Breast | 3lbs Chicken Drumsticks |
| The All Beef Box | $129 | 2lbs Grass-fed Ground Beef | 2 New York Strip Steaks | 1lb Premium Steak Tips | 2lbs Chuck Roast | 4 Top Sirloins |
| Build Your Own Box | $149 | | | | | |
In addition to these options, ButcherBox also offers a "Big Box" version of each of their products. These include double the product of a standard subscription box. For example, your Big Box will include 16-26 lbs of meat, providing 48-60 meals. Comparatively, Classic Boxes generally contain 8-11 lbs of meat, providing 24-30 total meals.

Are ButcherBox Animals Humanely Raised?
ButcherBox takes pride in the way its animals are treated. They strive for excellence in this area by working with the best possible companies, farmers, and meat processing facilities. ButcherBox is committed to never cutting corners so you always receive non-GMO meat products that have been sourced ethically. For example, the company's facilities are regularly inspected and approved by the USDA.
Another factor that sets this company apart from other retailers is that they provide detailed sourcing information for their cattle, chickens, and pigs. For example, ButcherBox's cattle are free to range on grassy pastures their entire lives. This leads to a product that is 100% grass-fed, grass-finished and rich in Omega-3s, vitamins, and minerals.

The company sources its pork products from Heritage Pigs with distinguished ancestry. These pigs have a slow maturation process that causes them to develop fine marbling and great flavor. All ButcherBox pigs have bedding in open barns, outdoor access, and a nutritious diet full of foraged foods and all-vegetarian feed.
Finally, the company is also transparent about how it sources chicken products. ButcherBox's chicken products are certified organic. The animals spend their days roosting in barns and exploring the outdoors. The company even works with the American Society for the Prevention of Cruelty to Animals to make sure their practices are humane, sustainable, and good for humans, animals, and the environment.
ButcherBox Company Info
ButcherBox was created by Mike Salguero. He came up with the idea for the company after picking out his first $400 pile of meat from a 100% grass-fed cow. Mike was hooked on the pure, wholesome taste and health advantages of the food. At the same time, he saw that the average consumer lacks access to a wide variety of high-quality grass-fed beef products. ButcherBox was born out of this experience.
Today, ButcherBox ships its high-quality meat products to customers across the United States. You can purchase products from the vendor whether you live in Kentucky, Tennessee, New Jersey, or anywhere else in the country. When you do place an order, you'll be delighted to know that shipping is 100% free.
The company is unable to accept returns because of the perishable nature of their products. However, they do provide a guarantee to refund your order if you have a problem in a covered category. You will be eligible for a refund from ButcherBox if you received damaged items, missing items, or had a late delivery/improper handling issue that resulted in your products defrosting or getting damaged.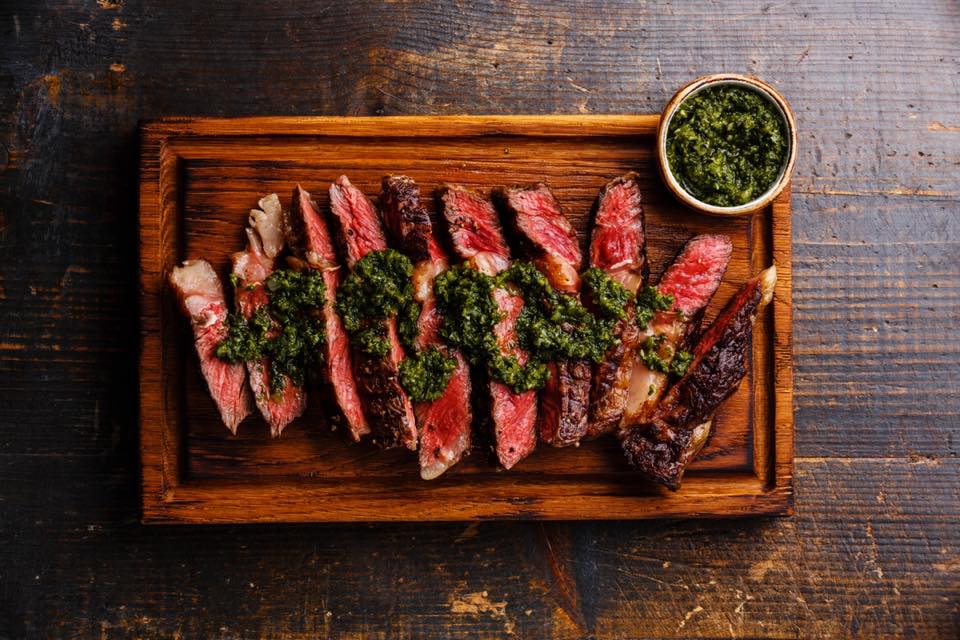 ButcherBox Pros and Cons
There are dozens of meat delivery services on the market today. Deciding which one is the best fit for your eating habits can often be challenging. For example, some companies have pesky waiting lists that make it difficult to stock up on your favorite ingredients in a timely way. Pros and cons lists are an excellent way to cut through the noise and assess whether a particular delivery option is right for you. Check out these pros and cons of ordering from ButcherBox:

Pros
Extremely convenient

High quality meat

Antibiotic and hormone-free

All meat humanely raised

Random box provides unique cuts
Cons
No veggies or sides

Limited fish options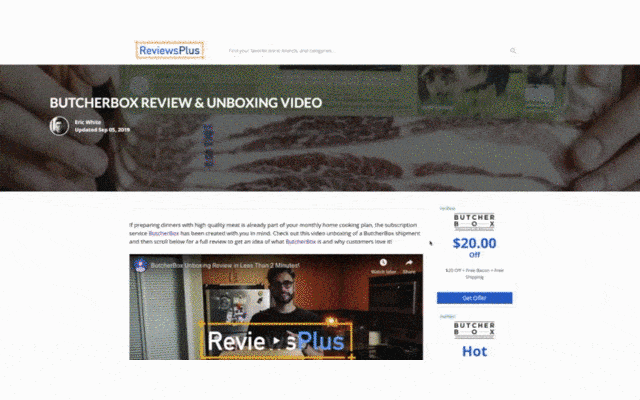 Overall ButcherBox Review - 5/5
Overall, ButcherBox is a service I would recommend to anyone who already cooks plenty of meat. Their boxes are the perfect way to stock up on your favorite foods. The meat you'll be sent in a ButcherBox delivery is higher quality than most meats you'll find at a standard grocery store and it's so convenient, you'll wonder why you didn't start doing this sooner. I trust the meat I get from ButcherBox.


At the same time, the company doesn't sell higher-end products that some customers may want. For example, you won't find American wagyu, charcuterie, dry-aged beef, Japanese wagyu, filet mignon, or Kobe beef in any boxes from this retailer. You also won't find more humble products like hot dogs and burger patties in your Butcher Box. It also goes without saying, vegetarians and vegans will want to find a different meal delivery service.